IV
Skagway, The Yukon
and Carcross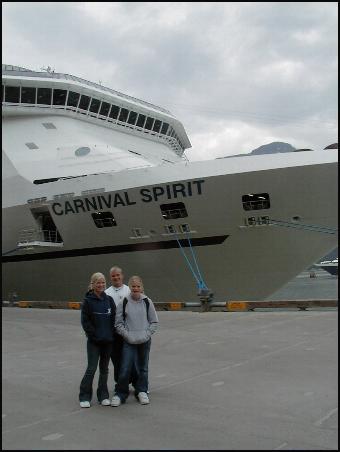 Sunday morning our ship docked at Skagway, Alaska where we disembarked and walked to our waiting vans in which we were going to drive to the Yukon Territory and Carcross.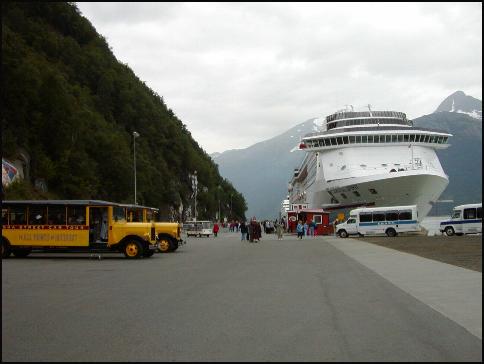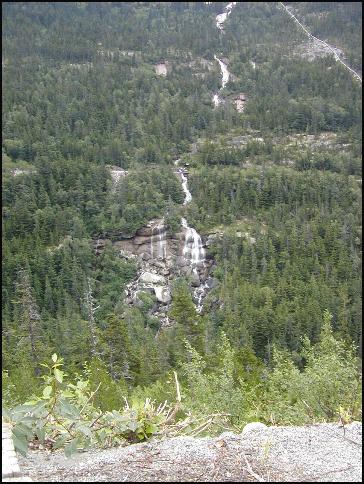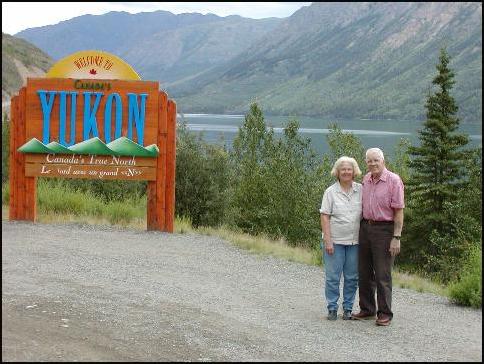 We pause at the border of Yukon Territory long enough to take some pictures and then continue towards Carcross.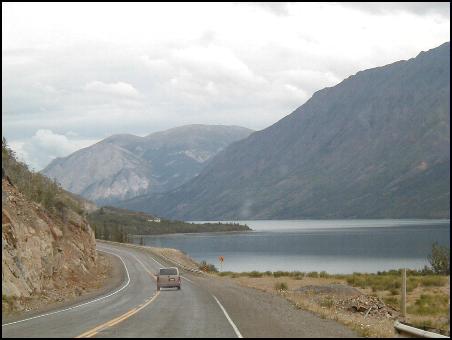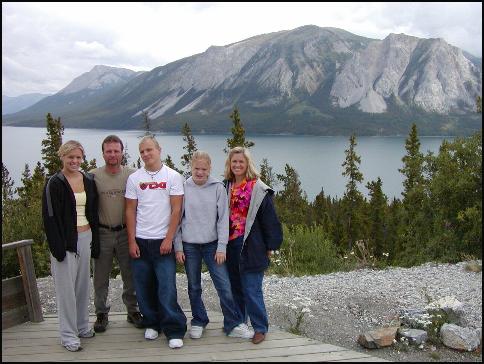 Jen, Brad, Bradley, Katie and Cheryl.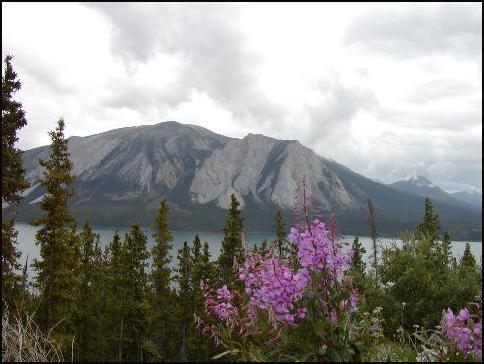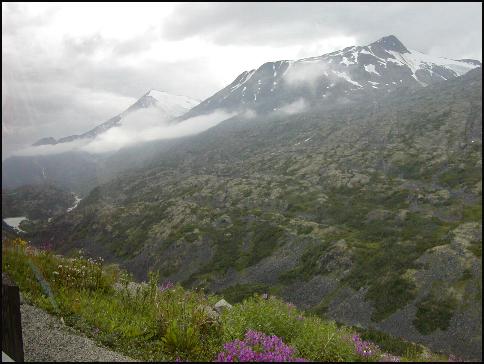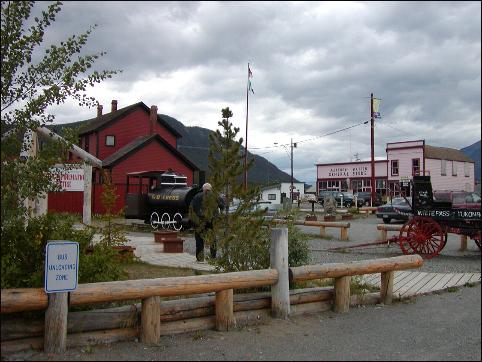 This is the little park next to the museum at Carcross.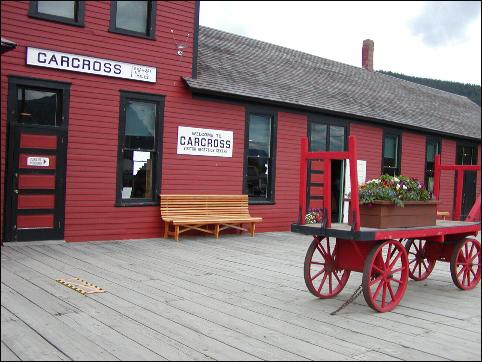 From the time the first prospectors came over the Chilkoot Pass, this place was known as Caribou Crossing because of the large herds of caribou that crossed the narrows between Bennett and Tagish Lakes twice a year on their annual migration. Artifacts of aboriginal people--flaked stone tools estimated to be 4,500 years old--have been found here.

Following the discovery of Klondike gold in 1896, it became a popular stopping off place for stampeders in their migration to and from the gold fields of Dawson City. For a short time it had the largest sawmill in the territory...owned by Mike King...who also built boats and scows for the gold rush trade from early 1897.

In late May of 1898, the North-West Mounted Police counted 778 boats under construction at Lindeman Lake, 850 in Bennett and the surrounding area, and another 198 at Caribou Crossing and Tagish Lake. It was further estimated that another 1,200 boats were built in these areas over the next few weeks.

In addition to being a minor boat building centre, Caribou Crossing was also a station for the Royal Mail and the Dominion Telegraph Line, and it served as a communications point on the Yukon River.
From the tent towns that sprung up in the area, several prominent hotels emerged. The Caribou Hotel was built here in 1898. and still enjoys the distinction of being the oldest operating hotel in the territory. In 1899 Fred Trump, grandfather of millionaire playboy Donald Trump, and his partner Ernest Levin, opened a restaurant in a tent at Bennett, which they called the Arctic. Trump and Levin fed their customers well and, before the year was out, they replaced their tent with a two-storeyed building that offered food and sheltered accommodations. When the White Pass & Yukon Route railway threatened to draw business away from the old trail, Trump and Levin floated the Arctic to across from the Bennett depot. When the partners later relocated to Whitehorse, their hotel was burned.

When the gold rush subsided (1901), Anglican Bishop William Bompas moved his headquarters here from Forty Mile, and established a school for Indian children. Two years later he petitioned the Canadian government to change the name of Caribou Crossing to the abbreviated Carcross. This was due to frequent mix-ups in mail delivery with communities in Alaska,B.C. and other Yukon settlements with similar names.
During construction of the White Pass Railway, tracks were laid north from Bennett and south from Whitehorse. They met at Carcross, which hosted the "last spike" ceremony on July 29, 1900, linking Skagway with Whitehorse over a distance of 110 miles. The Carcross area is part of Skookum Jim's land. Carcross-Tagish people remember his deal with the railway, probably the first land claims deal of its kind in the territory. After gaining fame for his role in the discovery of gold in the Klondike, Jim gave permission for the railway to build across his land in exchange for jobs for people in his community. While railway construction was under way in 1899, gold was discovered in the Atlin district in northern B.C. and another stampede occurred. All the gold seekers, goods and services destined for Atlin went through Carcross.
Silver and gold were first discovered in the Windy Arm area of Tagish Lake in July 1899, which sparked an intensive mining era in this section of the Yukon. American mining promoter Col. John Howard Conrad had acquired control of most of the newly-discovered gold-silver-lead deposits. By 1906 the boomtown of Conrad employed more than 200 miners. It included stores, churches, hotels, restaurants, baths and laundry, a post office, a mining recorder's office as well as regular steamboat service at Carcross. Conrad's most ambitious accomplishment was construction of a tramline to carry ore down from the mine on Montana Mountain. It rose 3,700 feet, extended for four miles and cost $75,000 to build. The average miner was earning $3.50 a day. The sternwheeler "Gleaner" provided steamer service between Conrad and Carcross.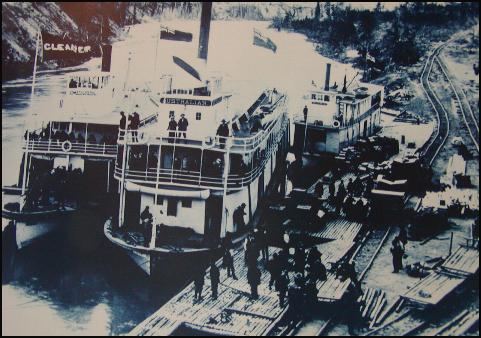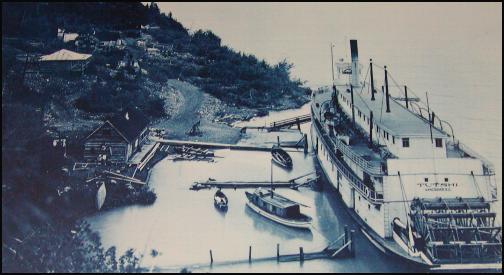 The S.S. Tutshi made regular stops at Engineer Mine to deliver supplies and transport ore to the train in Carcross shown above in 1924...and its burned remains below at the museum.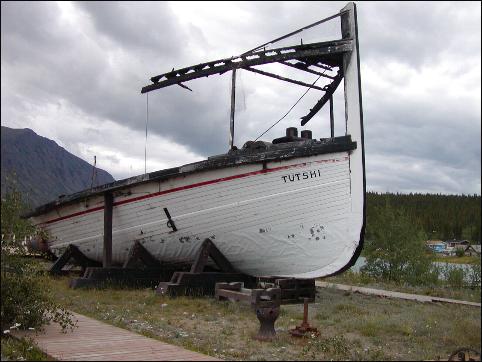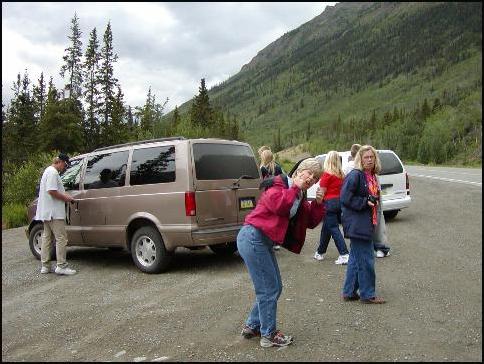 Come on! It's time to giddy-up 'n go...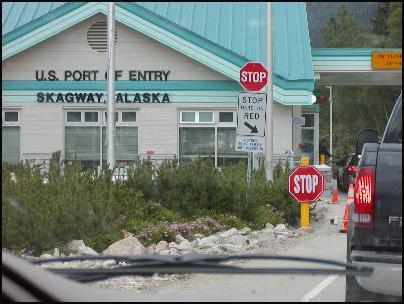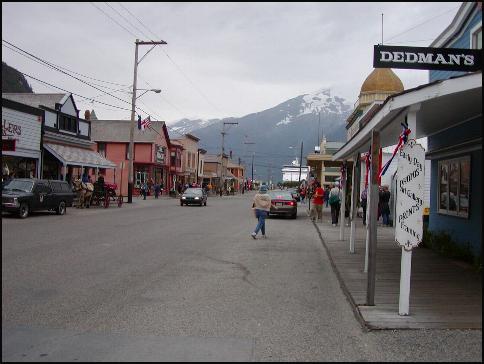 Back at Skagway browsing downtown. When gold was discovered in 1896, in a tributary of the Klondike River, the town grew to 20,000 residents. What some of the gold seekers went through is unbelievable and tragic, but they kept coming. By 1900, the White Pass and Yukon Route railway began carrying the more fortunate over the mountain pass.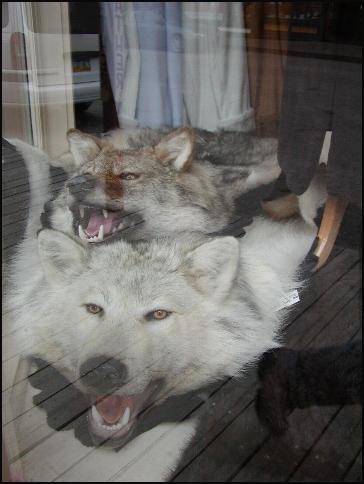 A couple of wolf rugs stare out the window
at the fur store. I don't think I want one.

This huge cliff painting of a watch is catching. My camera brought it in fairly well.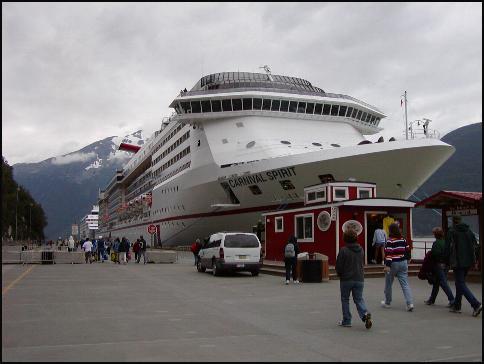 It's time to get back to our ship....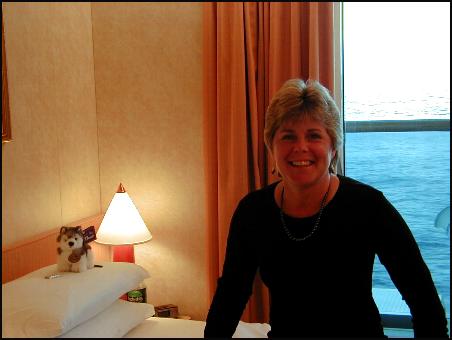 And head for the dining room.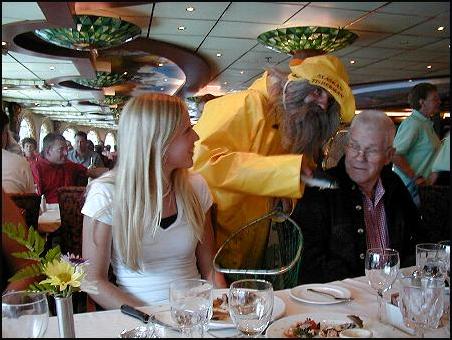 A bearded fisherman offers Vicky and Mel an hors d'oeuvre, but they prefer to wait for dinner.
It's been another wonderful day of adventure.