II
Ketchikan
Our ship made it's way up the inside passage, while we slept,
ate, explored, and enjoyed the beautiful scenery.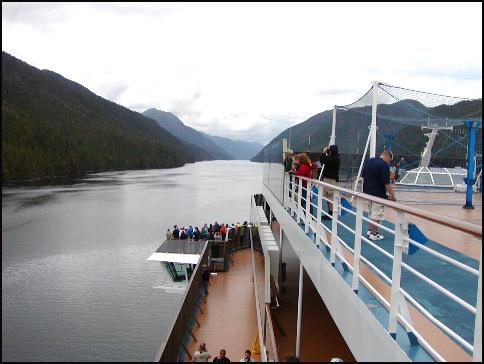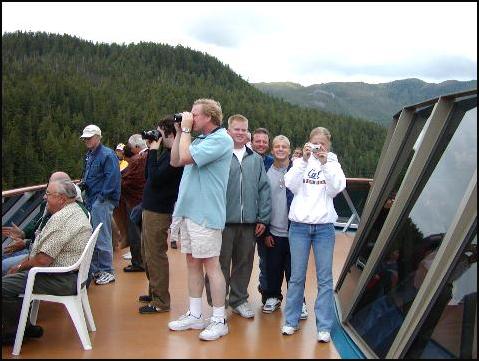 The loud speaker kept us informed on interesting points of
interest, whales, animals and birds like this bald eagle.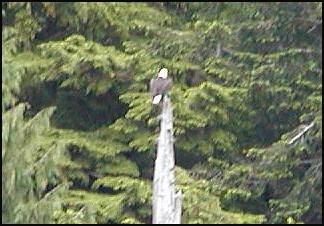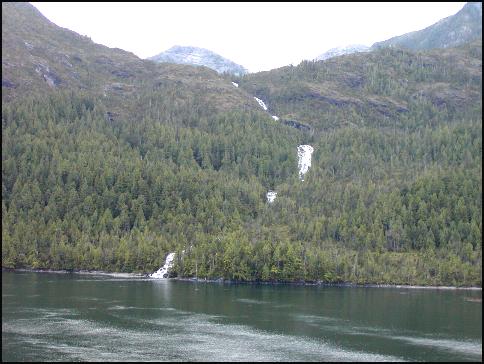 ...And this cascading stream with its many waterfalls.

Friday (July 18) we reached the first stop on our voyage. Ketchikan is situated on the western coast of Revillagigedo Island, and probably dates back thousands of years as a fish camp for Tlingit Indians. It's recorded history began in 1883 when European settlers built a cannery at the creek. Before that, the area had been visited by Spanish, Russian and English explorers who named many geographic features. With the establishment of the cannery, the town became a supply center during the gold rush era.

When mining declined, fishing and logging were it's main industries. Ketchikan is known as the salmon capital of the world and a paradise for sport fishermen and naturalists. During the summer months, the town bustles with tourists from all over the world. It's waterway, Tongass Narrows, is one of the busiest in the nation.

Ketchikan has a population of 14,500 and is built along a steep hillside, with sections of the town built right over the water on pilings. An outstanding collection of totem poles make it interesting for anyone interested in Native art. Ketchikan's name supposedly comes from the native term "Katch Kanna," which translates to "spread wings of a thundering eagle." If you look along the water line you'll likely see many bald eagles on their perches.

The area lies in the maritime climate zone noted for its warm winters, cool summers, and heavy precipitation. Ketchikan averages 162 inches of rain annually, including 32 inches of snowfall.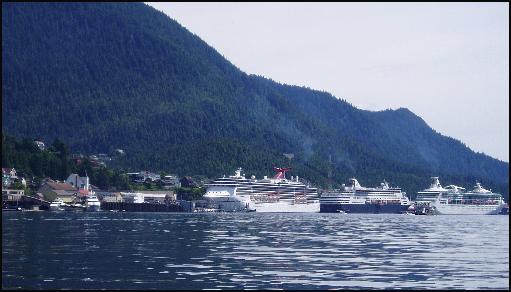 Our ship, and two others, at Ketchikan's dock. On a busy day
there might be six in the harbor.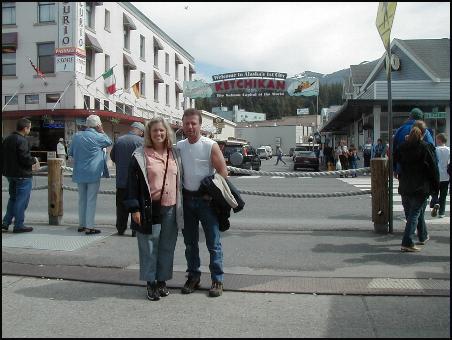 Brad and Cheryl....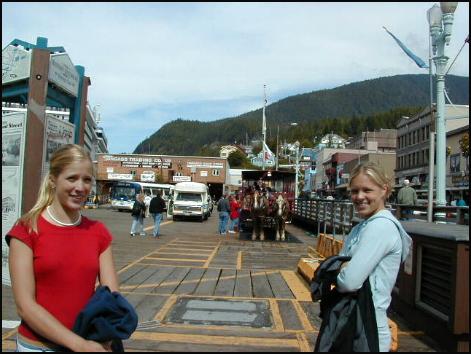 Vicky and Jen...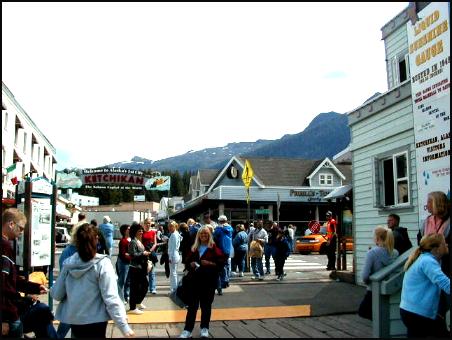 ...and Margie as we leave the ship to look around.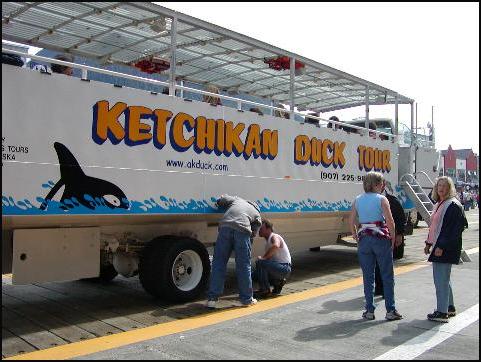 We decide to take the tour in this funny contraption. Is it a
duck, bus, boat or what?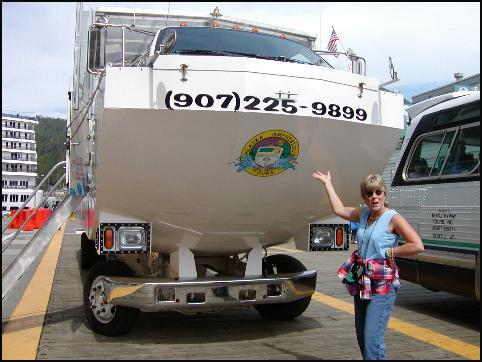 Tada! It's all of the above rolled into one.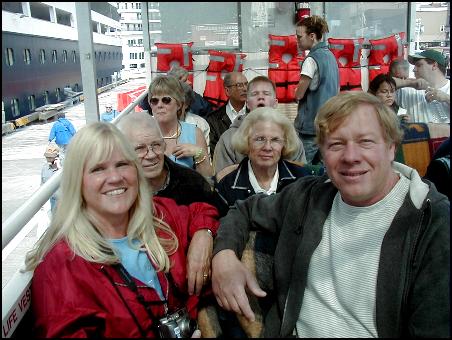 The gangs all here and ready to rock and roll...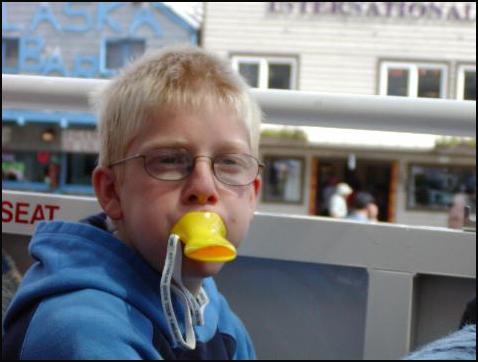 We even get duck quackers as demonstrated by Brent..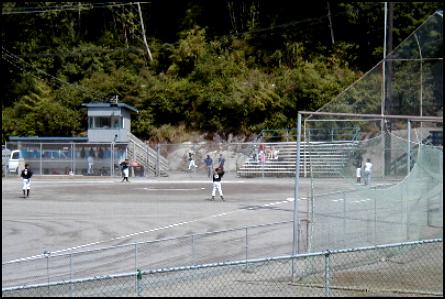 The local baseball park is gravel because the precipitation would make it too muddy. Breaks in the weather aren't wasted. Players take shelter during drizzles, and play ball when it stops. The weather was sunny and warm while we were there.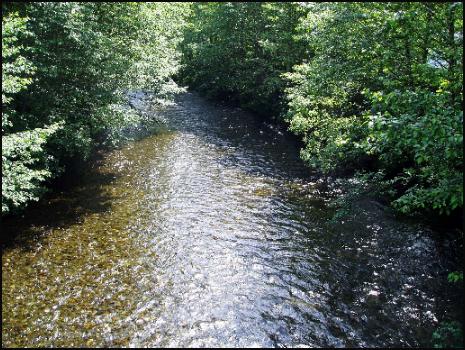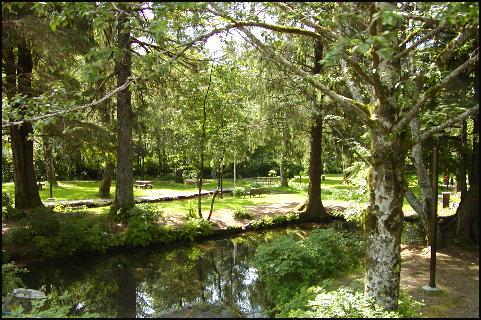 Beautiful park and totem below.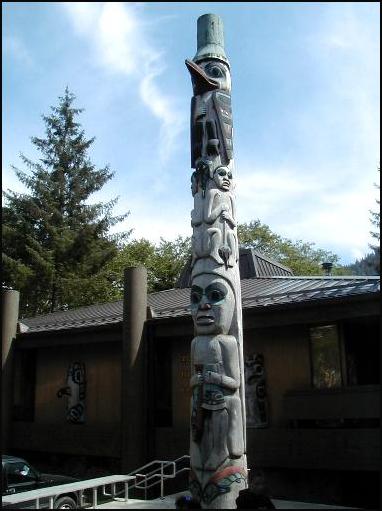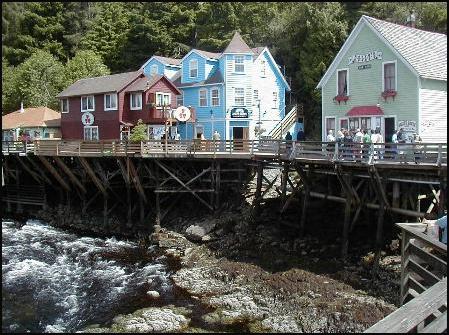 When mining activities flourished, it's estimated that two-thirds of the miner's wages ended up in the bars and bordellos of Creek Street, like Dollys on the right.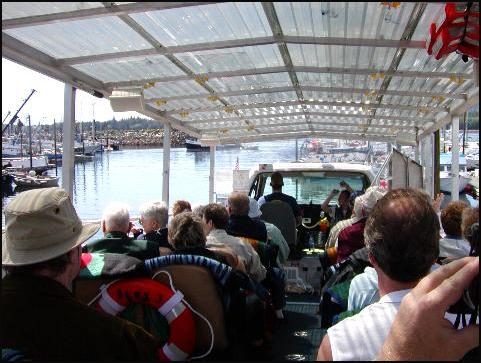 Now we're rolling down the ramp into the water!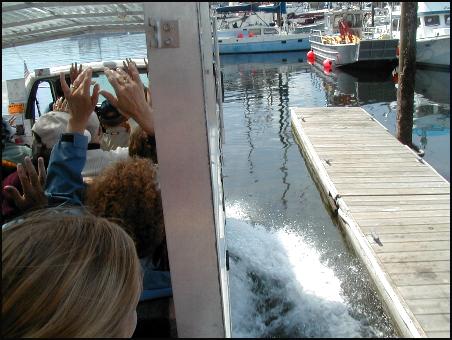 Whoopee!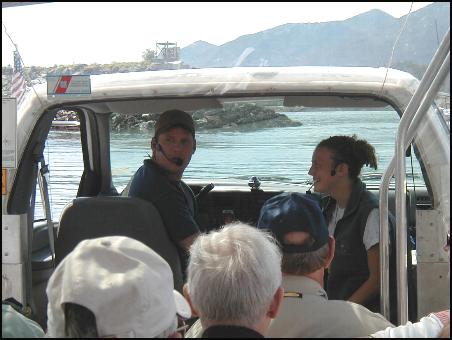 Our pilot pauses to tell another funny story, before we tour
the harbor.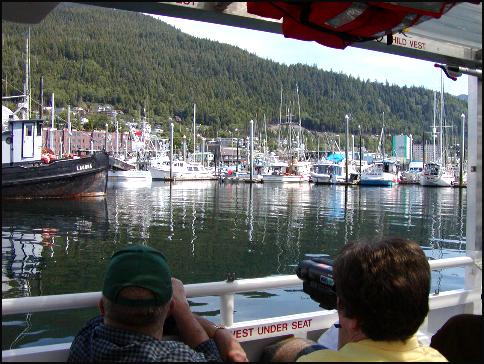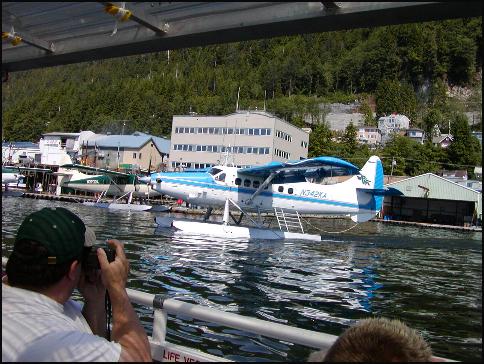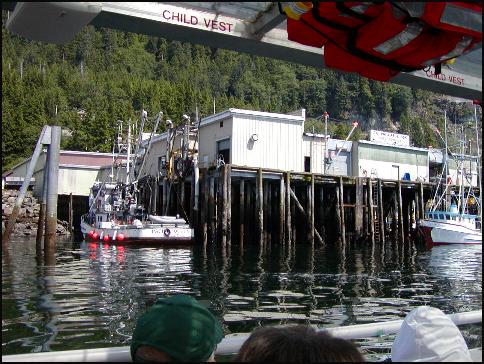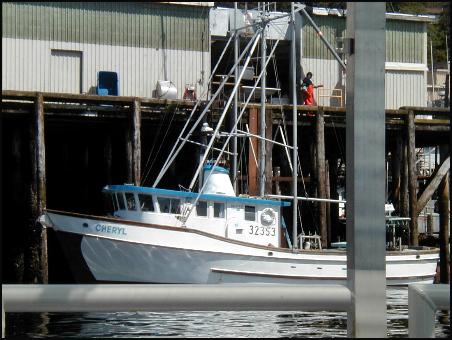 Look Cheryl! That boat parked at the salmon cannery has
your name on it.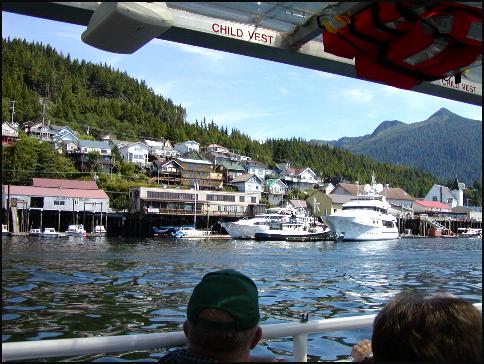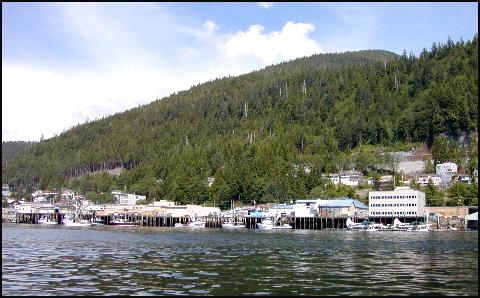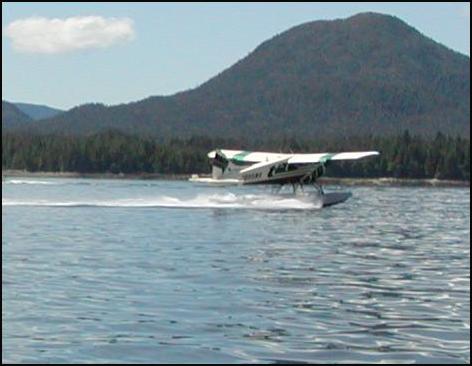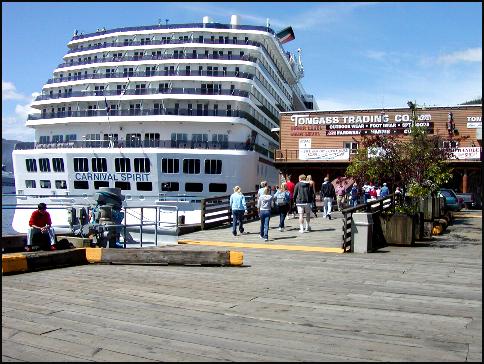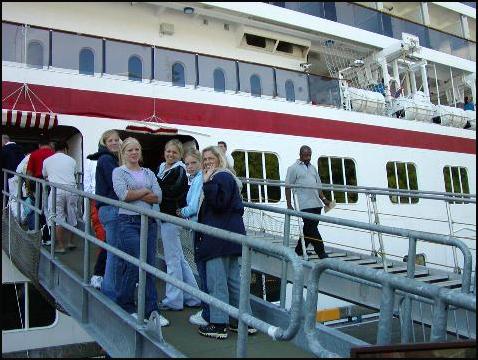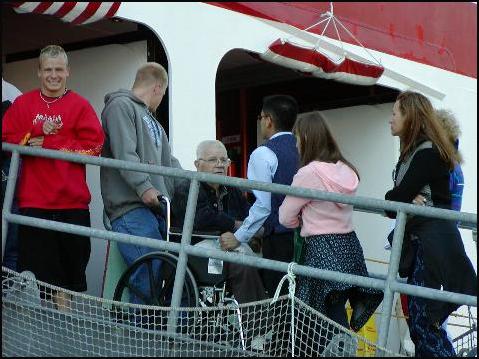 Bradley grins as Timmy pulls Papa up the ramp. The tour was wonderful, but now we're heading back to our ship for lunch. Afterwards, a few of us remain on board, while others shop in town...and some of the guys go fishing.

Later that evening during dinner our waiters Davey and Jimmy bring a tiny birthday cake to celebrate Margie's birthday and join in our song...

Happy birthday to you
Happy birthday to you....
Happy birthday dear Margie...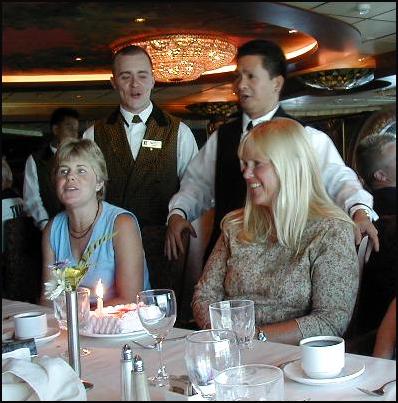 A nice ending to an interesting and joyous day, but I've a sneaking suspicion that when we dock at Juneau tomorrow morning...something even more wonderful is going to happen.