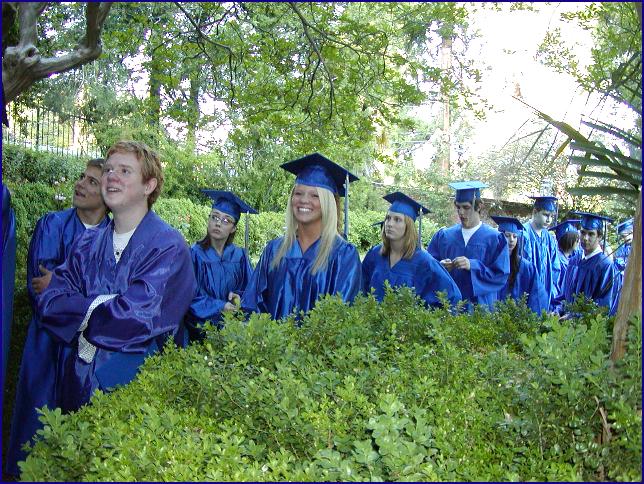 Sierra Mountain High School
Graduation 2006
Congratulations Amanda!
It's Wednesday evening (6/14/06). Amanda and her classmates are ready to enter St. Joseph Hall for the Graduation ceremony and receive their diplomas.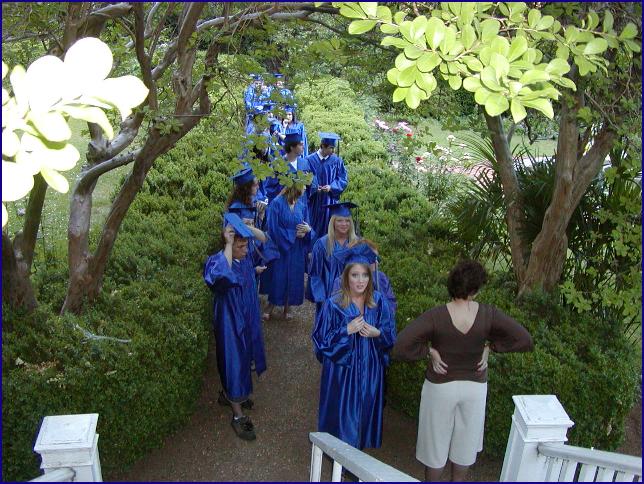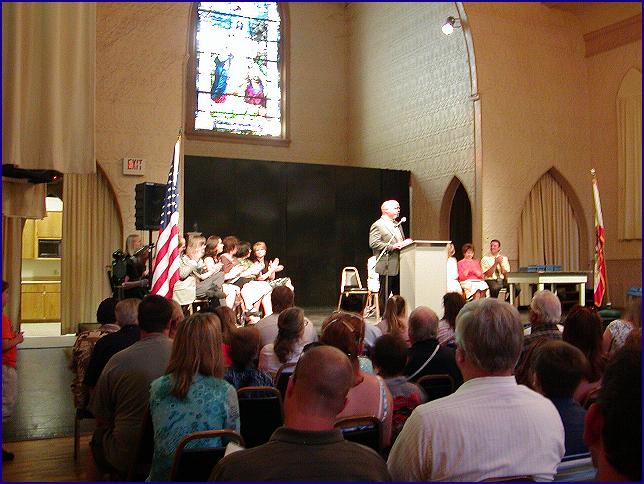 Following the Pledge of Allegiance, Assistant Principal Chris Stockdale welcomes everyone and introduces the teachers who will give a short talk regarding each student before presenting them with their diploma. This is probably one of the most personal and nicest graduations I've ever witnessed.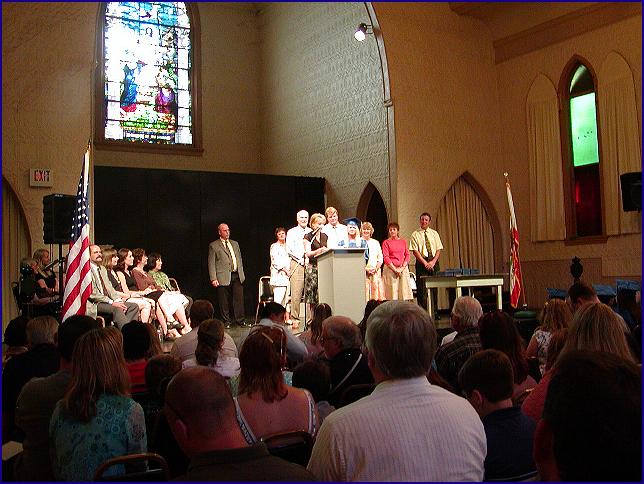 What a surprise! Amanda is the first graduate to ascend the podium where her teacher, Susan Keeny tells about Amanda's accomplishments before giving her diploma. Each student's teacher does the same until the closing "Turning of the Tassels."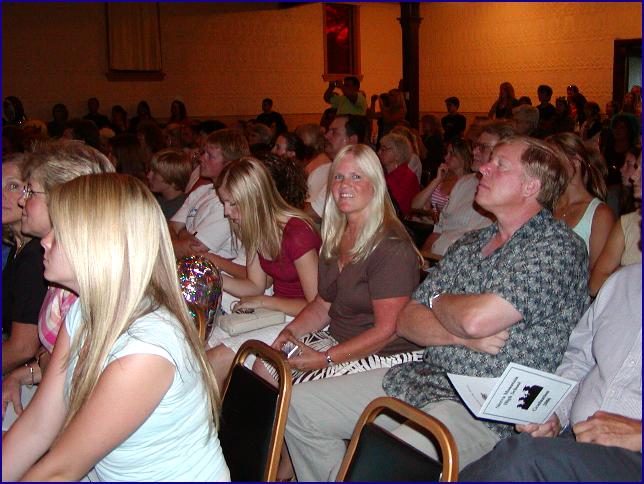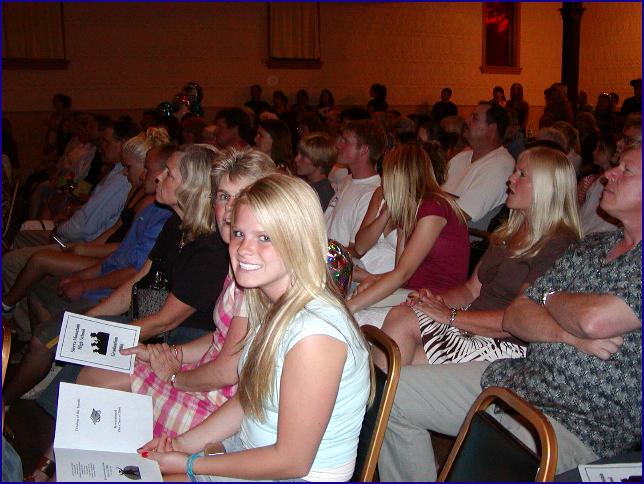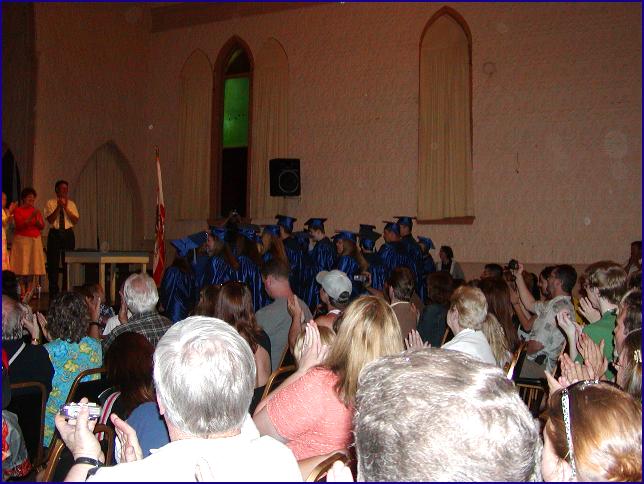 The graduates rise to their feet and leave the building...Outside, congratulations and pictures are part of the celebration.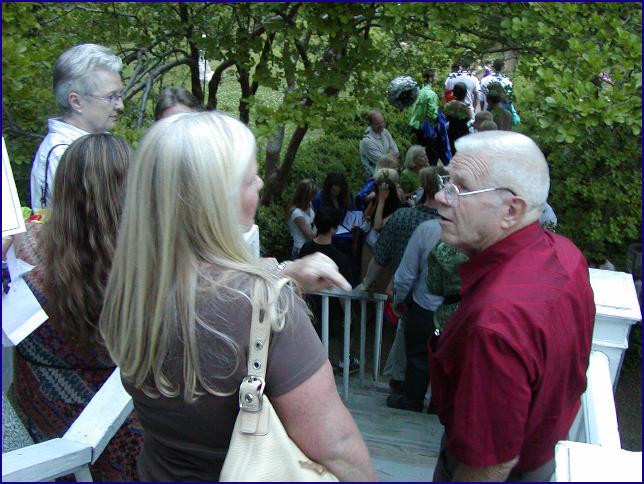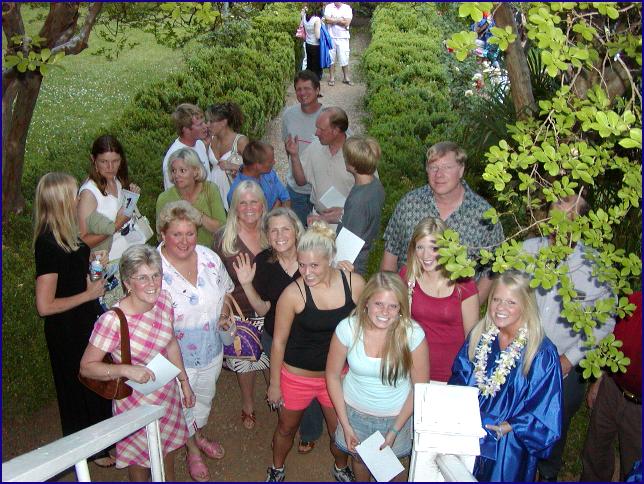 Amanda and the rest of the family beat the camera gal down stairs, but it makes a cute picture of all those special people.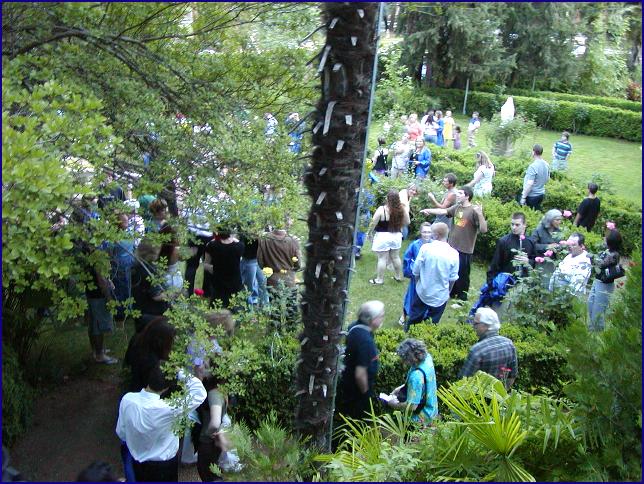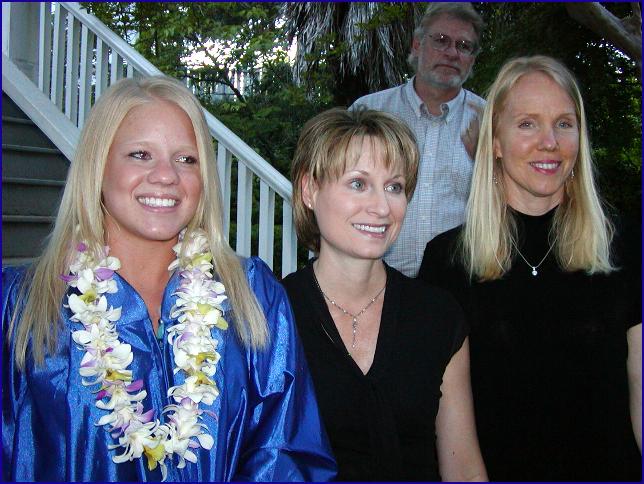 Amanda, Susan Keeny and Sally.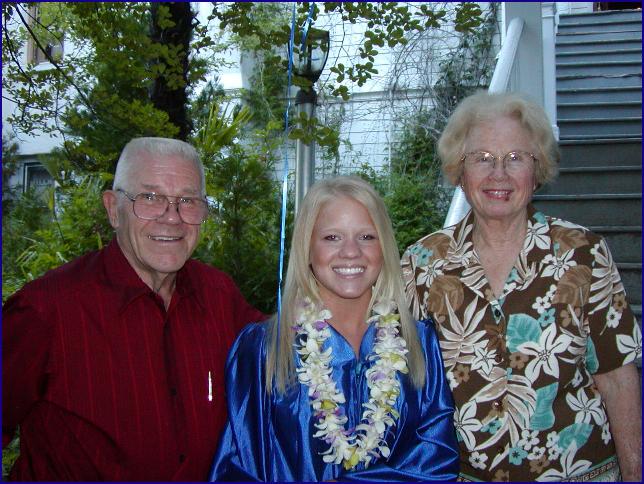 Papa, Amanda and Grammy too.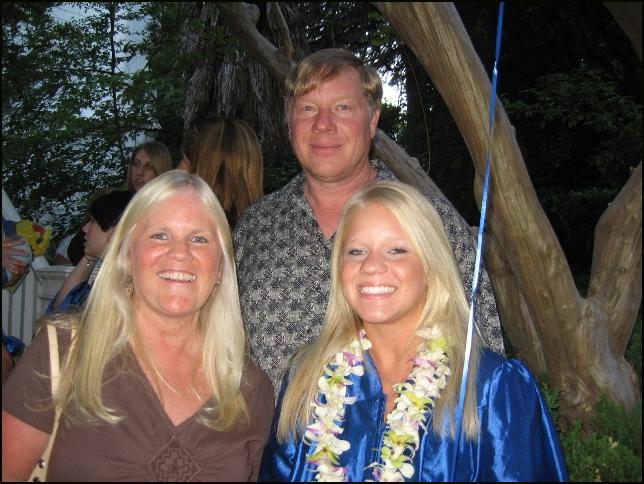 Proud Mom and Dad.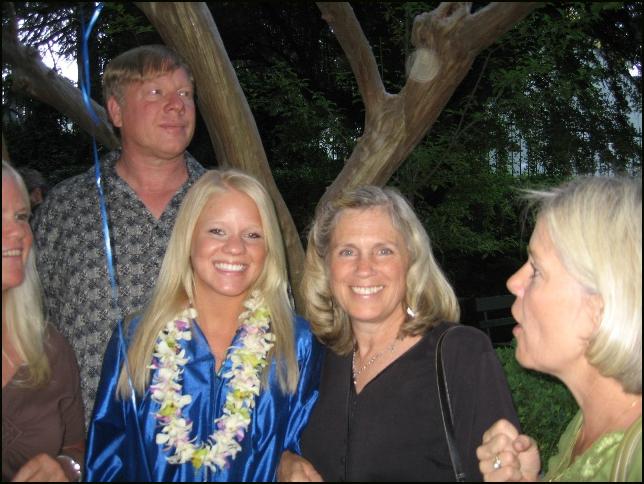 Aunts Cheryl and Nancy....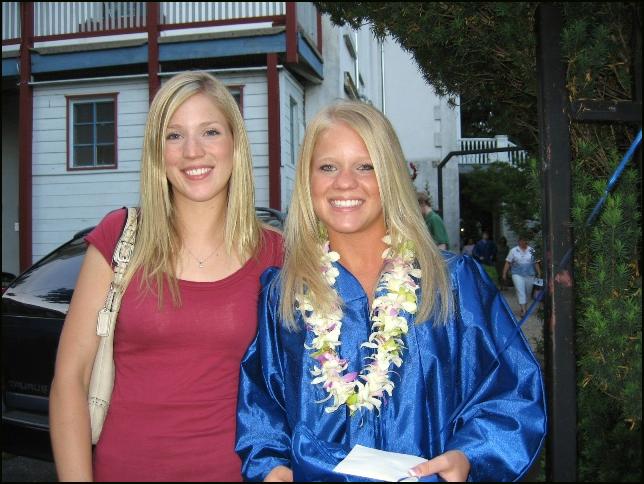 ....and sister Vicky complete a pretty picture event.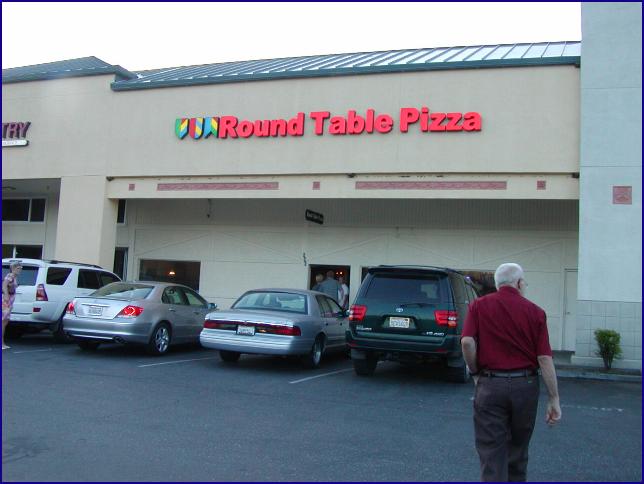 Then we all head for Round Table Pizza for our graduate's banquet.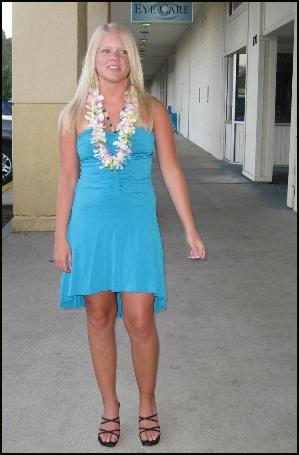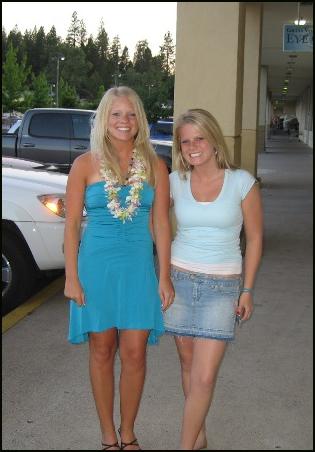 ...And here she is in her lovely blue dress with Katie.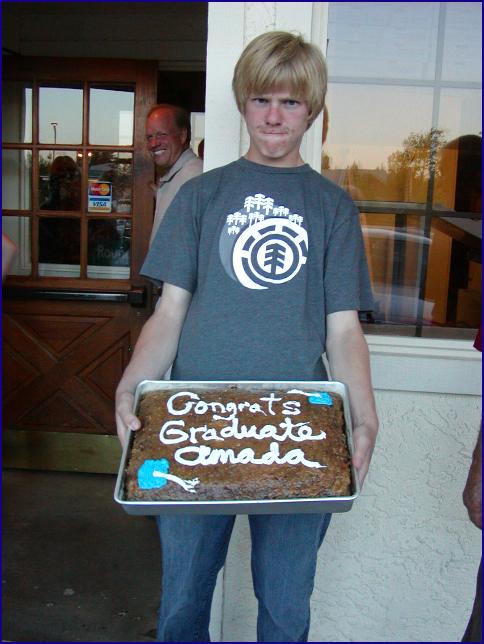 Brent's in charge of the cake. (No he won't bite!)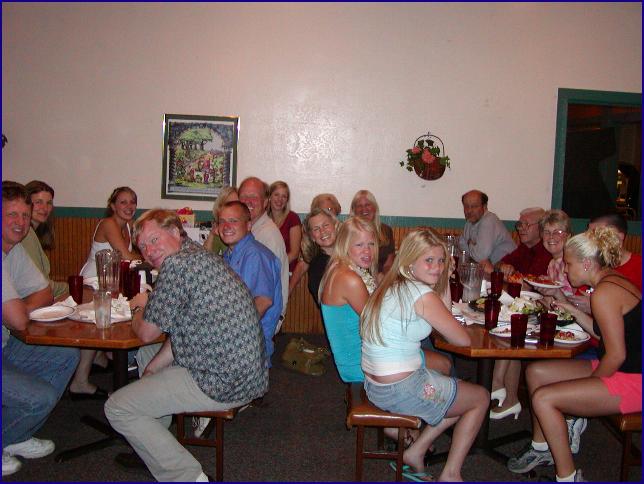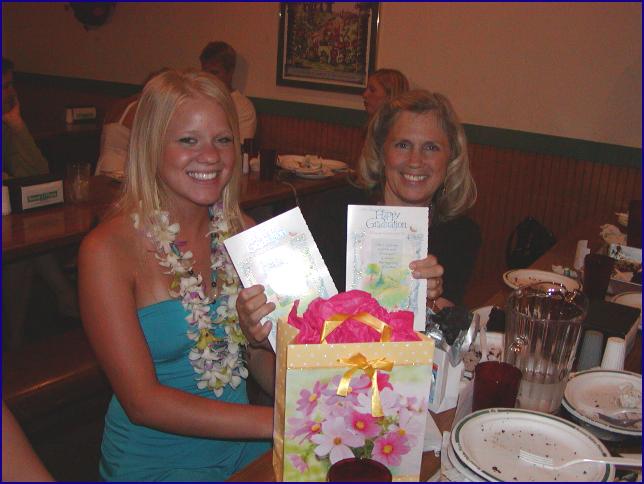 Time for opening gifts. Can you believe it...duplicate cards from Amanda's family and Grammy & Papa?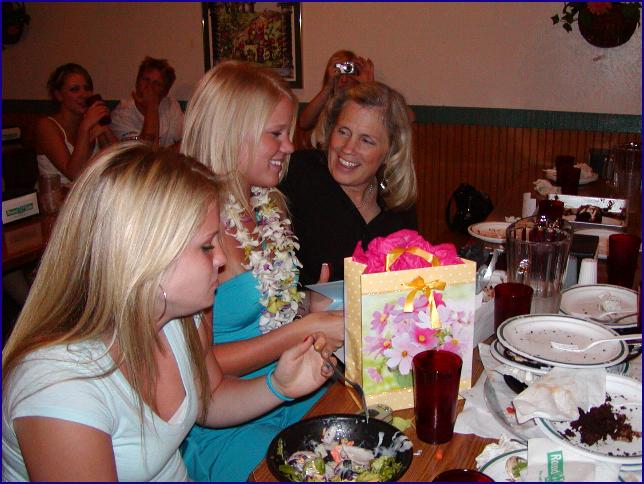 It's been a wonderful evening with our dear graduate. Amanda, we wish you all the best life has to offer.
Don't Forget to Remember Me

(Carrie Underwood-Album, Some Hearts)

18 years have come and gone
For momma they flew by
But for me they just drug on
We were loading up that Chevy
Both tryin' not to cry
Momma kept on talking
Putting off good-bye
Then she took my hand and said
Baby don't forget
Before you hit the highway
You better stop for gas
There's a 50 in ashtray
In case you run short on cash
Here's a map and here's a bible
If you ever loose your way
Just one more thing before you leave
Don't forget to remember me
This downtown apartment sure makes me miss home and those bills there on the counter.....

Remind me I'm on my own
And just like every Sunday I called momma up last night
And even when it's not, I tell her everything's alright
Before we hung up I said
Hey momma, don't forget to tell my baby sister

I'll see her in the fall
And tell mee-mal that I miss her
Yeah, I should give her a call
And make sure you tell Daddy that I'm still his little girl
Yeah I still feel like I'm where I'm supposed to be
Don't forget to remember me
Tonight I find myself kneeling by the bed to pray
I haven't done this in a while
So I don't know what to say but
Lord I feel so small some times in this big ol' place
I know there are more important things, but
Don't forget to remember me
Don't forget to remember me