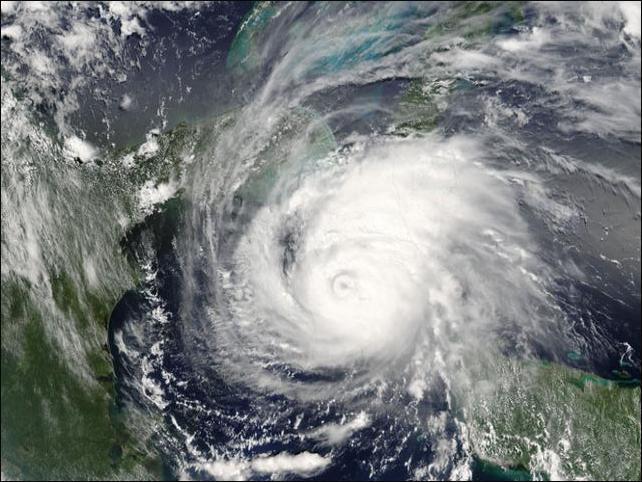 Hurricane Katrina
By
Susan McGuire
On August 28, 2005, Hurricane Katrina was in the Gulf of Mexico where it powered up to a Category 5 storm on the Saffir-Simpson hurricane scale packing winds estimated at 175 mph. At 7:10 a.m. EDT on August 29, Hurricane Katrina made landfall in southern Plaquemines Parish, Louisiana, just south of Buras, as a Category 3 hurricane. Maximum winds were estimated near 125 mph to the east of the center. Hurricane Katrina was the sixth strongest hurricane ever recorded and the third strongest hurricane to make landfall in the U.S. In New Orleans, the evacuation plan was particularly crucial because it is in the Storm Surge Zone, below sea level (up to six feet in some places). Its levies were only designed for a Category 3 and Katrina was forecast as a Category 4 featuring gusts topping 140 miles an hour (225 kilometers an hour). The storm surge from Katrina was 20 feet high. The failure of the levees was due to system design flaws combined with the lack of adequate maintenance. All those in charge did not devote attention to the levies in the region.

The 800 foot levee break on New Orleans' Surkote Road

The Superdome and a man who couldn't endure waiting for help.

More than one million Gulf Coast residents were displaced, and many of the refugees were living below the poverty line before the storm struck. The final death toll was a 1,836, primarily from Louisiana (1,577) and Mississippi (238). An estimated 80 percent of New Orleans was under water up to 20 feet deep in places. Hurricane Katrina caused $75 billion in estimated physical damages, the most costly hurricane in history. It is estimated that the total economic impact in Louisiana and Mississippi may exceed $150 billion. About 90,000 square miles were affected. Before the hurricane, the region supported approximately one million non-farm jobs, with 600,000 of them in New Orleans, but hundreds of thousands of local residents were left unemployed. More than 70 countries pledged monetary donations or other assistance. Kuwait made the largest single pledge of $500 million, but Qatar, India, China, Pakistan and Bangladesh made very large donations as well.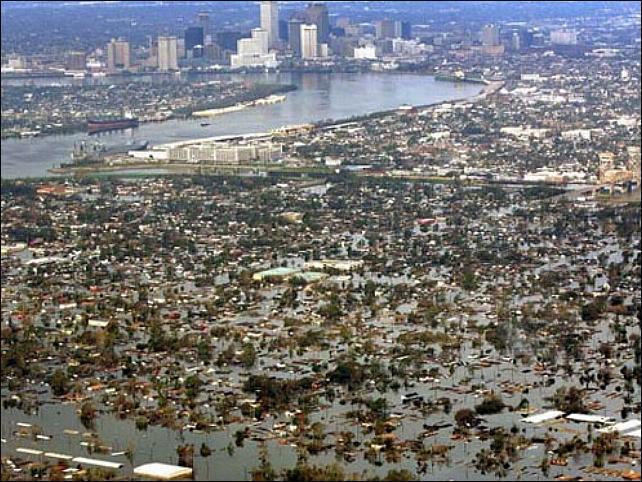 New Orleans following the 2005 hurricane.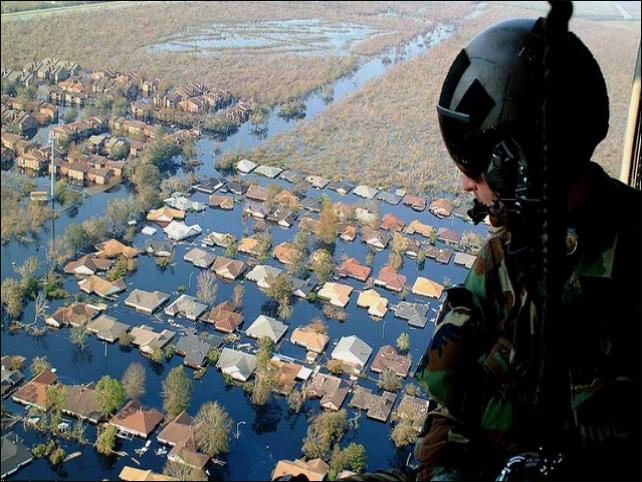 Searching for survivors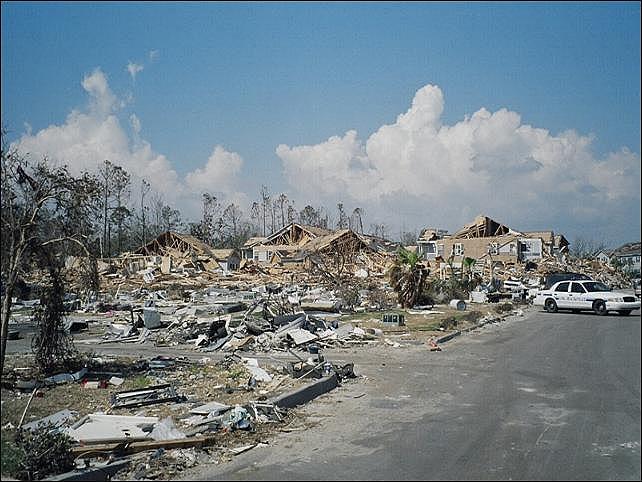 I remember watching the ominous and dire predictions of a hurricane heading towards the United States' southern coastline. It was named Katrina. After it hit the coastlines of Louisiana and Mississippi it was immediately clear that the devastation was beyond comprehension. I was watching television newscasters showed people scrambling to help others, and thinking about how I'd always wanted to help with something like this. Just then a notification came on the television screen that if anyone wanted to volunteer, they should contact their local Chapter of the American Red Cross. So I contacted our local chapter that's been around for about 100 years. They were setting up a training session for volunteers at the fire department in a couple of days, so I signed on over the phone.

During training we learned that the American Red Cross is the first response to an emergency in this country. This is a designation from Congress. The Red Cross always teaches that everyone in this country should be prepared in the event of an emergency specific to their region, and be prepared to survive on our own for three days. FEMA (The Federal Emergency Management Agency) doesn't respond for 30 days, as their purpose is solely to engage in expected "rebuilding" rather than responding to the initial emergency. I was still training weeks before that time. Red Cross's available volunteers increased from 20,000 to 200,000 in a few weeks. They had to immediately train those who came forward, waive many normal requirements, and get them out immediately. Many health conditions normally prohibited were waived because of the catastrophic need, but those with heart conditions were advised not to participate with issues working in the heat. Later, I noticed some unfortunately ignored the warnings causing more problems for the Red Cross.

During the two day training session there was a strong emphasis placed upon the need for people who were flexible concerning last minute changes of direction. At the conclusion of the training, all were asked to sign on the dotted line only if we were willing and able to be deployed within 24 hours. We were cautioned that no excuses would be acceptable, and should be ready to move out within a few minutes after notification by phone. The Red Cross advised us to make our own flight, car rental, or other necessary arrangements ourselves and deal with any problems that might arise on the way. Our contact would be waiting at the destination.

Within two days after completing the training, I was called by Susan King of the Nevada County Chapter and told I was being deployed to Baton Rouge, Louisiana. I was given a number to call at the local ARC Chapter, who provided the pertinent information to make my own plane reservations. We volunteers reported to the office and were given personal Human Resources numbers and contact information for our arrival at our various times and destinations. I was being deployed for three weeks and given a stipend of $500 strictly for reimbursement of enumerated items. We were instructed to keep all of our receipts that would be required to account for the money spent.

Cheryl and Glennie were driving me to the Sacramento airport when I received a call that my flight was delayed. Because I'd been given the admonishment to get there immediately, I had to make arrangements to fly out of Reno, where I spent the night at niece Vicky's friend Guy's house. From there I used my cell phone continually to make sure there weren't any more hitches.

Riding the bus to Baton Rouge

I arrived in Baton Rouge on September 17, which is west of New Orleans. The volunteers like myself who had arrived late in the evening were taken to a school auditorium to spend the night with hundreds of other volunteers who were already sleeping on cots. In the morning we were transported by bus to the ARC Central Command Center. There were hundreds of people coming in and going out from various stations throughout the large building. When we arrived we were instructed to sign in and directed to move from station to station learning what to do. We could then sign up if we had specific training, skills, or desired to work in certain areas. I felt kind of lost and wondering what I could do. I was initially assigned to Lake Charles, but that changed to a shelter in Lafayette. While waiting instructions I met Jaret and a great new friend who was deployed at the same time. Moe Lopez was from Southern California. She talked about her daughter who was breaking into the music industry as one of "The Sol Luna Girls." Moe nicknamed herself "Chunky Monkey," and I chose "Witto Susie" for myself. We often laughed about writing a book called, "The Adventures of Chunky Monkey & Witto Susie."

We began our service working at the shelter in the Cajun Dome in Lafeyette, Louisiana for a week. Moe was immediately assigned to be a night manager as she had previously had experience at a shelter in California. The population was initially 6,000 evacuees; however, when I arrived it had dwindled to 3,000. The first morning I met with approximately 60 other volunteers. Various Department Managers provided updates regarding preventing illnesses by encouraging the use of gallon sized hand sanitizers throughout the shelter. Within the week the evacuees dwindled to 2,000 as they made arrangements to move on with family, relatives around the country. After the first week, we were forced to evacuate the Cajun Dome, because Hurricane Rita was now approaching. It was our job to organize everyone for a bus trip north to Shreveport before the storm hit.

Cajun Dome

During our bus trip from Lafayette, I rode for eight hours in the front seat behind the driver who had been evacuating folks from the beginning when Katrina hit. He told horrific stories. What struck me most is that the Mayor of New Orleans refused to allow the city transit buses to be used to evacuate the residents who couldn't evacuate on their own. He didn't want his buses ruined. The irony is that they ended up under several feet of water and silt. Instead of spending funds provided for better levees, the mayor chose to spend the money on tourism. When everything hit the fan he hightailed it and blamed everything on President Bush.

We stayed in Shreveport a week, where more evacuees arrived from the hard hit Lake Charles area. The rain downpour was so extreme that everyone stayed indoors. One problem was that some evacuees were stockpiling, while others had nothing. I started asking individuals regarding their needs and instructed other ARC workers not to had them out in lines that had formed. We went out on the floor to determine needs, and personally obtain the items to fill them. This worked well. It didn't take long to run short on blankets because of the numbers of people arriving. We couldn't locate any blankets in Louisiana or Mississippi, so I sent people out to wash them at a laundry mat, which was against the rules due to the danger of disease, but we were desperate. One gracious laundry donated two washers and dryers exclusively for our use. These ran constantly through the night, but we were still short on blankets. We newbees were beginning to understand what it meant to be flexible. There was some grumbling, but it was exciting and challenging to just jump in and figure things out.

One guy I worked closely with was somewhat of a rogue by failing to follow the rules. He took off with vehicles rented by the Red Cross and ran evacuees from one city or state to another. He later told me that he went to New Orleans where he observed the local police burglarizing the homes. They pointed an AK-47 in his face saying, "Don't you know that marshal law has been declared? If you move, you will be shot on sight." He stayed put in the van afraid to move, until the National Guard showed up later and asked what he was doing. When he explained what had happened they exclaimed, "marshal law has not been declared!" They advised him to stay near them for the night. The next morning they sent him on his way.

FEMA truck delivers blankets

Back in Shreveport a big truck from FEMA showed up and I signed for 200 blankets. Yay!! They had thousands, but I didn't want to hog them. I also went to a local store and bought 50 with the money the Red Cross had given me for my living expenses, which I later had to report in writing and explain. The local people in Lafayette were wonderful. I did see some prejudice in Shreveport, much like between the north and south. I don't understand that mentality. The white girl born and raised in Nevada County was among a lot of black folks. Some seemed to be intimidated, or felt black people didn't like them. To that I responded, "They're people. Just say hello first, smile and treat them with respect like anyone else, and they'll respond likewise." I didn't have any problem. There were creeps running around and some arrests. Everyone was in the same boat, whether a good citizen or a criminal. We learned some young kids were molested in a bathroom and there was some violence, but we had security consisting of volunteers who were cops in their own cities. Sometimes it was spooky walking through the dark halls of the dome at night after lights out, but the National Guard was there. When we got to Shreveport we had to request security, that wasn't present....other than the few we brought from the Red Cross. People knew how to make things happen.

About a week in Shreveport and after Rita finished it's fury, and the repairs to the Cajun Dome were made, we returned "home" to the Cajun Dome in Lafayette. I was appointed Logistics Manager for the Dome. During one day of shopping I spent $8,000 for food and other necessities. Two days before my departure a couple of fellow Red Cross friends and I drove to New Orleans on our day off. I have to say the worst hit was St. Bernard Parrish (below).

The new group replacing the initial group with extensive experience and training were literally newbees. It was something. By the time I left, some of the initial ones came back as their experience was needed for a second and third wave of newbees.

When we talk about personal responsibility we should all think about our own safety in case of something catastrophic. Next it should fall on city government, then county, then state, and finally upon the federal government. I have little respect for those in Louisiana's City of New Orleans and the State government who accepted no responsibility and tried to blame it on the furthest level of government...and the President for their delinquency. And shame on those who sat back and didn't volunteer, but were so quick to point the blame finger at others. I hope I'll always remember this when I'm not able or willing to personally get in the trenches.

Not everything I saw was pleasant from the perspective of volunteer help, but I was totally impressed with the way the Red Cross and National Guard handled problems. Swiftly and without fanfare or disruption of business. We all learned a lot. It was an amazing accomplishment during a natural disaster. The earth could be destroyed in a day. We can't prevent that. But for those who get off their duffs, shut their mouths and get in the trenches...hoorah!! And for those willing to open their pocket books because they can't go, hoorah!! Those in the media and idiots who use these disasters solely for political gain might fool a lot of people, but God is watching, and life is short.

Later...

This photo was taken from the third story balcony of Saint Stanislaus College located next door to Our Lady of the Gulf Church in Bay Saint Louis, Mississippi on the morning of August 29th. This is believed to be the initial tidal wave from Hurricane Katrina. It was approximately 35 to 40 feet high when it slammed into the beach front communities of Bay Saint Louis and Waveland. It completely destroyed 99 percent of every structure along the beach for 9 miles and over a mile inland. The flooding that continued inland destroyed the contents of all but 35 homes in these two communities of approximately 14,000 people.
Just before Christmas a group of us from Twin Cities Church drove to Biloxi, Mississippi to deliver supplies and help a church we'd adopted. We ended up working hard to get some folks back into their home. I think Biloxi was much harder hit than New Orleans. The devastation was unbelievable....like a war zone. Every time we left the inside of the house we were working on, it seemed like walking into a strange world full of debris on land and in the remaining trees. Devastated homes lifted from their foundations. Homes where people died were marked. A storm came up during our last day. The heavy rain was spooky. We were all in our motor home, and just looked at each other like..."I wanna go home." The pictures I took somewhat tell the story, but the bigger picture is worse. We drove to Gulfport and noted the total devastation. Homes turned to rubble, and abandoned cars everywhere. Biloxi was a nice and beautiful area before the hurricane. The water raised 35 feet above sea level and the homes were 15 feet above.

The second story of the house we're working on. He's pointing to the water mark

But it wasn't the famous sin city, so they didn't get the attention. Nor was their State, nor Mayor totally corrupt as in Louisiana. Having received the training from the Red Cross, learning the chain of command in an emergency, seeing what was going on, and talking to people months after...my opinion is that much of what the media fed us was nonsense. I learned from folks in Biloxi the money from FEMA was sent as were trailers, etc. However, distribution was turned over to local contractors who failed to get them distributed in a timely manner. While there, I saw many trailers lined up and available for people to live, but they were sitting on a lot, while many people were living in tents and whatever shelter they could find.

Four years later, thousands of displaced residents in Mississippi and Louisiana were still living in trailers. Reconstruction of each section of the southern portion of Louisiana has been addressed in the Army Corps LACPR Final Technical Report which identifies areas to not be rebuilt and areas buildings need to be elevated.