Rising Starz at
Miyagi's Gold Country
Classic


On Saturday September 27, 2003 we attended the third annual Miyagi classic. Grand-daughter Megan's Rising Starz gymnastic team (from Grass Valley) competed with seven other teams from Stockton, Davis, Loomis, Vacaville, Auburn, Reno and Carson City, Nevada. As expected, it was quite interesting to watch highly disciplined young girls perform difficult maneuvers.

Miyagi Gymnastics Academy (Auburn) has been under the ownership and direction of Noboru Miyagi Since 1984. It has provided outstanding gymnastics instruction for the past 19 years. Miyagi moved to Auburn in 1984, and started coaching 24 children in a leased gymnasium at a small private school. At the end of the first year, he has grown to 400 students and moved into a leased 6,000 square-foot industrial building on Locksley Lane. In 1987 the

academy moved to the 2.5 acre lot at 3116 Olympic Way.

The goal is to develop gymnasts of all levels to their fullest potential. Levels 3, 4, 5, and 6 will be competing today. Age is determined by the actual age the gymnast will be on the final day of

state championships in this season. November 23 for level 5 and November 16 for level 6.
Megan is 10 and just moved up to level 5. Her new position made her feel a little insecure, but in the final analysis she and her team did very well.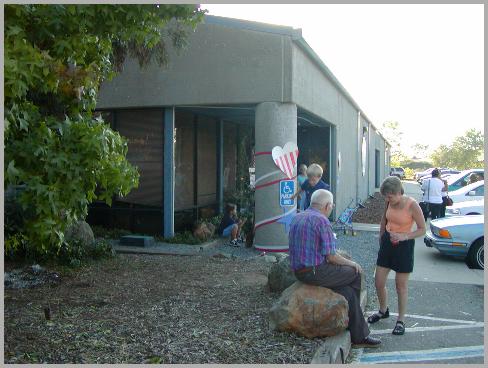 Papa, Sue and Mason outside the gym.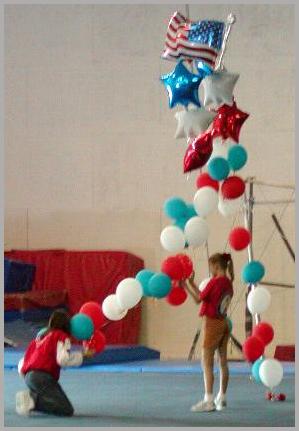 Inside, the teams file in and line up....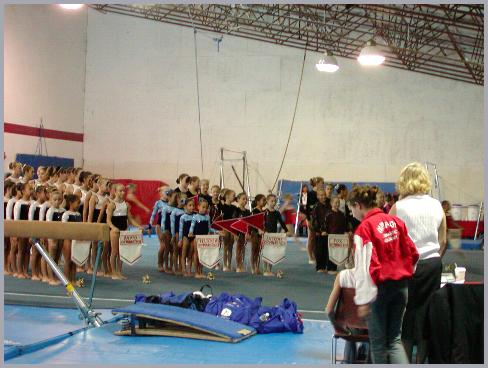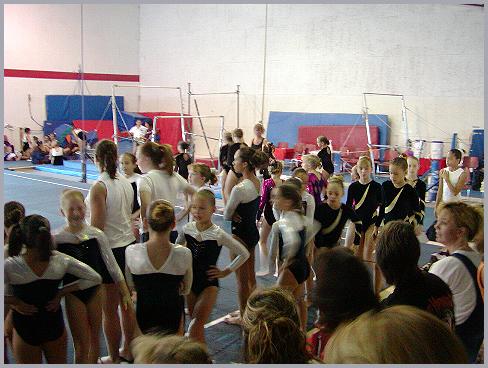 ....And move into their various competitions.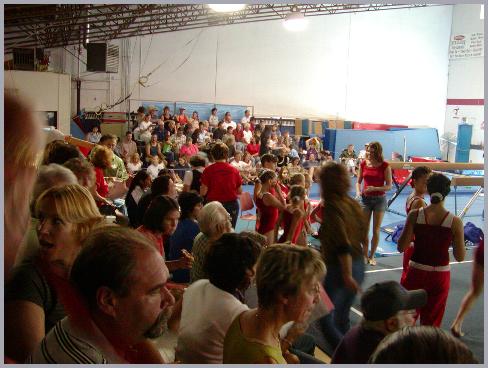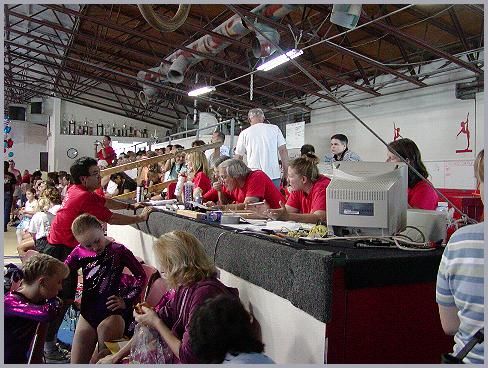 The Beam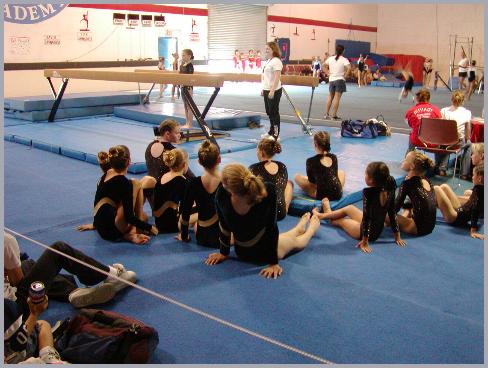 Rising Starz waiting their turns on the Beam.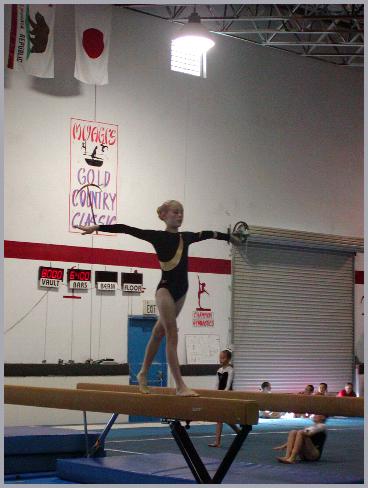 Megan looking very graceful.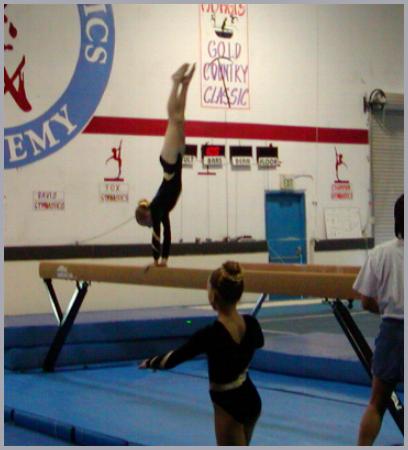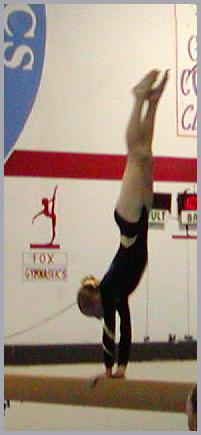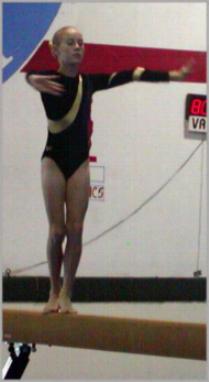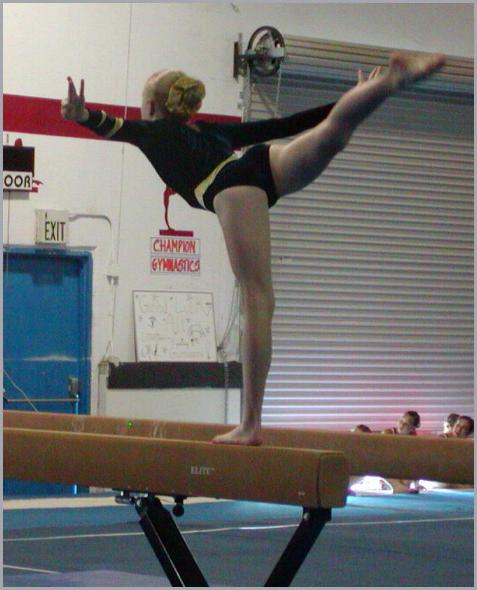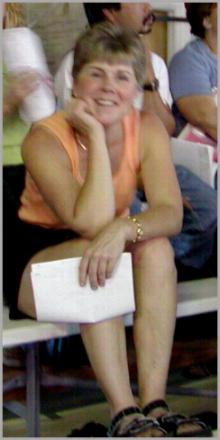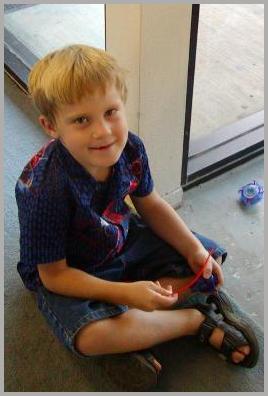 Sue is thoroughly enjoying her first experience watching gymnastic competition. Mason's more interested in what little boys do to wile away time.


The Floor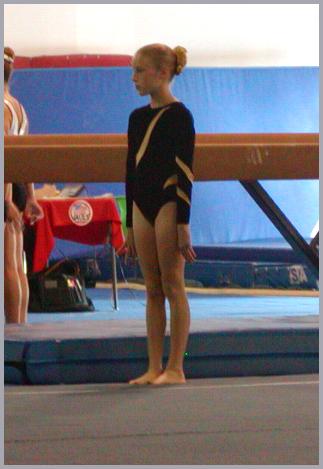 Megan's about to began on the Floor.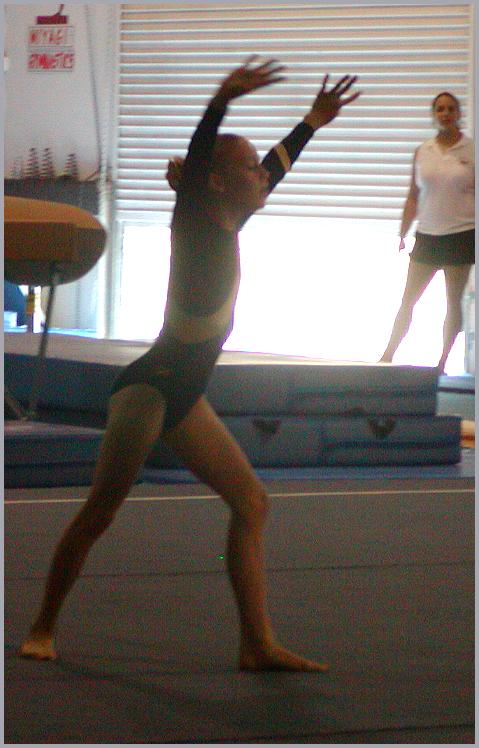 Below, Grandmother's Absher enjoy the
coolest seats in the gym.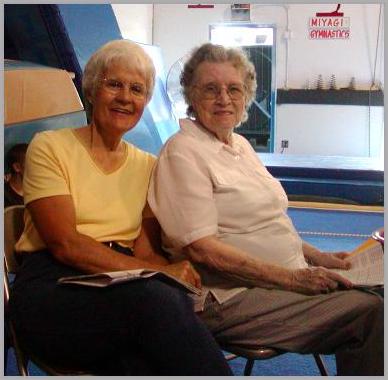 The Vault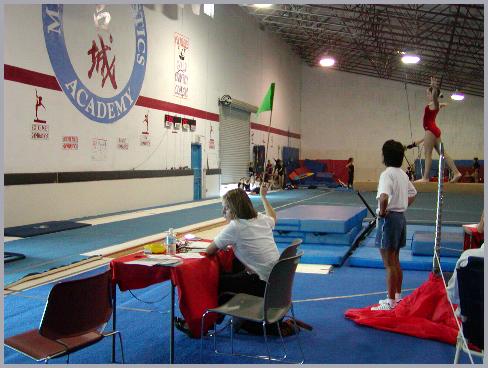 Megan gets the green flag...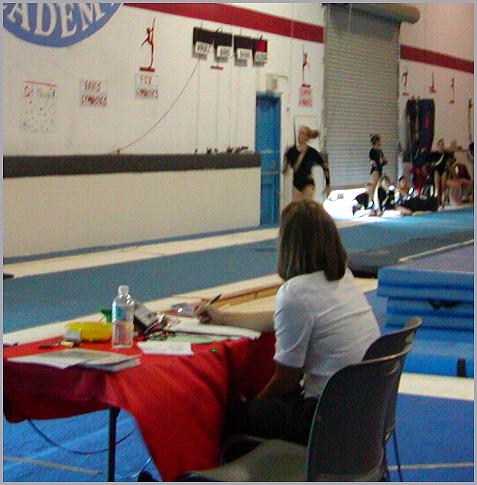 ...And races to the vault where she flips over
and lands on her feet.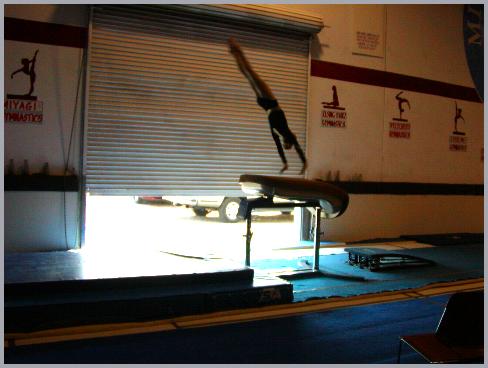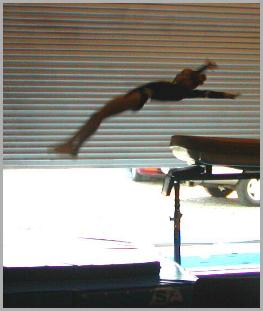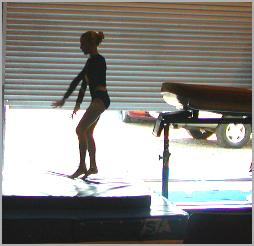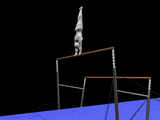 The Bars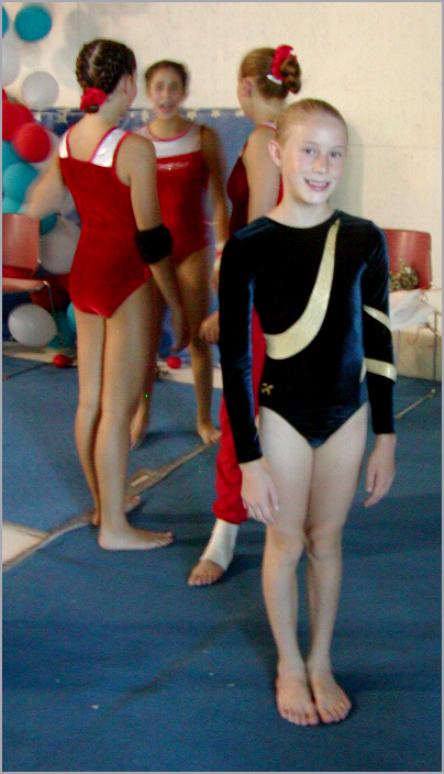 Megan and Starz team wait for their turn on
the bars.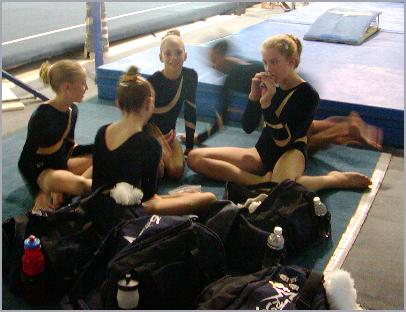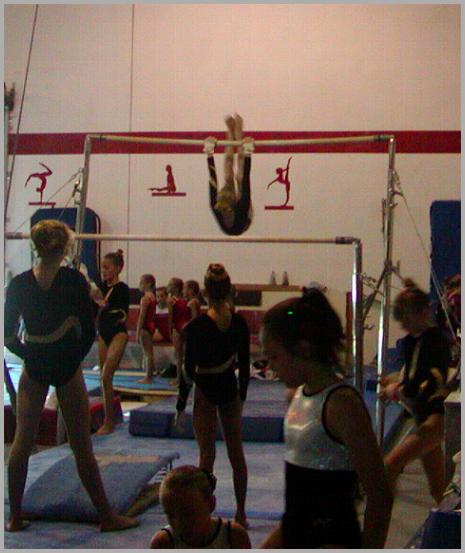 There she goes...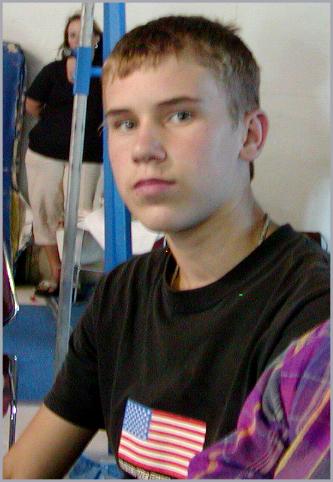 Brother Drew, Papa, Dad and Mom watch
from the sidelines.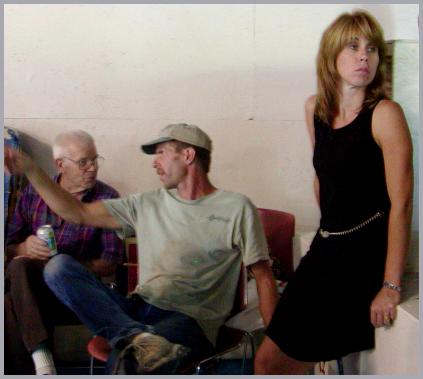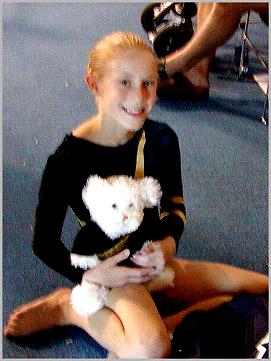 Megan holds her special mascot.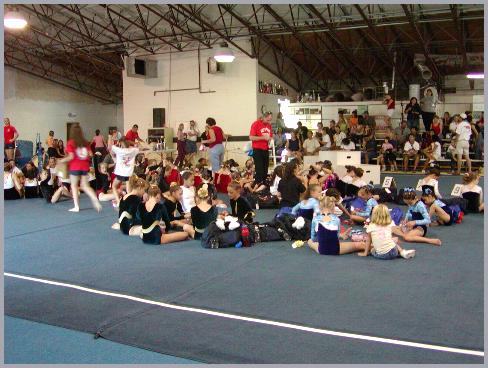 At the close of competition, Sean North passes out tickets to all the girls that will be drawn for prizes.

Following that, the girls (at each level) received recognition for their achievements. At level 5, Megan took second place in the vault (8.60), fourth in bars (8.40), sixth in beam (8.10), and ninth in the floor (8.25). She placed fifth in overall competition with a 33.35 score.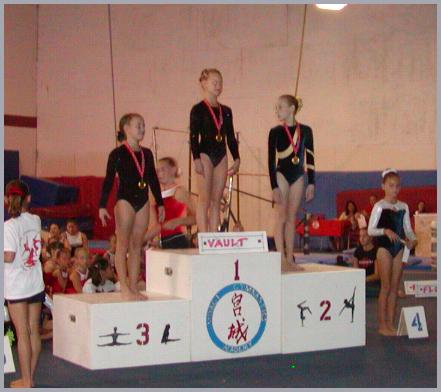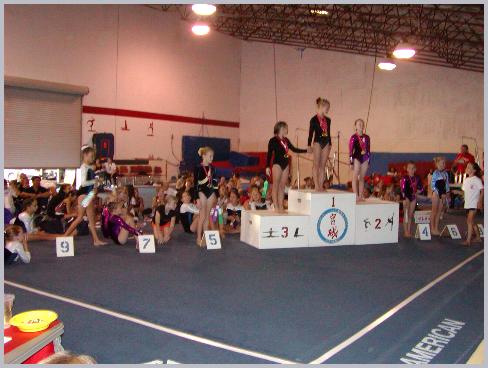 ~~There's more! ~~
On Saturday, October 11, Rising Starz Gymnastic Academy's Jeannine Bailey (level 6, 12 and older) and Megan (level 5, age 10 to 11) each posted all-around championships at the Fall Festival of

Stars in Reno.

Jeannine, competing in Level 6, won the vault (9.0), beam (8.0), floor (8.6), and second in the uneven bars (8.55) to an overall score

of 34.150.

Megan won the Level 5 age group title, won the vault (9.5) and beam (9.1), took second in the floor (9.0) and third on the bars (8.2) on her way to a 35.8 all-around score.

Wonderful achievements from dedication and hard work.