New Year's Eve
( 2004)
It's New Year's Eve. After finishing an early dinner, Mel and I uncorked a bottle of Cabernet Sauvignon for an early toast to the new year. The phone rang. Daughter Sue informed us that we had about three inches of snow outside. Cuddled up in our trailer (blinds closed) watching television and playing on the computer, neither of us noticed. It was a shock to look out and see all that snow. She wanted us to come over to her place to hear what new things she discovered on her piano, and maybe play some games. We'd been lounging around all afternoon and felt down and out lazy. Mel declined. His back was still sore from his recent fall off a ladder. I didn't feel like going either, but Sue gets me out of my rut to try new things. She promised to warm up the car and pick me up in a couple of minutes.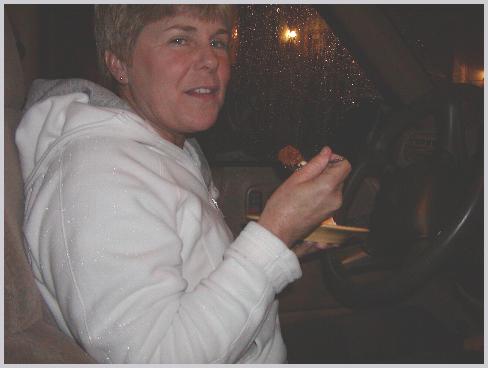 When she arrived the plan changed to taking a ride to the top of Banner and see how much snow there was. I was to bring my camera and a box of See's candy. I went back inside to put on my boots and coat. Shortly, we were on our way. Oops! I forgot the candy so we stopped at Sue's house. She brought a couple of slices of yummy carrot cake.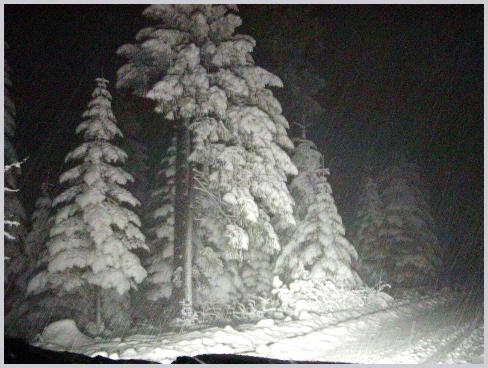 Chuckling with anticipation, Sue shifted her Blazer into four wheel drive. Within moments we were at the top of the hill in a beautiful, silent white world.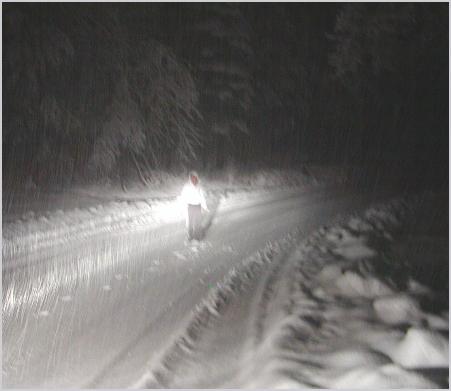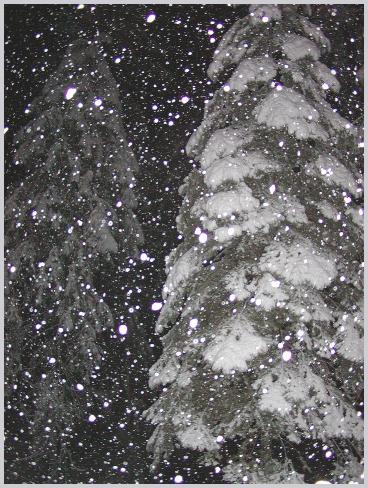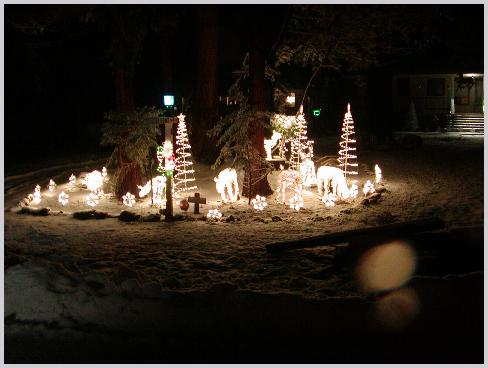 We rolled on to Cascade Shores enjoying
some of the beautiful Christmas light displays.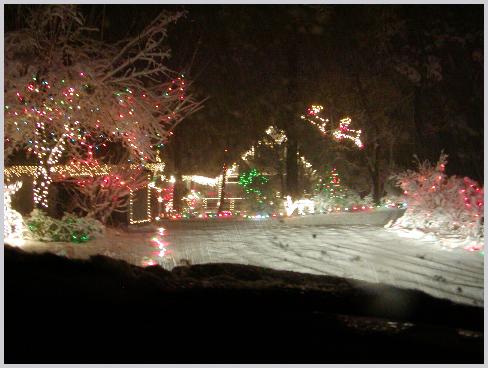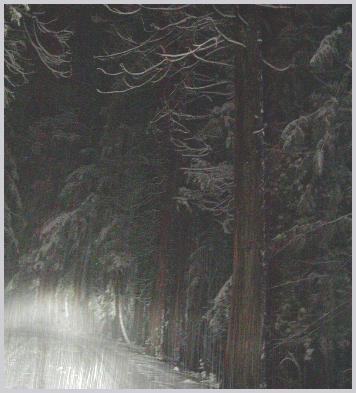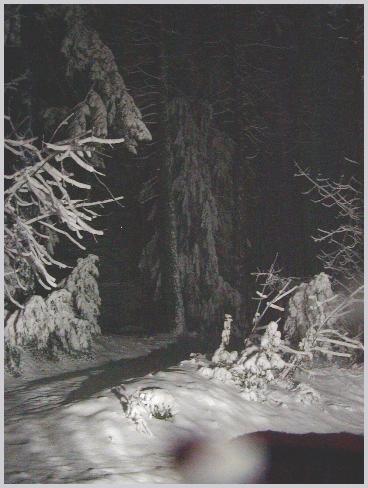 Then we made the circle and headed down
Pasquali towards Nevada City.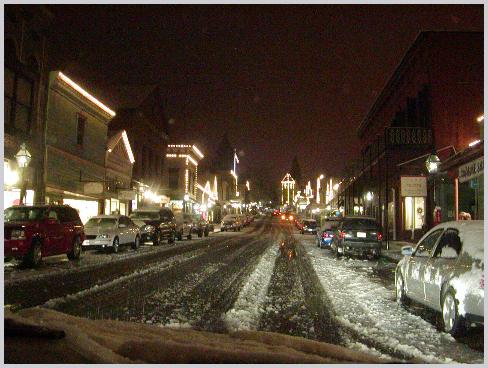 It's lights in the snow made it even more
beautiful.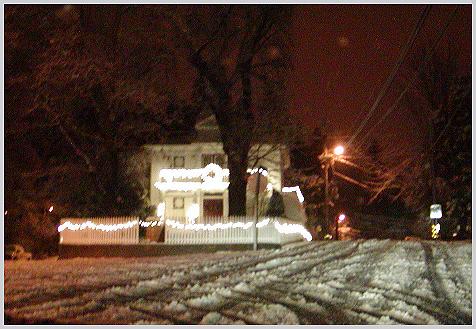 We turned around at the top of Broad
Street.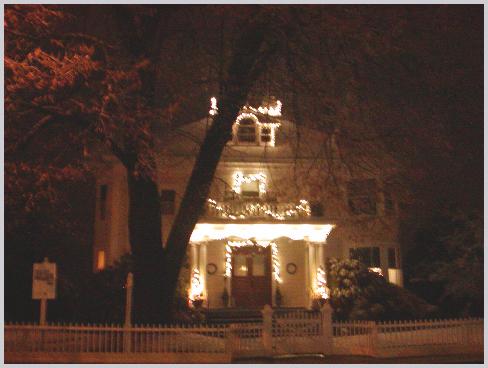 The Ott mansion was lovely this year.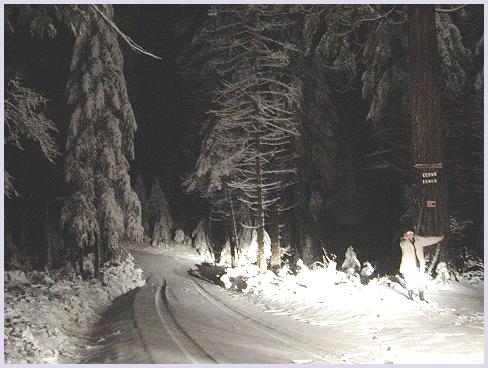 That's me pretending to direct traffic to our place....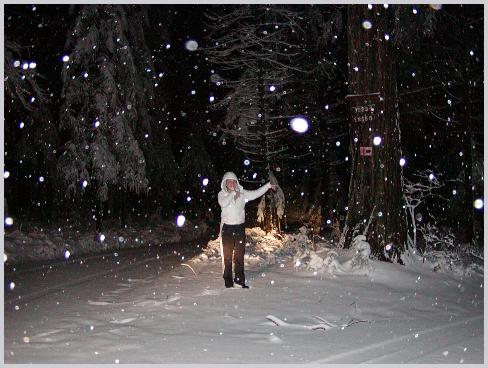 ...And Sue. The flash brings out the snow flakes. Later, Sue was showing me what she'd been doing on the piano when the lights blinked a couple of times and then went out. Everyone was hunting around for candles, so I figured it was time to go home to the trailer. It was about 11:35 and I wanted to usher in the new year with Mel.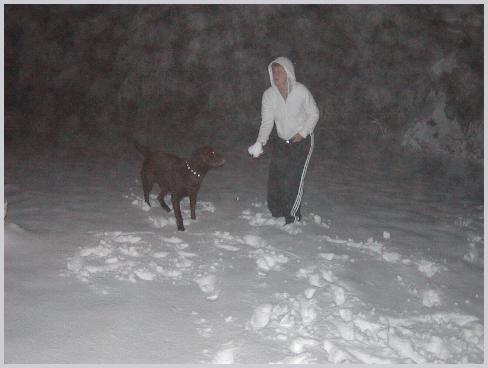 We decided to walk to the trailer. Bubba heard us. He was delighted that we were out in the snow at night, and wanted to play. Sue's getting ready to throw a snowball for him to catch.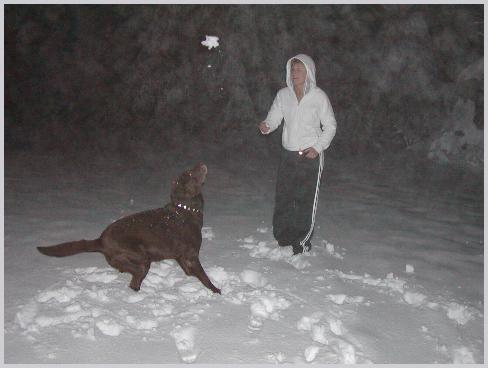 Here it comes Bubba! He catches snowballs like a pro...and they splatter all over. As we approached the trailer the porch light was burning. Ah yes...the power might be off, but it had switched to the battery. Mel was already in bed.

The next morning we awoke to a little girl singing "Old McDonald Had a Farm." My first thought was that it was the recording on Mel's alarm, but then it occurred to me that I'd programmed it by singing : "Are you sleeping Melvin T...Morning Bells are ringing Ding ding dong ...Ding ding dong." Or was the singing girl a family member joke? No, the electricity came on and she was on the television that didn't get turned off the night before. It was perfect way to wake up.
Happy New
Year!