Native American Cultural
Day and Epilogue.
By
Bonnie McGuire
We were invited to the Native American Cultural Day (5 21 05) by the Nevada County Land Trust for donating some slab lumber for an Indian bark house to be constructed on one of their properties....It turned out to be an interesting and fun Sunday afternoon. Just up the trail from this lovely tree midst moss covered rocks is where they're going to build the Maidu bark house. The donation and project is described in the NCLT news letter below.
We were told to get there early for the opening drum ceremony, crafts, story telling, lunch, a hike and Indian dancers. I asked Don Ryberg if they minded my taking pictures of the events. He said to ask first.
Mel and Don standing where the bark house
will be built.
When the lady drummers were seated for the opening ceremony, I asked if I could take their picture. Neena replied that it would be okay as long as I took the picture of their best side...to which I replied, "Well, you're all sitting down so it should be fine. I never heard such a burst of laughter in my life. From then on I was known as the "grandmother with a sense of humor."
Their drumming and songs were wonderful, and I even participated in the circle dance.
Artifacts.
Baskets and carvings.
These ladies and children are making bead
necklaces.
This man told many interesting stories.
After a nice meal where the elders got to go to the front of the line with a couple of hundred waiting to eat, some went on the forty acre nature hike, while the rest of "us" stayed behind and visited and then watched the dancers. They were very good.
It was interesting that while they were dancing, the vultures flying overhead were replaced by two low flying hawks. Hmmmm.
NCLT Rich and Stephanie pause for the
camera gal.
It was a fun day with some new acquaintances. They didn't serve desert so we decided to take the long way home via Purdon's crossing to North San Juan for a 99 cent ice cream cone.
Here's a toast to our Native American friends...
May their dreams come true.
Epilogue
(June 24, 2006)
The interesting focal point of the Nevada County Land Trust's 2006 BBQ Saturday was the nearly completed Maidu Indian bark house. They need more bark and to add the mat inside.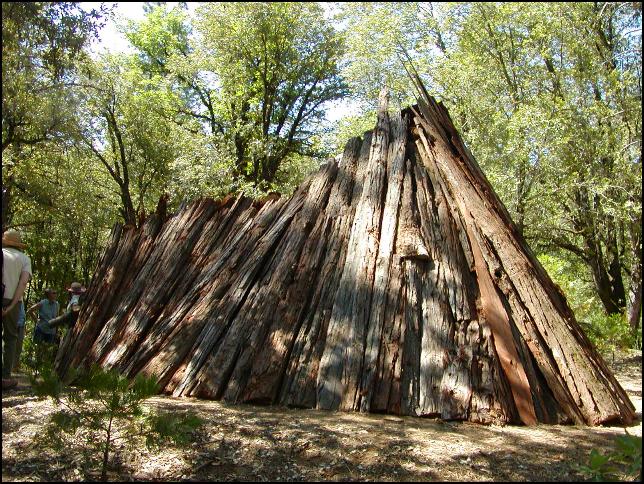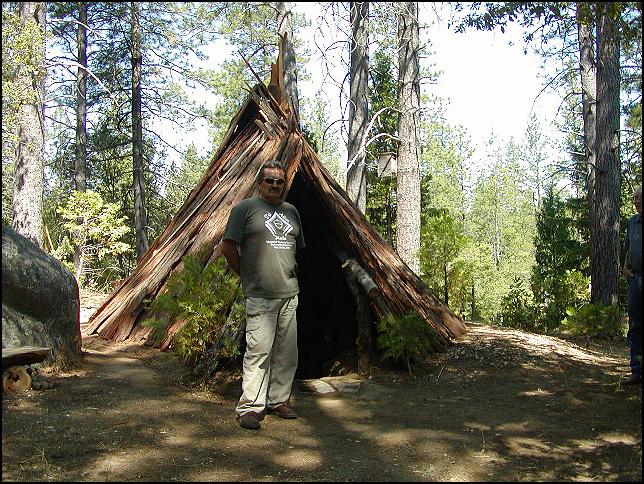 Don Ryberg welcomes us at the entrance. He's chairman of the local Tsi-Akim Maidu. His ancestors are Nisenan and Mountain Maidu. During the Gold Rush, his great-great-grandfather "was chased out" of Nevada County before he took refuge in the remote, less populated forest lands of Plumas County. The Tsi-Akim Maidu population reached near extinction during the mid-1850s when the rivers were choked with debris from hydraulic mining and miners destroyed historic village sites and took possession of ancestral gathering grounds. "What happened to Indian people this many years ago needs to be looked at, otherwise it's going to haunt this country."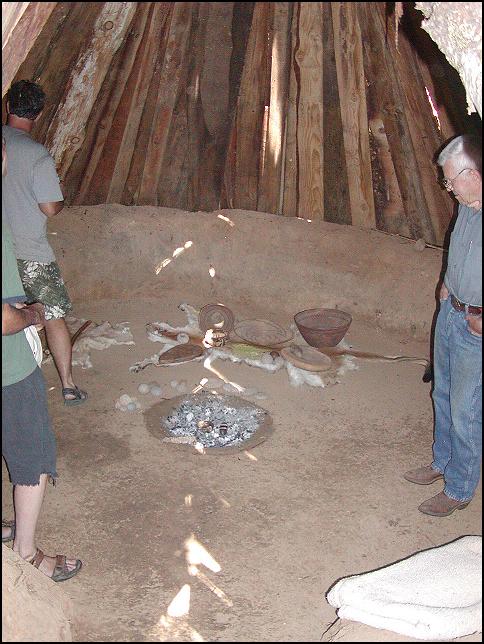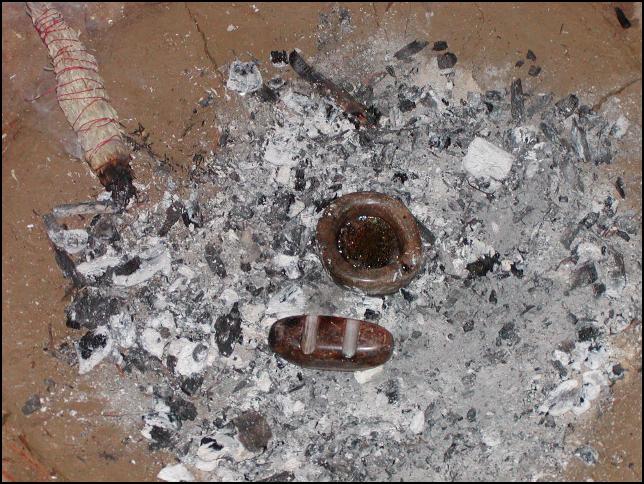 Water was boiling in this little cup in the fireplace.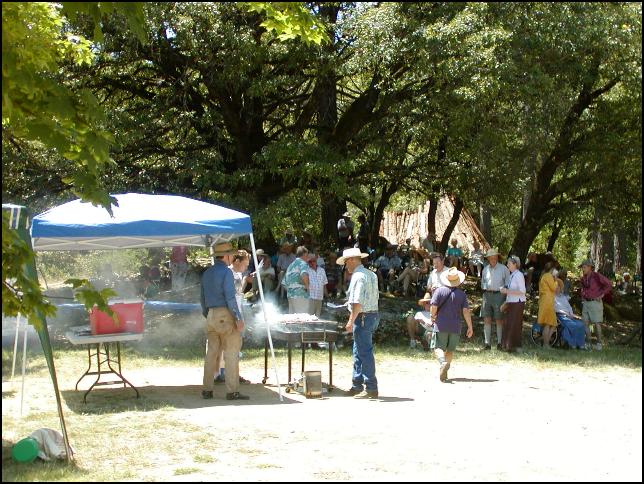 View of the bark house behind the cool shade of the large oaks. In 1997 Mrs. Francis Burton donated the 38 acres in fee title, reserving a life estate for herself. Upon her death in 2003, the house and land reverted to the Land Trust. The annual Children's Nature Camp has been held here for the past six years.