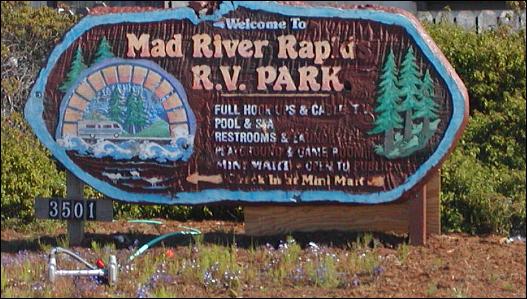 Lotsa Fun In Eureka
2
We drove to Arcata and signed in at the Mad River Rapid R. V. Park where Jim and Kathy were parked. The kids had fun riding their bikes around the park, swimming and playing pool.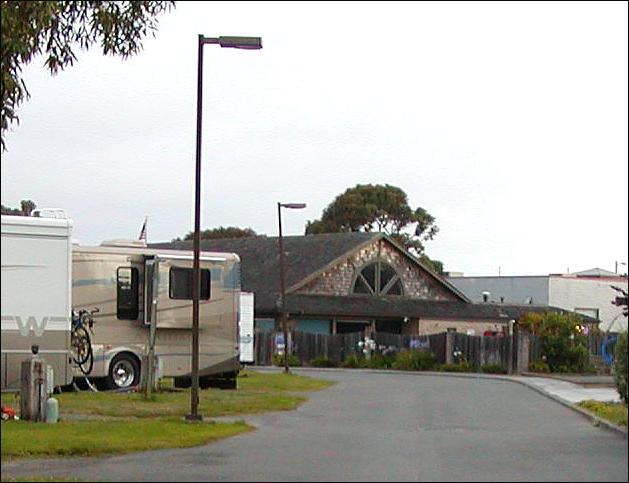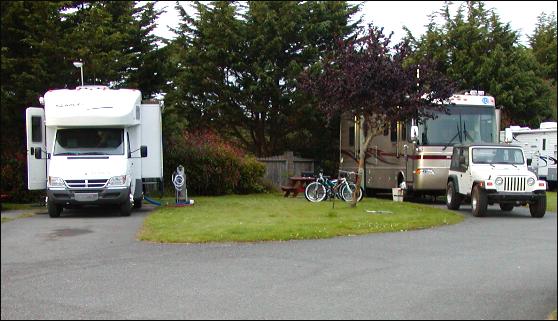 Home sweet home for a couple of days.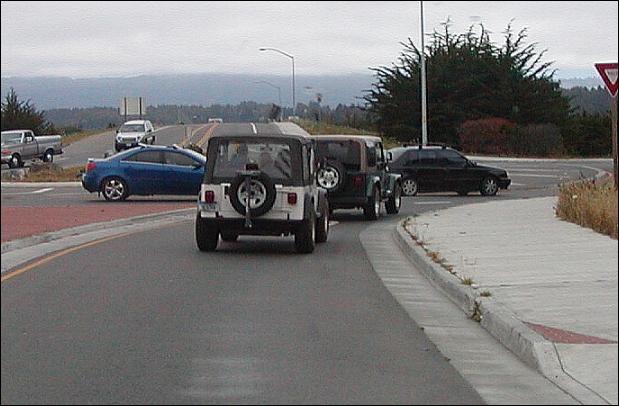 The next day they piled into their jeeps and we into our small RV, and headed for Eureka. Our vehicle is small enough to park where cars do, is comfortable, and gets good fuel mileage.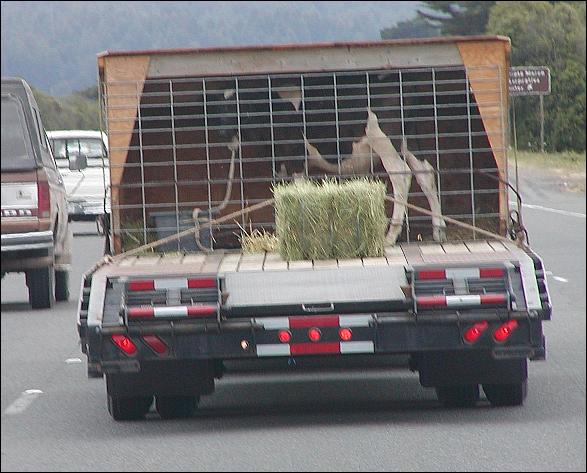 Looks like one of those California cows is headed to the Fair, or camping out.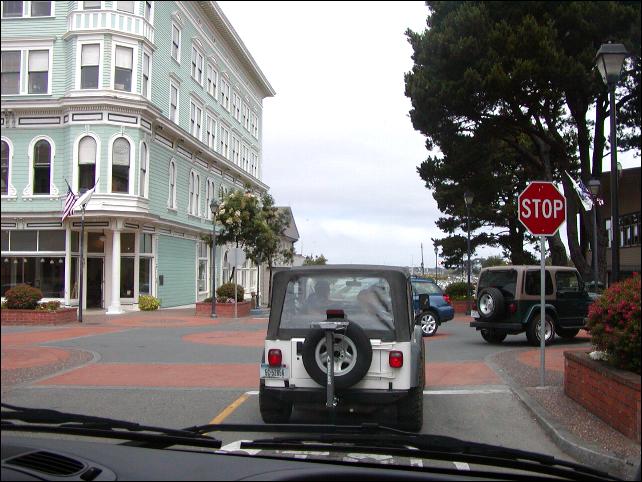 We're looking for a parking spot where all the tourists go. Eureka is really fixed up nice.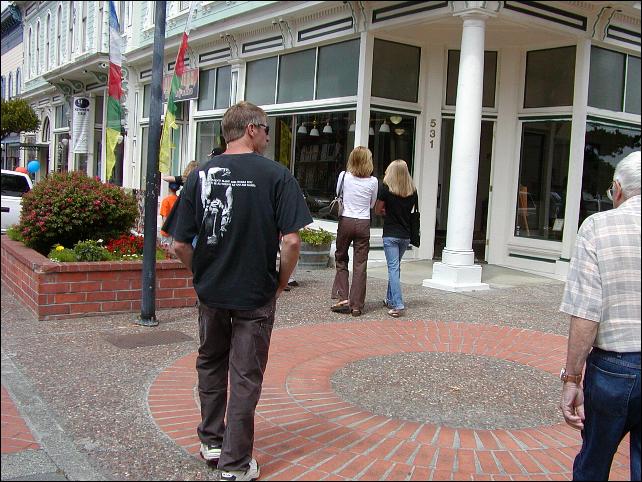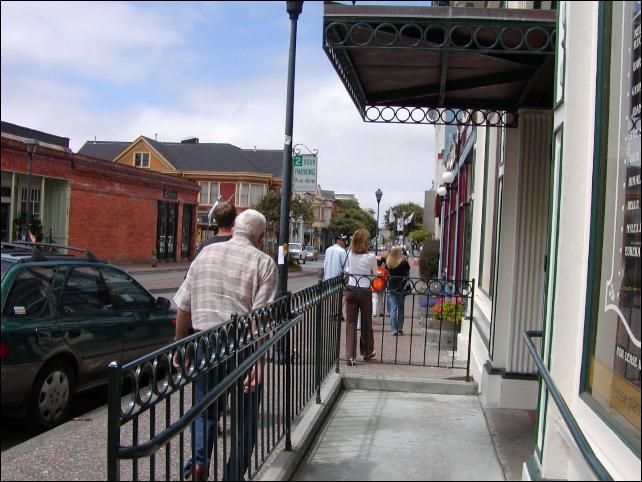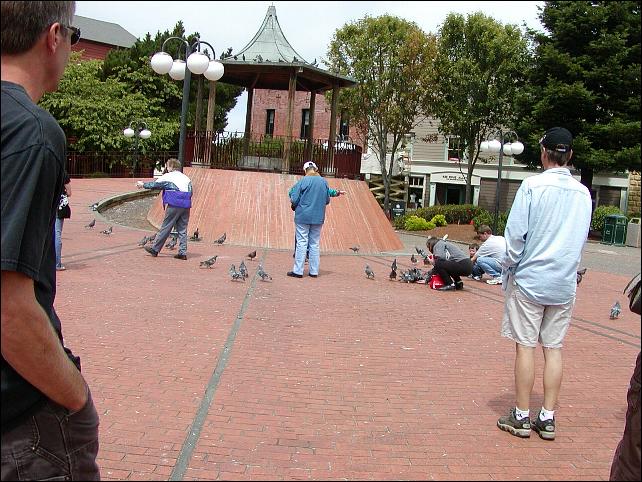 This should be called pigeon square, because they like to gather here and be fed by the tourists. This guarantees the street cleaner has a job.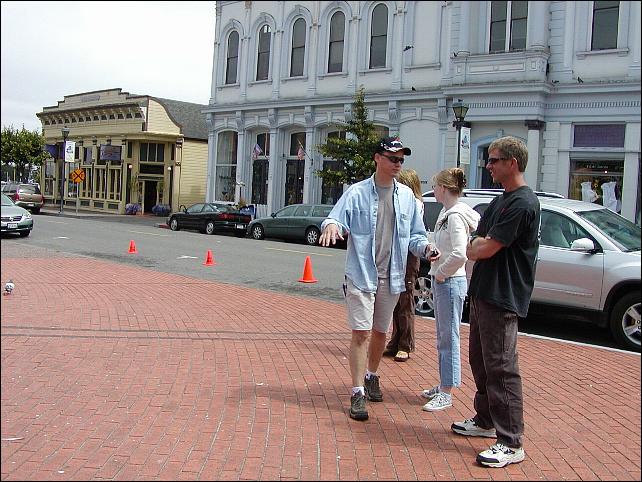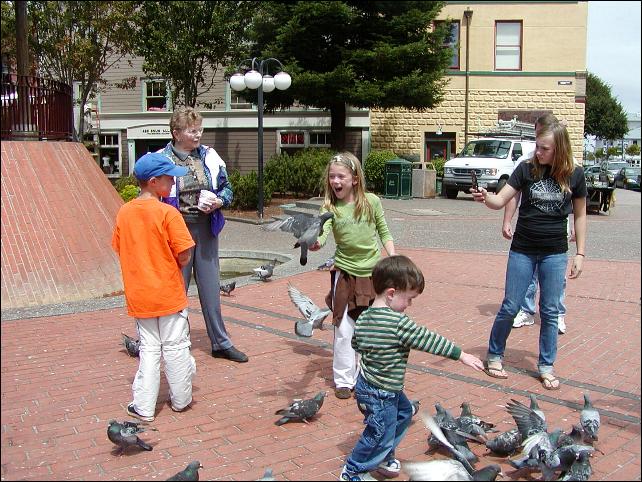 Who could resist feeding these pretty little birds?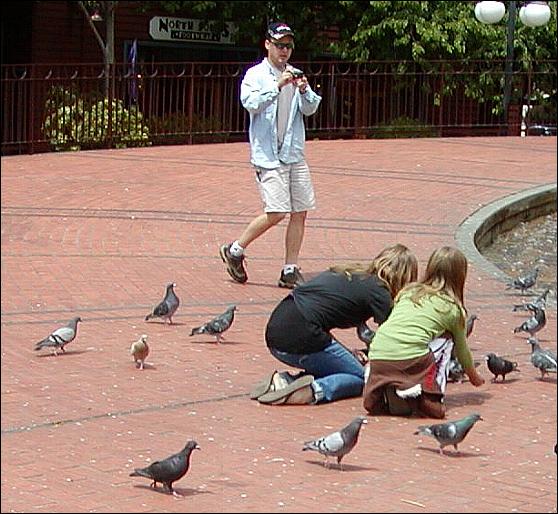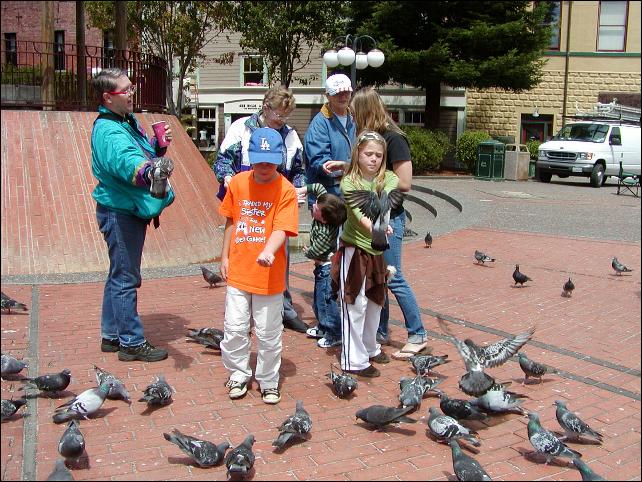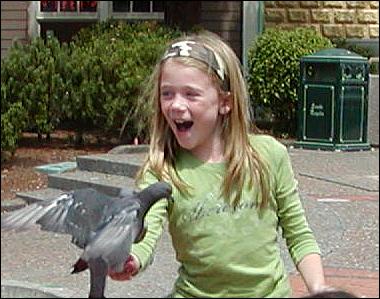 Look at this! Hayley, Mason and Megan think for the birds is fun.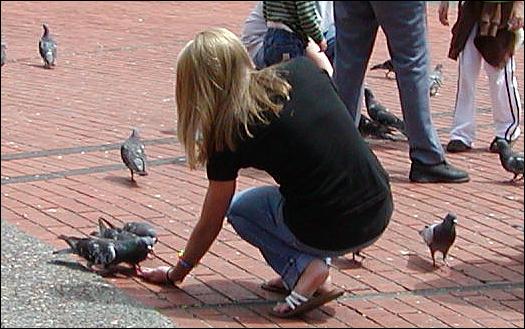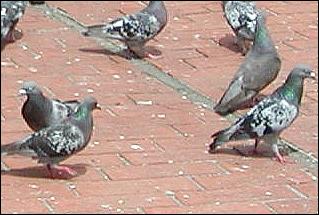 These little guys came up to the camera gal, looked her over, and decided it was a waste of time, so they quickly moved on to more rewarding activities. Posing for the camera isn't the name of their game.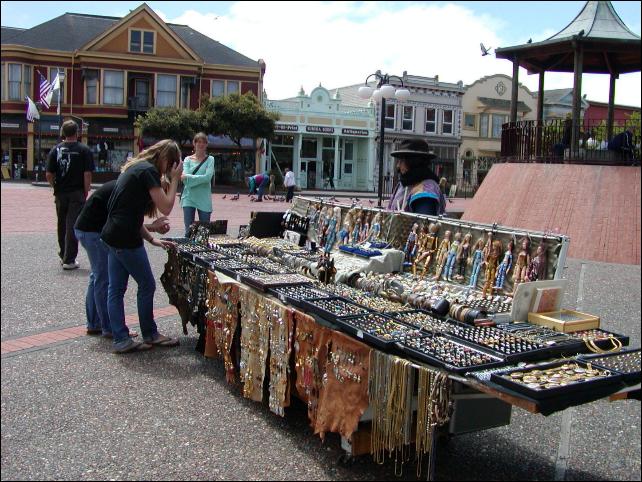 A short distance away, the girls look at some interesting jewelry, and very strange dolls. We're headed down to the waterfront.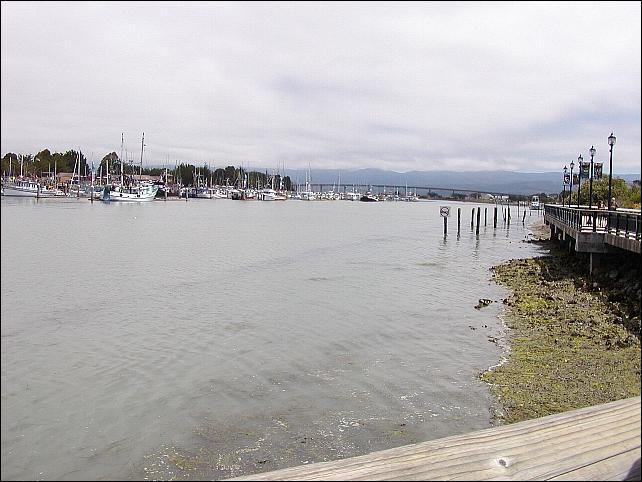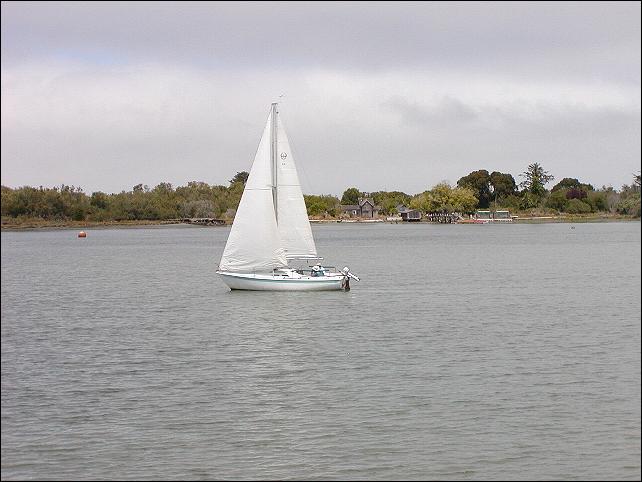 I walk slower than everyone else, so when I caught up with them I mentioned seeing Zoltar (the fortune teller) back up the hill, and that they might enjoy him. They raced back and by the time I got there they were excited and laughing their heads off.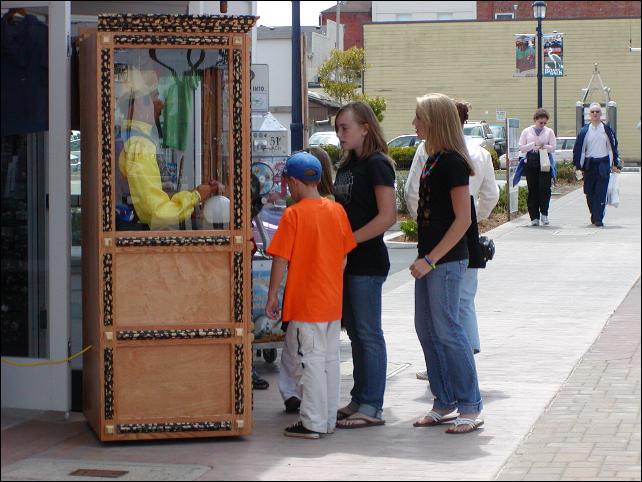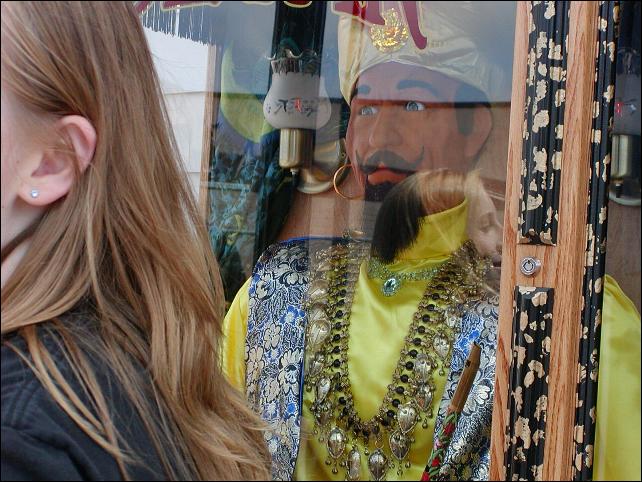 I donated a dollar for Megan to ask him her fortune. Somehow he knew her name.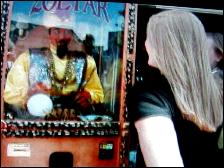 (Click on small picture)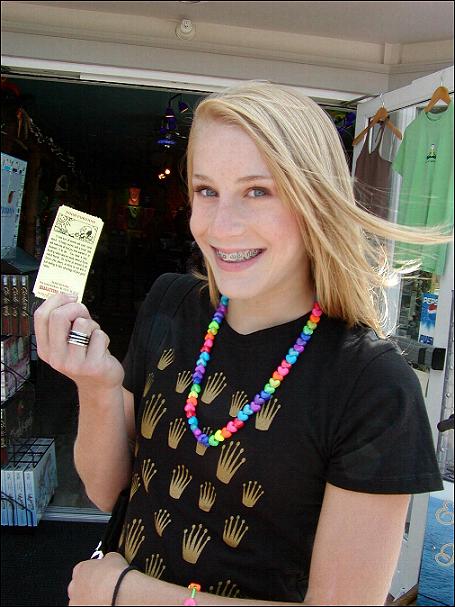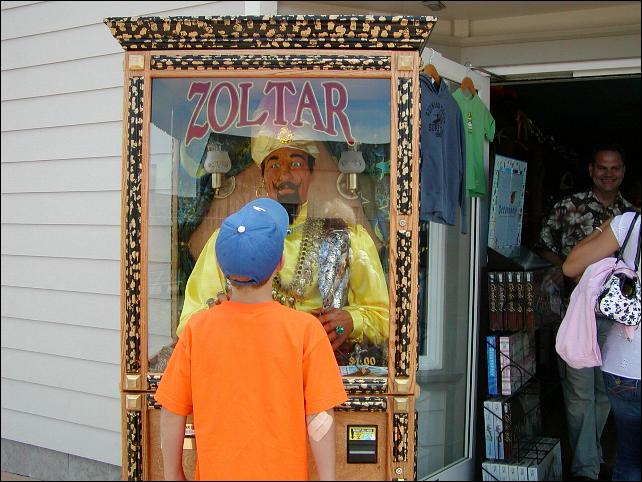 Mason was trying to get Zoltar to say something to him. Finally Zoltar asked him, "Is Megan the sister you traded for a video game?" Everyone went into hysterics.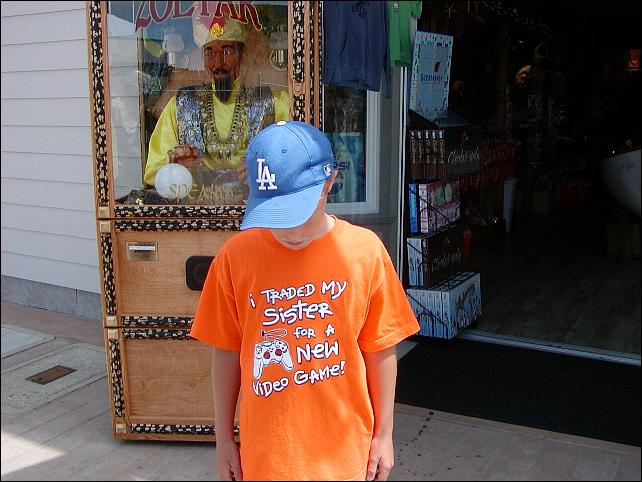 Don't let the long face fool you...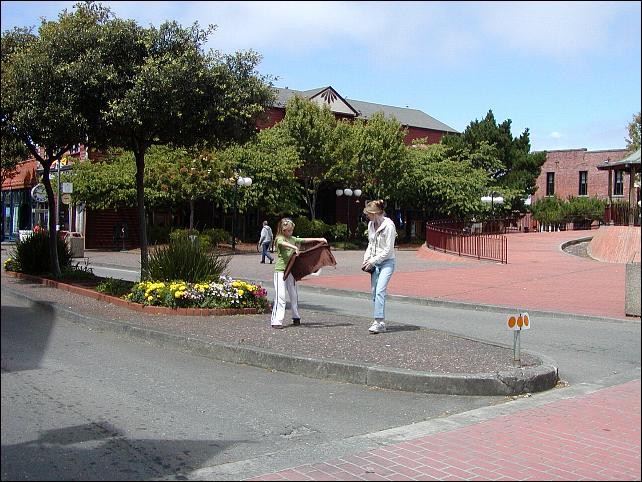 The funny stuff's over for the moment, so we walk down the street and do a little window browsing before finding a place to have lunch.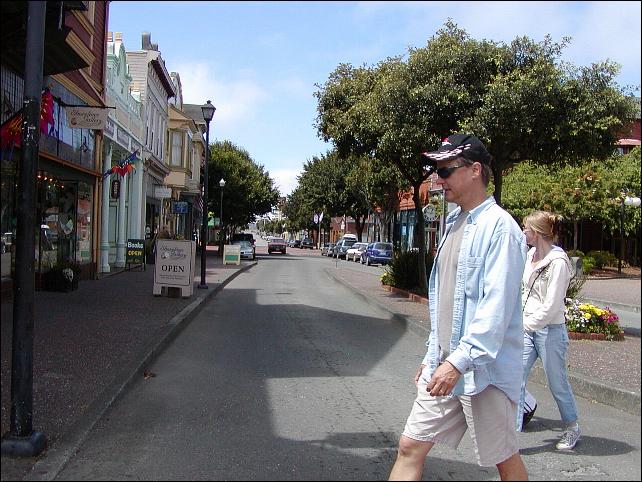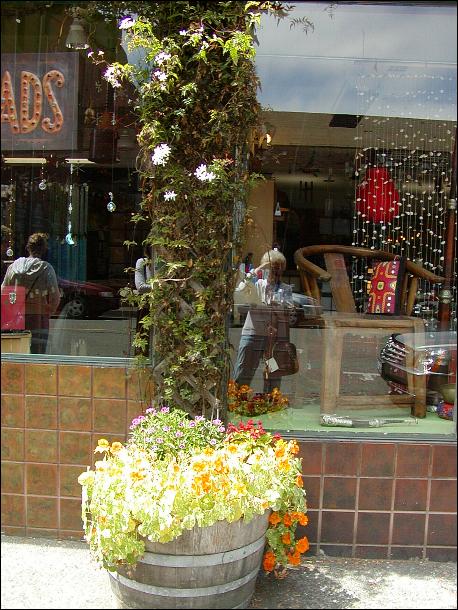 Kirk discovers Pera Valley Bistro down the alley, and the menu looks good.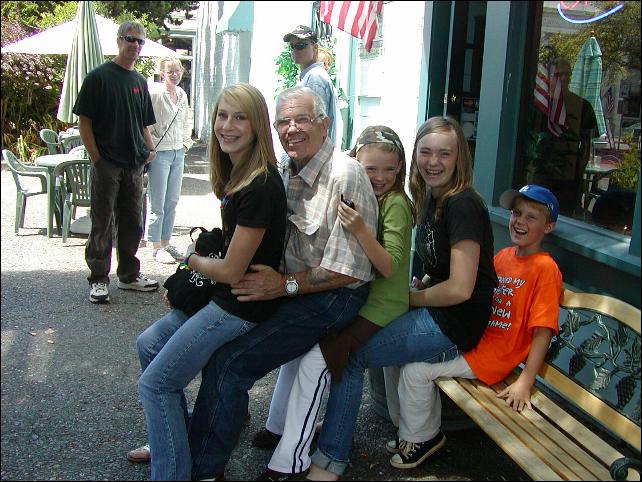 They're at it again. How about sitting on Mason's lap?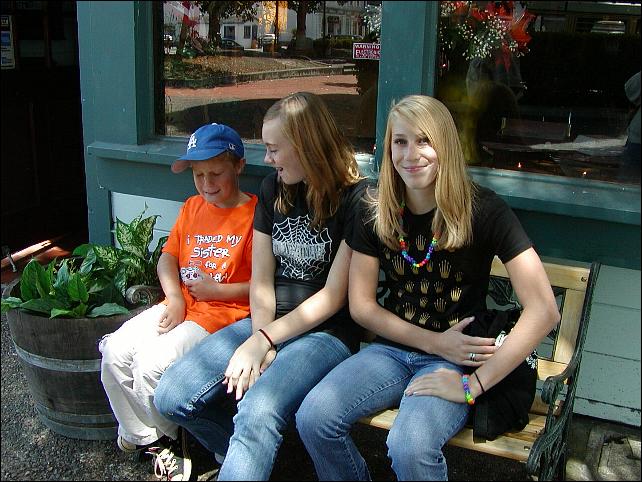 Our waitress was great. She gave me some good advice on their Pastrami-Rueben sandwich.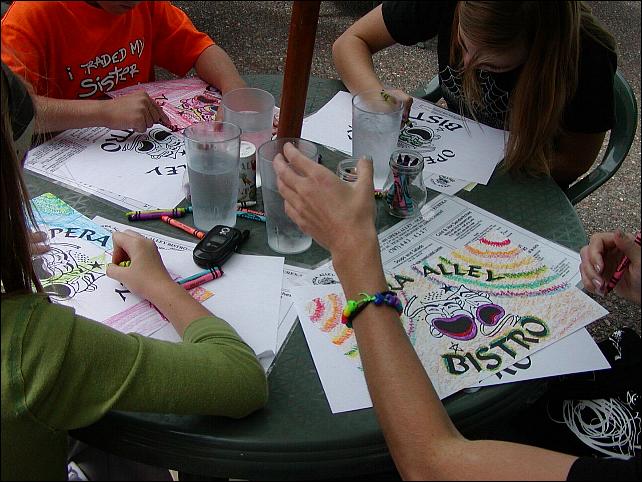 While waiting, the bunch get to exercise their artistic abilities that will go on display inside.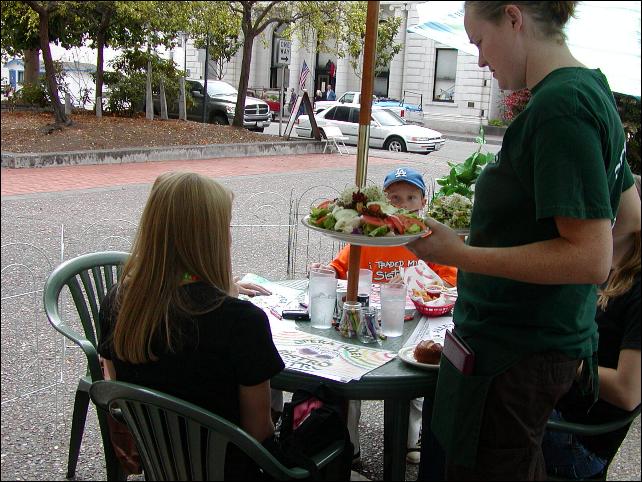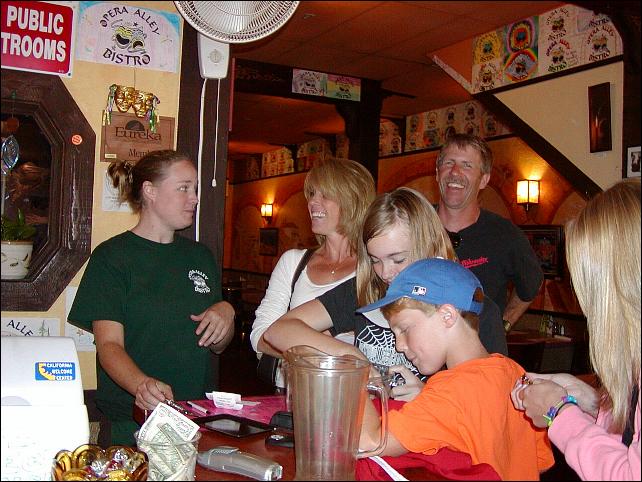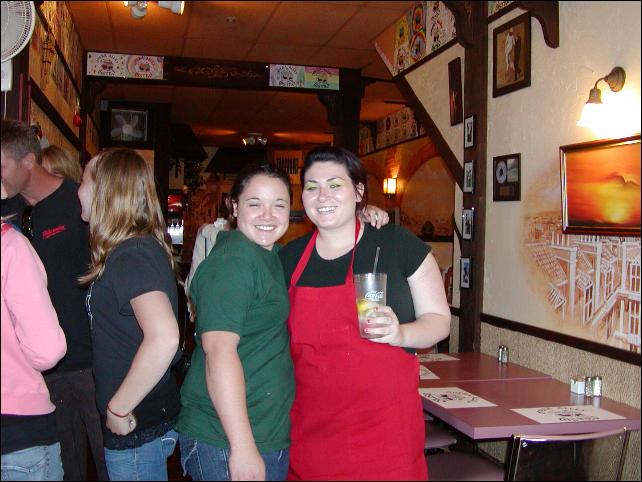 Our great Cook's on the left.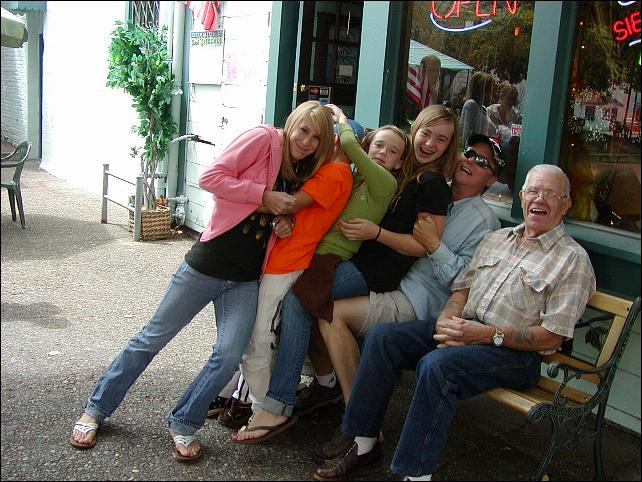 Now that they're a few pounds heavier, it's time to sit on Jim's lap.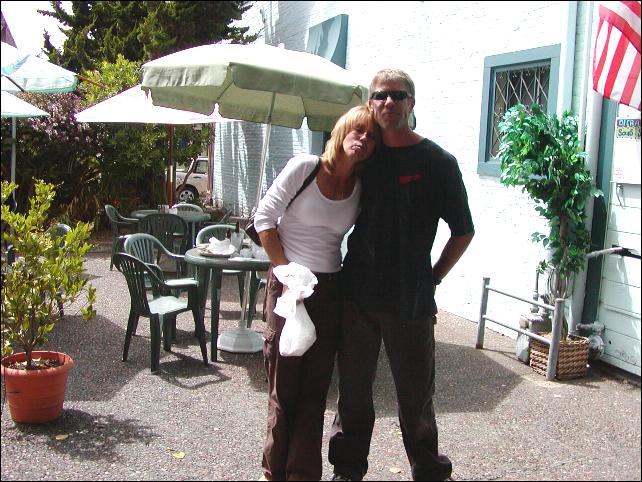 Kirk and Deanna embrace for a picture.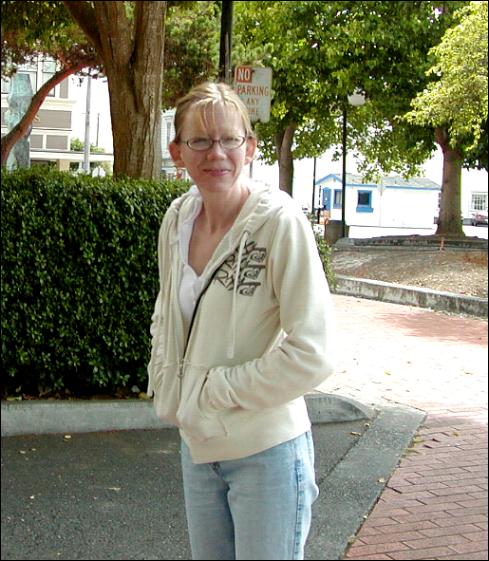 ....And isn't that Kathy?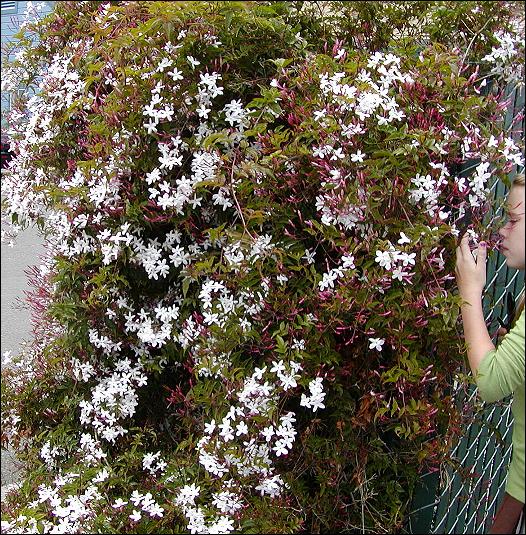 These beautiful flowers must be some sort of honey-suckle. Their perfume is wonderful.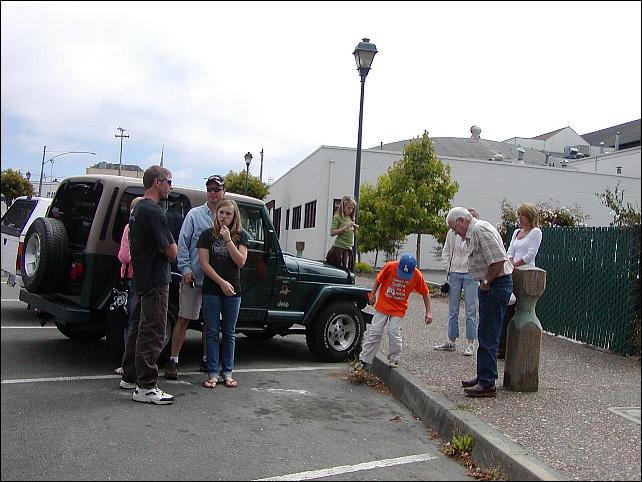 Where to now?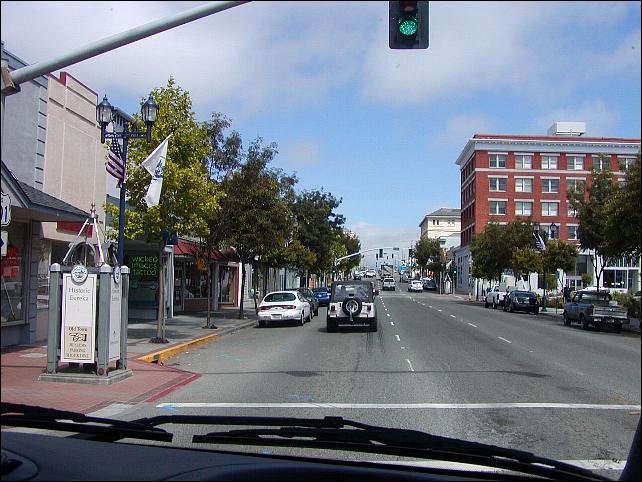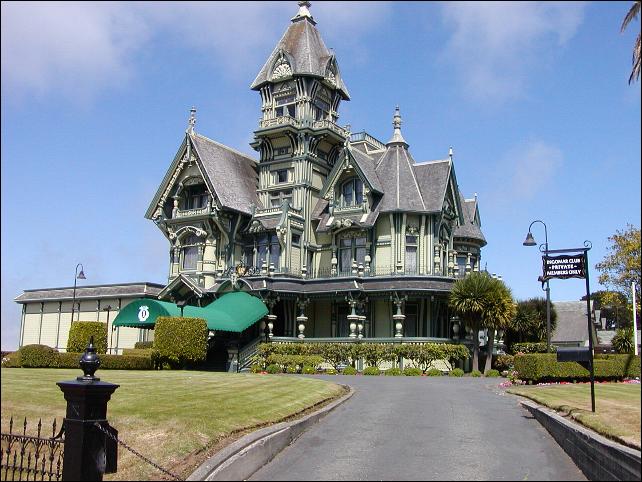 Another area near the waterfront. This building looks like it would be in a Harry Potter movie. The private Ingomar Club. This exclusive men only club was the former home of William Carson, a pioneer lumberman. William and Mary Carson built their showplace in 1886 at a cost of $80,000. Ingomar Club members bought it for their clubhouse in 1950 for $35,000. Today the property is modestly assessed at $792,911, thanks to the small fortune the club has poured in for maintenance and restoration. Ladies, if you're invited to Sunday dinner (one of the few hours of the week that females get in) you must wear something unthreateningly traditional.

Prominently sited [143 M Street], the extensive grounds provide a substantial pedestal for this sculptured edifice. Eye-seeking and shadow-producing surfaces showcase the use of wood as a building material. This three-dimensional "pattern-book" took over one hundred men over two years to construct. Its influence on the design of subsequent buildings in Eureka is readily apparent even today. In addition to the abundant use of redwood, Mr. Carson imported 97,000 feet of primavera or "white mahogany" from Central America, along with other woods and onyx from the Philippines, East India, and Mexico. The elaborate interiors include stained glass, plasterwork, and carved ornaments in exotic woods.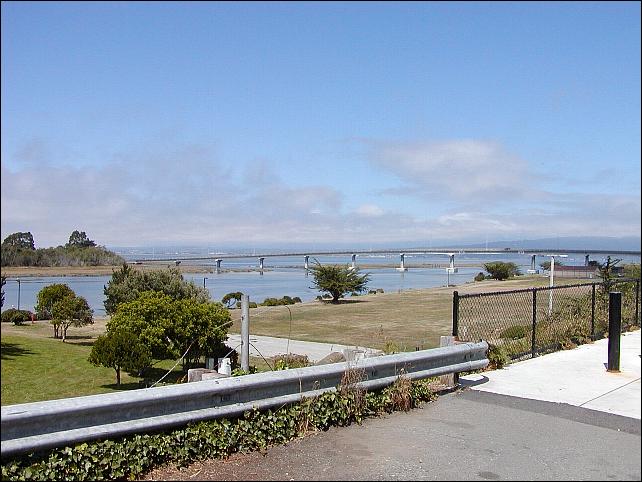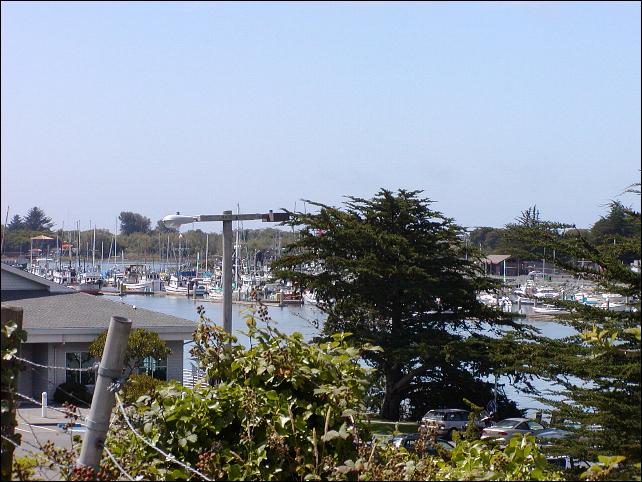 Quite an impressive view next to the old mansion.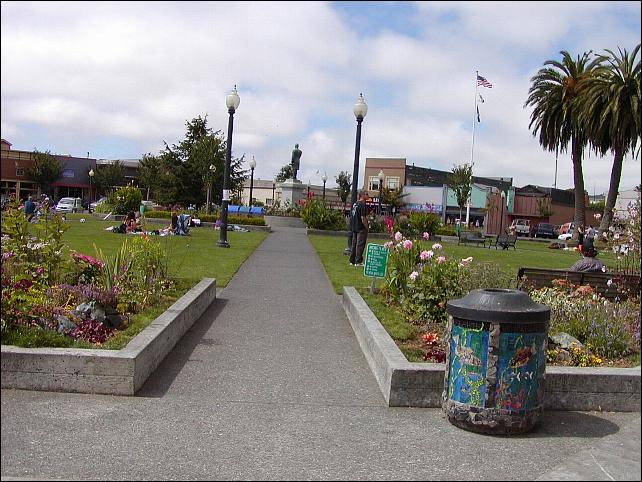 A little park surrounded by shops catches everyone's attention. After checking out the bicycle, kayak shop, the kids decide to go to a bead shop and make jewelry. We went to our RV and took a nap.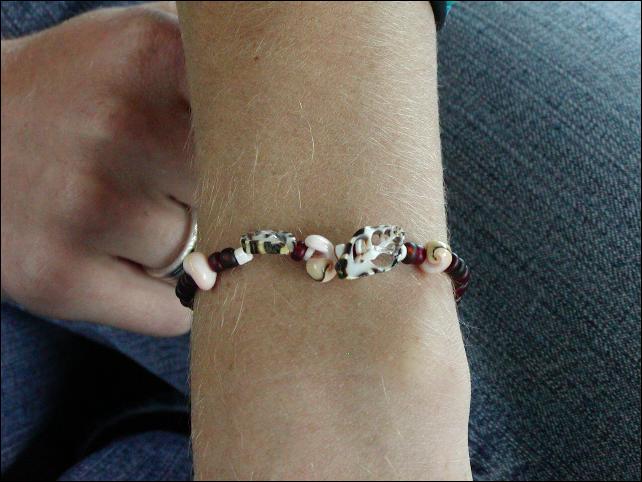 Here's the cute bracelet Megan made.