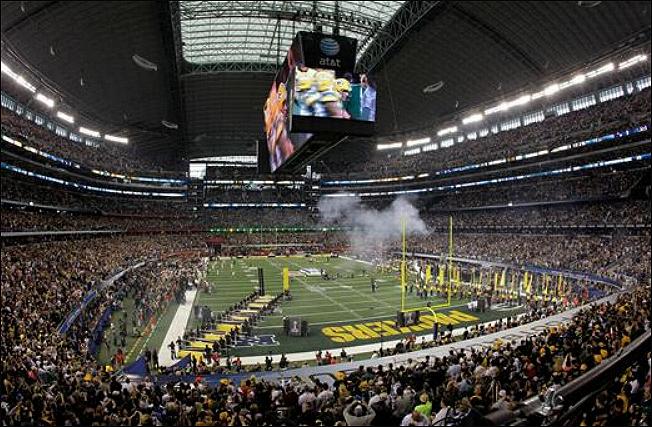 Players get ready to take to the field in the Cowboys Stadium.
Super Bowl XLV Afternoon
(Sunday, Feb. 6, 2011)
Super Bowl XLV (45) is between the American Football Conference (AFC) champion Pittsburgh Steelers and the National Football Conference (NFC) champion Green Bay Packers to decide the National Football League (NFL) champion for the 2010 season. The game's off and running at the Cowboys Stadium in Arlington, Texas. The recent snow storm and ice didn't seem to slow 'em down. This is the first time the Super Bowl is being played in the Dallas–Fort Worth area, and the third time for the state of Texas, Houston having hosted Super Bowl VIII and Super Bowl XXXVIII previously. Cowboy's Stadium, was built less than two years ago, and is the largest domed stadium in the world with a capacity of 110,000 (including standing room). Naturally, it's home to the Dallas Cowboys.

Green Bay Packer's Mason Crosby kicks off to Steelers to begin Super Bowl XLV.

Nick Collins dives over the goal line to score on a 38 yard interception return in the first quarter.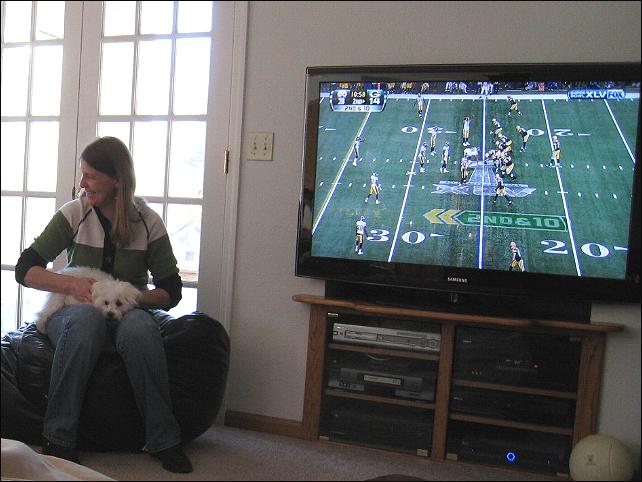 ...And we're all ready for a great game and time together.
Maggie and lil' Waffles get right into the mood.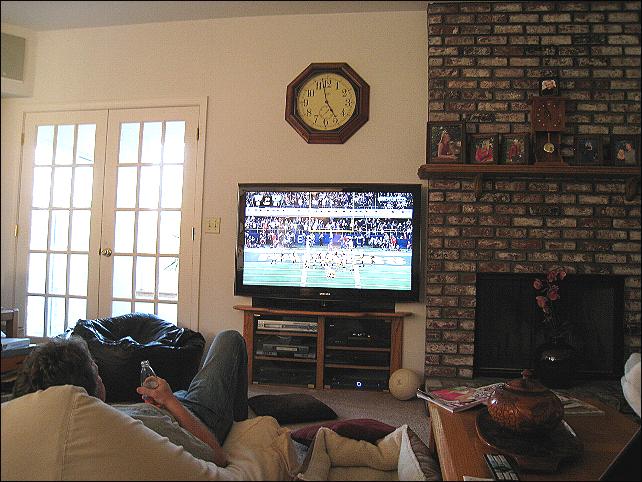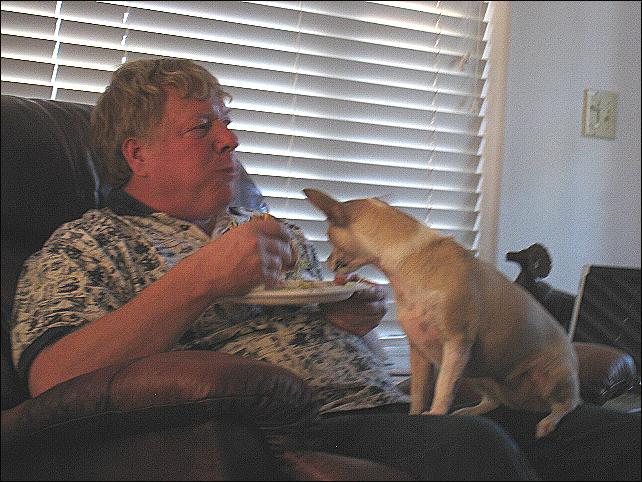 Maggie's got her eye on snitching a bite if she can. Better keep your eye on her Tim.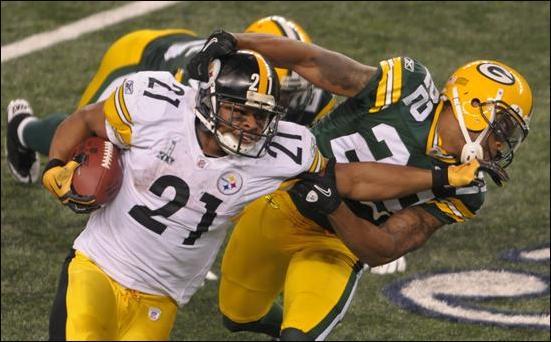 Pittsburgh running back Mewelde Moore fends off Green Bay cornerback Pat Lee.
The game has moved into the half time show The halftime show featuring the hip hop Black Eyed Peas, with additional performances by Usher and Slash. Kind of a spacey, alien theme and costumes. But that's my impression. The background music here...isn't them.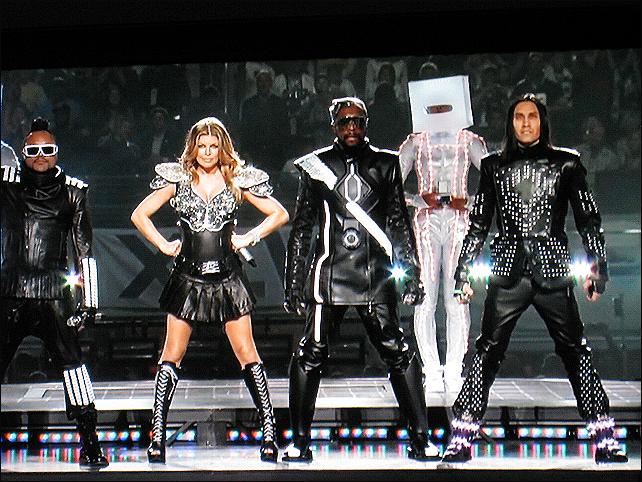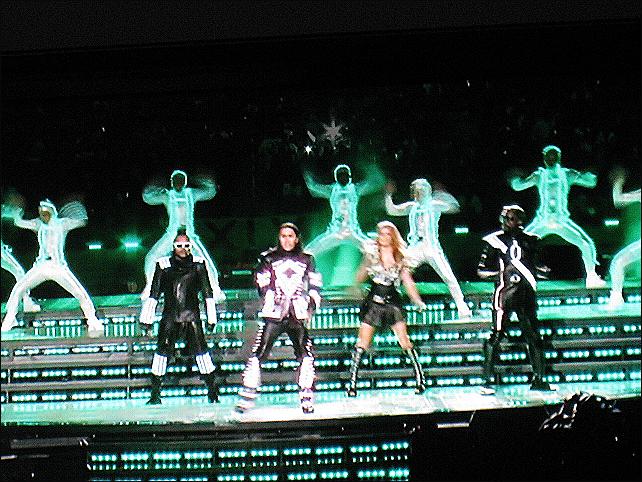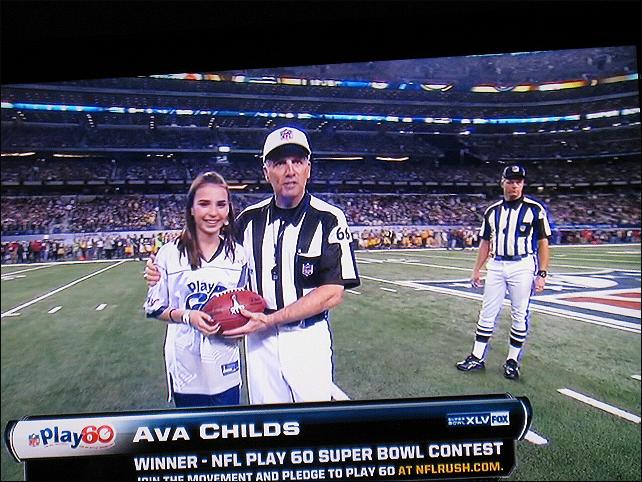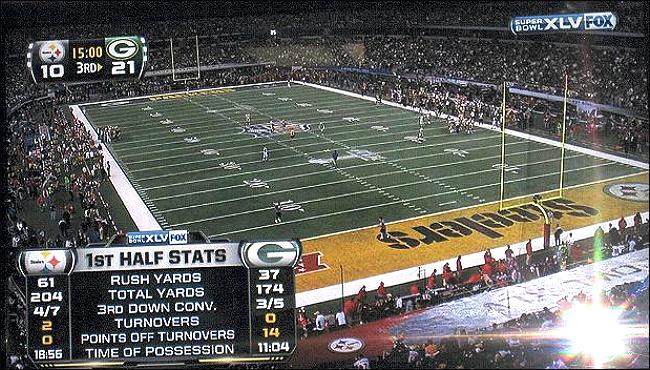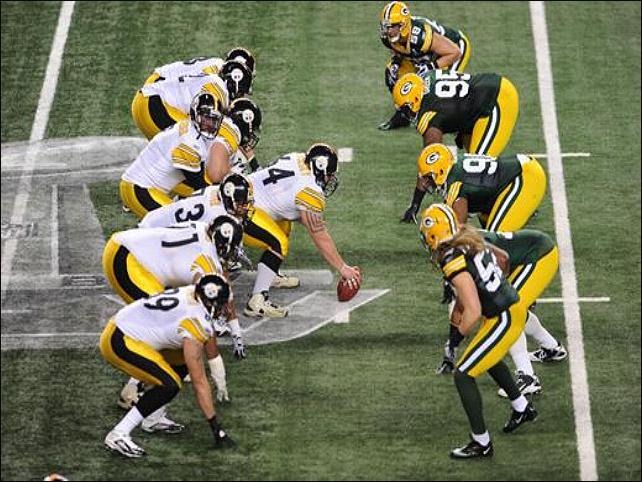 Pittsburgh Steelers quarterback Ben Roethlisberger calls signals as the second-half begins.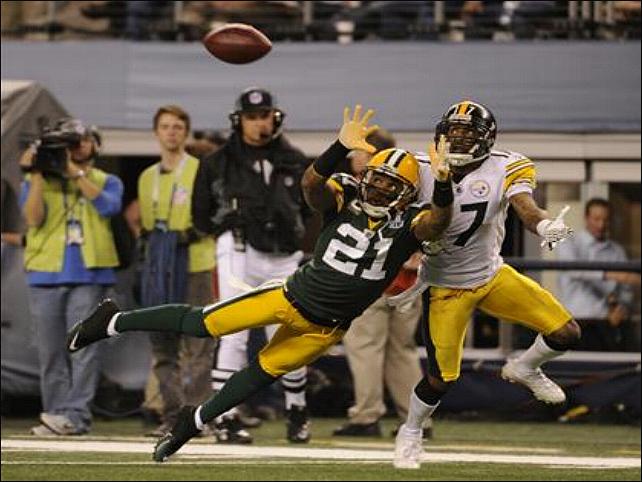 Green Bay cornerback Charles Woodson (21) can't quite make an interception in front of Pittsburgh's wide receiver Mike Wallace (17) in the third-quarter. Woodson left the game with a shoulder injury from the play.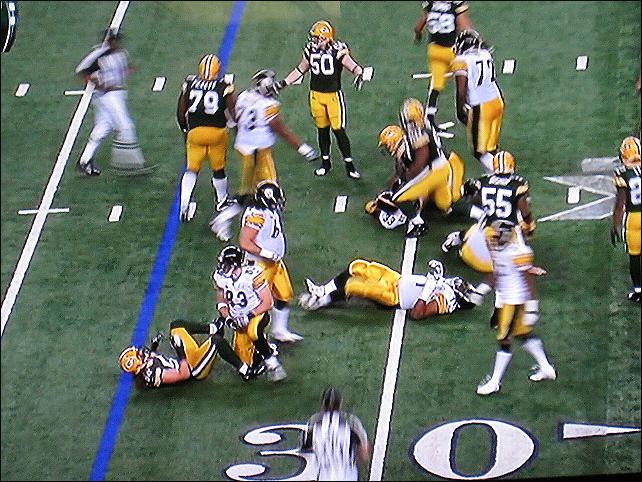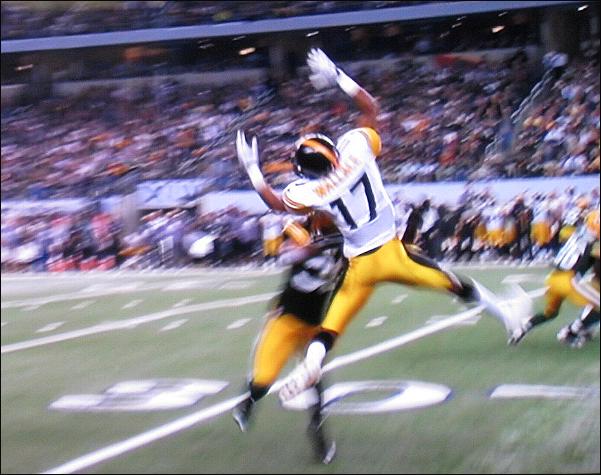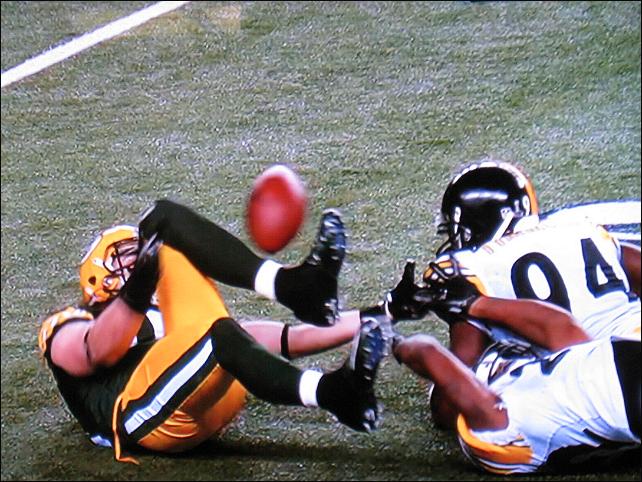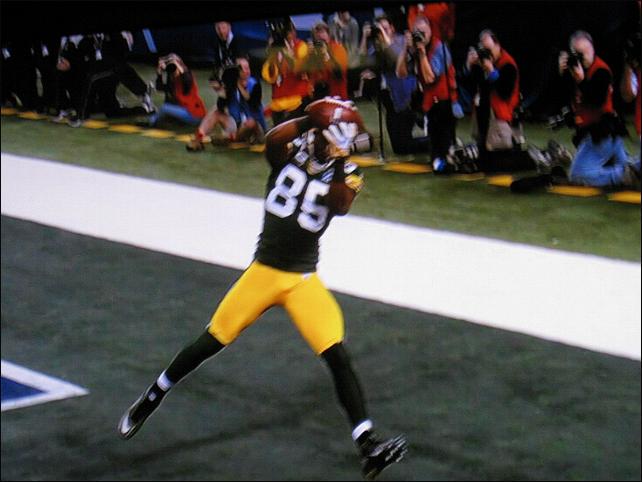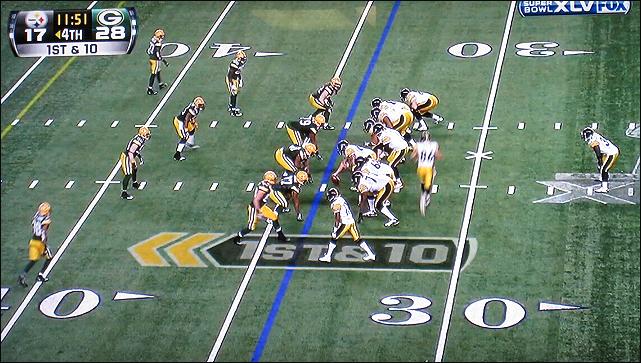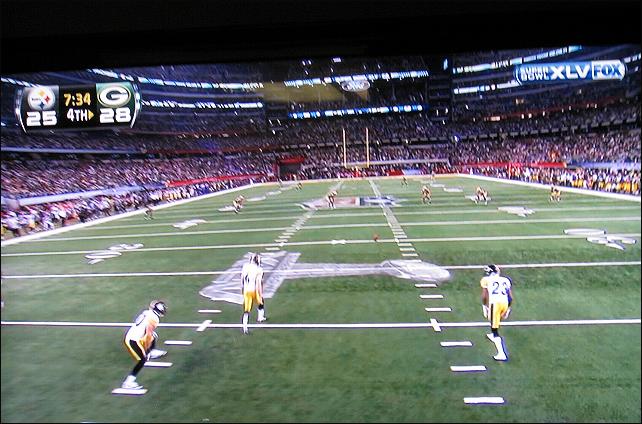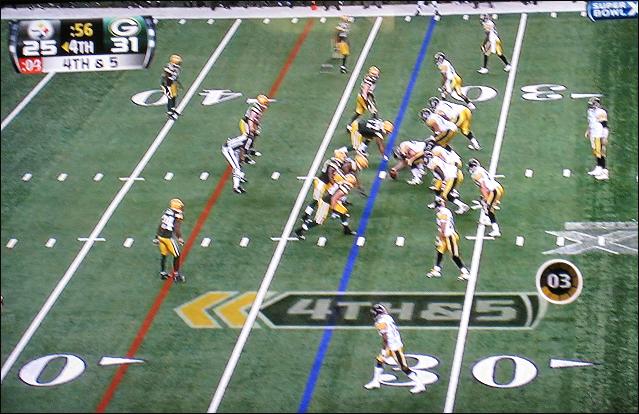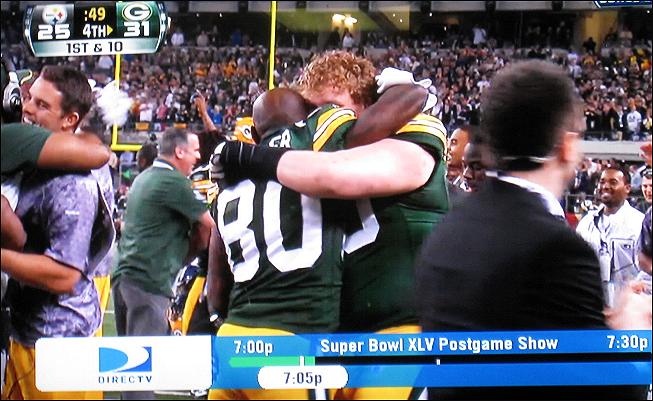 The Packers defeated the Steelers by the score of 31–25. Local resident Green Packer Spencer Havner (in purple shirt at left) celebrates the win with his team. Spencer shared a place on the bench with his team, but didn't play because of injuries.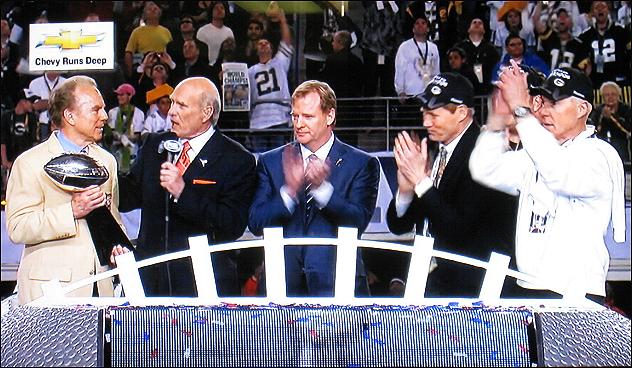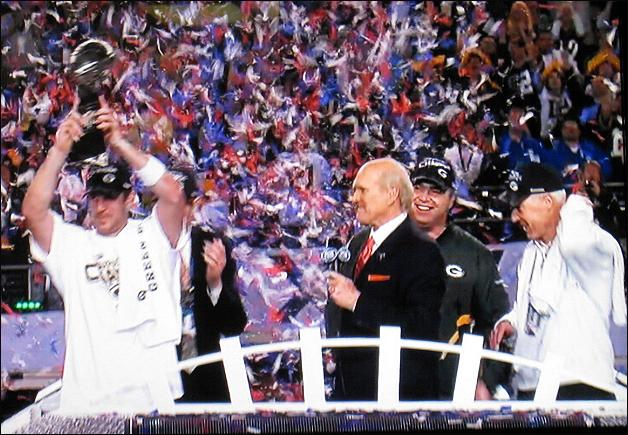 Packers quarterback Aaron Rodgers was named Super Bowl MVP, completing 24 of 39 passes for 304 yards and three touchdowns.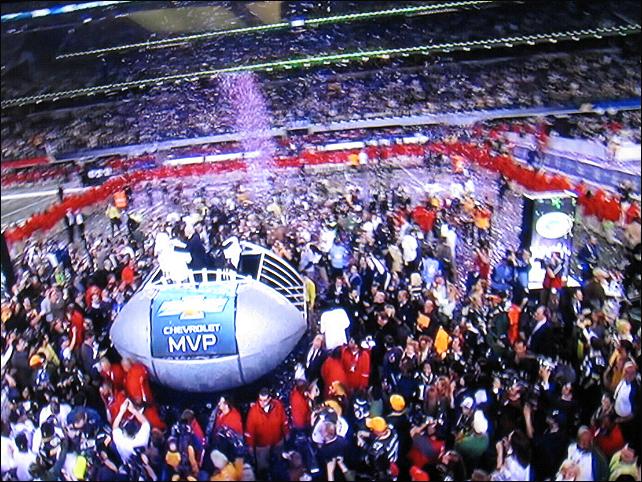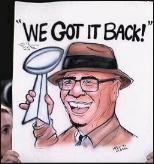 This was the Green Bay Packers' fourth Super Bowl victory out of five total appearances and a record thirteenth overall NFL title. Even with this loss, the Steelers still hold the record for six Super Bowl victories, out of eight total appearances. The Steelers' most recent prior Super Bowl appearance was a win in the 2008 season at Super Bowl XLIII.

Well Super Bowl fans....that's it for today. It's been a fun time together, and we're looking forward to whatever come what may. Maybe a little basketball. We love you all, and it all.