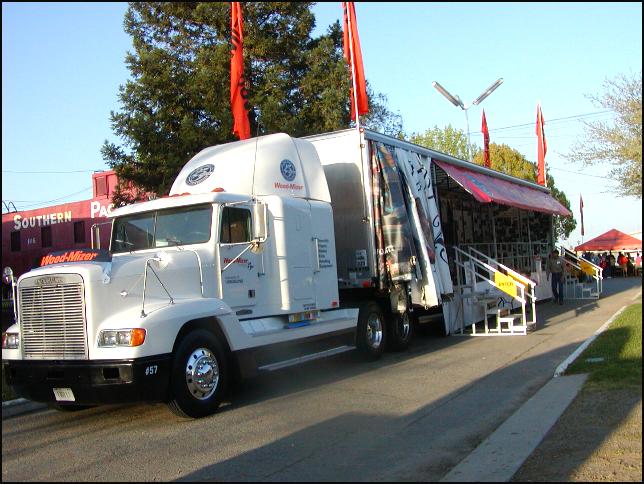 Exploring The Southwest In 2007
We'd signed on for Woodmizer's 25th Anniversary Seminar scheduled to be in Roseville Saturday, March 24th at the Roseville Fairgrounds. The company's touring the United States and Canada. We left Friday evening and camped at the Fairgrounds. It was a noisy night. The train switch-yard isn't far away, and since the trestles had been sabotaged and burned, the added traffic burden required the switchers to work overtime. Anyway, we wanted to get an early start in the morning...so it was nice to be able to stay there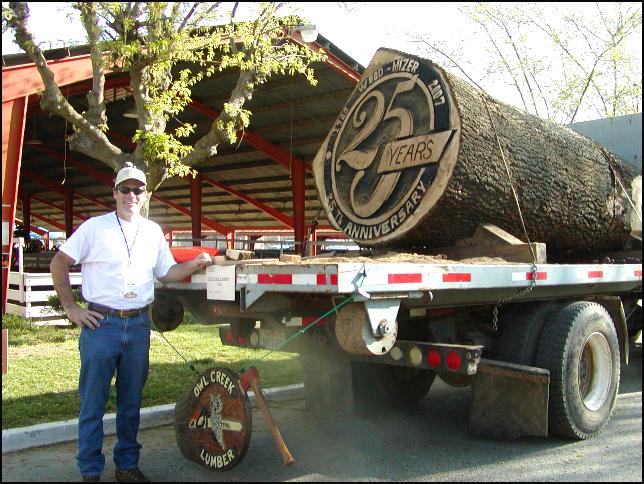 Jeff spent the day before carving this oak log for the opening.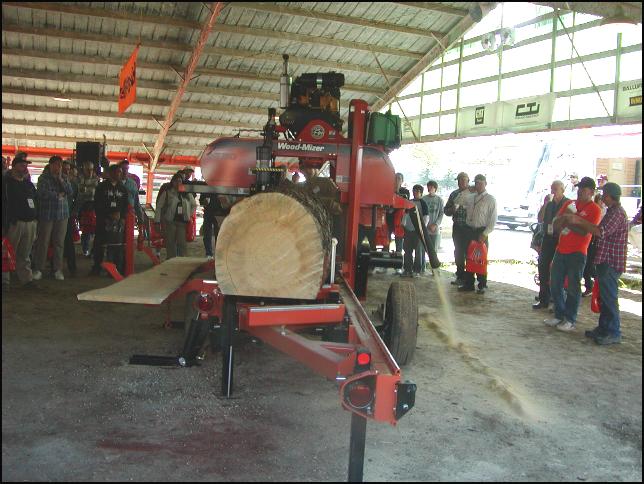 We watched many milling demonstrations on various models, attended a few classes, and had a delicious tri-tip lunch. Especially enjoyable was getting together with old friends and meeting new ones.

Jennifer is our Woodmizer parts gal in Sheridan.

Jim's the California Woodmizer distributor in Sheridan. His class was about quarter sawing techniques.

Mel and Jim, who has another type sawmill.

Bud and Darlene are from Trinity County.

Following the seminar, we drove to Denair to visit friends Jim and Ramona. It was fun to catch up on everything, even though we exchange emails. Jim printed us a map that was helpful. All too soon it was time to head for southern California and the highway that would launch our adventure to explore much of the southwest. Before leaving California we saw palm trees and windmills...Literally an entire forest of windmills generating electricity for our burgeoning population. It's an incredible sight.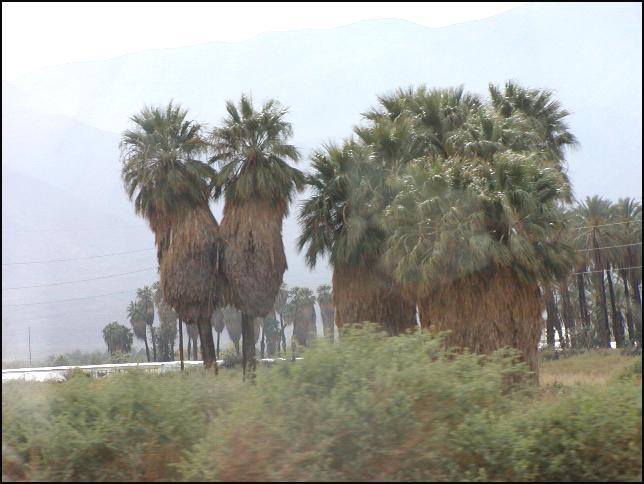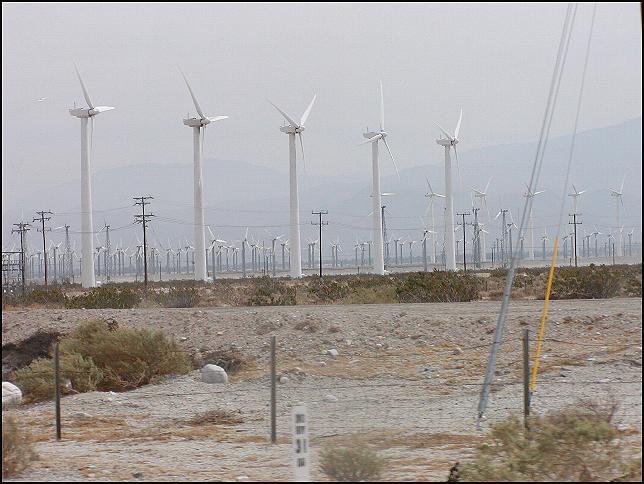 For the most part, the scenery was spectacular, and it's tempting to take hundreds of photos. But pictures don't really show how beautiful everything really is. And how about the history? Apparently, ancient people dealt with global warming, freezing, violent cataclysms, and whatever the earth handed them. Asteroids crashed upon the surface (eliminating the dinosaurs), and unseen molten rock still bubbles beneath our feet.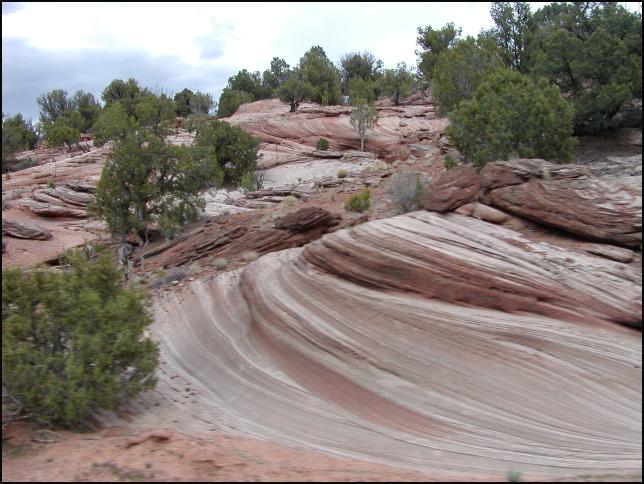 These rocks remind us of the tremendous internal heat that caused such formations.
After leaving the hustle and bustle of California, the quiet landscape of the cactus desert greets our senses. The weather was perfect, but it's probably hotter than Hades in the summer. I take a lot of photos, but miss some of the best shots. One was a black cow eating the blossom on one of these. We were driving along in desolate terrain and didn't see any living things other than an occasional bird. From the distance it looked like a black garbage bag that had blown against the side of the cactus.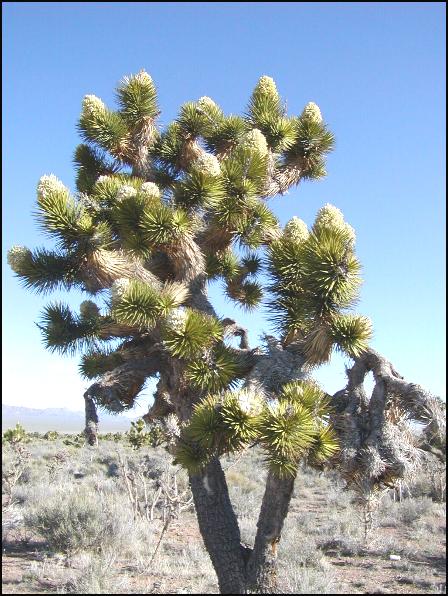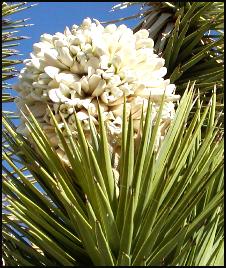 The blooms look and feel like felt. Even so, it's easy to get poked by the spines.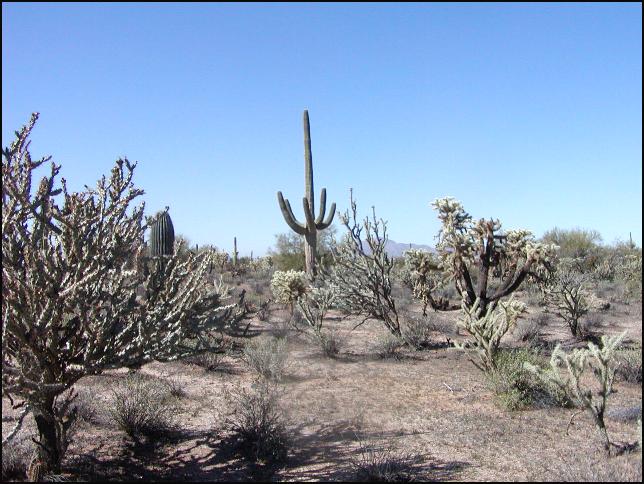 Mel barely touched a cactus and picked up about five of these stickers. When I backed up taking pictures I did the same thing. Thank goodness you can pick them off by the stem.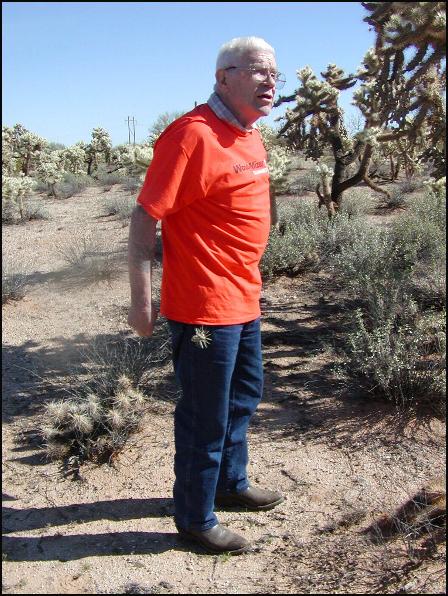 Ouch!
Below is the historic Strater Hotel in Durango, Colorado. For ten years, Louis L'Amour and his family vacationed here during the month of August. He spent many hours in a corner room over the Diamond Belle Saloon writing his popular western stories, or hiking in the La Plate and San Juan mountains.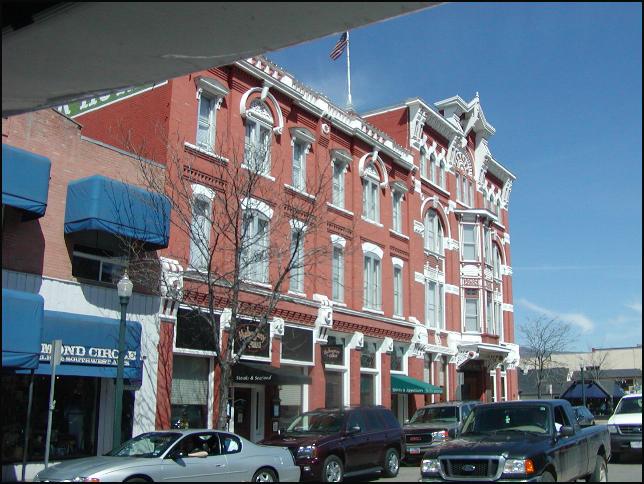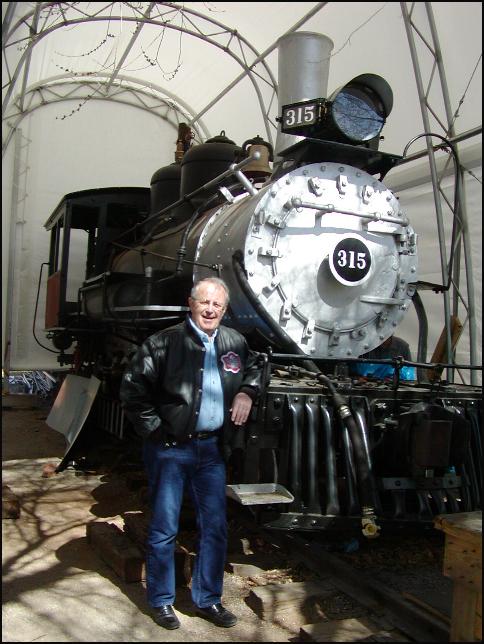 They're restoring this old Narrow Gauge Steam Engine. You can take
We're visiting the ancient Mesa Verde cliff dwellings. Around 14 centuries ago, the nomadic Anasazi people chose to settle down and build permanent homes near their planted crops. As the tribe prospered, members migrated outward to build these dwellings in a variety of locations — Mesa Verde chief among them. From this network of cities, Anasazi culture flourished for hundreds of years. Then, approximately 400 to 500 years ago, the Anasazi vanished suddenly and mysteriously.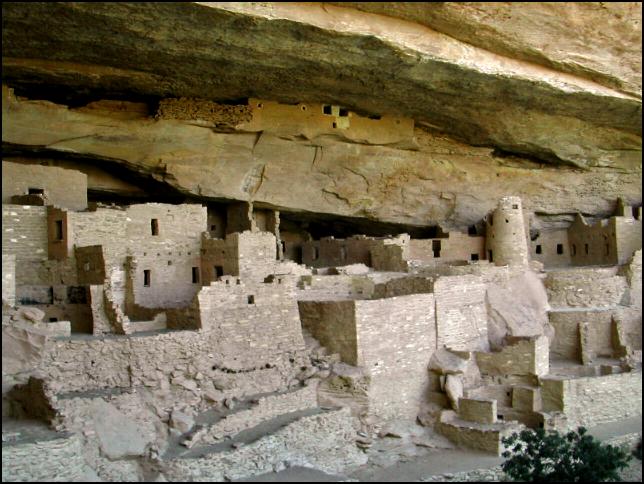 The first Ancestral Pueblo's settled Mesa Verde (Spanish for "green table") 1,400 years ago. They are known as basket makers for their skill at the craft. Farming replaced hunting and gathering as their main livelihood. They lived in pit houses clustered into small villages usually built on mesa tops but sometimes in cliff recesses. By 1000 the people of Mesa Verde had advanced from the pole and adobe construction to skillful stone masonry. Walls of thick, double-coursed stone often rose two or three stories high and were joined together into units of 50 rooms or more. Most of the cliff dwellings were built from the late 1190s to 1270s. They range in size from one-room houses to villages of more than 150 rooms...Cliff Palace. There is no standard ground plan. Builders fit the structures to the available space. Most walls were single courses of stone. Masonry work varied from rough construction to walls of well-shaped stones. Many rooms were plastered on the inside and decorated with painted designs.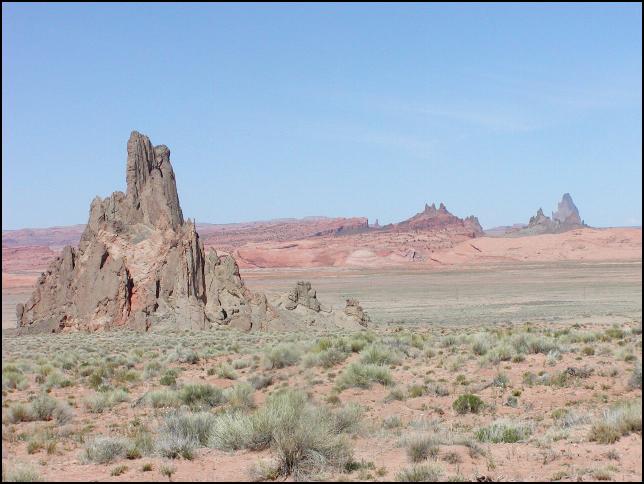 Nature's sculptures scattered over the valley.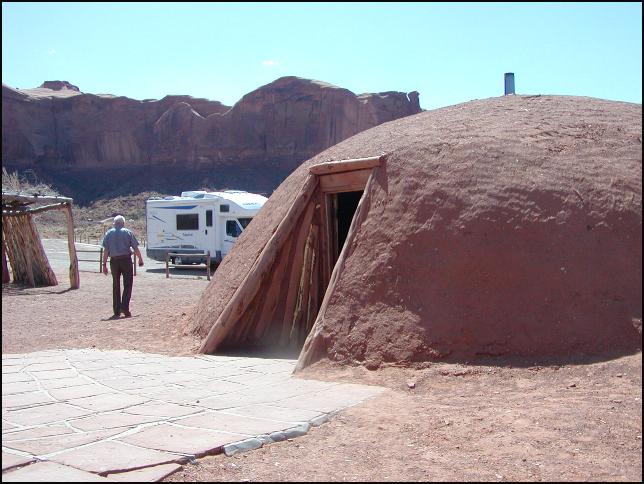 This house is where Lucy works on her beautiful project. She says it'll take
about six months to complete.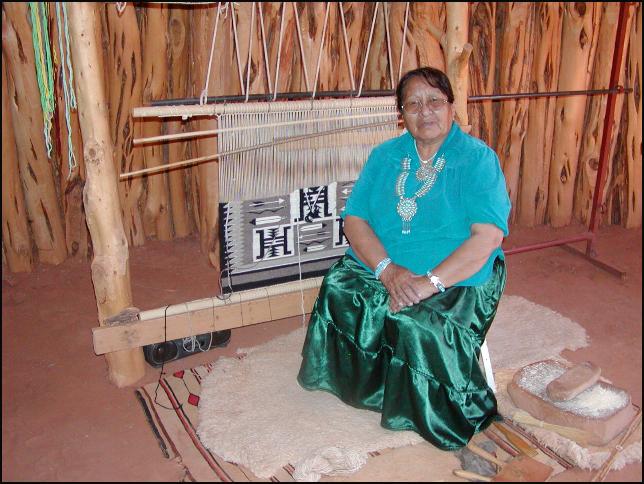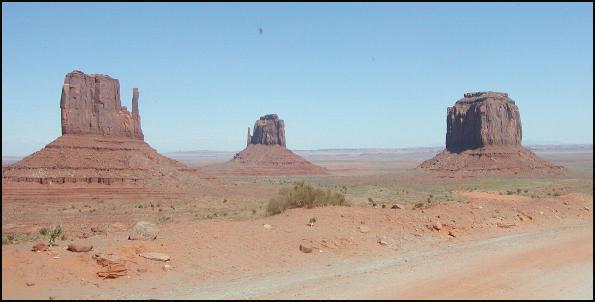 The Navajo name for Monument Valley is "Tse' Bii' Ndzisgaii," comprising 91,696 acres from Arizona into Utah at an elevation of 5,564 ft. above sea level. The orange-red colored sandstone cliffs are of the Culter Formation from Permian period (approximately 160 million years ago). The erosion of soft and hard layers have produced these wonderful formations. Many movies have been filmed here...beginning in 1938 with Stage Coach by John Ford. Also many commercials were filmed here.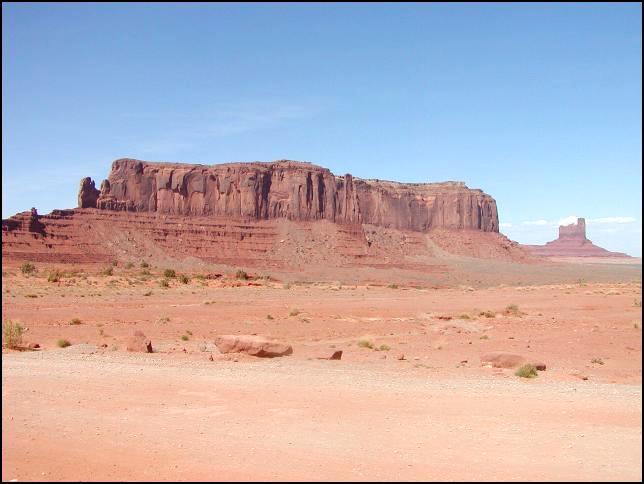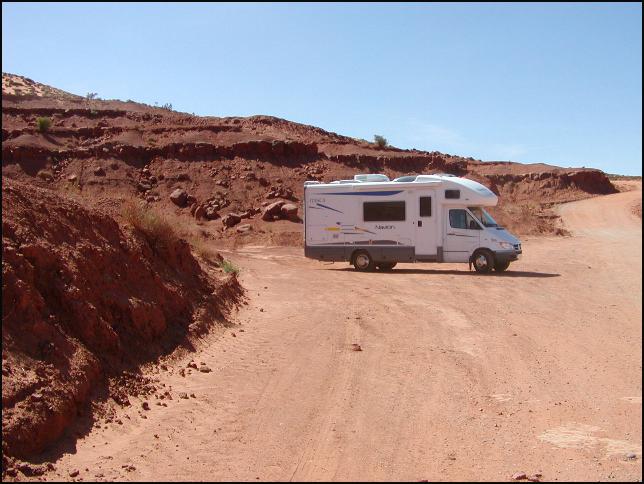 We were going to drive there ourselves, but the road's too rough. Best to leave the
driving to the tour bus drivers.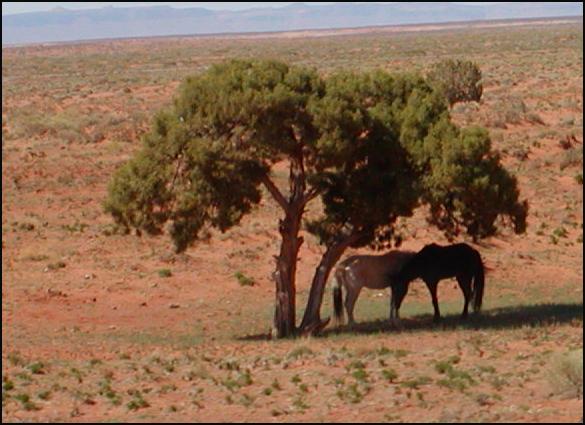 There aren't many trees, so these two horses are enjoying the shade.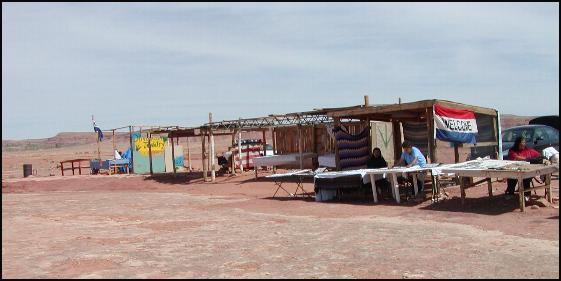 Indian ladies selling their jewelry. Papa bought all the grand-daughters a necklace.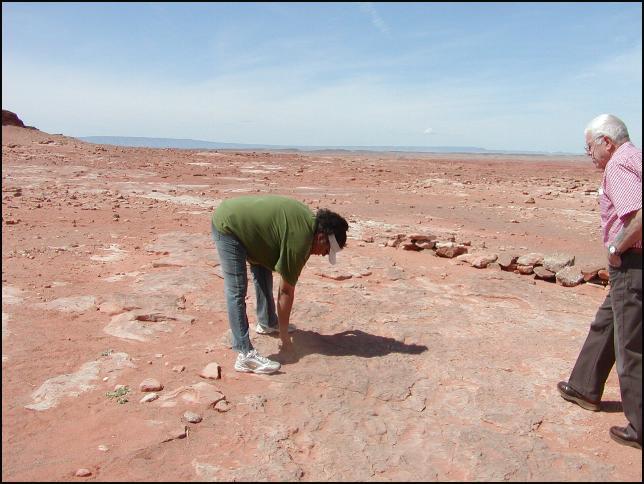 Xnia's showing us some fossil dinosaur footprints.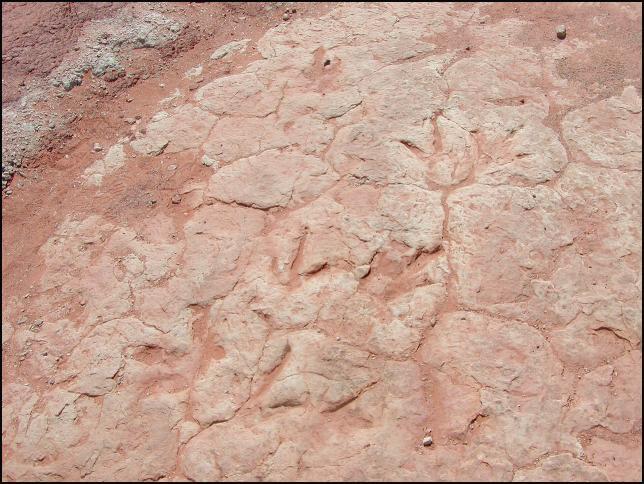 ...and some fossil bones below. She said a large and two smaller asteroids struck the earth nearby...probably causing their demise.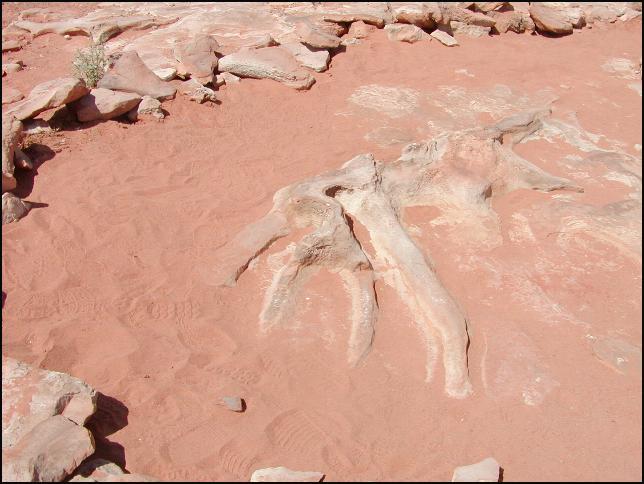 Poof!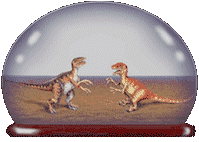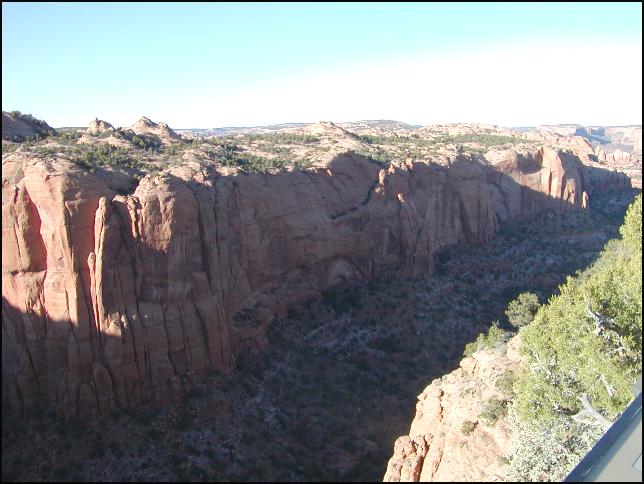 Not far away are more cliff dwellings.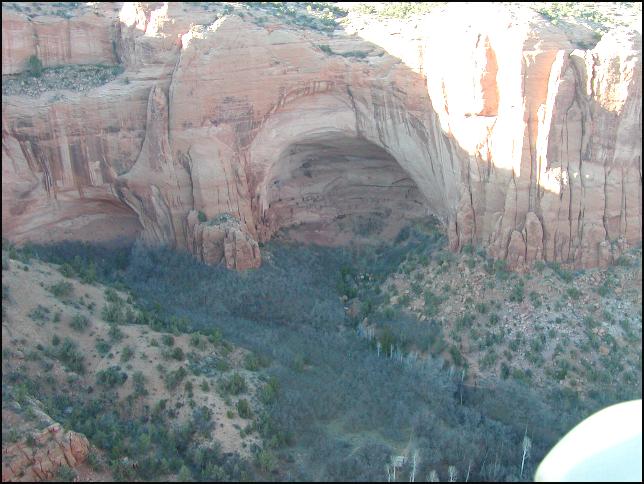 We walked the mile down into the canyon to view the Monument dwellings,

but they still weren't visible, so I captured the cave up close with my camera.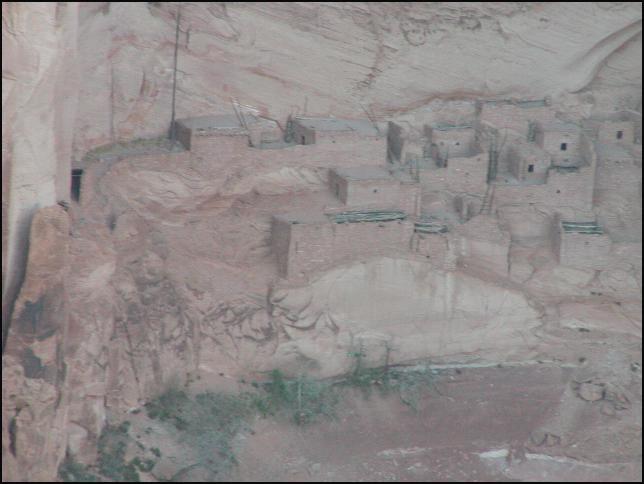 What a surprise! It looks like a huge mural.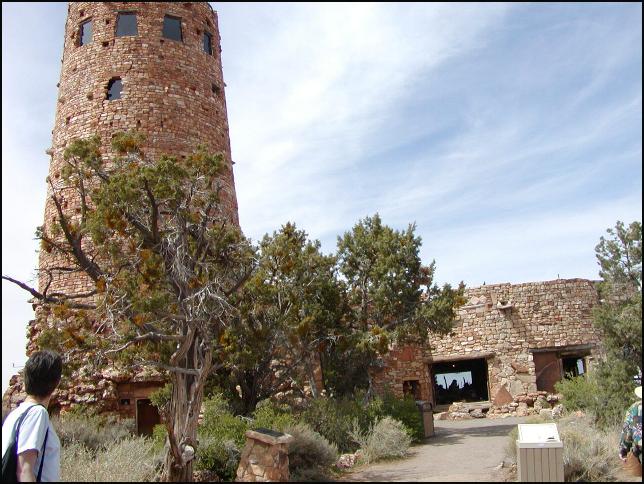 Just inside the entrance to the Grand Canyon's South Rim is the 70 ft. high Indian Watchtower at Desert View. The interior murals depict Puebloan symbols and legends with petroglyphs, pictographs, and artifacts. One of the designers (Fred Kabote) called this place Kawinpi, the western boundary of the Hopi ancestral lands, but Desert View is apt because it affords a panorama view of the parched picturesque landscape to the east.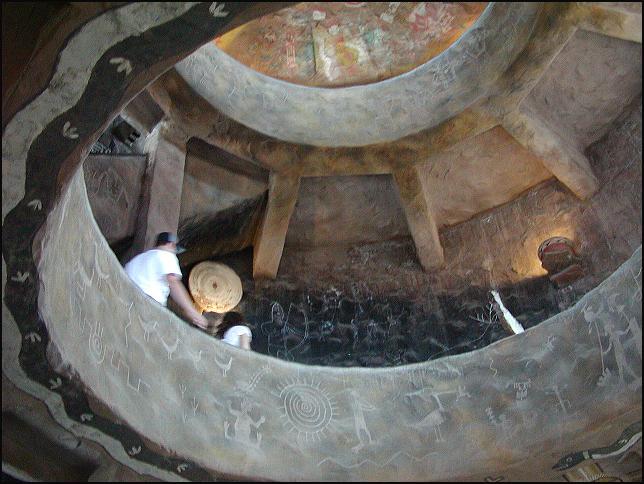 It's quite a climb up the stairways to the top viewing floor.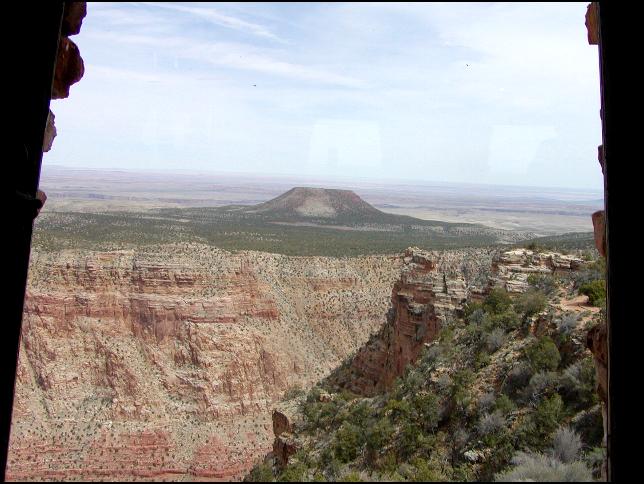 Tower window view of the desert on the opposite rim.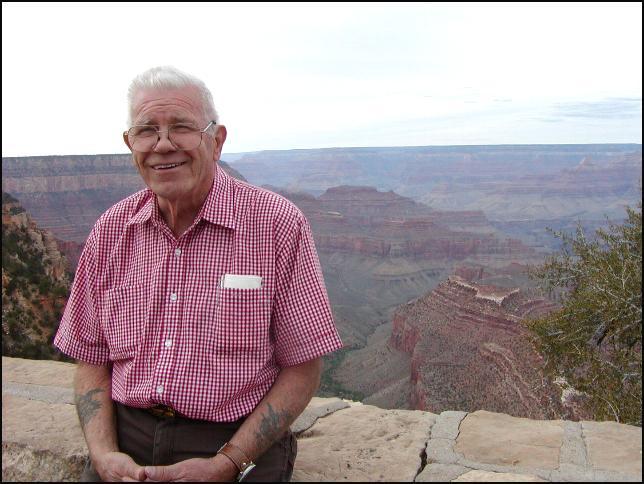 Another view of the Grand Canyon.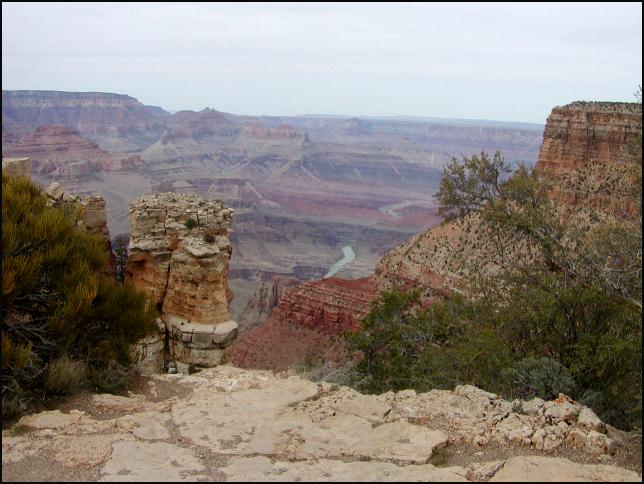 The colors are unreal....And now we'll move on to Arizona, New Mexico and Texas.