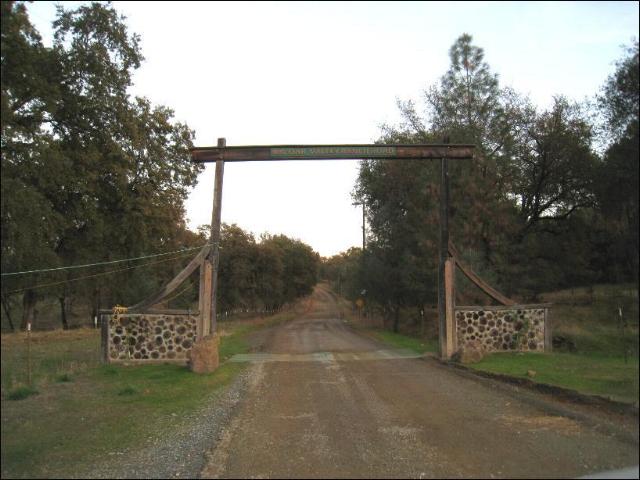 River Highlands Ranch Horses Healing Heroes
(Saturday November 12, 2011)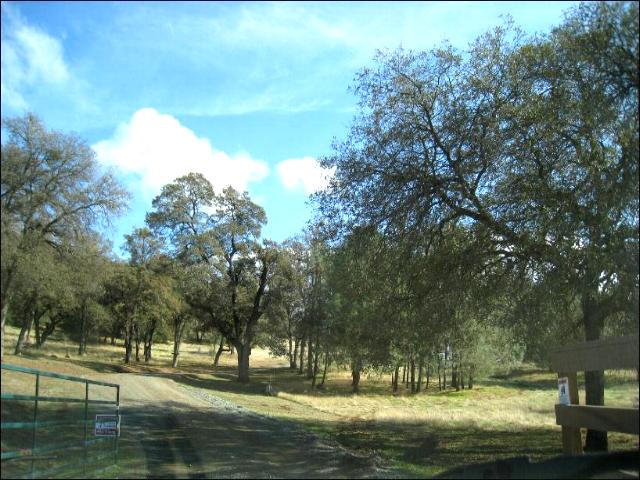 Saturday morning Cheryl called to see if we wanted to go with her to the River Highlands Ranch fundraiser to help Veterans. "I'll pick you up in half an hour." Very soon we were on our way. The ranch is a 600 acre spread adjacent to the Spenceville Wildlife Refuge, one mile south of the Yuba River. Founded in 1999, River Highlands Ranch and is committed to both land preservation and stewardship of its vast natural resource base, it represents a devotion to environmental, economic and social sustainability along with a love of the arts, community and healing. Humans and horses have a bond going back thousands of years, and the ranches horses are used to quietly interact with those men who mentally and spiritually suffer from war. Today they will introduce us to the Horses Healing Heroes program.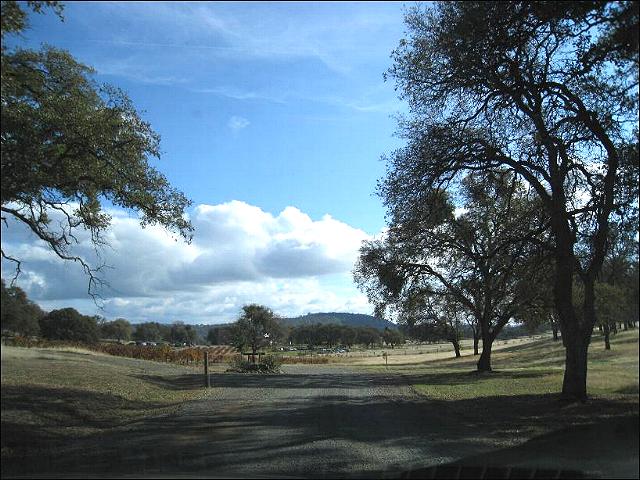 As we approach the ranch we see their vineyards and the barn where they hold many events. Evidently they privately host retreats, concerts, art fairs, weddings, memorials, and many other programs that are what they call "Articulture"...the natural relationship between the arts and agriculture. A natural setting for people to connect with self and others....Where friendships and healing has the quiet it needs to take place in simple surroundings.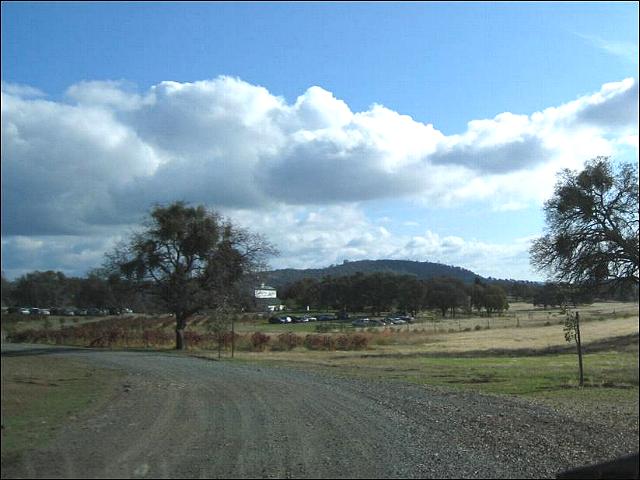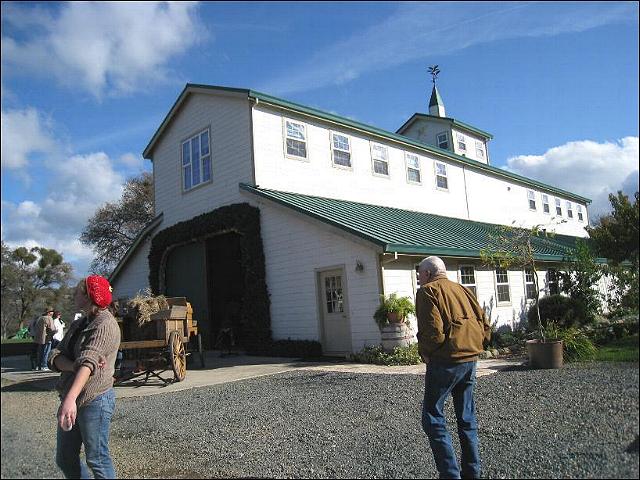 Cheryl drops us off at the barn where the presentation takes place, while she finds a parking place. The event starts at 1 pm so we have time to look at some of the information before we go inside to find a seat.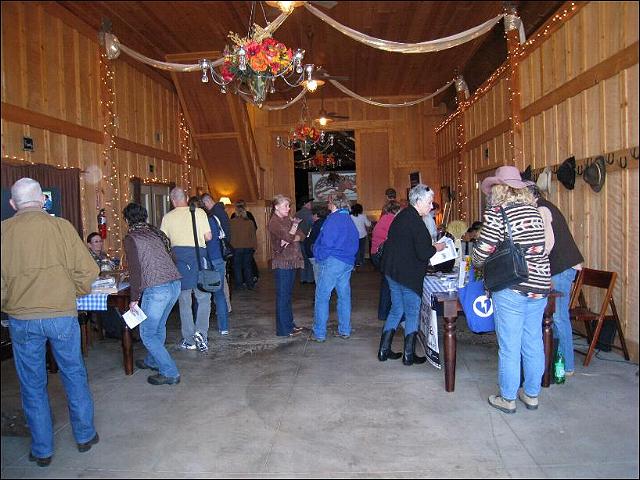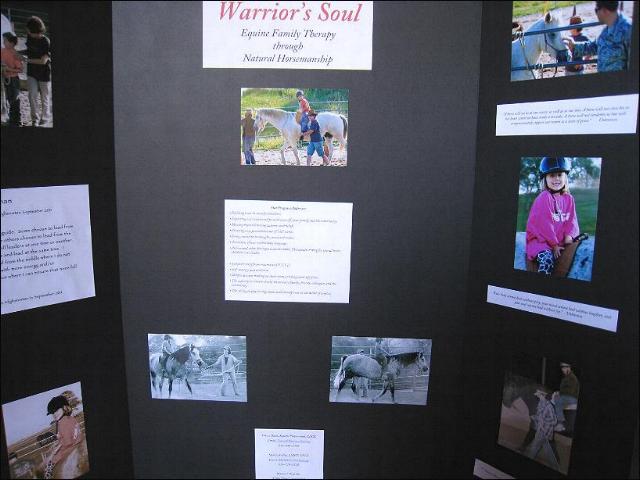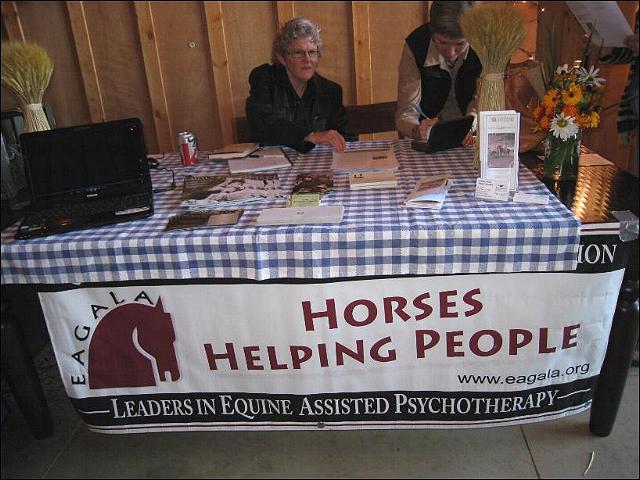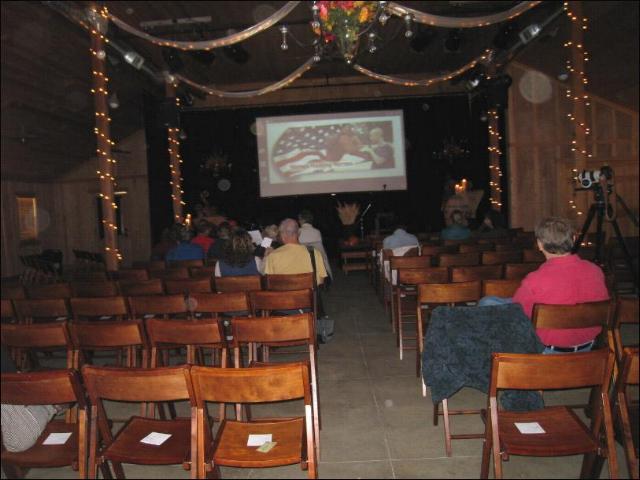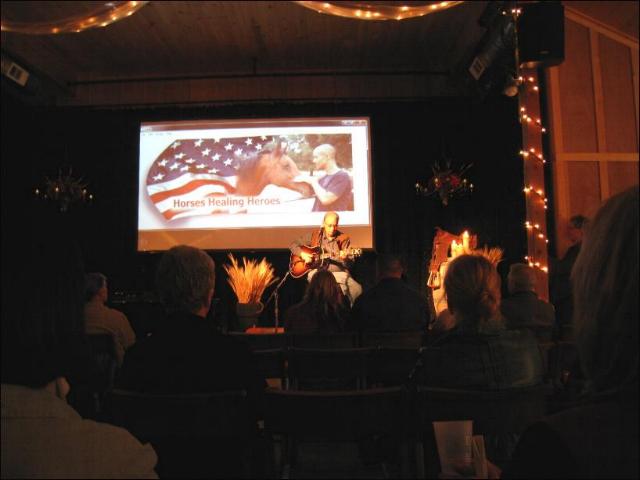 The program begins with a Ranch Welcome and film by Paul Babin, a guitar ballad by Alex Lukeman, and opening remarks by Jane Rivar.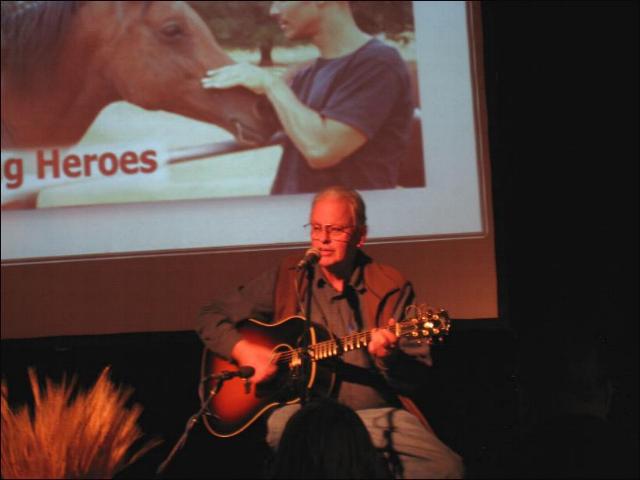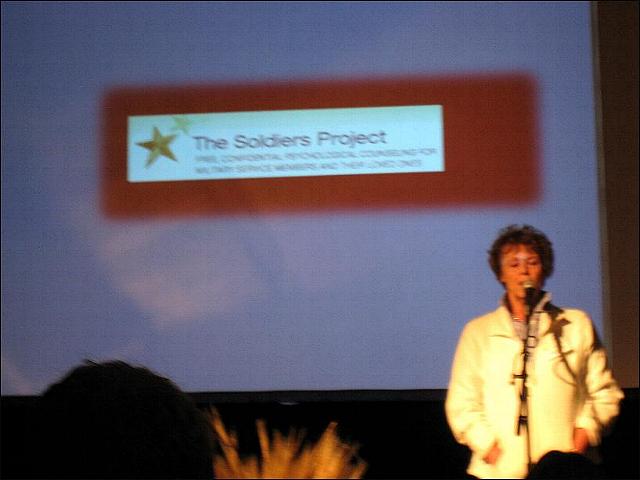 Carolyn Fink is director of the Soldiers Project.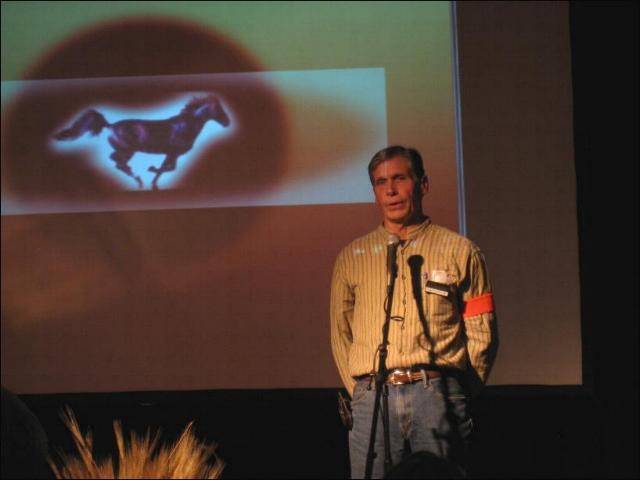 Later we'll watch George Jacobs, the director of Horses Healing Heroes demonstrate the process at the corral with volunteer Cheryl and Rose, a former police horse.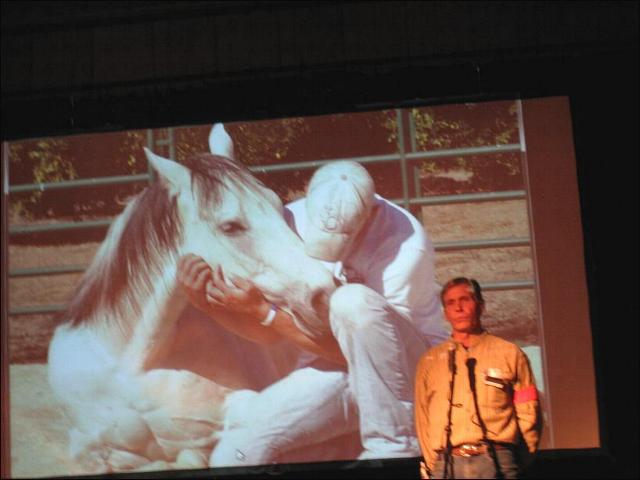 George was severely injured in a mishap years ago, and this is the horse that helped him recover.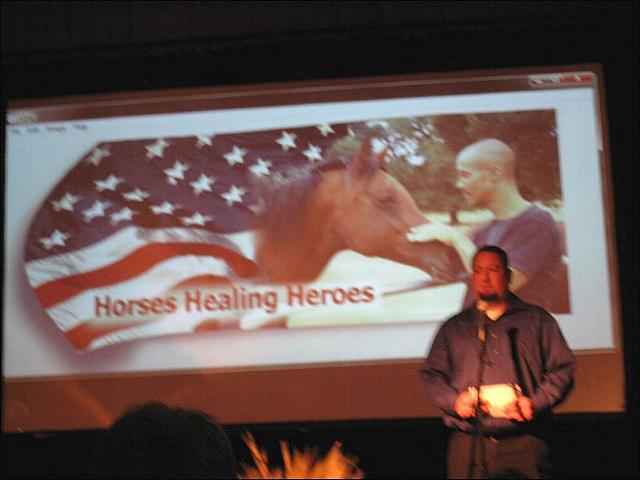 Mike Hensley gives some Veteran's Testimony to Equine Therapy.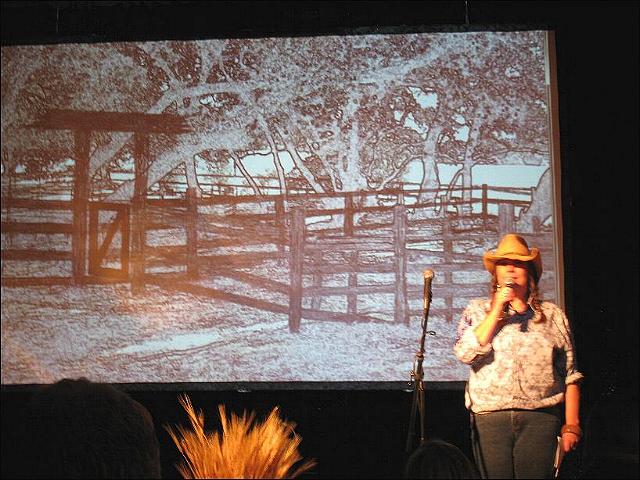 This is one of the "Angels" who helps out on the ranch. They're hoping to build a wood corral soon.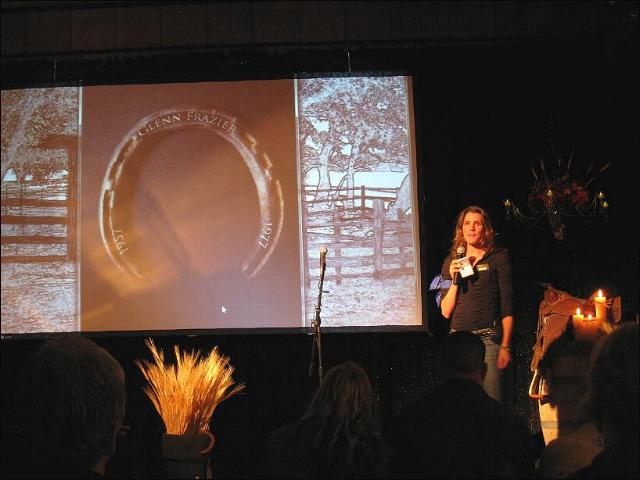 This horse shoe is in honor of Glenn Frazier who contributed much.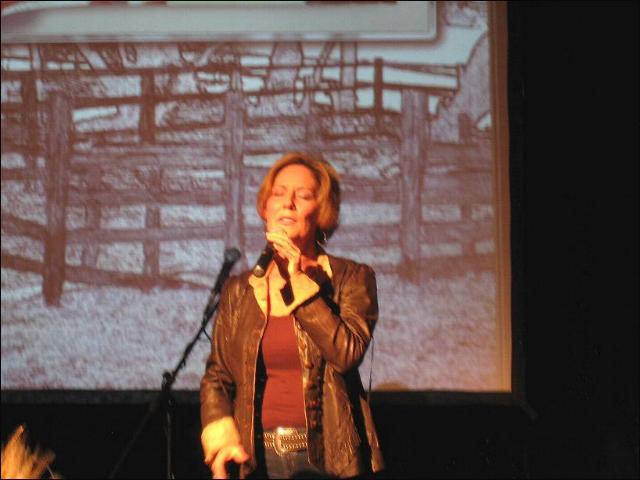 ....And this phase concludes with a song by the ranch owner Jane Rivar. She has a beautiful voice and writes all her own music. One song is her "The River of Gold," that she felt was a prelude to finding this ranch. When she finishes her song she urges us to all go outside and watch the flyover that was supposed to happen right on time.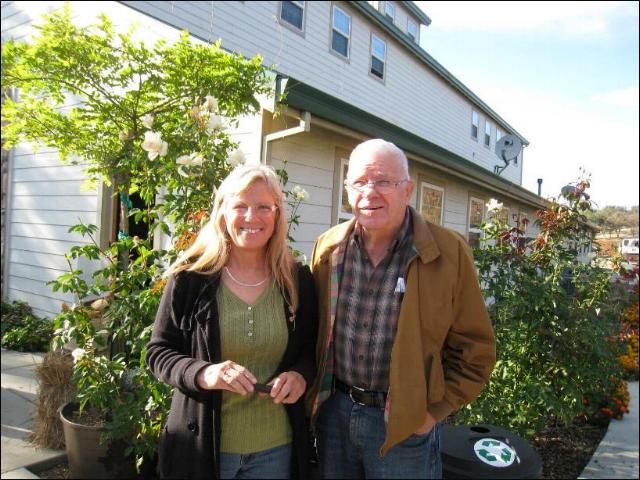 Cheryl and Papa Mel.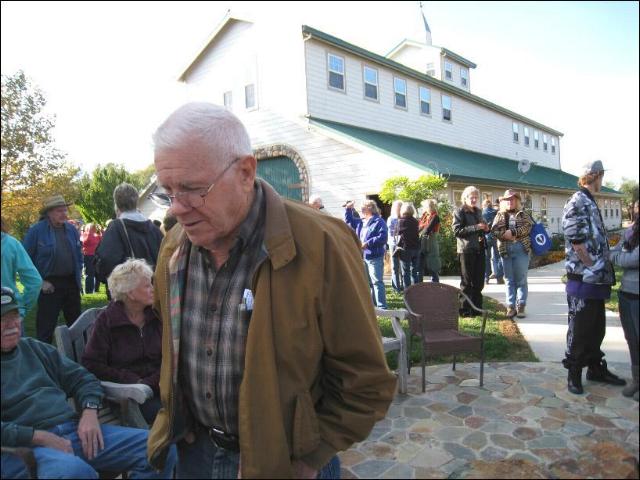 ...And a whole bunch waiting for it to happen.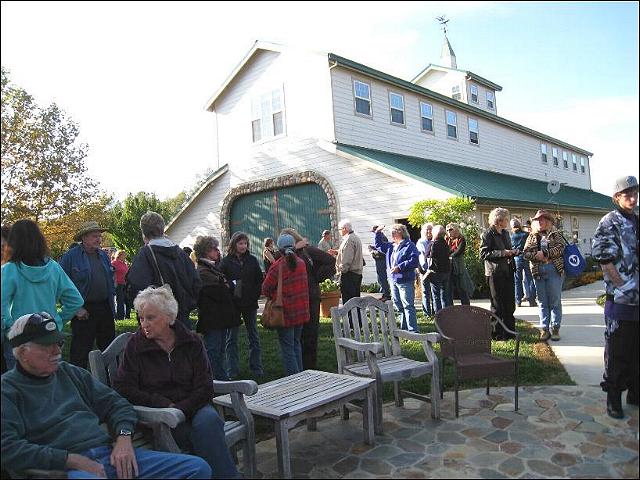 Here they come!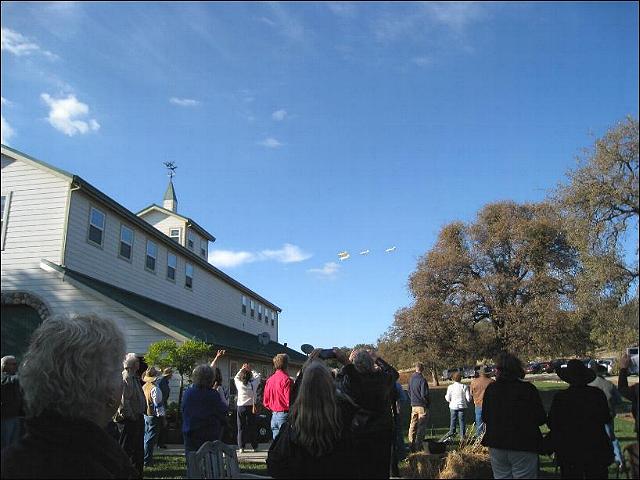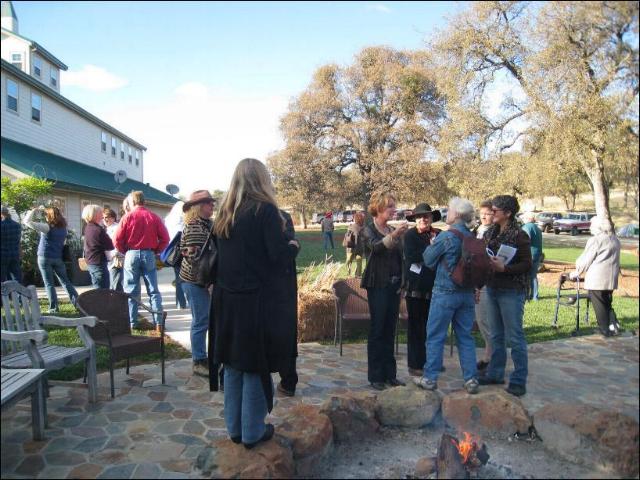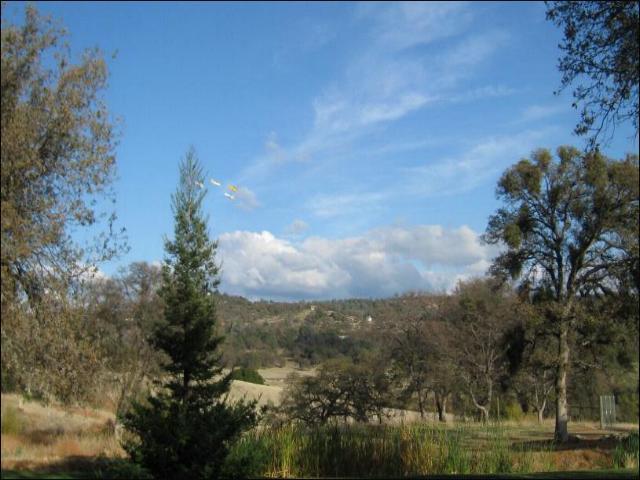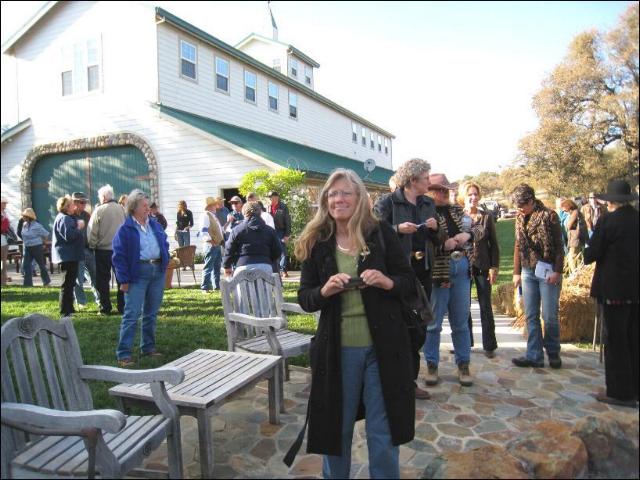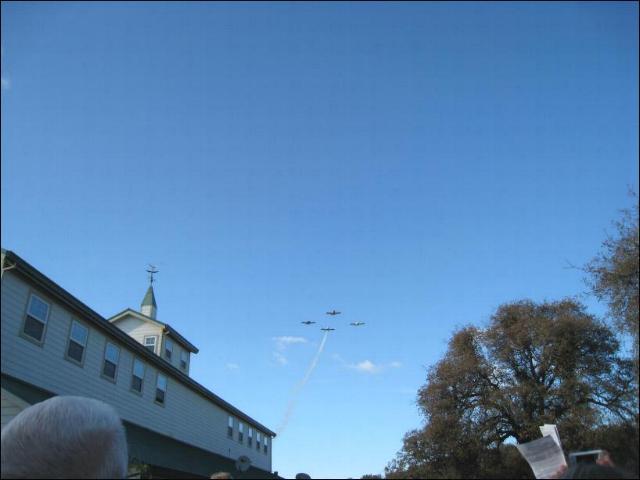 This one takes the prize. The pilot's even leaving a streak across the sky.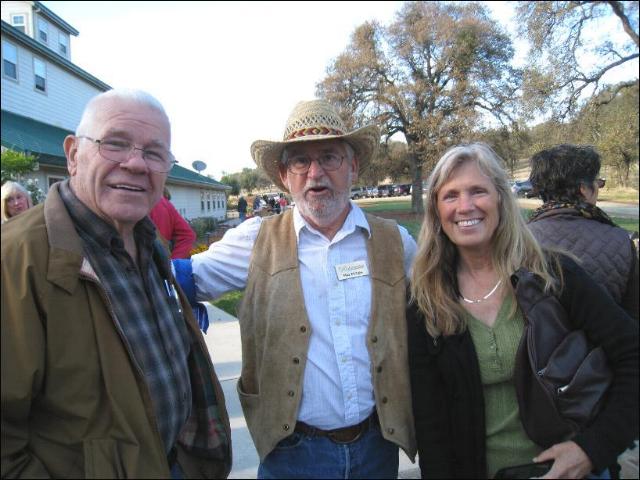 Two Irishmen and an Irish gal havin' fun.
Chuckwagon Bill's son gettin' the vittles ready while other's head out to the corral on a hay ride.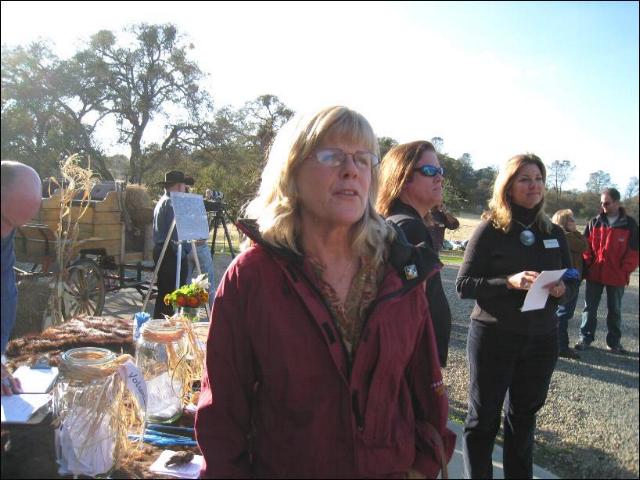 Sue had other business, but made it in time for a late lunch (or early dinner).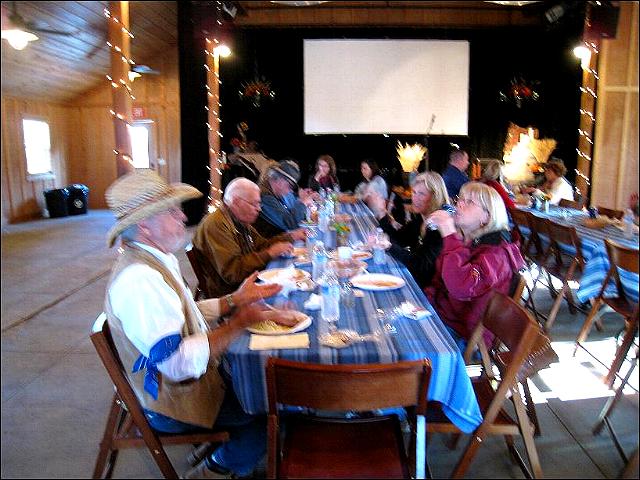 It's a little chilly outside, so we take up a table inside.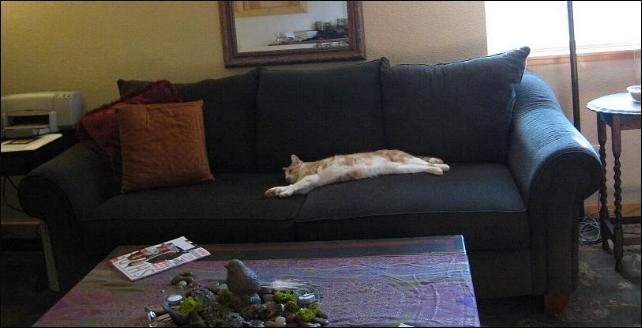 This lil kitty was wandering around earlier, but is enjoying a cat nap upstairs.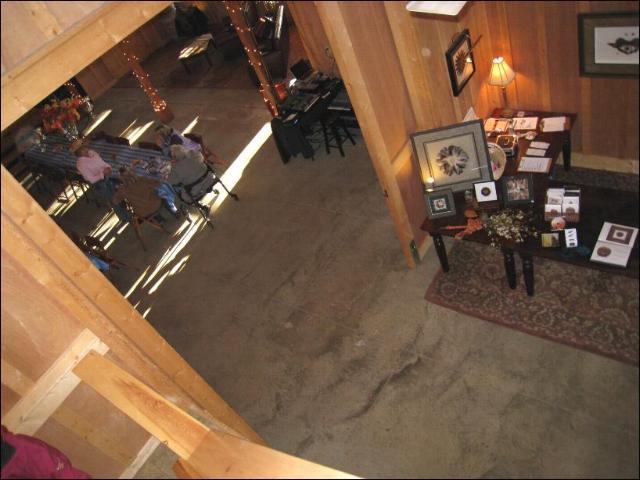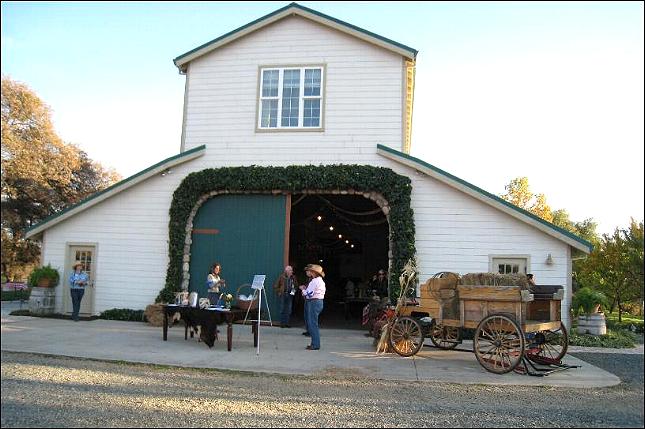 Now we're about to head out to the corral. The hay ride would have been fun but we're right in between rides. Sue opts for the walk, because it's not far away.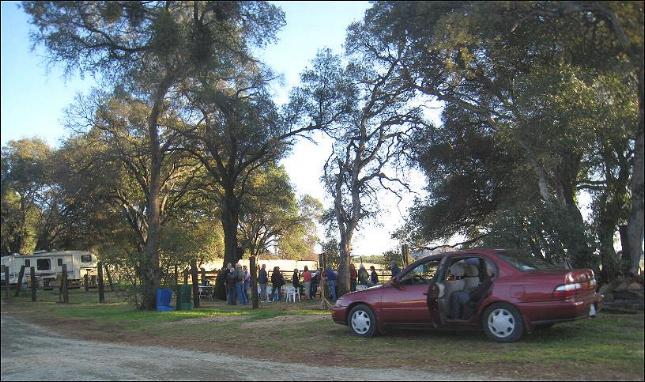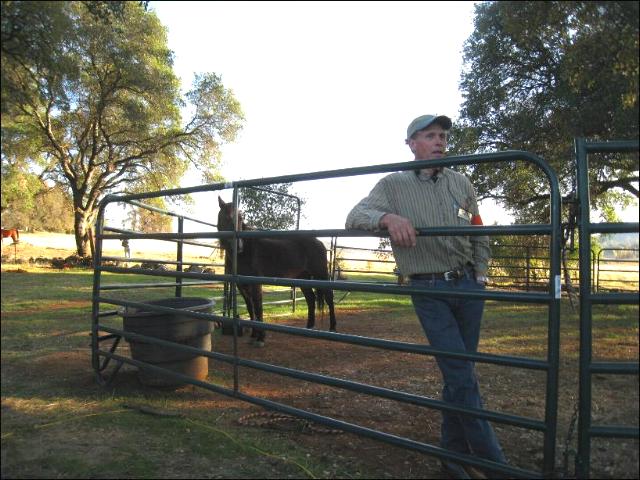 Barbecue Bill Schultz' already waiting for the Horse Whisperer demonstration. We exchange a couple of stories about horses. Bill grew up at Well's, Nevada and recalls how he and friends used to go out and find wild horses, rope one, tie the rope on a tire and all hop on the tire and go for a ride. My story was about Toots and how she paid attention to what I'd tell her. The NID had gates on the ditch, and people would walk around the gates on the water side. Not much room, but I showed her how and she'd do it. She demonstrated to me many times how much she knew. That's what the old saying about having good horse-sense means.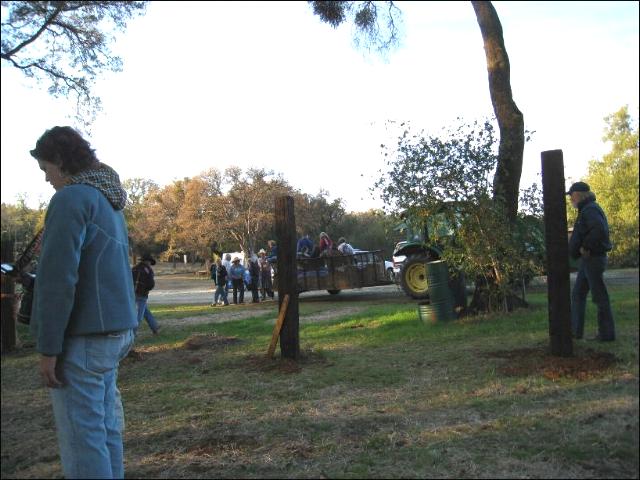 Another hay wagon bunch arrive and the show's about to begin.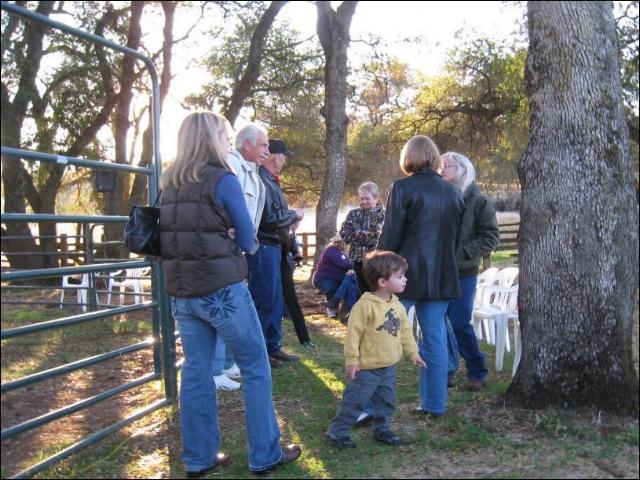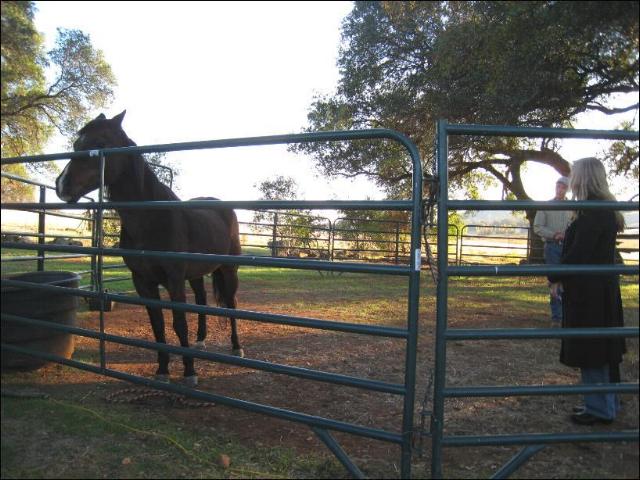 Rose and Cheryl are about to get quietly acquainted watching and noting signs and behavior.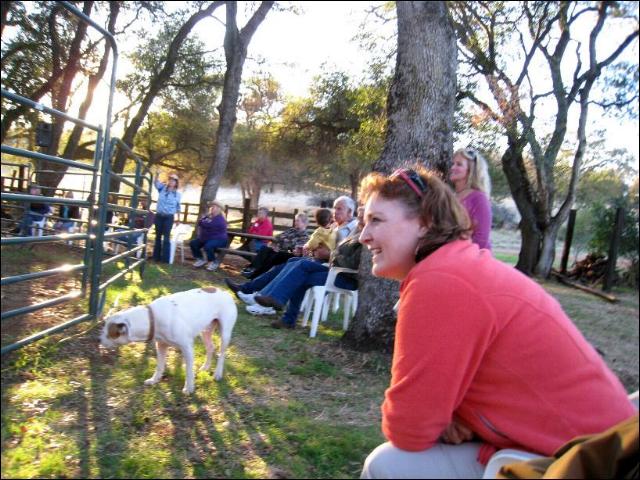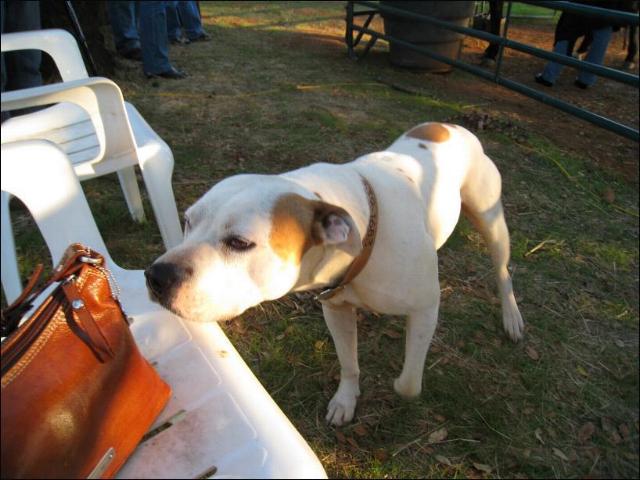 This little guy's checking out a lady's purse for goodies.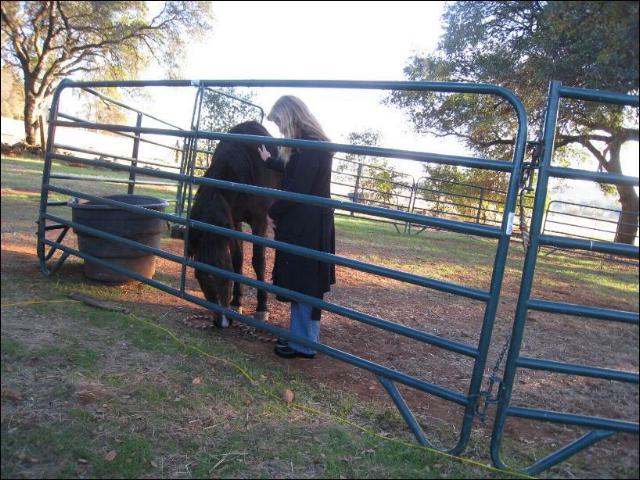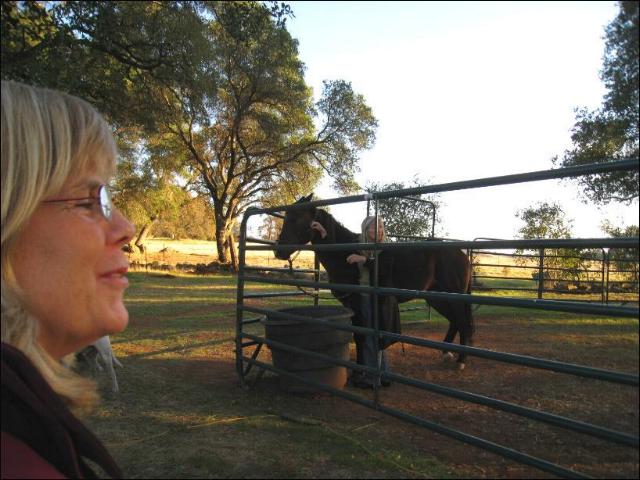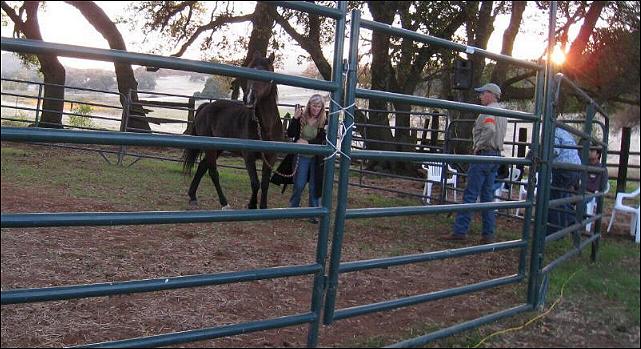 Finally Rose makes it clear that she's had enough for today and it's time to part company.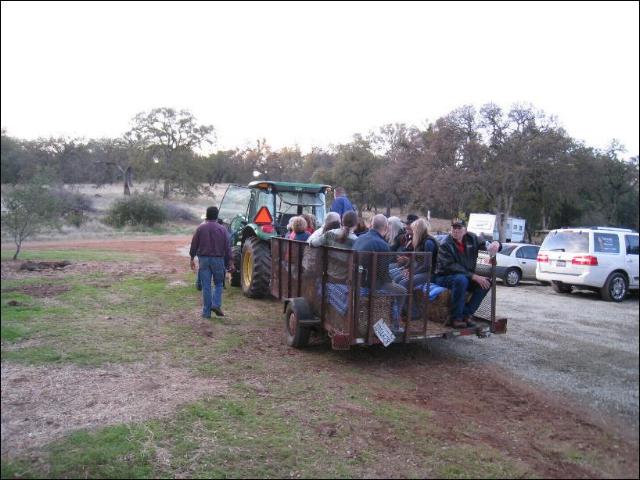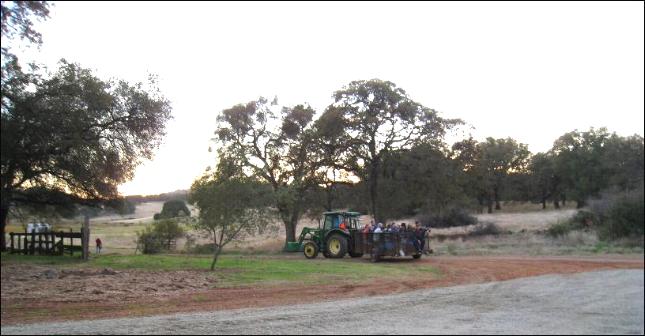 Usually it's the horse that's anxious to head for the barn, but today the hay riders head back to the barn with Sue in the lead. She decides to stay on for more camaraderie and playing on drums with the bunch. We head home to our barns as the sun sinks in the western sky. It's been an interesting day with nice people. If all goes well, maybe we'll get around to milling some corral boards.