The artwork of Judith Lowry has been on the Smithsonian Institution's radar for more than five years. The Nevada City resident's acrylic paintings were shown by the prestigious educational center during "Continuum 12," an exhibit in New York sponsored from 2003 to 2005 by the institution's National Museum of the American Indian. Now, Lowry will have a permanent spot in the hallways of the institution. The Smithsonian has purchased her six-panel work, "Weh-Pom and the Star Sisters," one of the pieces featured in "Continuum 12."

"To have your work installed in any museum is always an honor," said Lowry.

"Weh-Pom and the Star Sisters" — or "the girls," as she calls the series — is one of Lowry's favorite works, she said.

Its six panels depict five women and a wolf man in the stars, dancing and pouring star dust downward. The vivid colors and symbolism in the paintings are hallmarks of Lowry's work. She's best known for portraying the contemporary perspective of Native American life and her execution in acrylic on life-sized canvasses. "The girls" are 48 by 60 inches each, according to the National Museum of the American Indian. Lowry's work also is featured at Lilly Vigil Gallery, 214 Broad St., in Nevada City. Smithsonian workers were at Vigil Gallery on Monday to crate up "the girls" for shipment.

Born in Washington, D.C., Lowry's heritage includes Mountain Maidu, Hamawi Band Pit River and Washo tribes and Scots-Irish on her father's side and Euro-Australian roots on her mother's side. Her father, retired Lt. Col. Leonard Lowry, was a decorated World War II veteran. Stories passed on by her grandmother, of the Hamawi people of northeastern California, inspire her work. Lowry looks back at her history, her mother and father, and wonders what they would think of her accomplishments after achieving such an honor.

"They're both gone, and I was just thinking how they would both be so proud," Lowry said.

She also sold another of her paintings, "The Race for Fire," to the Roseville Maidu Interpretive Center. It depicts a tiger, a deer and a bear in the foreground racing in the direction of a fire in the background. "It fits perfectly for the mezzanine," Lowry said.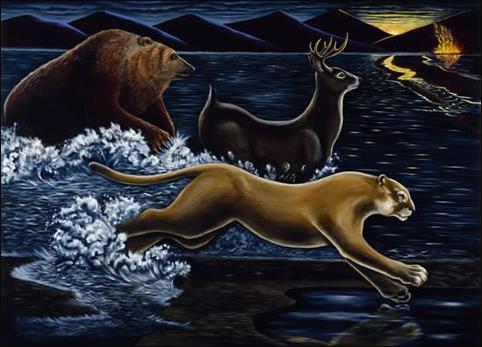 To view examples of Lowry's work, visit LillyVigilGallery.com or www.nmai.si.edu/exhibitions/continuum.