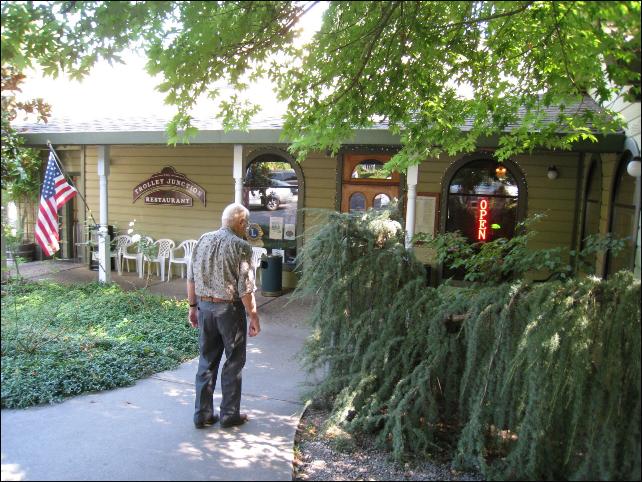 Nevada City High School Class of 1946's 65th Class Reunion
(Wednesday. September 14, 2011)
It's almost 11:30 am and we're entering the Trolley Junction Restaurant for the reunion luncheon. It's my sister Virginia's and former brother-in-law Denny's class, but we grew up with them, and always enjoy seeing everyone. Unfortunately Virginia couldn't come. This is a wonderful place for these events, and as we walk you'll get to experience it with us. The girls that will be serving us look surprised that I'm taking their picture and the one in the middle later got even by taking a couple of us.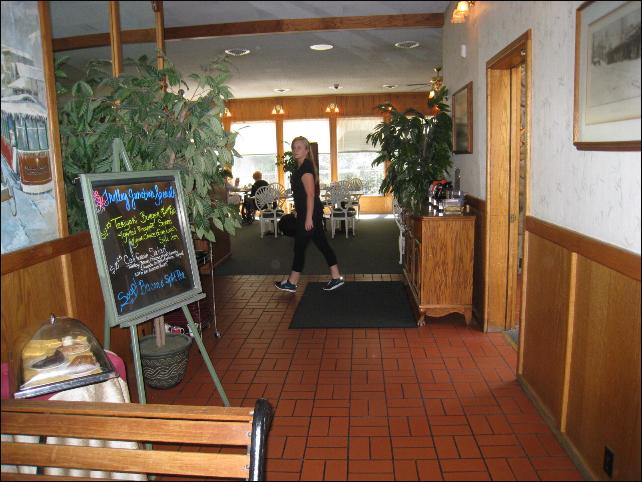 The first door to the right of the tree is the banquet room, and it's beautiful. The class photos on the far table catch our eye, but we'll check them out later.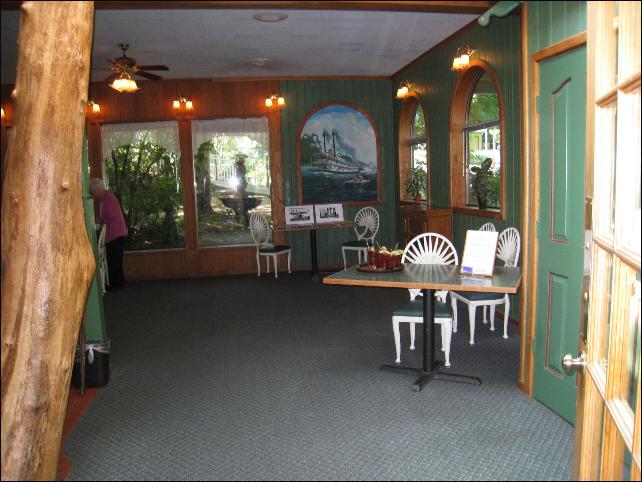 We thought we were early, but most of the seating is already taken. Sorry this photo has the shakes.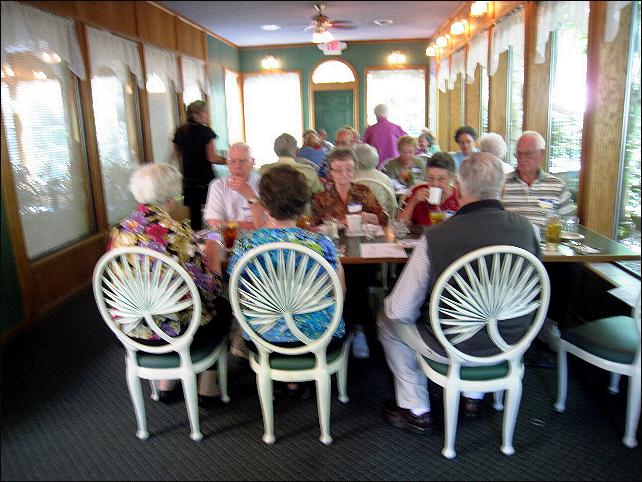 Our gathering begins with Sam Pello leading us in a Pledge of Allegiance, followed by Rev. Peter Yuen's Invocation and Memorial for deceased classmates and Faculty. Twenty three Classmates and nine Faculty members. The rest of the afternoon was spent enjoying conversation and delicious food. Everyone had a chance to introduce themselves, spouses and friends...and share some bit of information, or good ol' time stories and laughs. Here's story Virginia remembers and wanted me to tell: "Many years ago when sister Kathy told me that she was in love with Denny Smith, I responded, "NOT HIM!" He and I were in the same high school physics class. Denny set a bonfire on a silver dollar and put it on the desk-chair in front of him occupied by George McClosky. I was sitting next to Denny and made the mistake of looking totally appalled at George when he yelled, and was sent to the principal's office for the first time in my life! Mr. Franz was a retired navy commander. The scar on the side of his face added to his stern demeanor. Well, I'll have to admit that Denny turned out to be a pretty nice guy after all...."

Unfortunately, a final note to her story is that classmate George McClosky recently passed away.
It's so wonderful to see all these dear life-long acquaintances, and they look wonderful.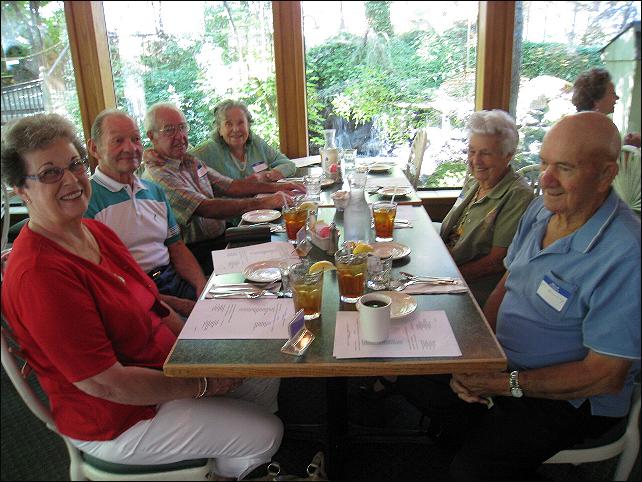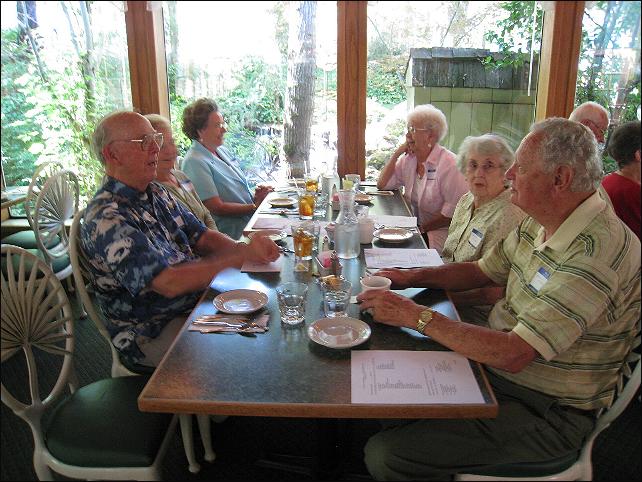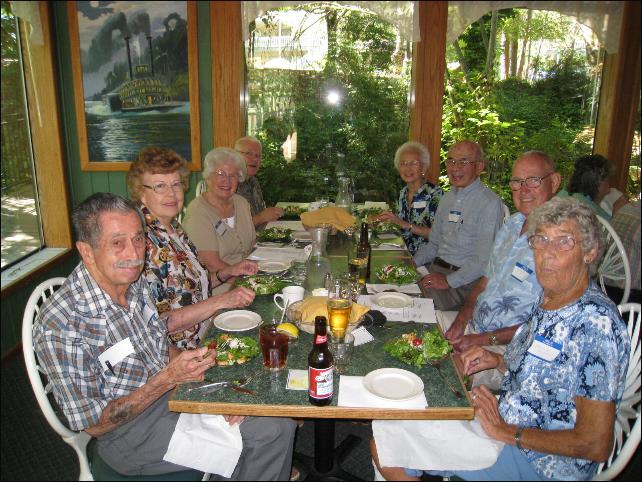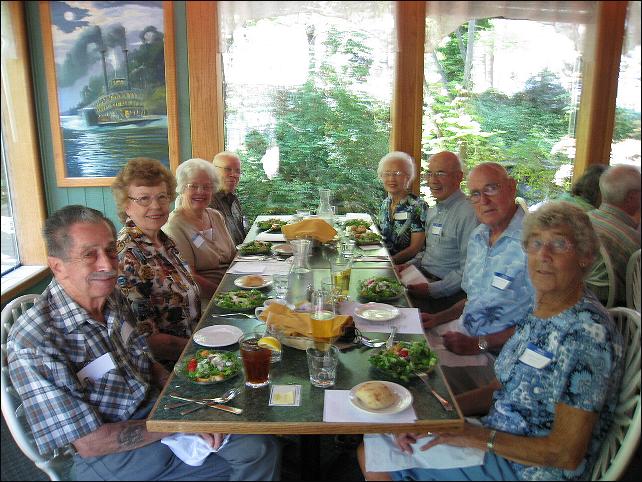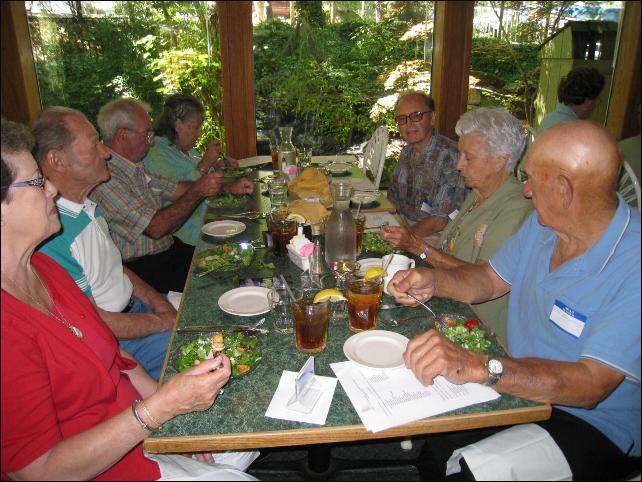 And now let's check out the books and photos on the table...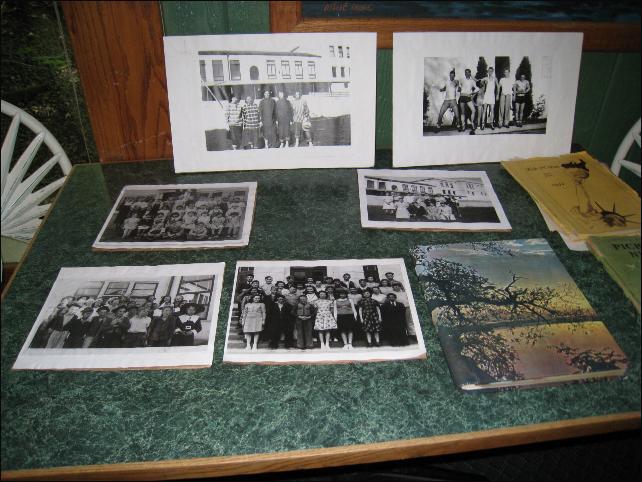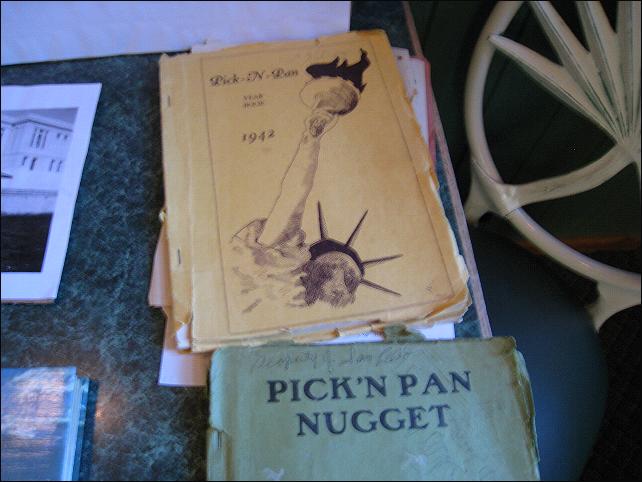 Before leaving we had to take a peak at the photo's and the school's Pick N Pan's reporting on who and what like the football players. Here's a 1944 photo of the Nevada City Yellowjackets. Mel's in the back row third from the left next to Sam Pello.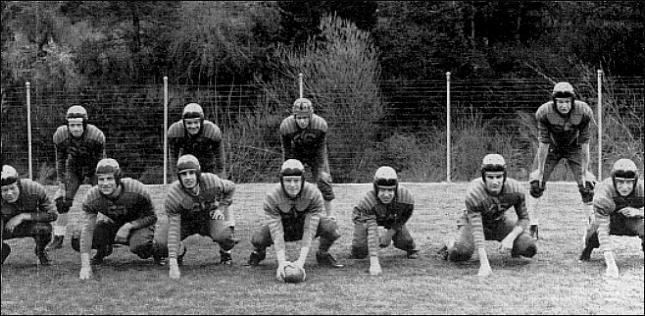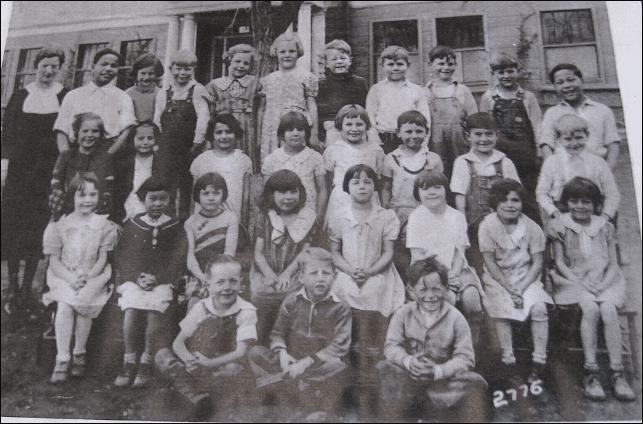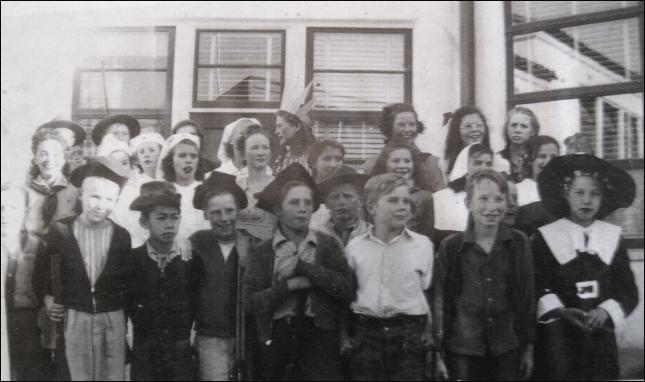 Sister Virginia is in back row next to the last on the right in this photo and the next one. She was tall and had beautiful natural curls.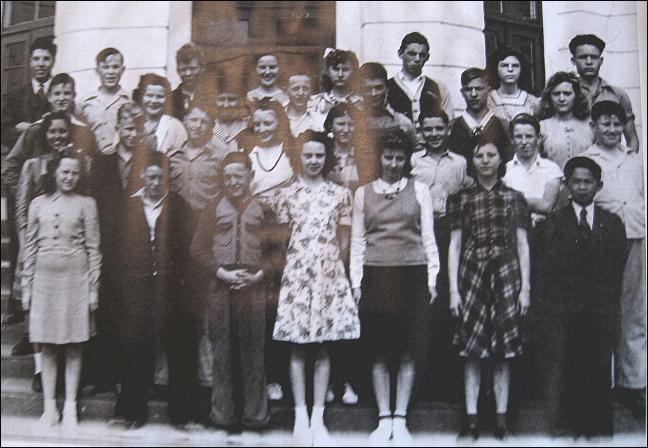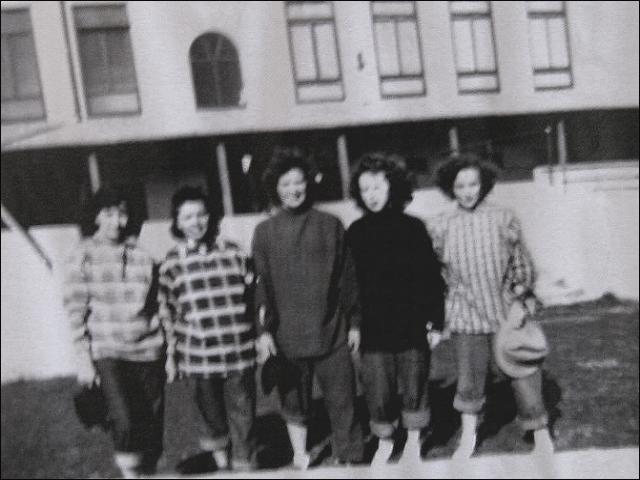 This wasn't good to start with, but I do recognize Joyce on the right.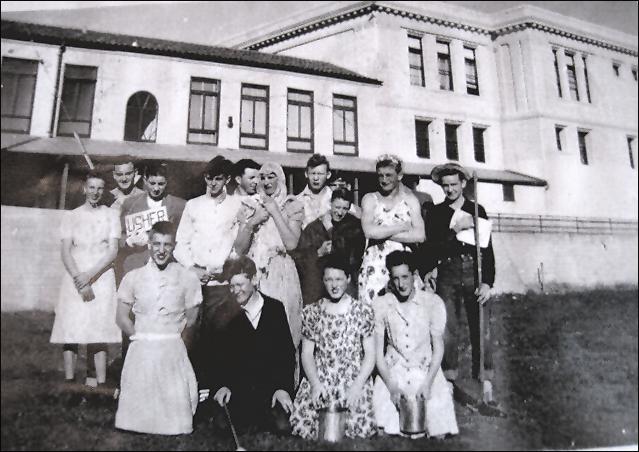 These guys are toooo much!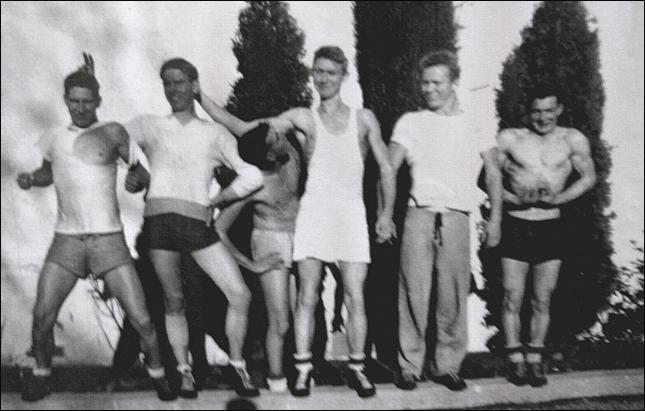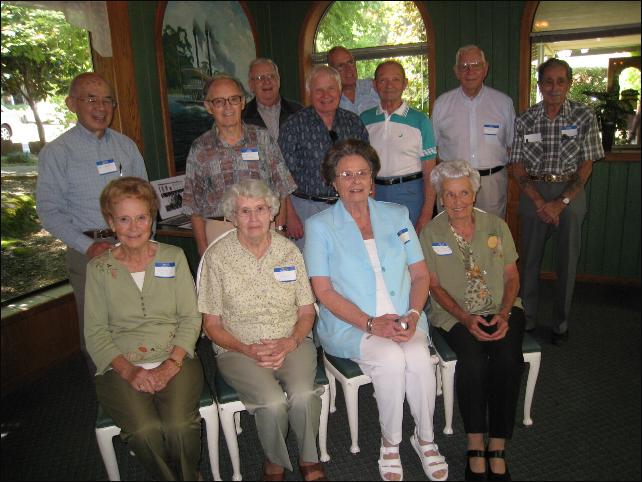 Classmates at today's reunion. Back row (left-right): Dick Davies and Don Ellis. Middle row: Rev. Peter Yuen, Ole Ronnigen, Ronnie Shaw, Sam Pello, Bill Laughlin and Dennis Smith. Front row: Joyce (Arbogast) Bauman, Leona (Lotz) Riddle, Beverly (Scholefield) Kilroy and Barbara (Garesio) Browning.

Our wonderful afternoon concluded with Rev. Peter Yuen's Benediction and our singing...

God Bless America

While the storm clouds gather, far across the sea. Let us pledge allegiance to a land that's free. Let us all be grateful for a land so fair...As we raise our voices in a solemn prayer. God bless America, land that I love. Stand beside her and guide her...thru the night with a light from above. From the mountains, to the prairies, to the oceans, white with foam. God bless America...My home sweet home.

It's been fun visiting and sharing the good ol' days, and catching up with everybody. Special thanks to Dick and Eilean and everyone who made it possible. Take care of yourselves and we hope to see everyone at the next get together.