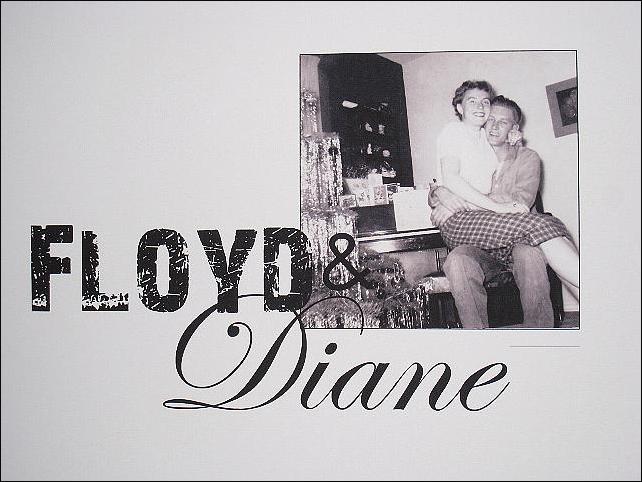 Floyd and Diane's New Year's Eve Surprise
(Thursday December 31, 2009)
round 60 years ago, Diane was Queen of the Fourth Parade. Floyd was among the crowd lining the street in Nevada City. When he saw the lovely young lady, he impulsively jumped upon the float beside her. That was their first encounter, and eventually the beginning of their sixty years together. The photo below was the day they met. Diane's sitting on Floyd's car following the parade..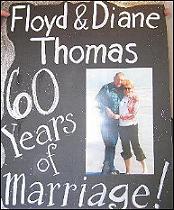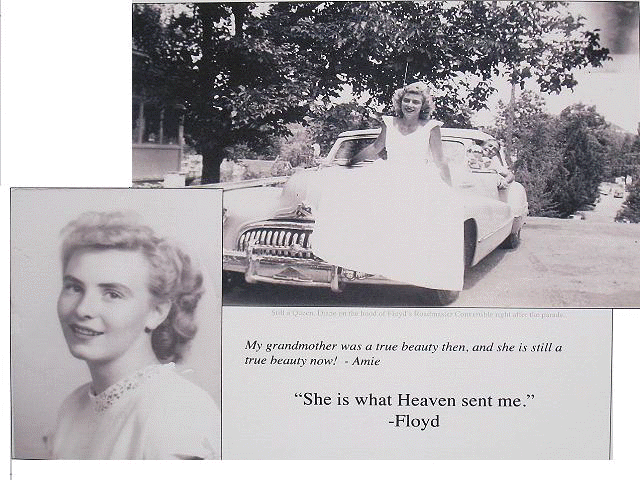 When we received the invitation to be part of their 60th Anniversary surprise party (in Colorado Springs) it was a concern about what kind of weather we might encounter getting there. It was regardless of rain, snow or shine...somehow we'd get there. When we were about to enter, their son Steve told us the gathering had already begun, and to come up behind them and tap them on the shoulder. As we approached from behind they were being photographed. I put my left hand on Diane's shoulder and at the same time my right hand on Floyd's. They turned around and screamed with delighted surprise....making us feel like celebrities. Hey now...this is your party. Below Floyd and Diane pose with their children. Behind is the story of their life together that will become a book we're all looking forward to.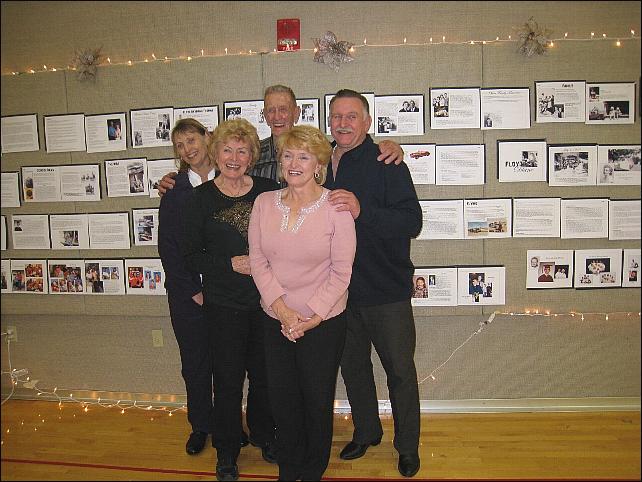 Debby, Floyd, Steve, Diane and Tamie.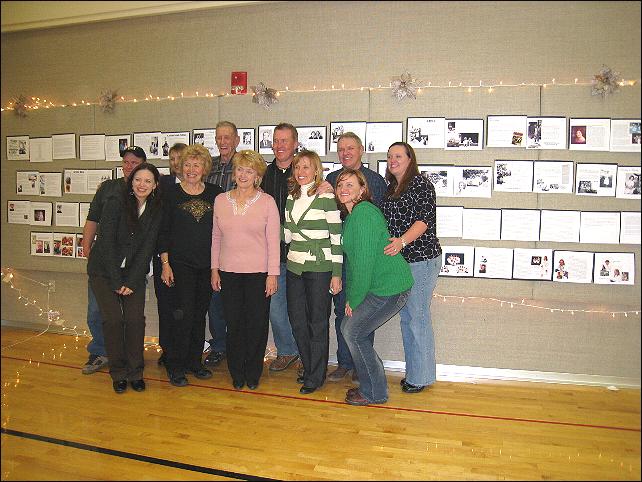 Their wonderful growing family.
Grand children Danny and (especially) Amie were among the movers and shakers who did so much to make the surprises happen. "Surprises" because it was also a surprise birthday party for their parents (Andy and Tamie) enjoying their 60th birthdays.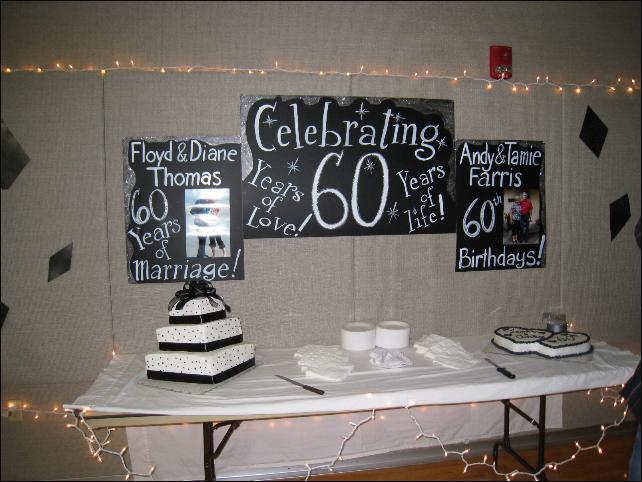 The birthday husband and wife. Sorry...didn't mean to blind you Andy.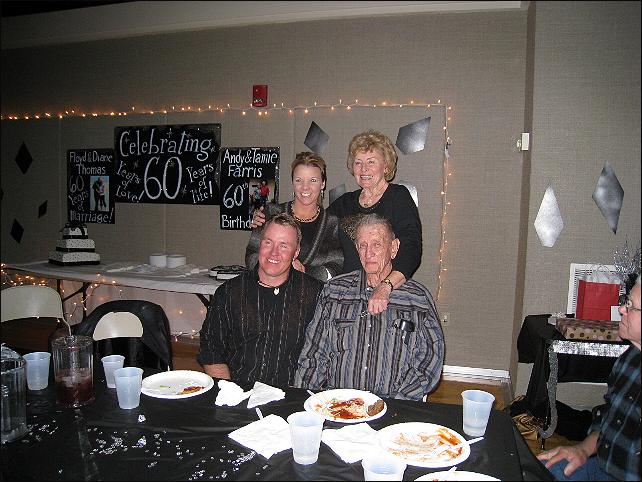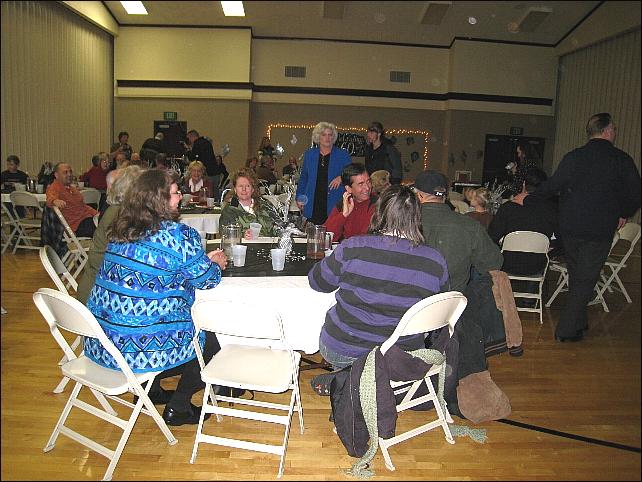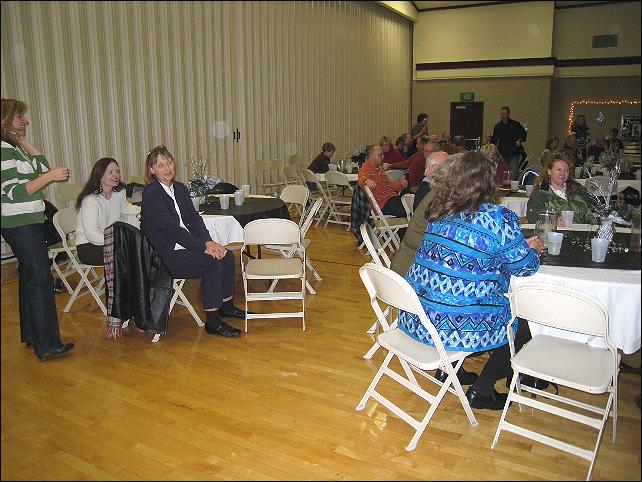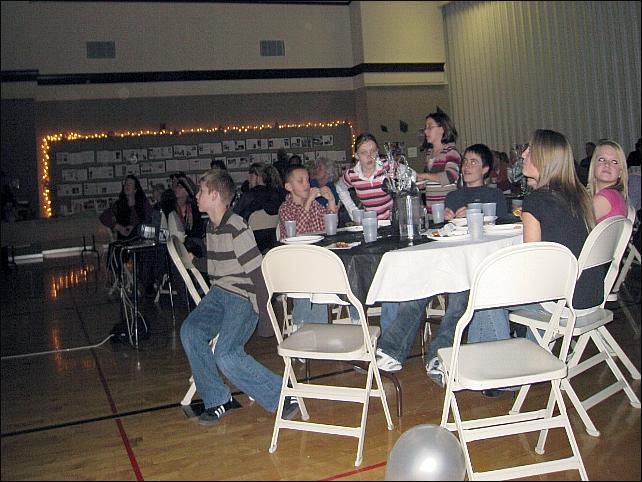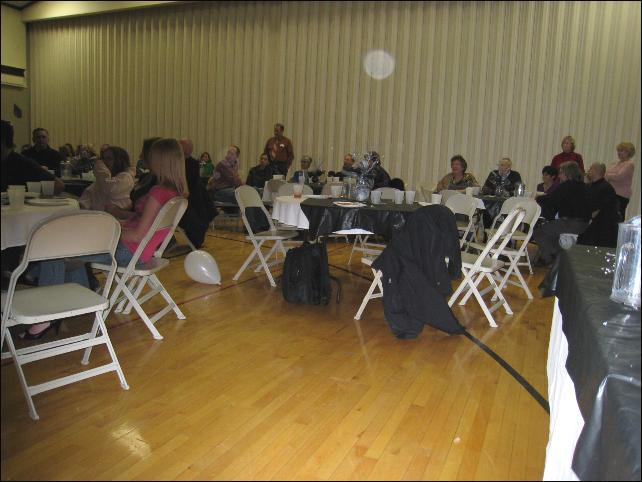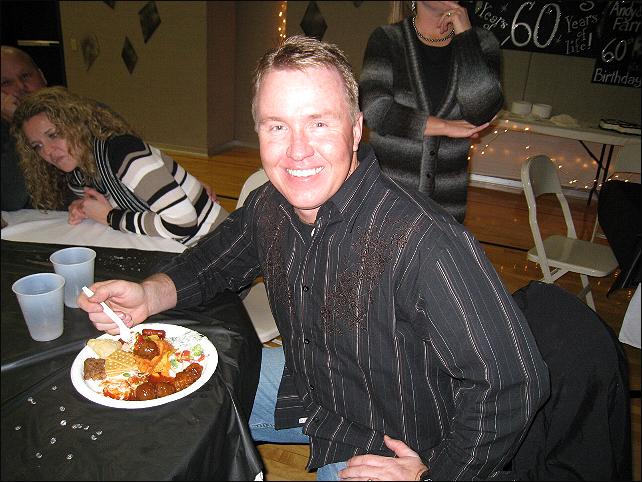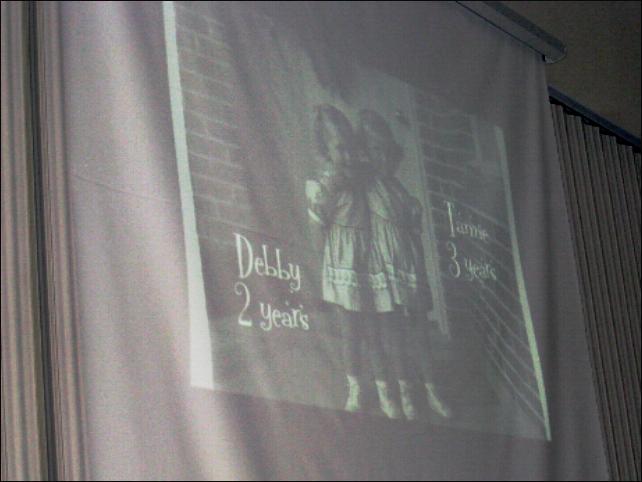 Meanwhile we're entertained with a nice slide show involving family memories...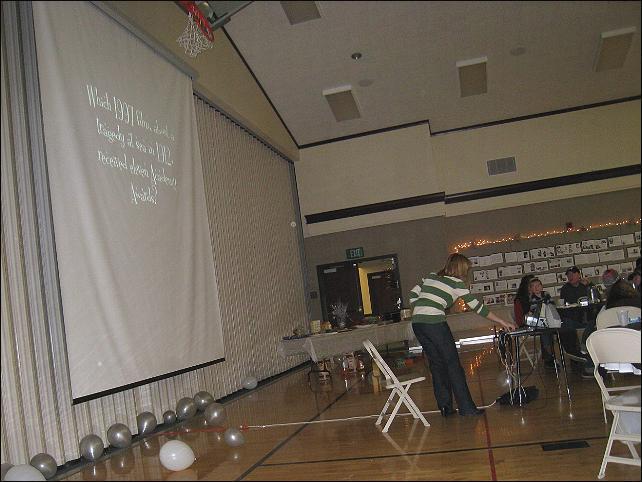 ...And a video "Can you remember?" game hosted by Amie.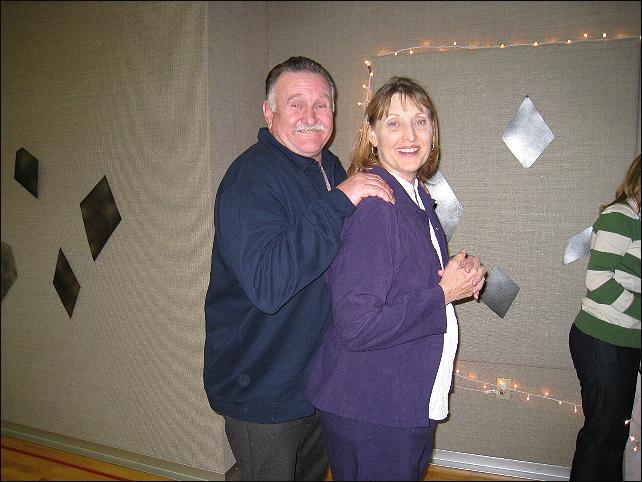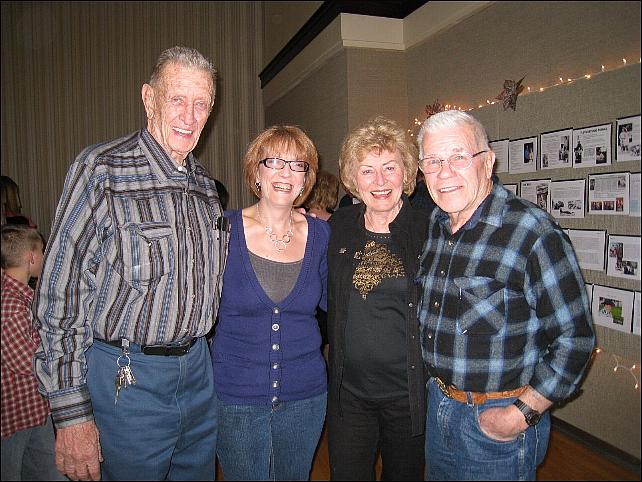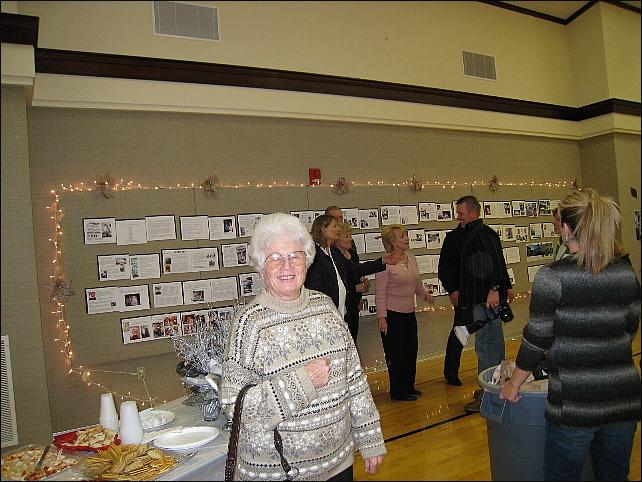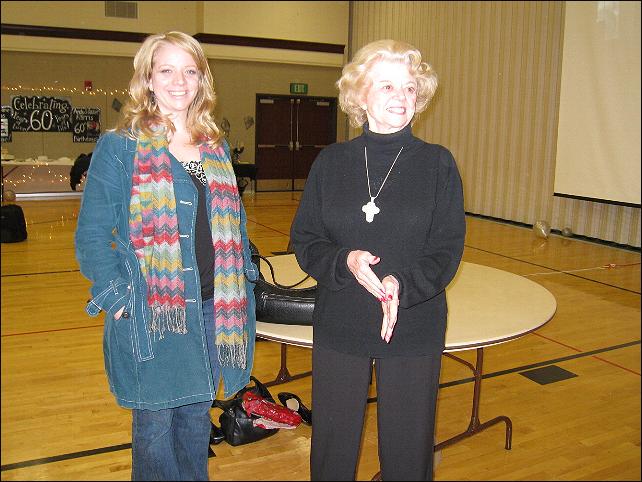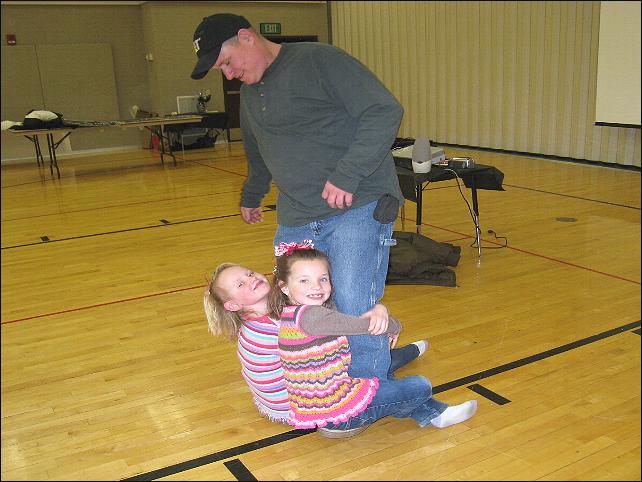 Two little munchkins hanging on for the ride.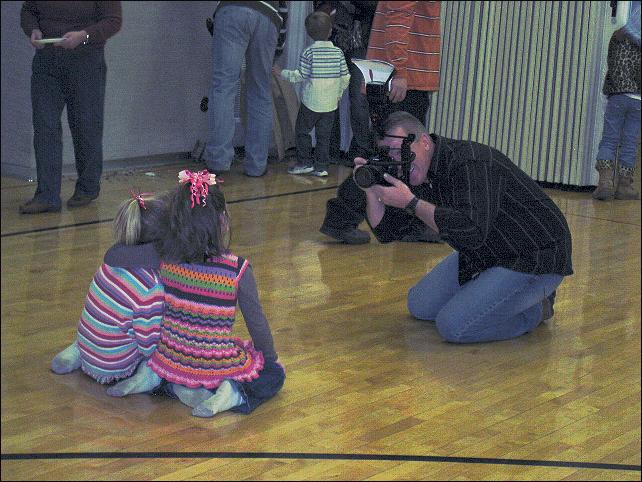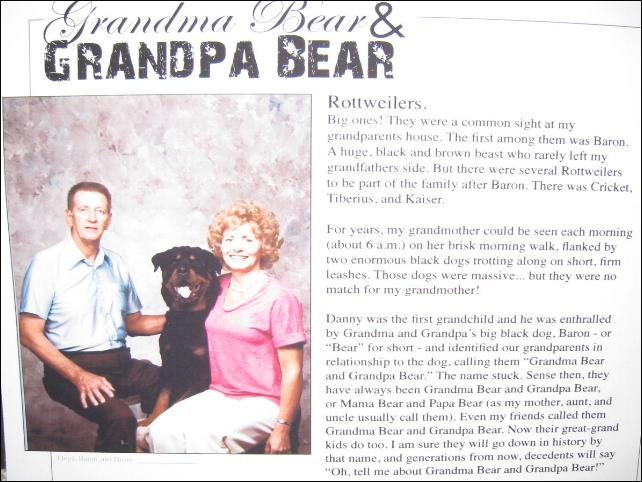 It was a wonderful evening celebrating with old friends affectionately called Grandma and Grandpapa Bear by their family. Three children (and spouses), thirteen grandchildren (and spouses) and thirteen great grandchildren. Years ago we met the magnificent four legged "Bear" with them in the photo. Congratulations to all of you and we wish you many more joyous years together.