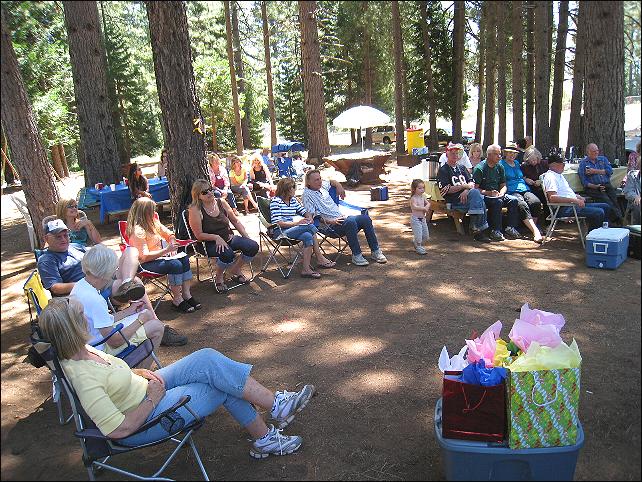 2009 Alleghany Annual Picnic
(Saturday July 18)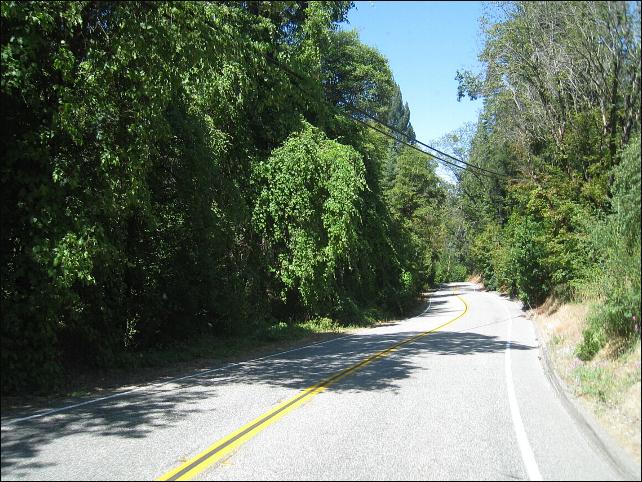 We're on our way down the mountain heading for the annual picnic near Alleghany. We look forward to it because you never know what old timer you'll see. Most of the people were born, or raised and attended school in the surrounding area.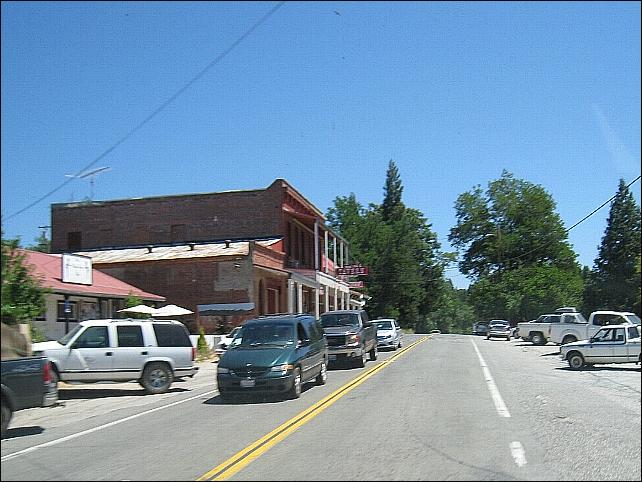 We're passing through North San Juan, and will probably stop for an ice-cream cone on the return trip. It's about 11: 30, and shortly we'll be eating lunch at the picnic. Everybody brings something so it'll be quite a feast.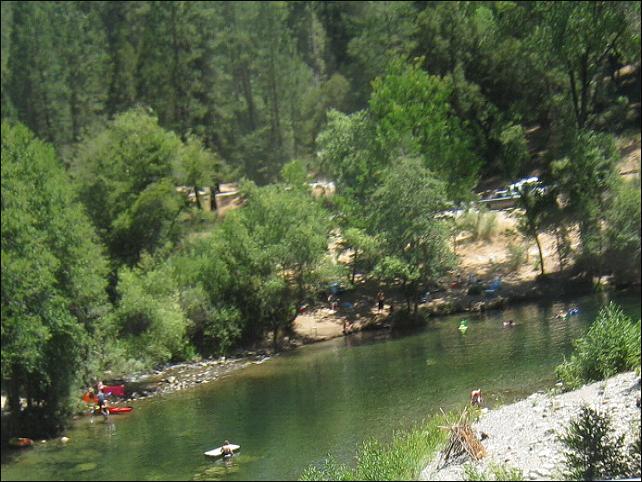 This is where Oregon Creek joins the Yuba River. It was a nice place to swim when our children were young. Not far beyond this is the turn-off to Plumb Valley and Alleghany where we're headed today.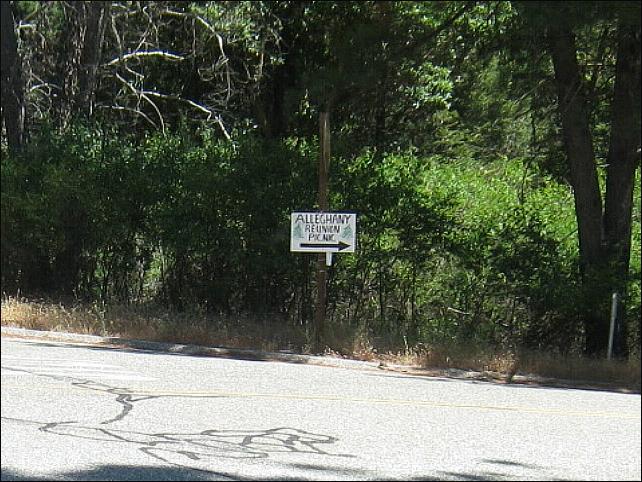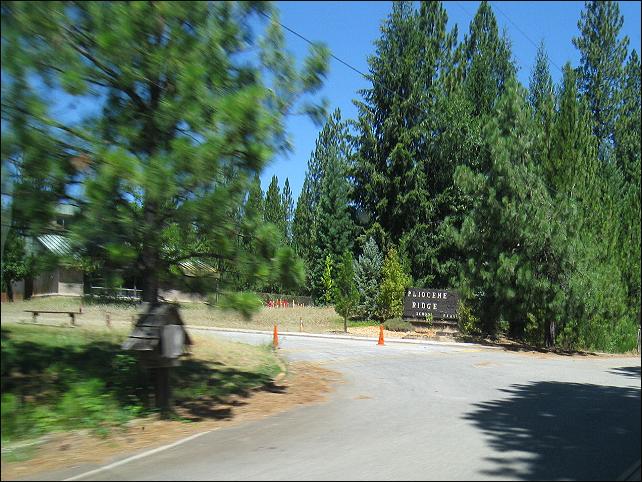 We're now passing the Pliocene Ridge School.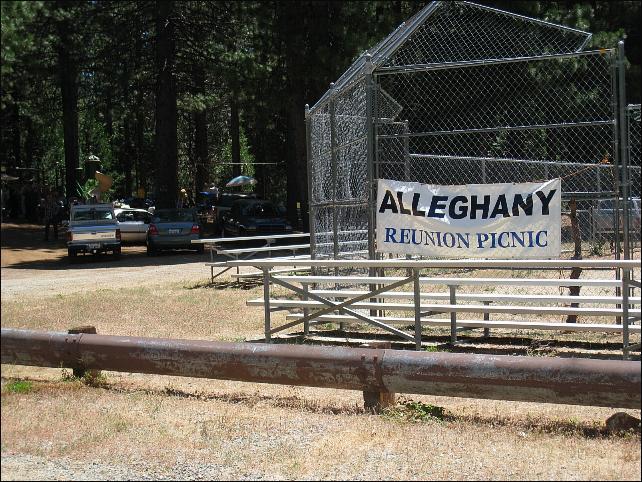 And we've arrived at the annual Alleghany Picnic by the baseball field. Some of the elders remember the dance hall that was here years ago, although there aren't many of them left.

I deposit Bon's Beaner Stew alongside the rest of the delectable food. Mel's already got a handle on it.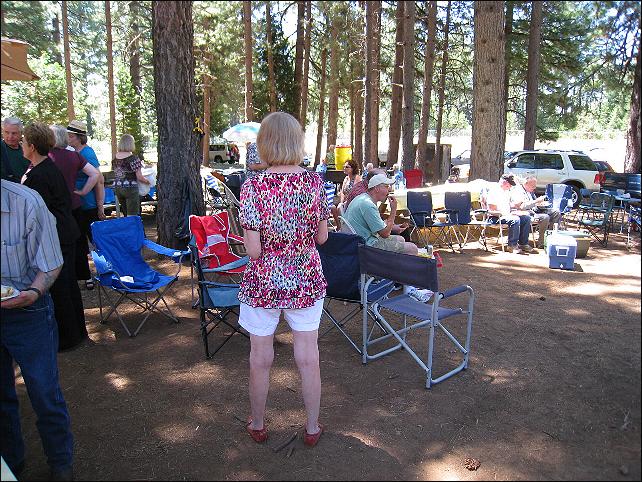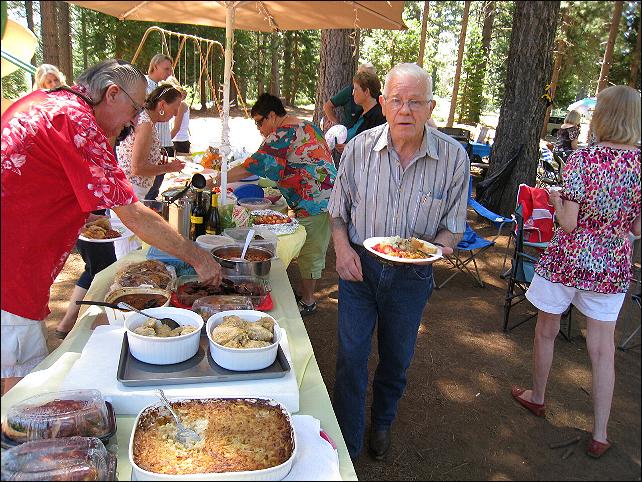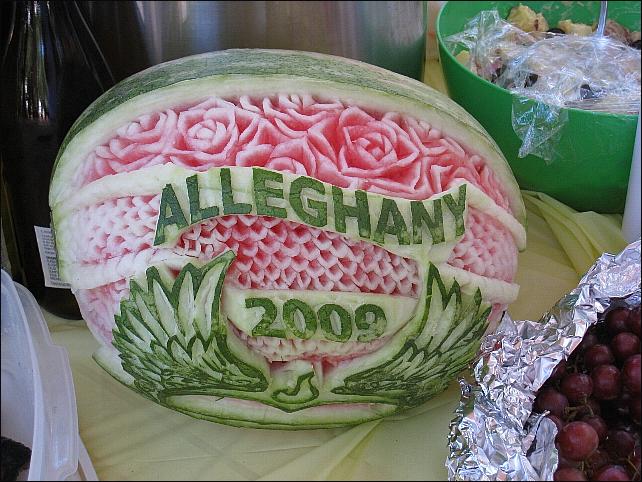 Jume (?) carved this watermelon to honor the occasion. She took a class on how to do this a short time ago, and look what she's already accomplished.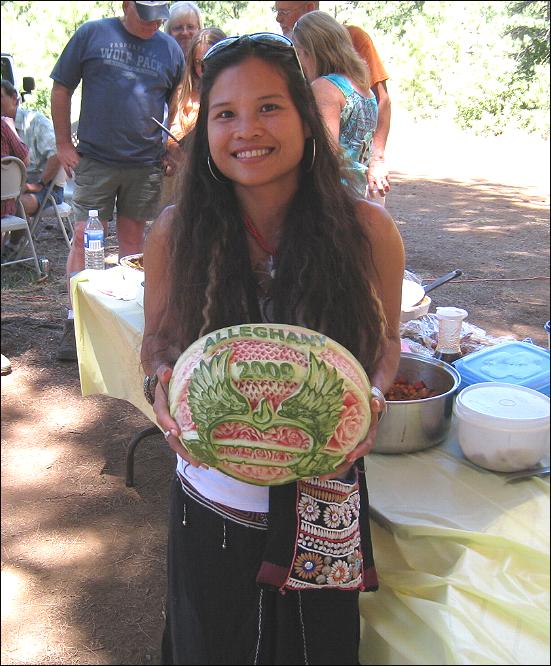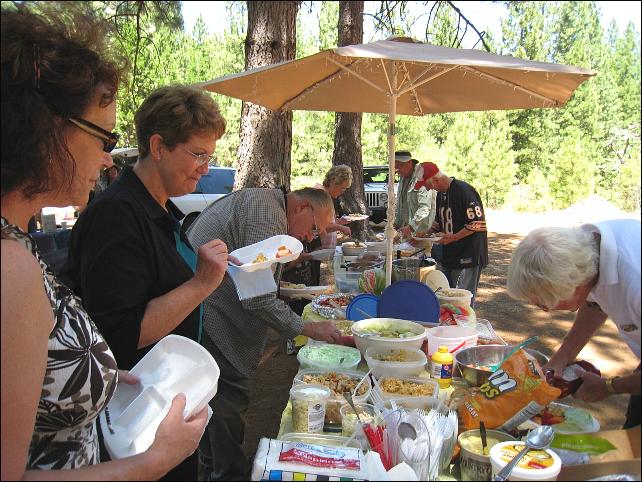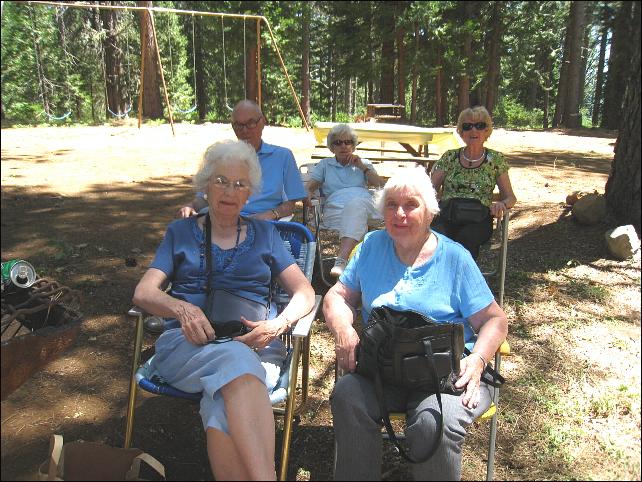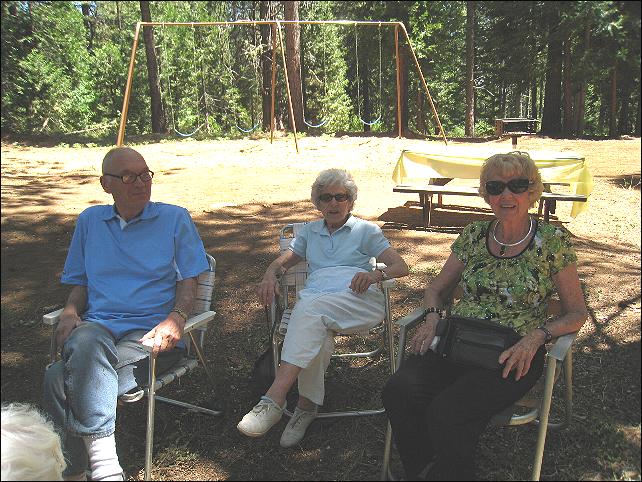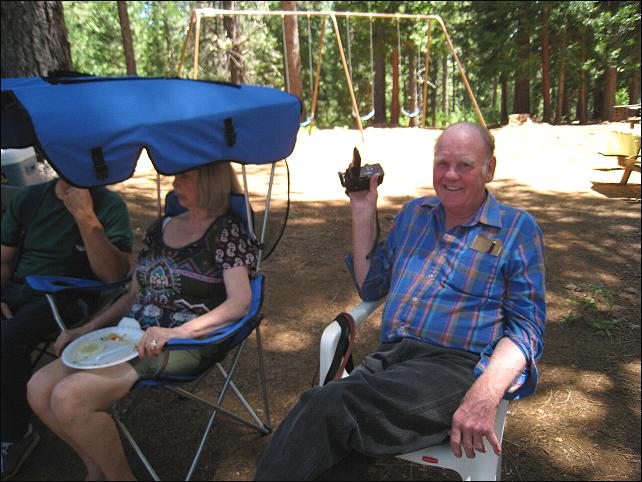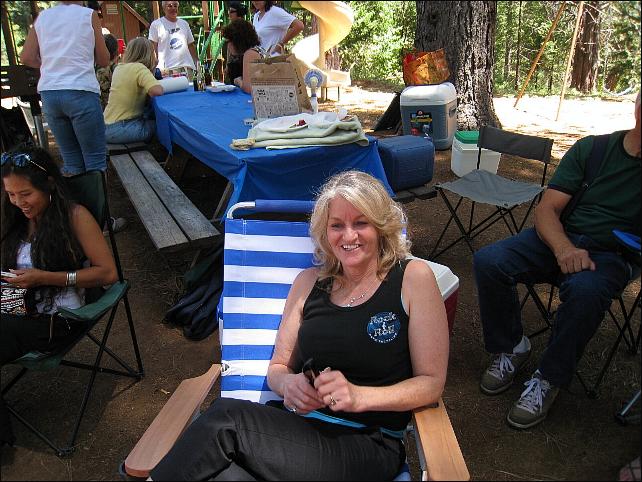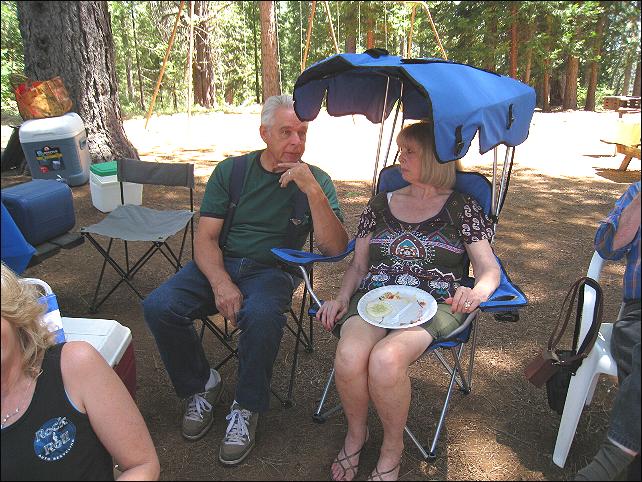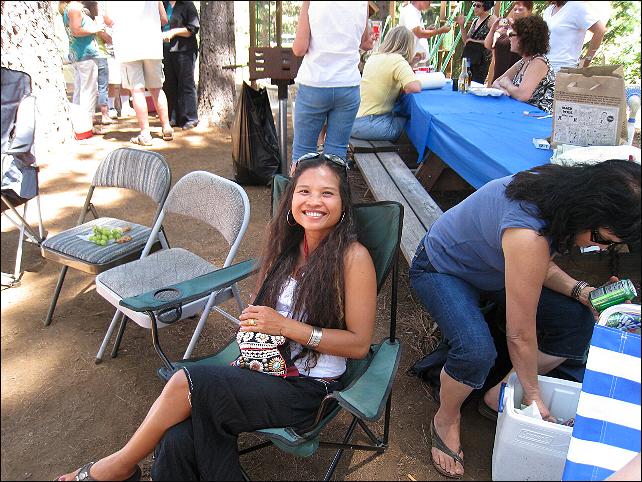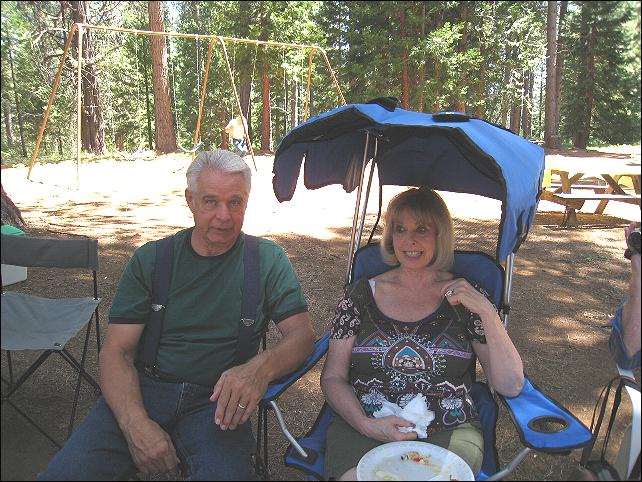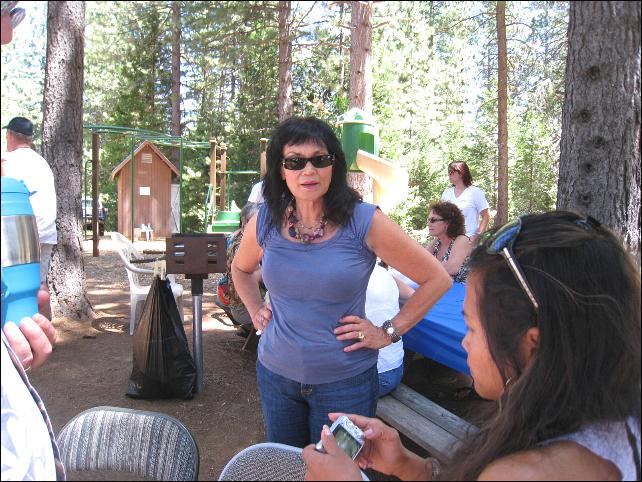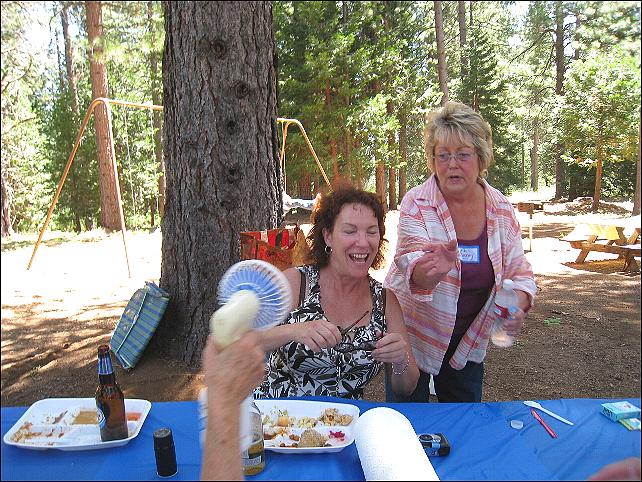 How about a little spritzing to cool off?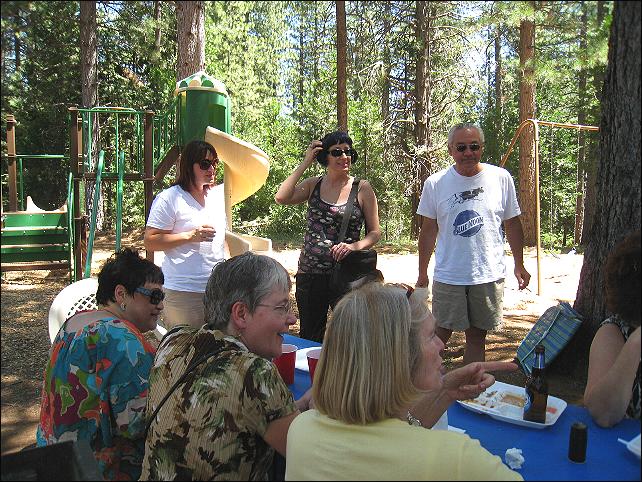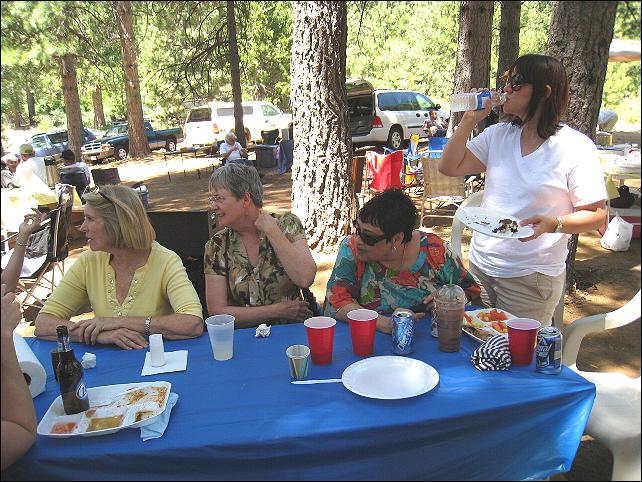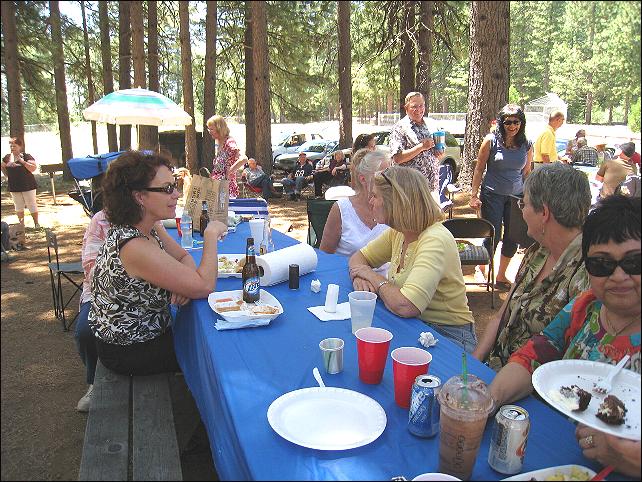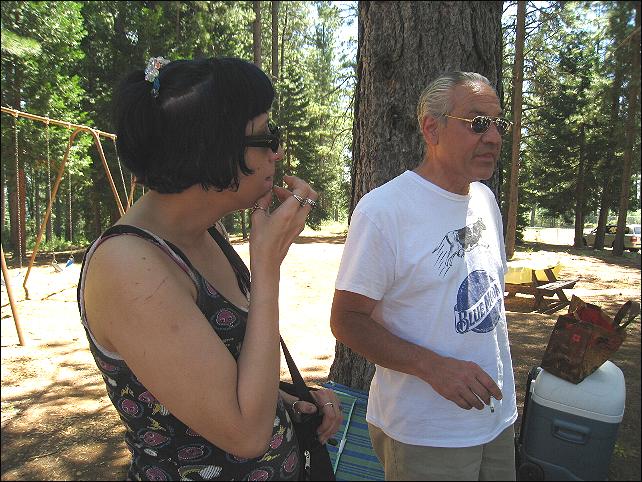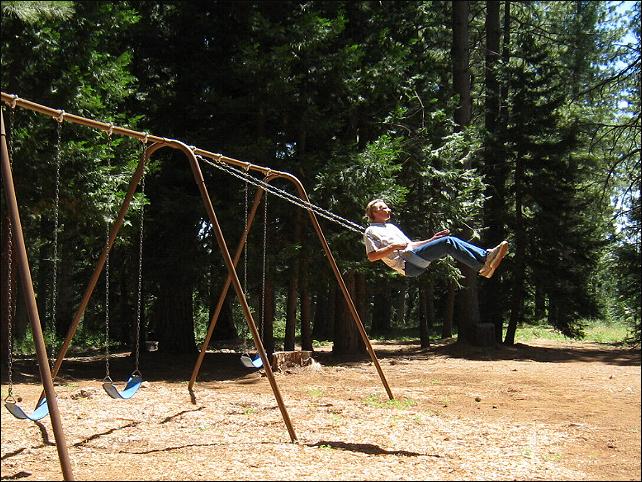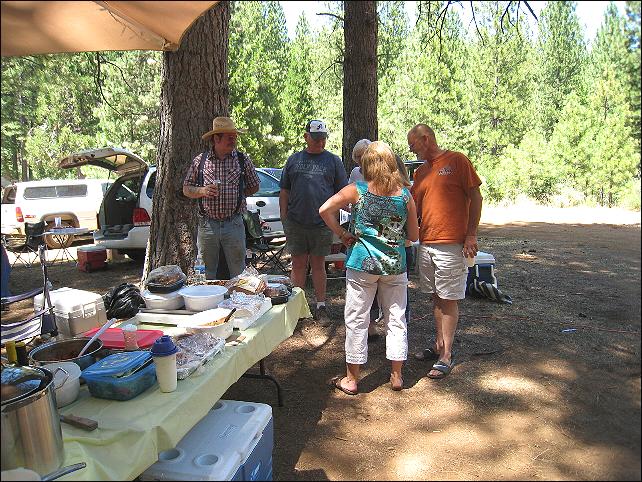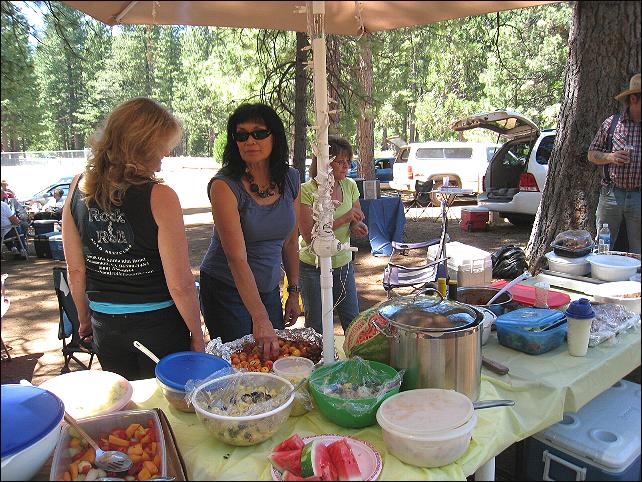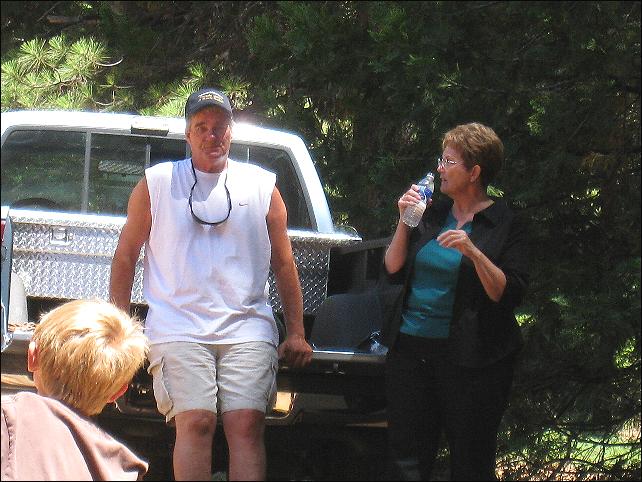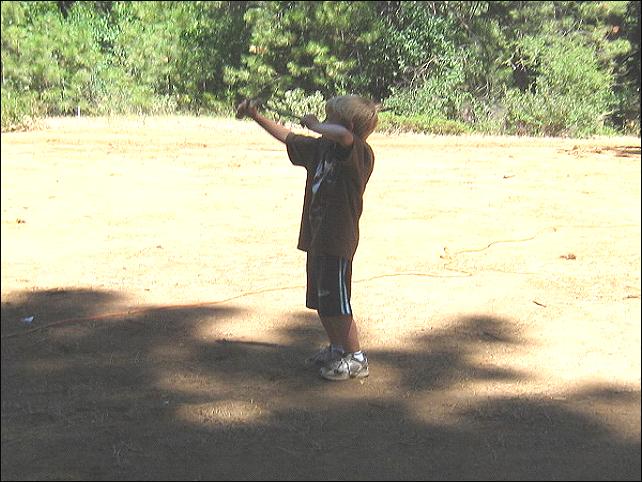 This little guy is practicing with his sling-shot.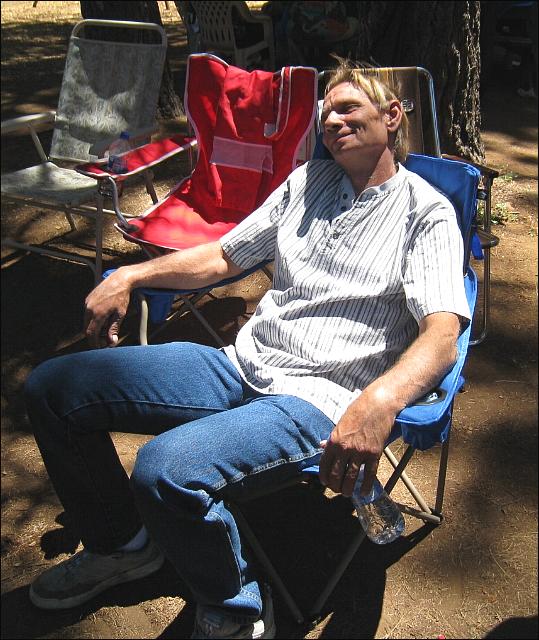 ...And this big guy is feigning fatigue from swinging in the hot sun (above).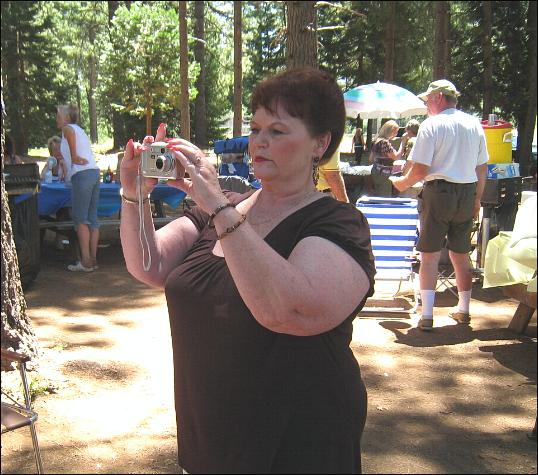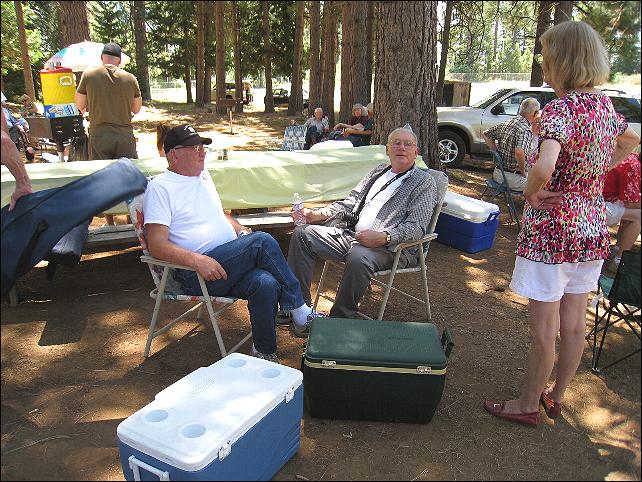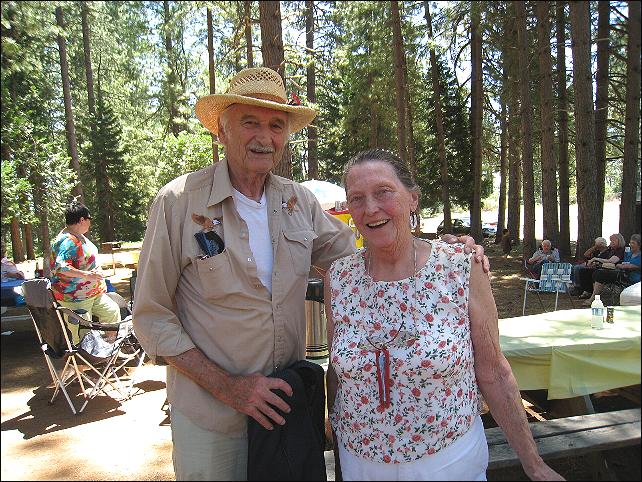 A picture perfect of the Hughes who live in Dobbins.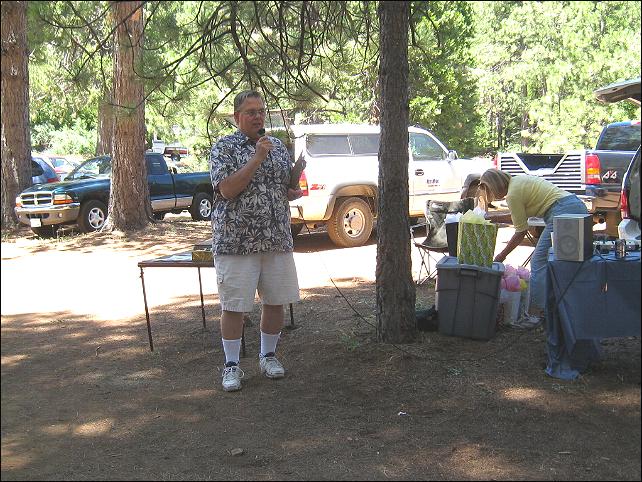 Master of ceremony Tim McGuire keeps us informed and conducts the fun quiz "Name that Tune." He and his wife Kathy are the motivators getting everything together.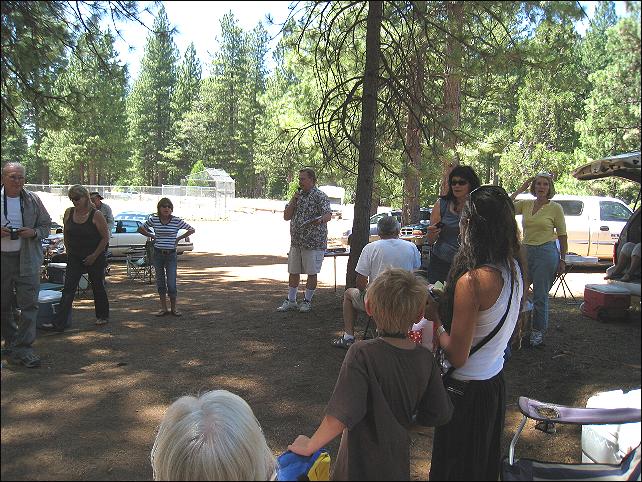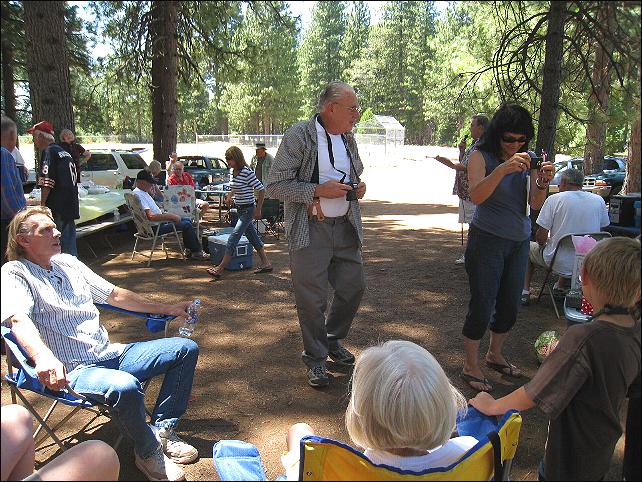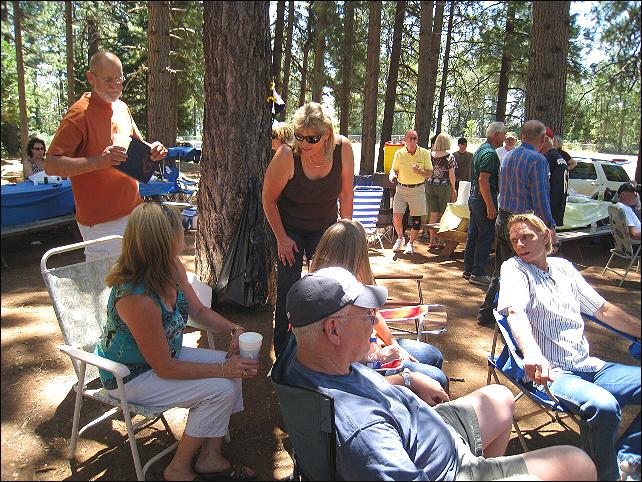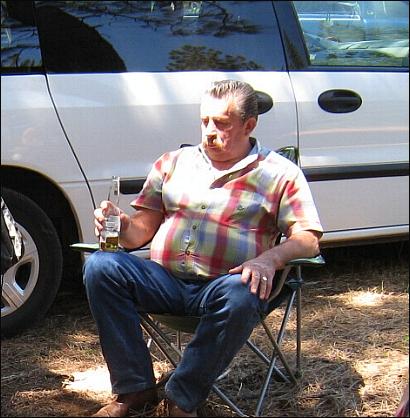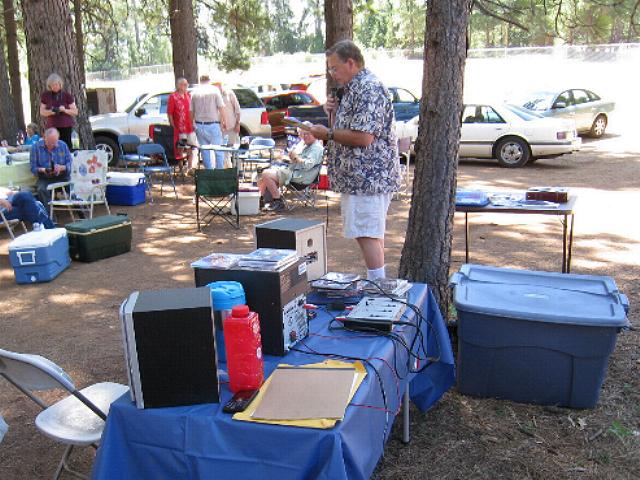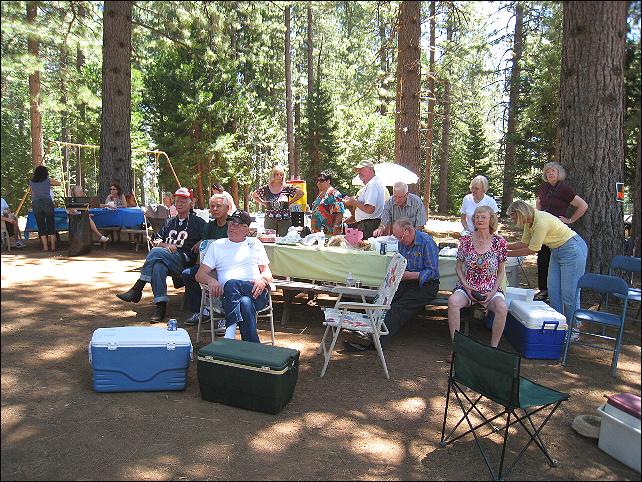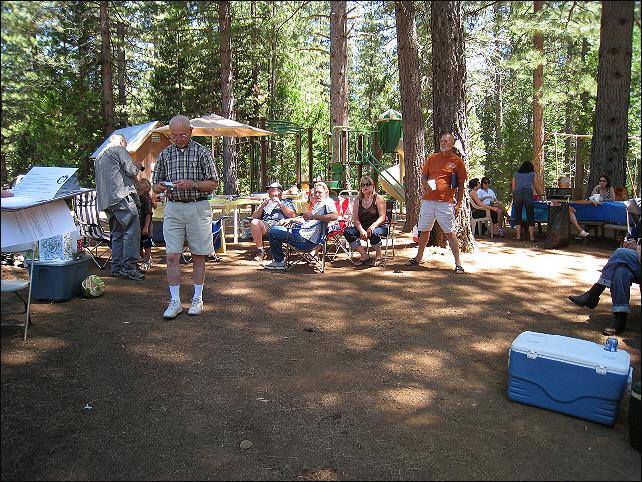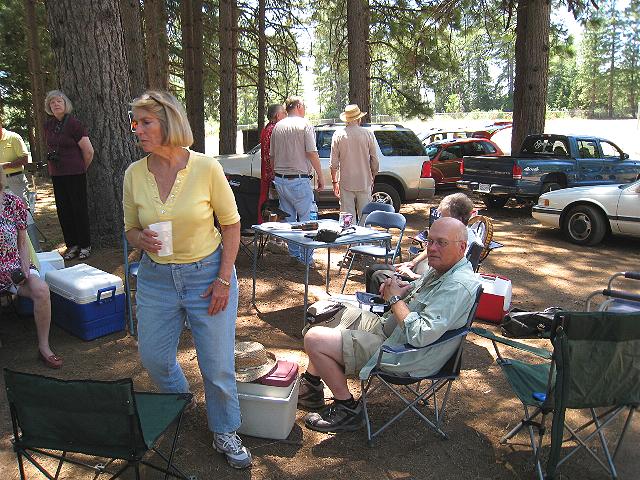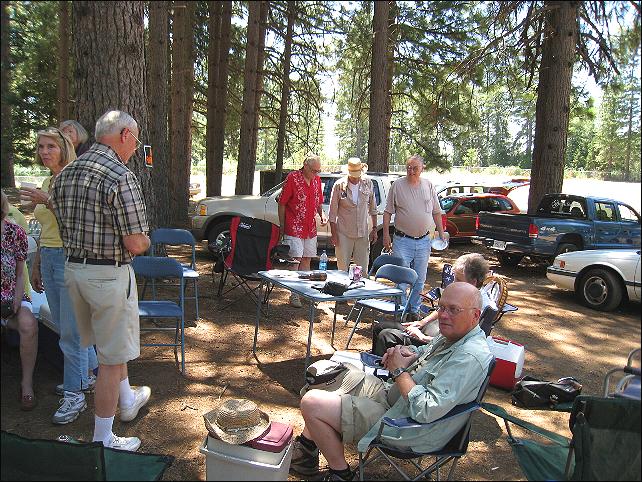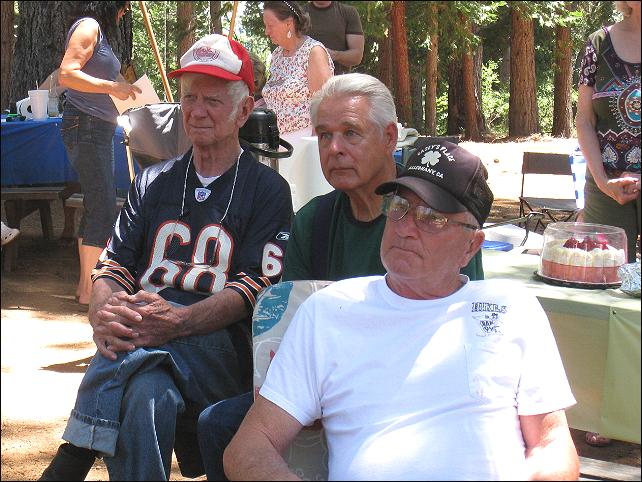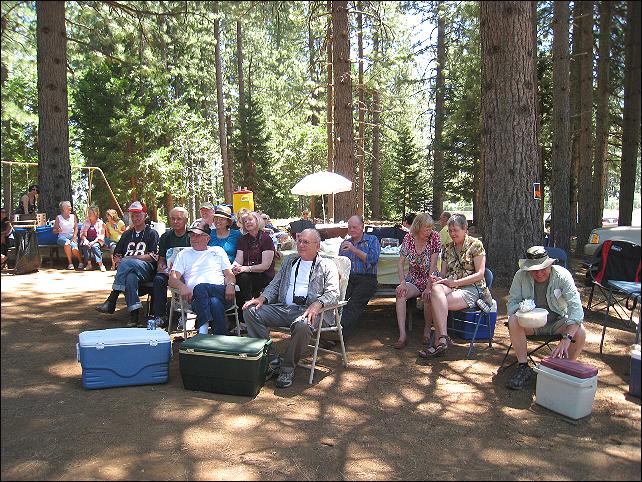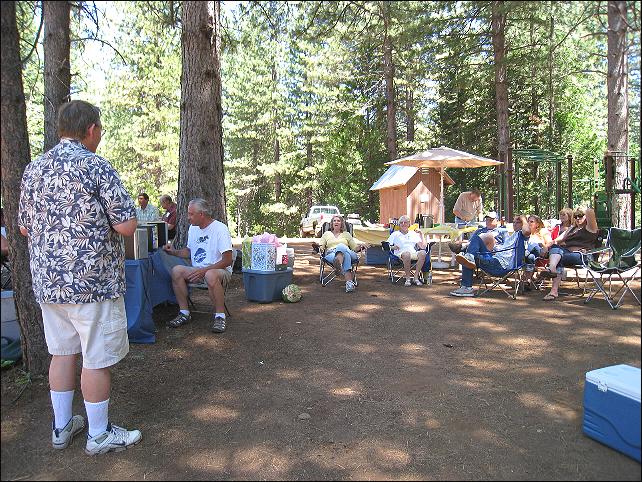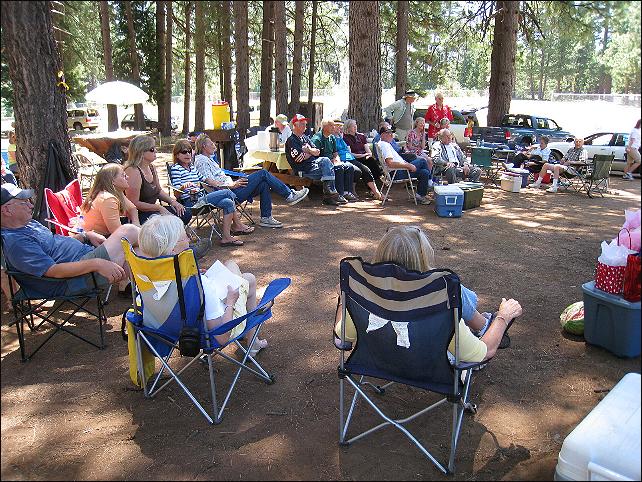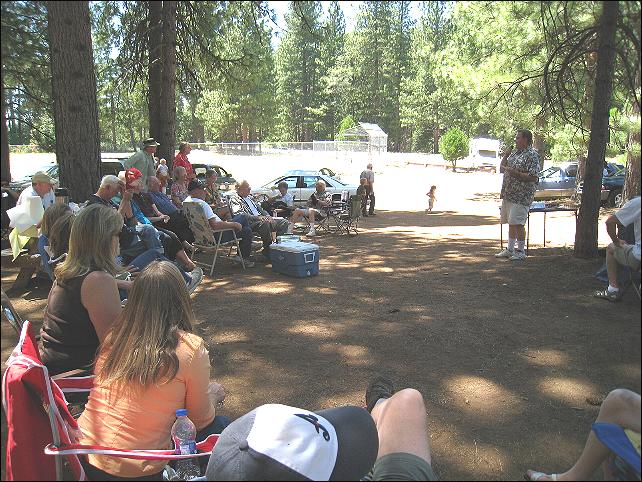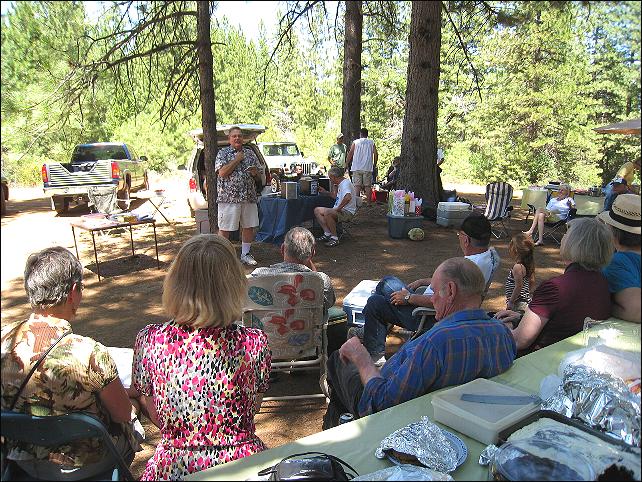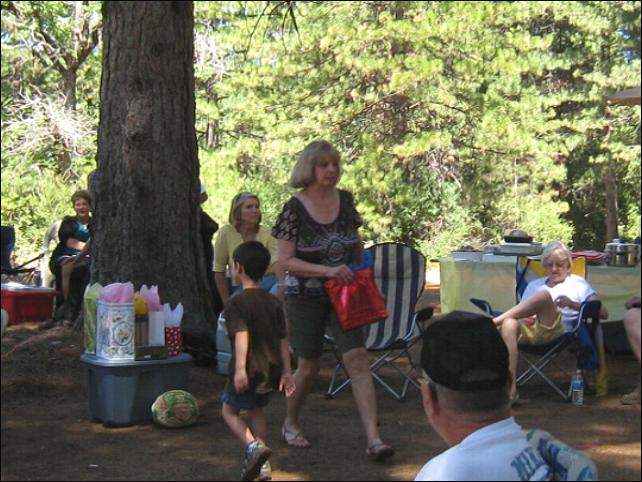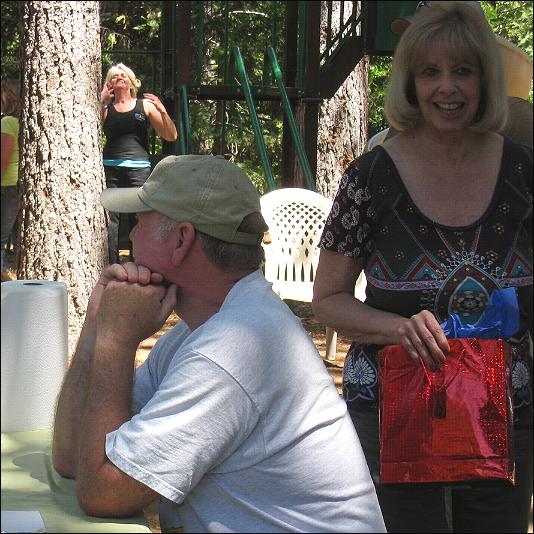 This gentleman guessed most of the old songs, but had his wife pick up the prize.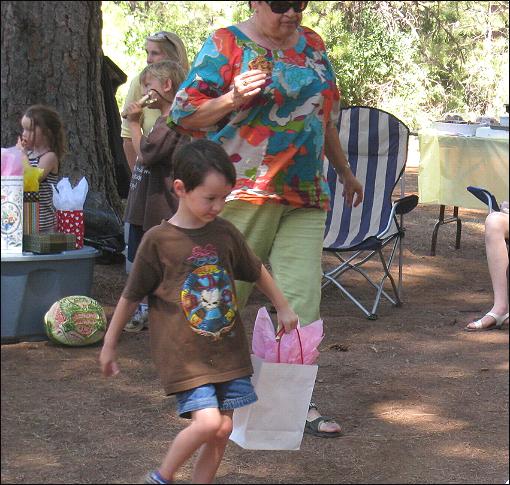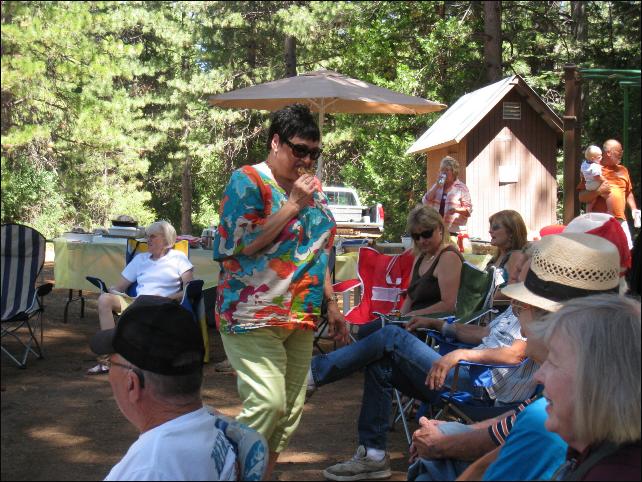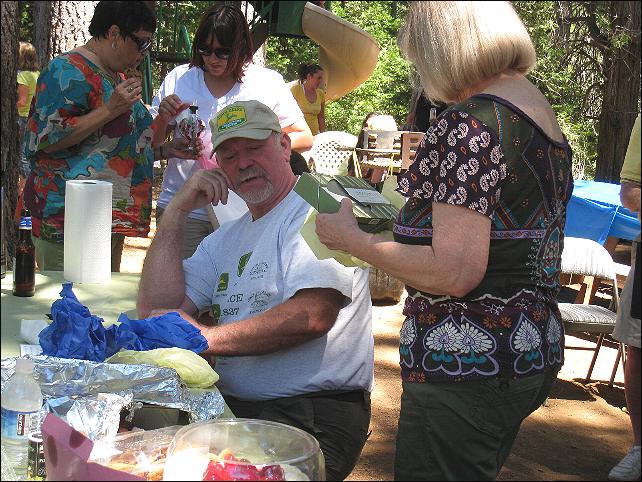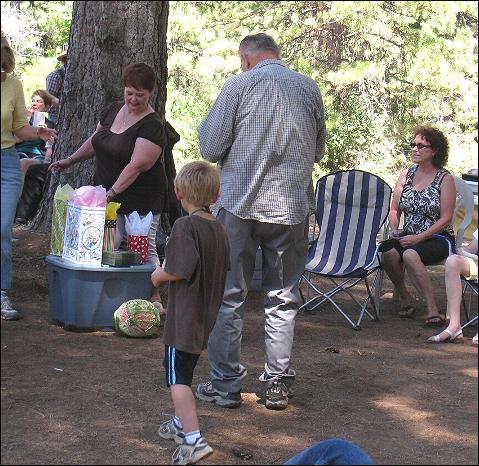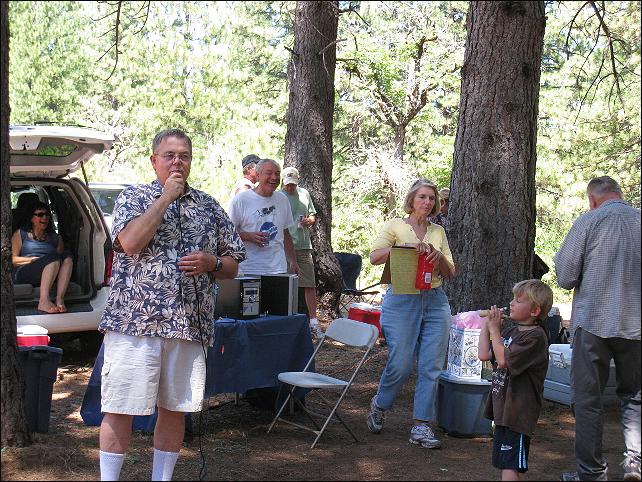 Tim and Margie joked about the mistakes they made....but whether or not they were mistakes, they were hilarious, and made everything so much fun.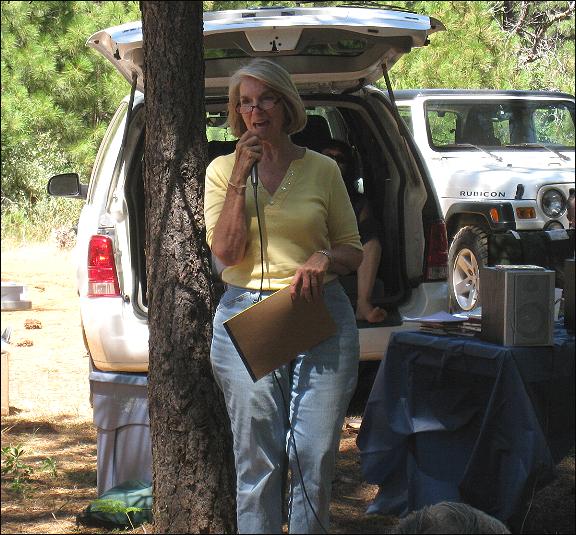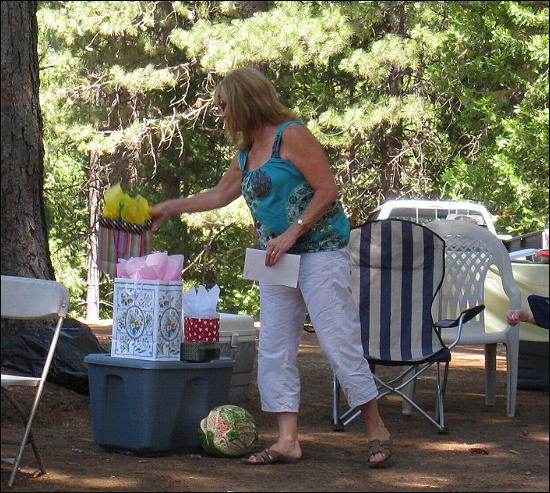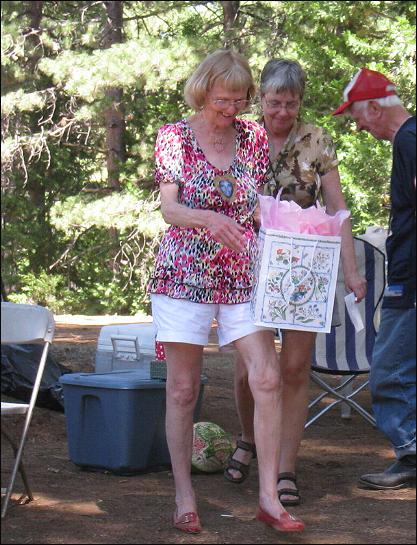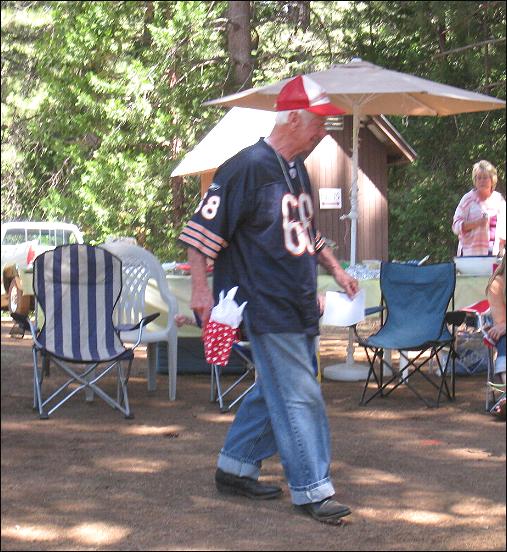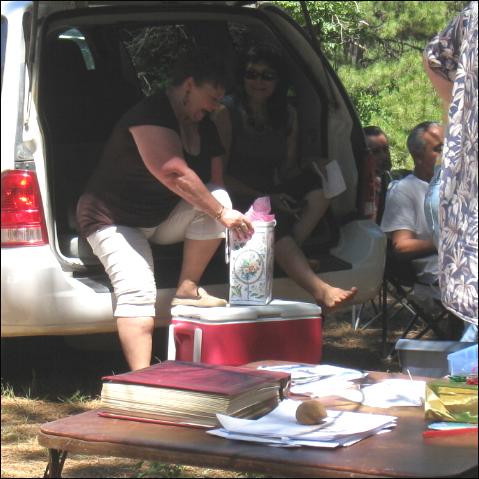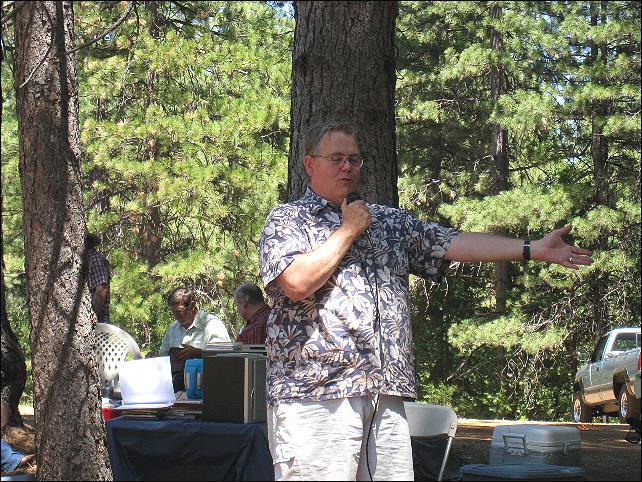 Tim thanked everyone for coming and hoped we'd all be around to come again next year. As they put it in the invitation..."These get togethers are important...You never know when you're saying hello and goodbye for the last time." Next years picnic will be held on the third Saturday of July. The entire affair is wonderful.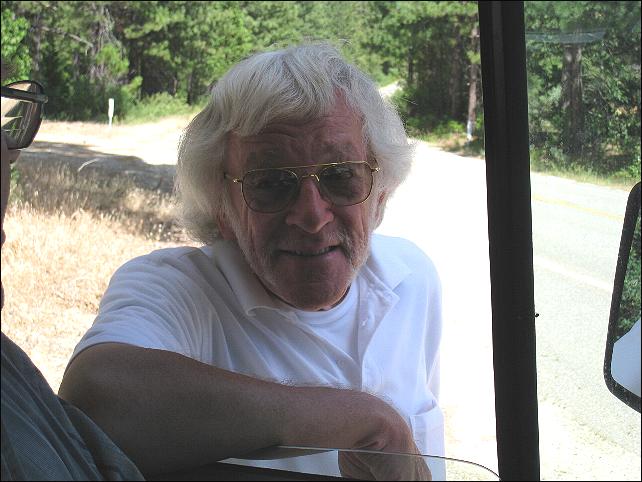 As we were about to pull out of the parking place, we wondered who this ol' white haired guy crossing the highway was. He headed for us and stopped to visit. It was Glen! He used to drive truck for us in the 60's. His hair was dark then. Darn! We'd passed by him at the picnic buffet table and didn't even recognize him. Same with him. Fred told him we were there, and luckily he caught up with us before we left. Catching up was fun. He's another Indiana Jones, or maybe Rambo. We're all planning on getting together again.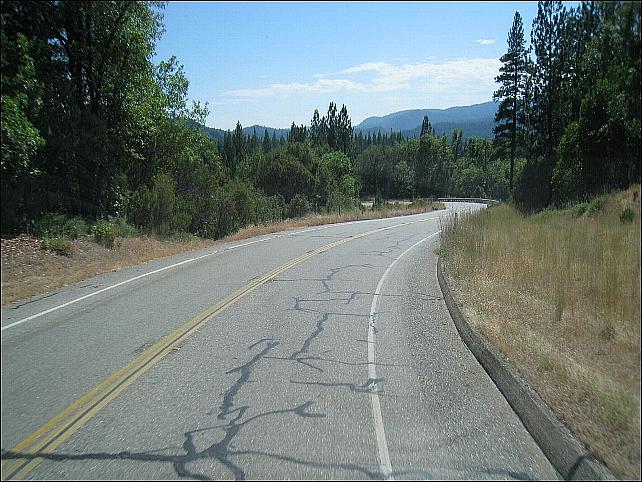 Heading down the road we decided to stop at Celestial Valley and the remains of the Sierra Mountain Mill sawmill once operated by John Casey. Mel hauled many loads of logs into it. I've always thought his little valley is very beautiful.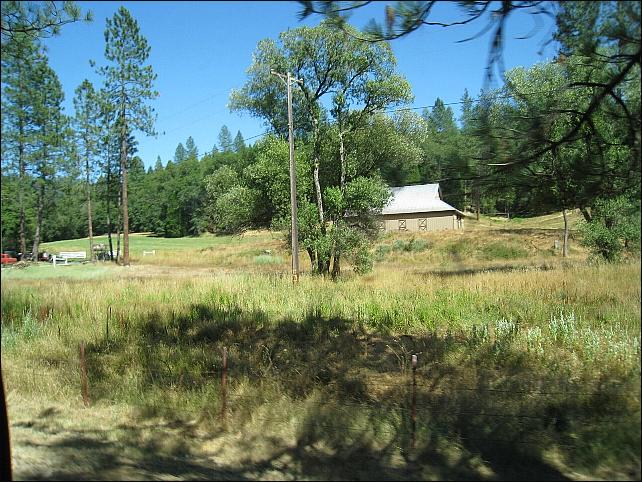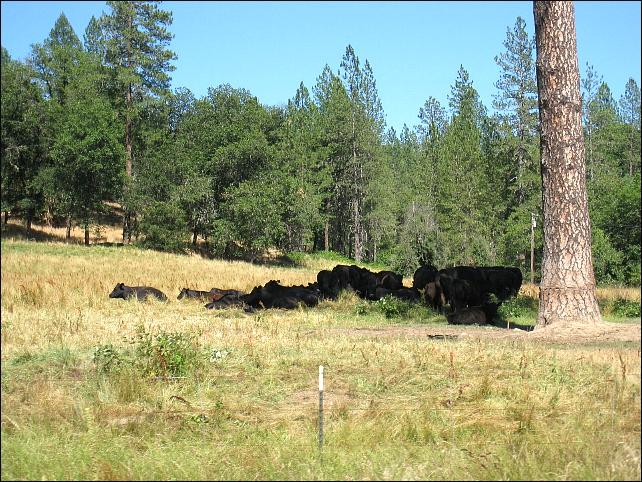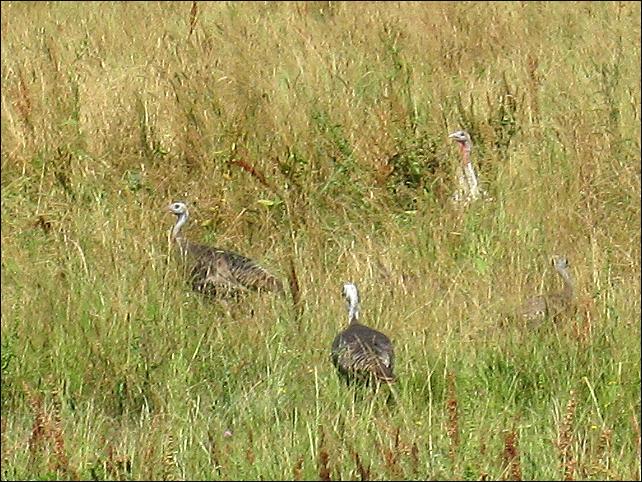 I was lucky to get a photo of these young turkeys.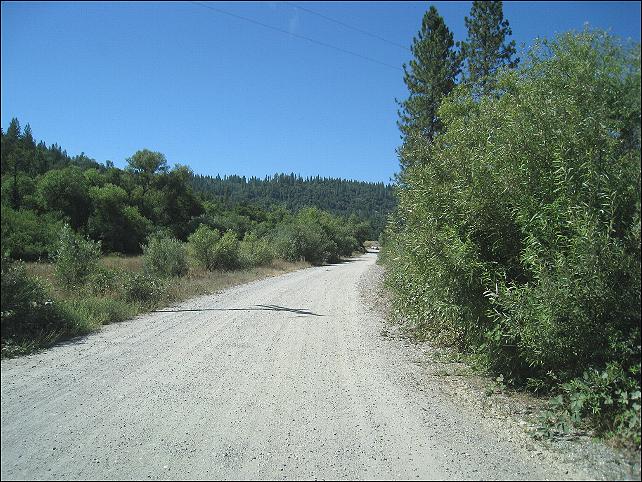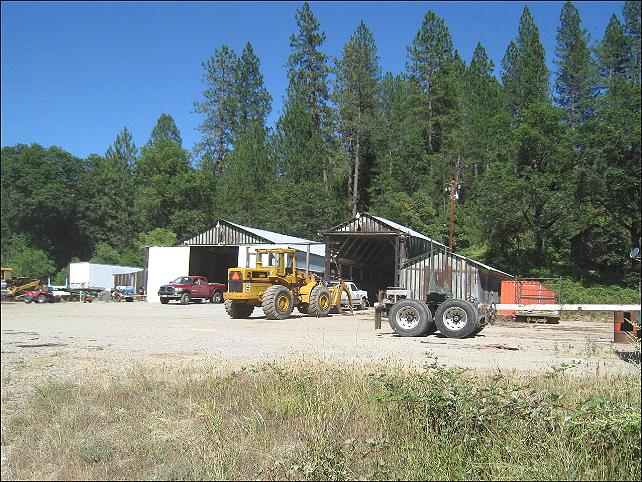 I have some funny memories of when the Siller Brothers (of Marysville) operated these shops for their equipment here.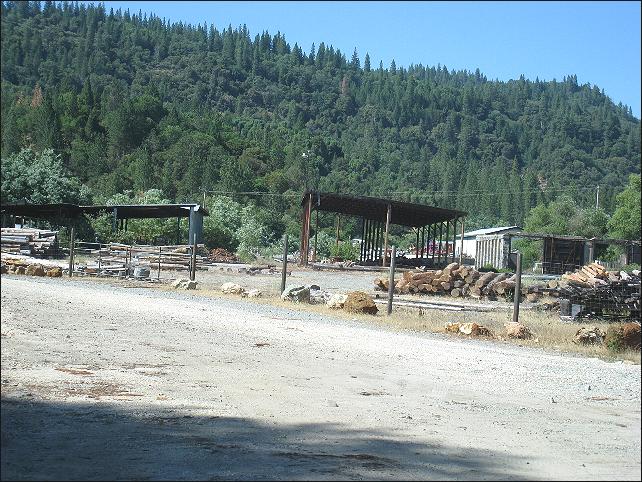 Not much going on here now.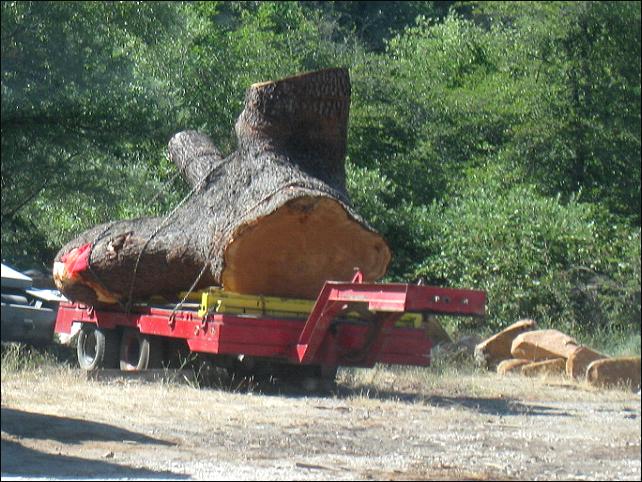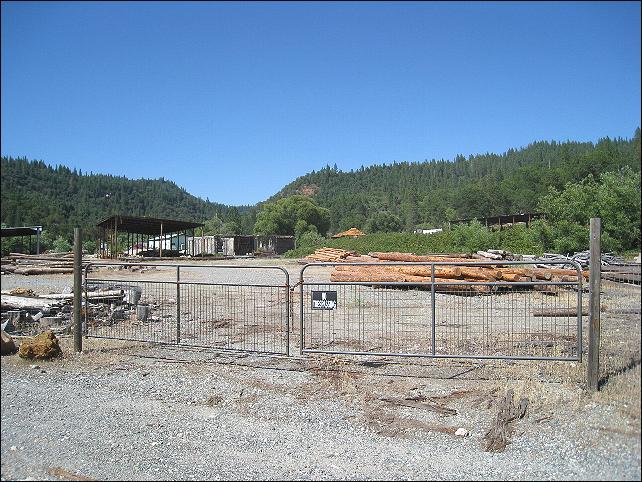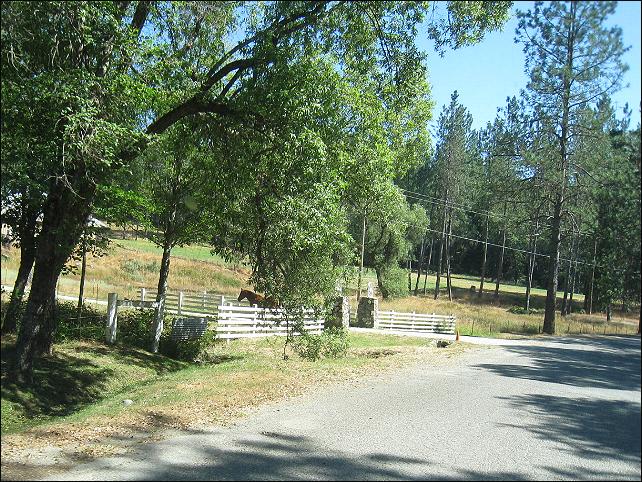 Heading back towards the highway we decided to drive into where the Walker Brother's sawmill used to be.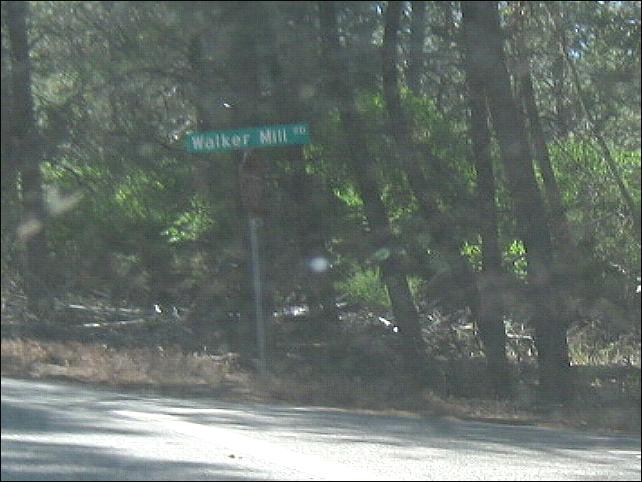 Nothing remains of the old mill.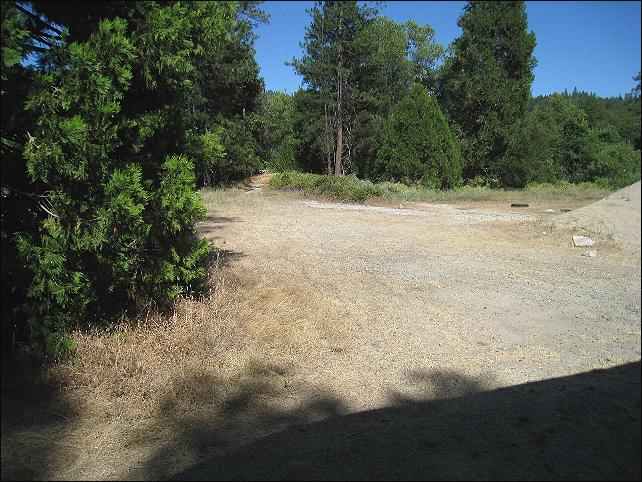 Returning to North San Juan we stopped to visit with Bill, during which time he shared more of his life experiences, and mentioned a book about himself that will be available in September..."The Angry American."

His life is very interesting. He mentioned that if you don't run for a political office no one pays any attention to what you have to say. At right is a remnant of when he ran for Congress. Before we left he showed us some rare fruit trees (for the area) that he planted. His place is a garden of wonderful trees loaded with fruit. His wife Toki was working at their cafe and fountain. Sorry we missed her. She's thinking about retiring before long.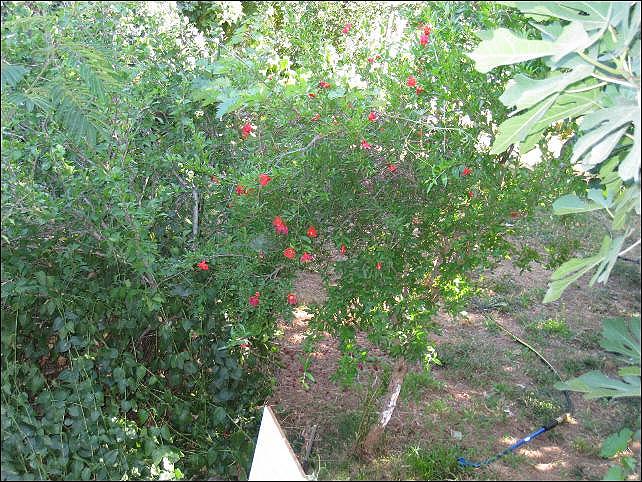 This is a pomegranate tree.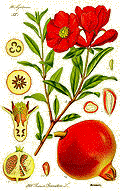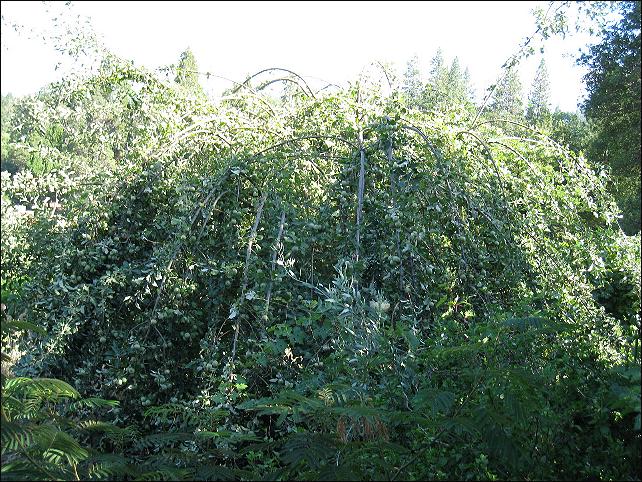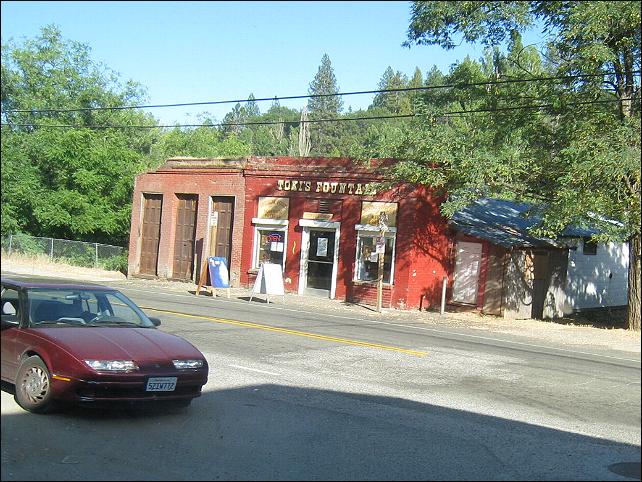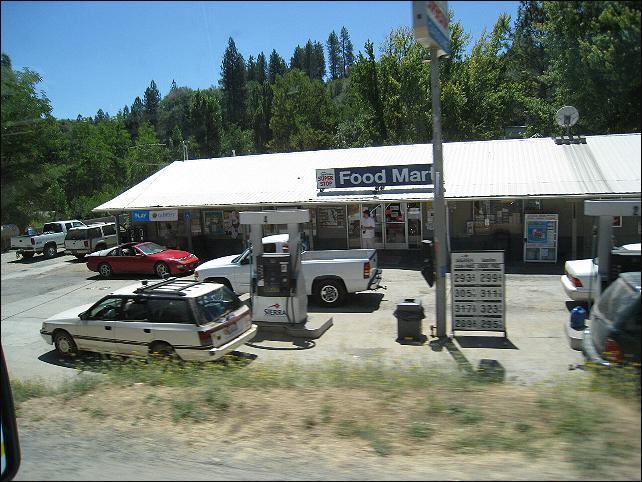 When we left Bill's we planned on stopping for our favorite ice-cream cone at the Food Mart. We weren't the only ones...who were disappointed that the ice-cream delivery hadn't showed up for this weekend. Some other disappointed people said they always stop there too.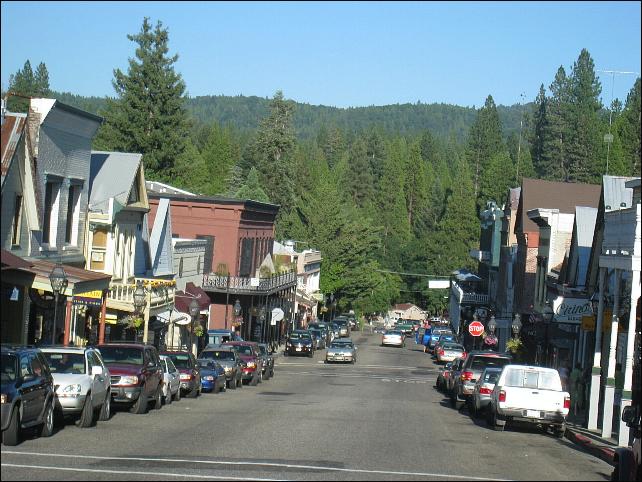 ...So back to Nevada City and on to Rite Aid Drug store at Glenbrook where Mel gets us a couple of pineapple-coconut ice-cream cones to top off a wonderful day.