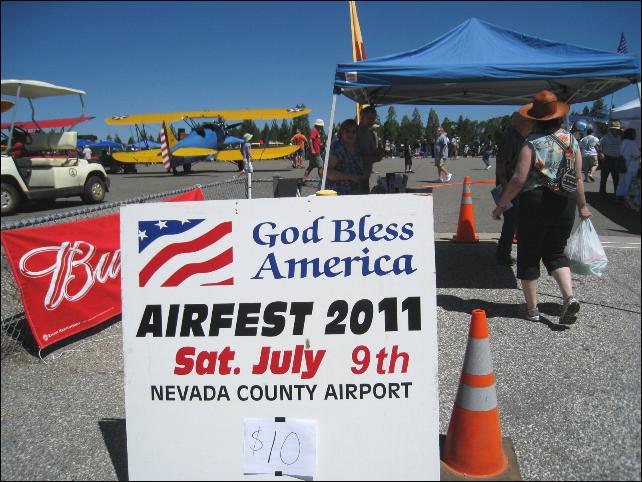 Airplanes galore, and more...on a Saturday Afternoon
AirFest 2011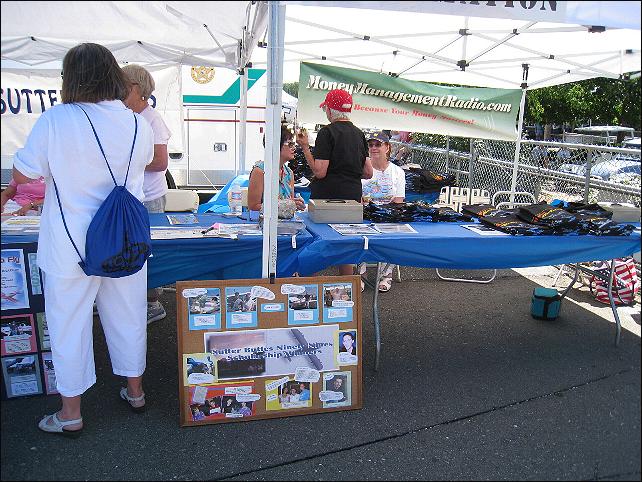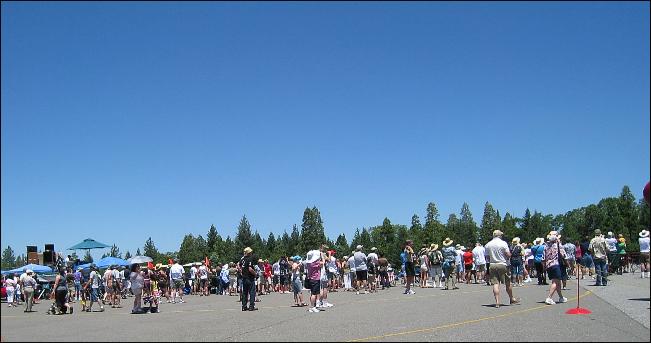 We decided to check out the Airfest again. The last time was with Ramona and Jim in 1997. It's amazing to see so many beautiful planes and imagine all the adventures involved. Floyd's experiences gave us a tiny glimpse of what flying involves. When we first married, Mel worked for Land Air at Oakland Airport where he did airplane prototype. That was almost 59 years ago. Today we're part of the large crowd fascinated with these marvelous machines. Locally built kit planes, air racers, antique and classic aircraft, augment World War Two P-51 Mustangs, Hawker Sea Fury, Corsair, T-28s, AT-6s and many other war birds. Two thrilling appearances of the Patriots L-39 Jet Team, airplane rides and radio-controlled model airplanes round out the flying demonstrations, while classic auto displays, kid's activities, food and retail vendors and open house at the U.S.F.S / CalFire Grass Valley Air Attack Base make for a full day for everyone to enjoy.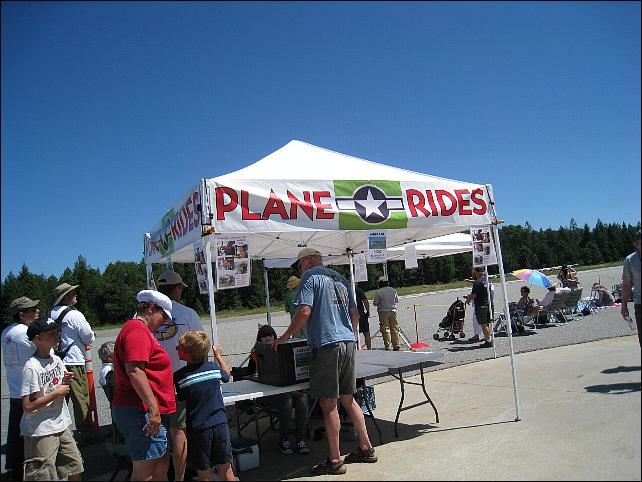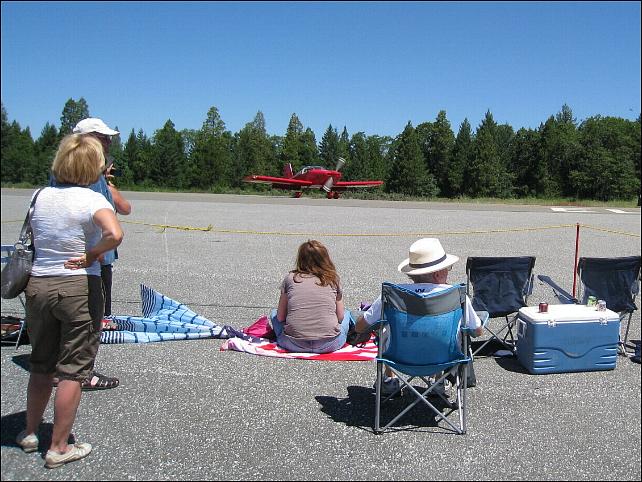 Can you imagine watching an air show and witnessing what happened on this video?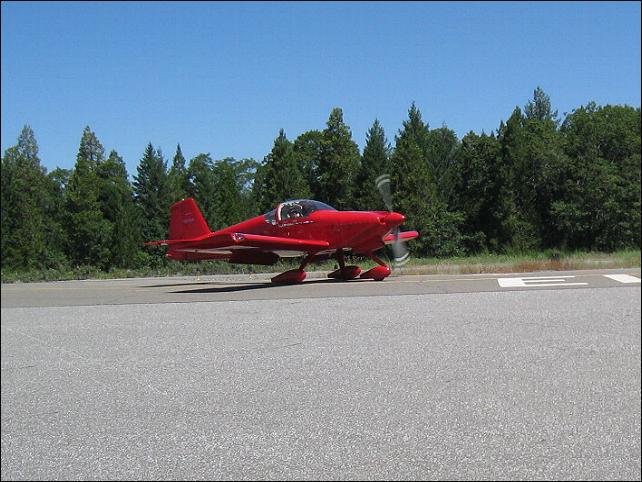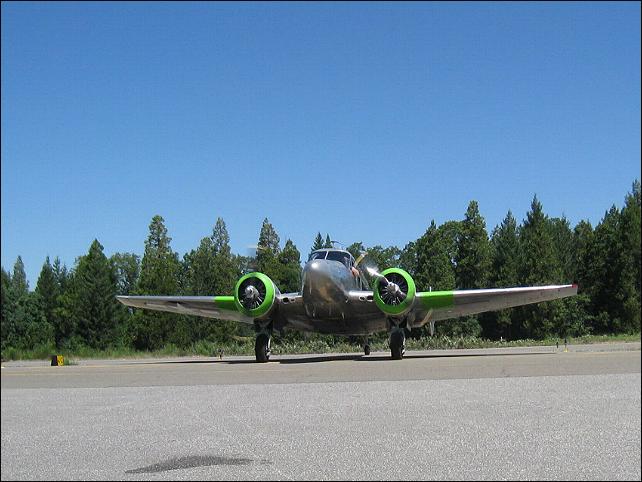 If we had wanted to fly, this was the one we could enjoy for $60 each. They weren't giving helicopter rides this year. There's nothing like it! The last time I rode in one it feels like you're right over the tree tops maneuvering around like a bird.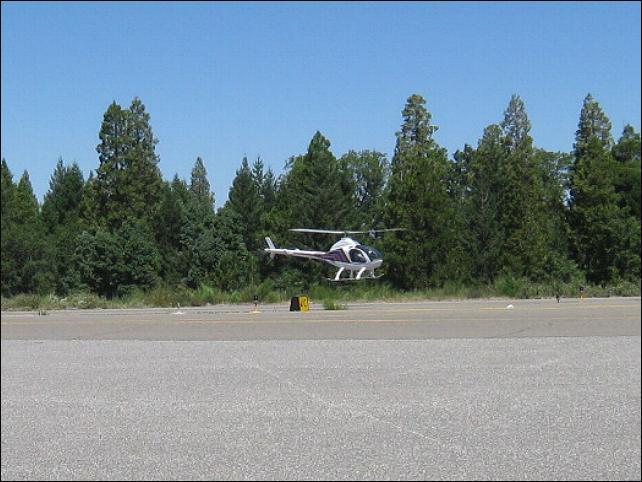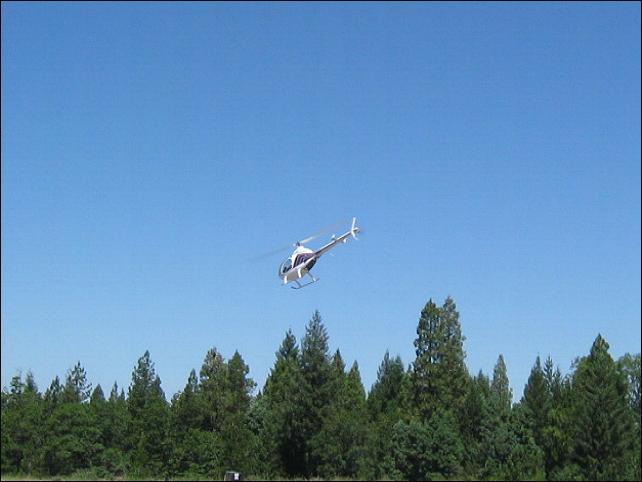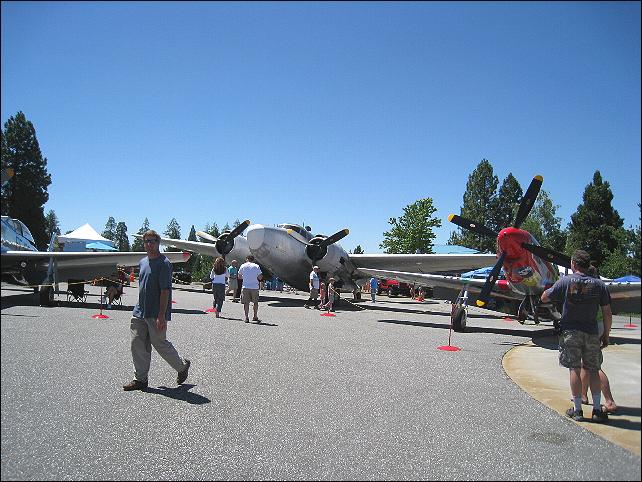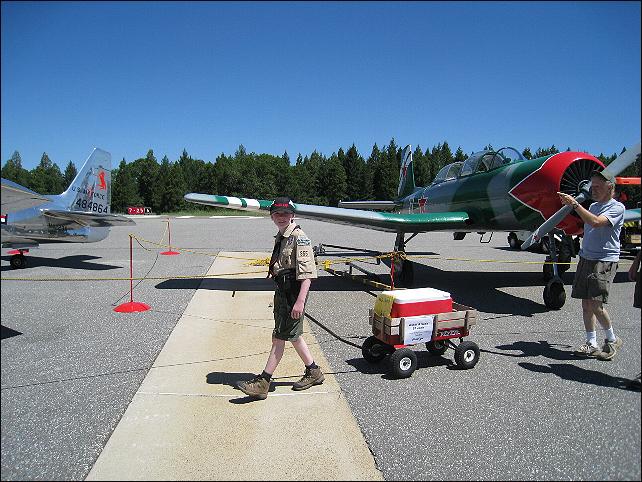 The Boy Scouts are on the job selling cool drinks.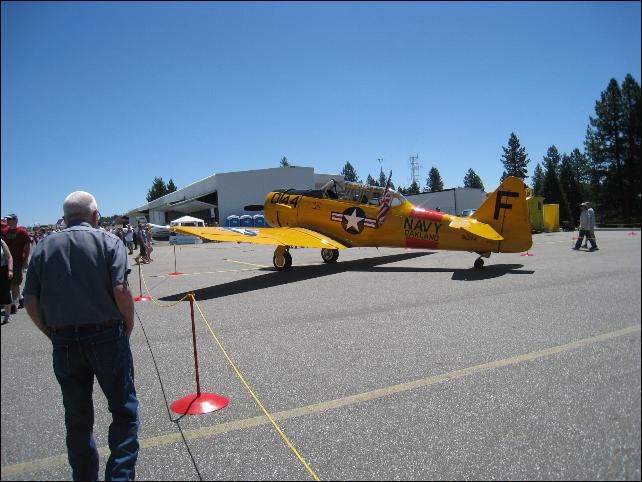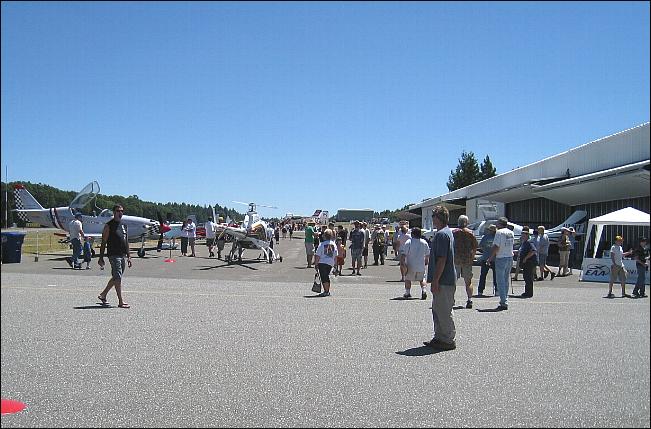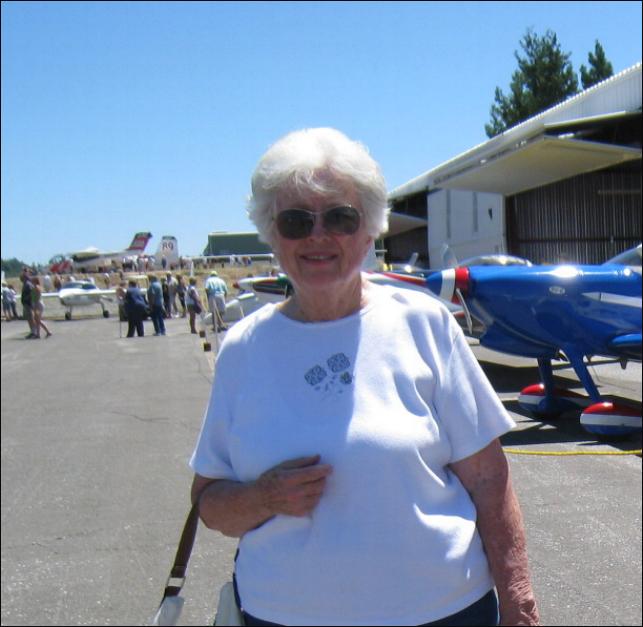 Awe come on...just one little ride will make my day!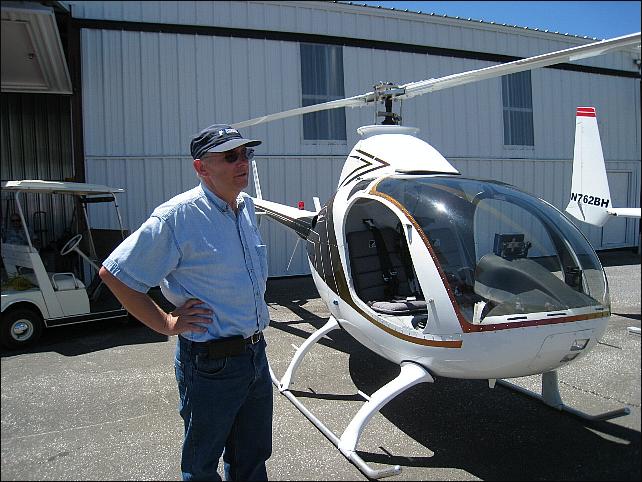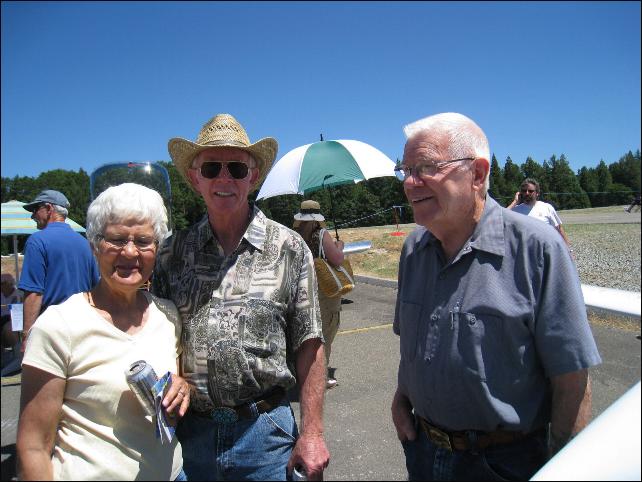 Darlene and Ken sweatin' it out, and catching up with us in the sun.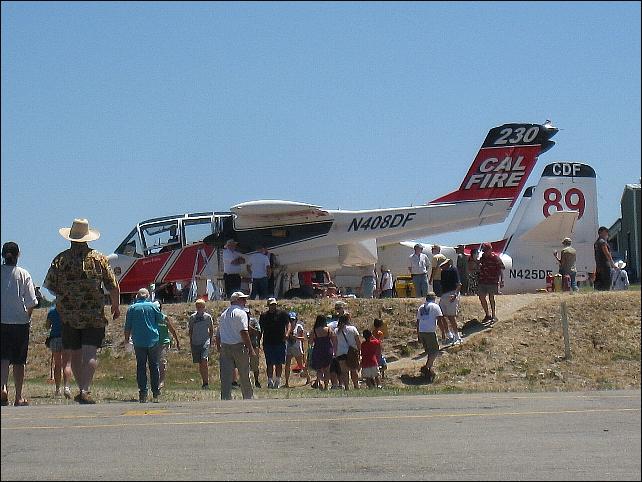 Our wonderful forest fire fighters.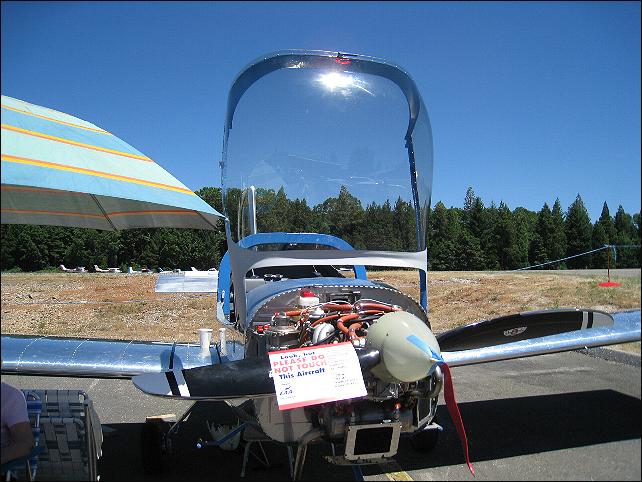 The owner tells us that this little plane has taken two years to build, and just needs a couple of finishing touches and it'll be ready to go.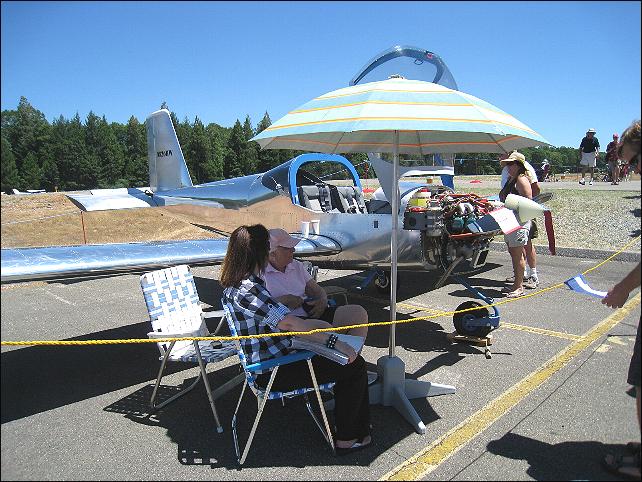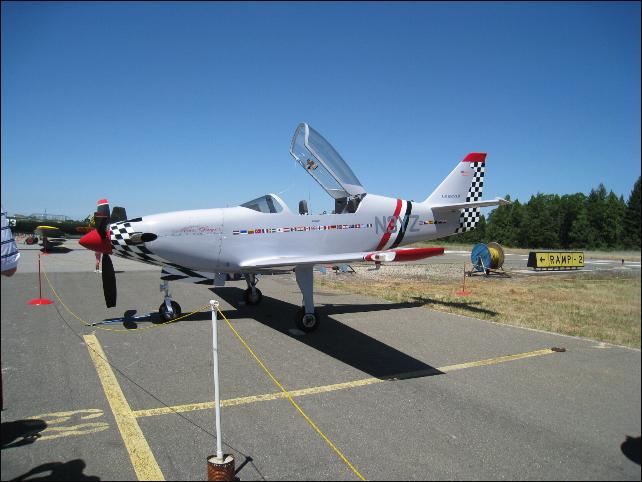 All those flags on the side record the countries it's visited.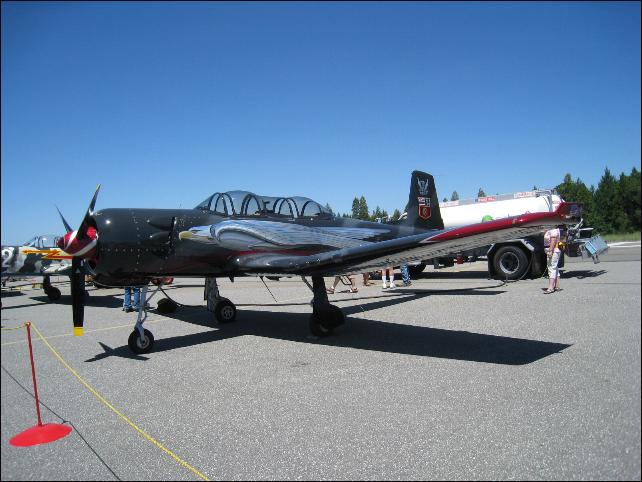 Loved the beautiful eagle painting on this one.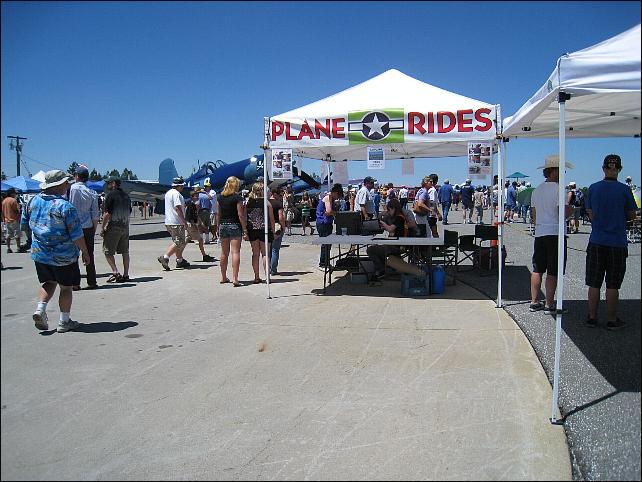 We're watching a guy getting ready to demonstrate his remote control plane. This little jewel cost about $11,000. He has to coax it a bit to get it started, and then it's up and away doing all sorts of flips etc.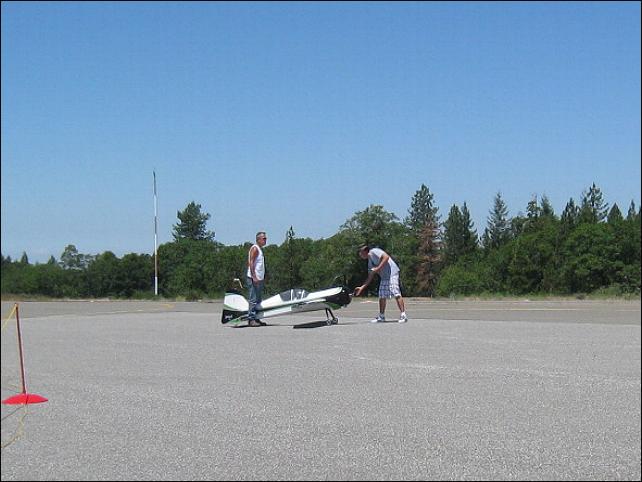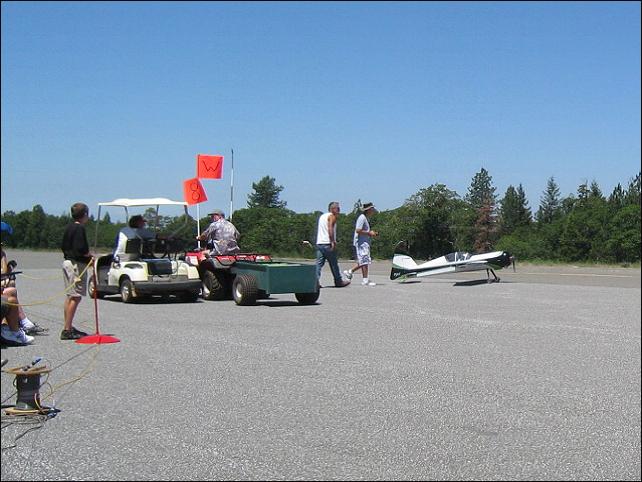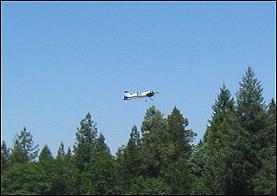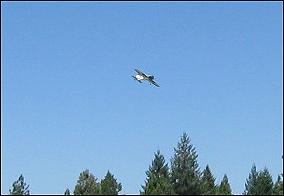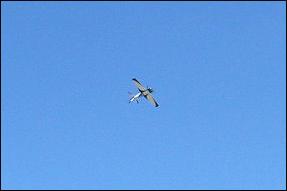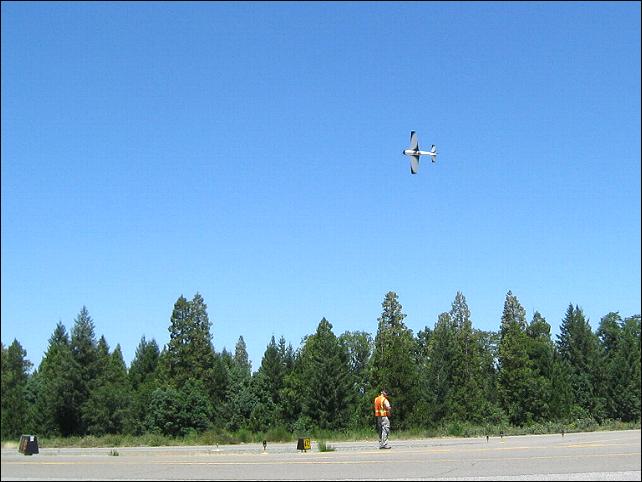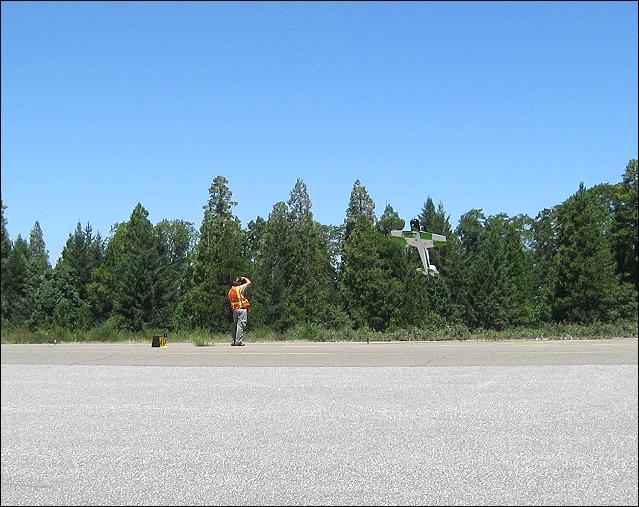 Now he brings the plane down and it sort of takes a bow for us spectators...before taking off again.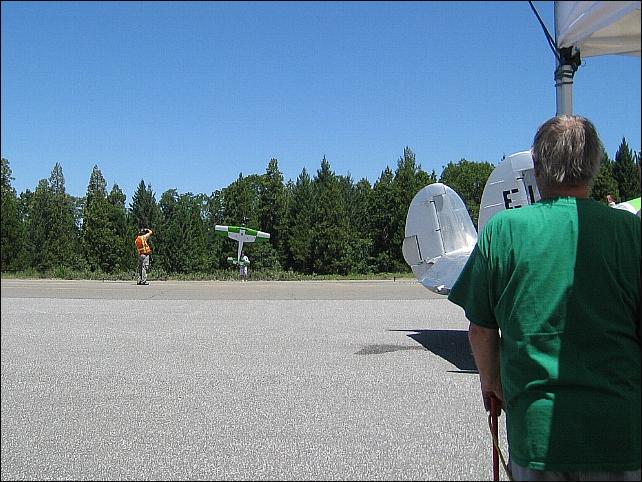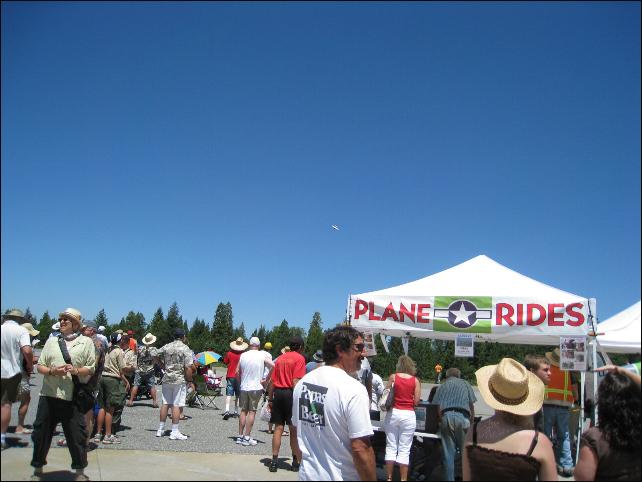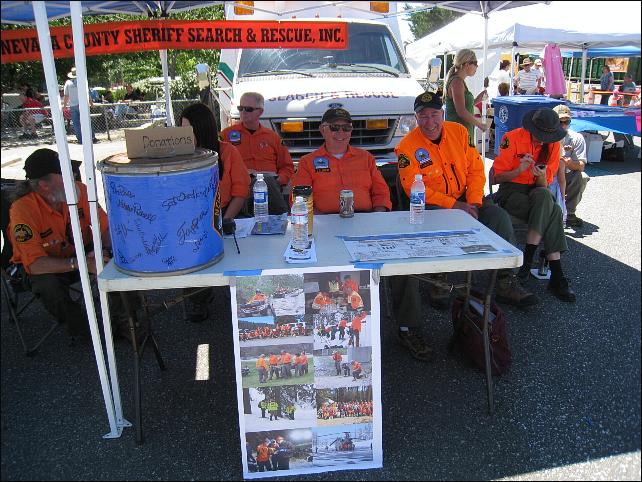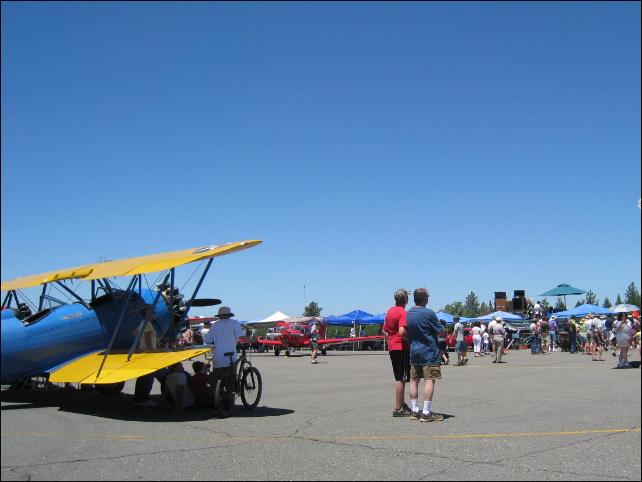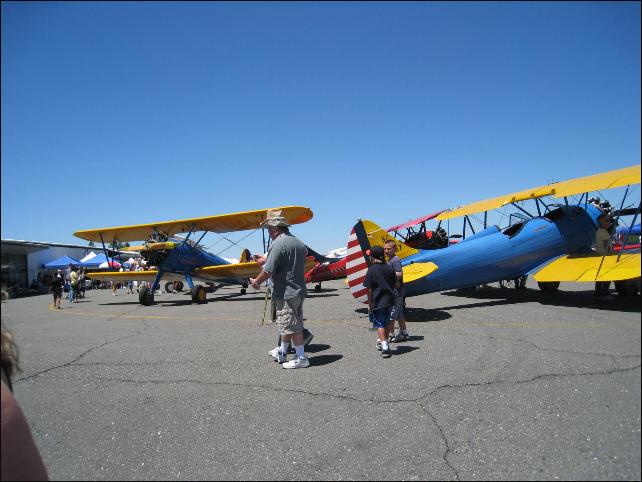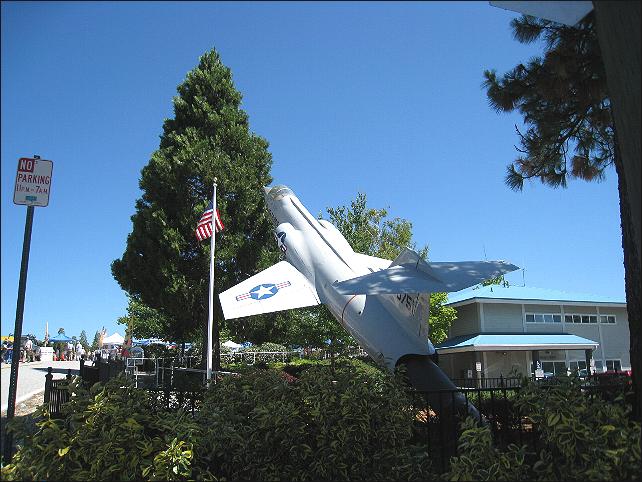 As we're leaving the airport to head back to our car in the parking lot up the road, I jumped on the bus to get a ride. Mel kept on walking so the driver yelled at him that she was kidnapping his wife and to join us, but it appeared he had other things on his mind and didn't respond. So I got off again. We had a good laugh and she promised to be back if we wanted a ride.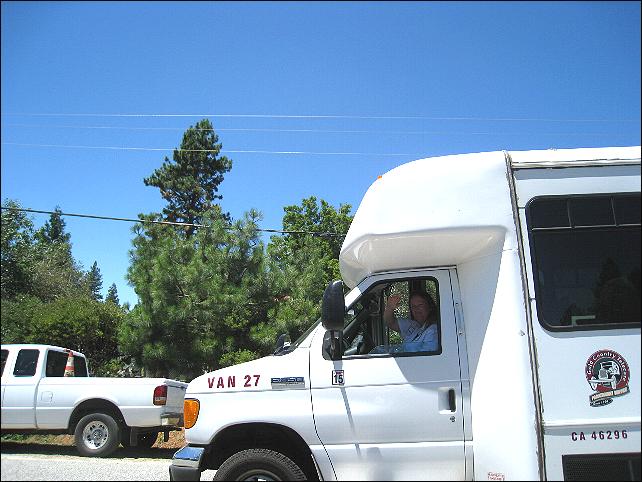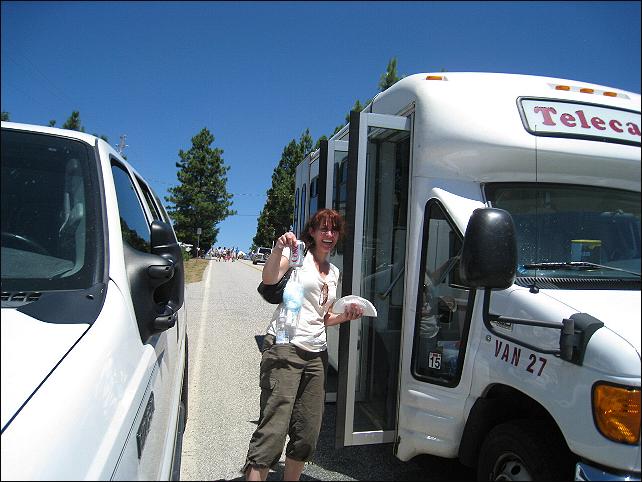 Hi Michele!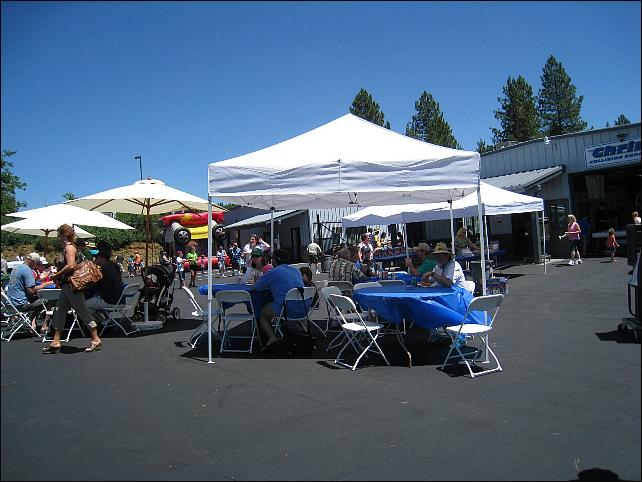 Okay...barbecued hot dogs, chips and cold drinks came with the tickets, so that's what Mel had in mind. That and watching the little kids whooping it up despite it being a hot day.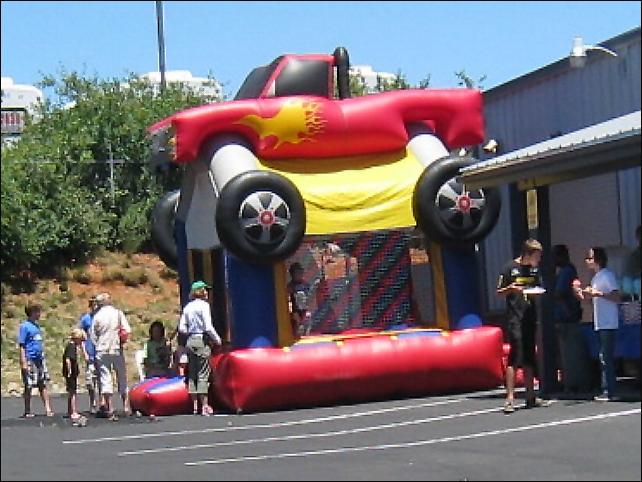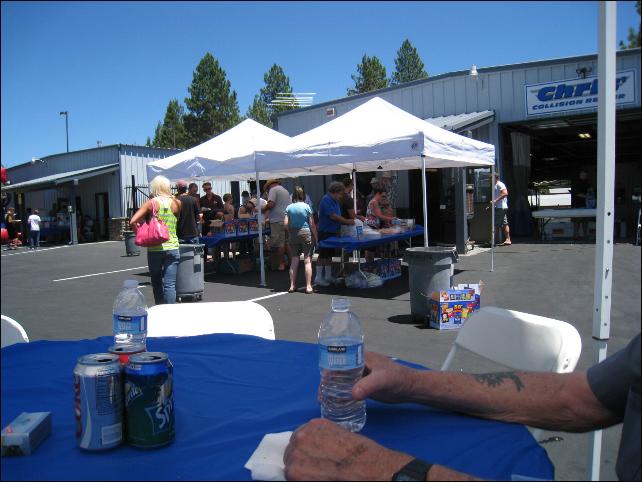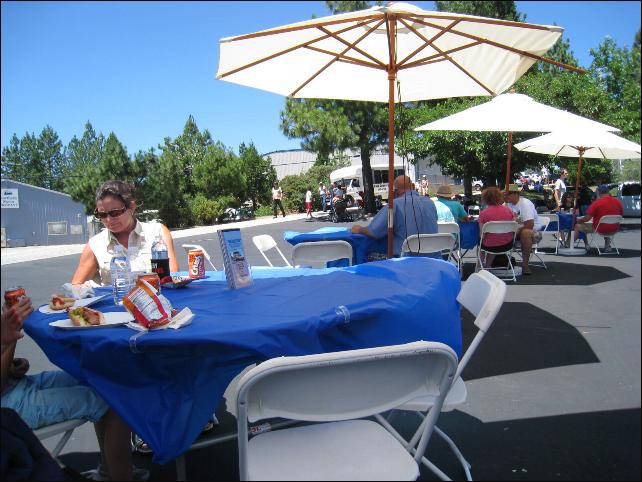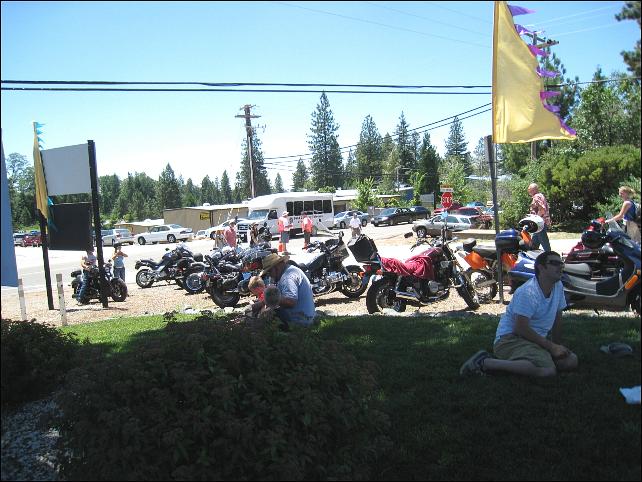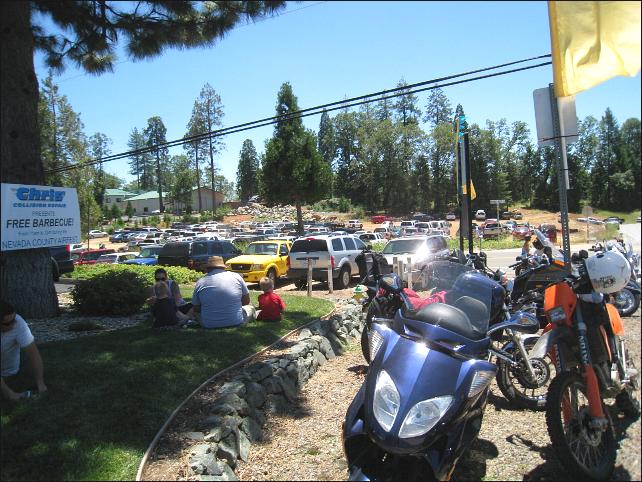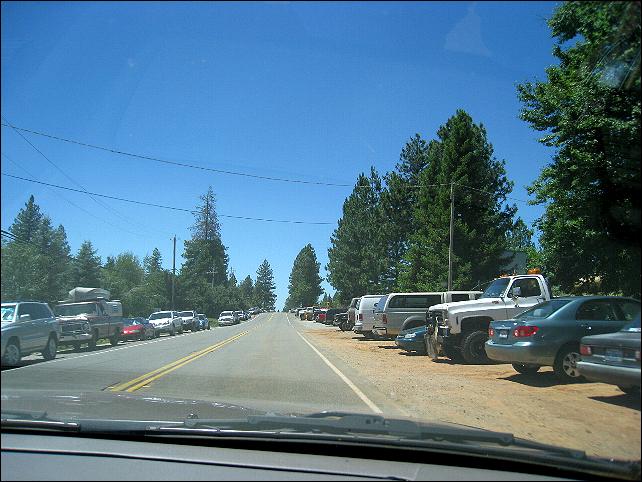 Cars parked for a mile along both sides of the road, and the parking areas were full.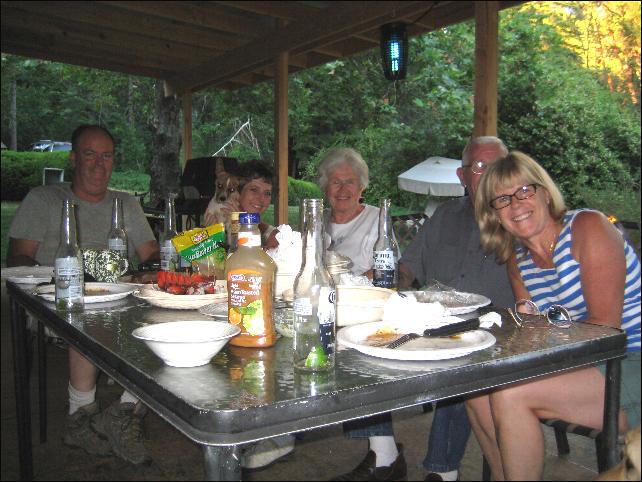 And ....later during the evening...we enjoyed steak a steak and lobster dinner with Sue, Dave and Lisa. And there were lostsa laughs too. As Dave was serving me some Sirloin Tip he tipped the juice on me. I couldn't help but laugh, because it reminded me of a klutzy cartoon, and the joke Lisa sent earlier in the week describing the difference between men and women changing the oil in their cars, with Dave as the man. Tonight's incident reminded him of when he worked at Arby's as a chef, and a customer complained that they couldn't get any sauce out of a squeeze bottle. He removed the top to see what was wrong and squeezed it without noting where it was pointing. It squirted all over the complaining customer, who then left in a huff without paying. And then there was his brothers wedding dinner. The same thing happened when the stopped up bottle squirted all over his new sister-in-law's lovely white blouse. What a way to go....
Okay! Let's try it again. Everyone smile.....The camera's gonna get ya!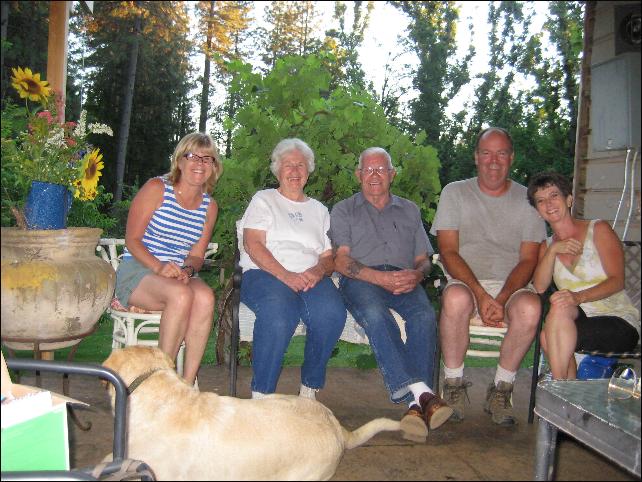 The entire day's been worth smiling about, and especially this evening with you guys.