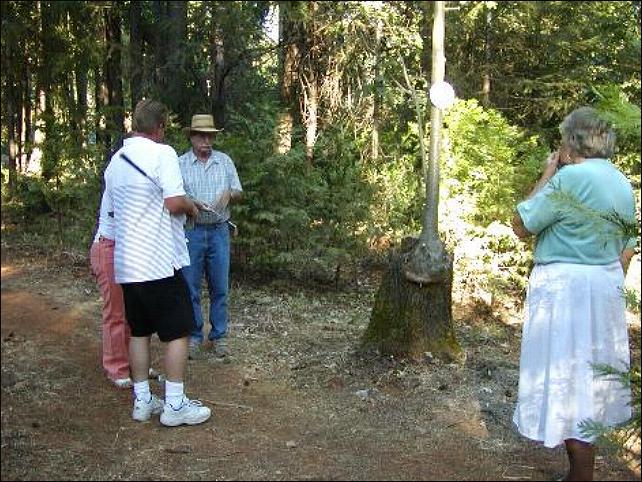 This is the first hole of our miniature golf game. Your ball has to hit the tree. This was the first bunch to tee off.
Having Fun Some Tranquility Fun
(September 2, 2002)


Yesterday (Labor Day) I made a big lettuce, cucumber, tomato and onion salad...to go with the large hot corn dish I made, and then we headed for the Chamberlain's home on Tranquility Lane. They were hosting a barbecue for all the neighbors. We don't live here yet, but our sawmill's here and we contributed to paving the road. We've met a few of the neighbor's and this was a fun way to get acquainted with those we haven't met. Cheryl and Brad and family were going, along with niece Lisa and her family.

We arrived early and Marlee (our hostess) was looking for volunteers who might enjoy playing miniature golf. I've never played any kind of golf, so thought it might be interesting. The golf course was very challenging....with lots of obstacles, twists and turns. My partner was a man named Neil. Neither one of us had ever played golf...so our challengers filled us in on the rules. Pretty simple, but hitting that little ball where it was supposed to go was another matter.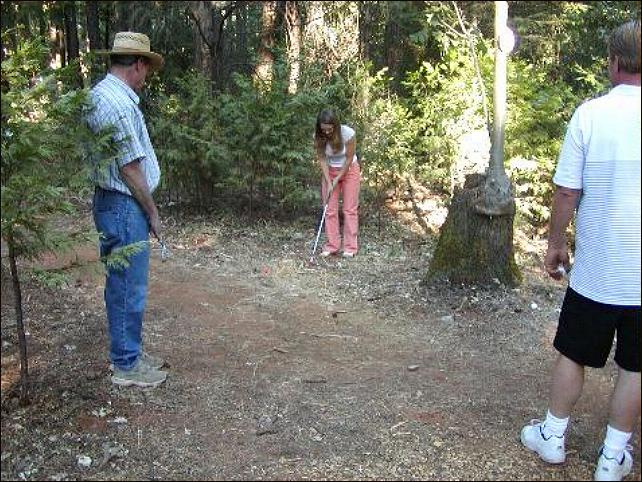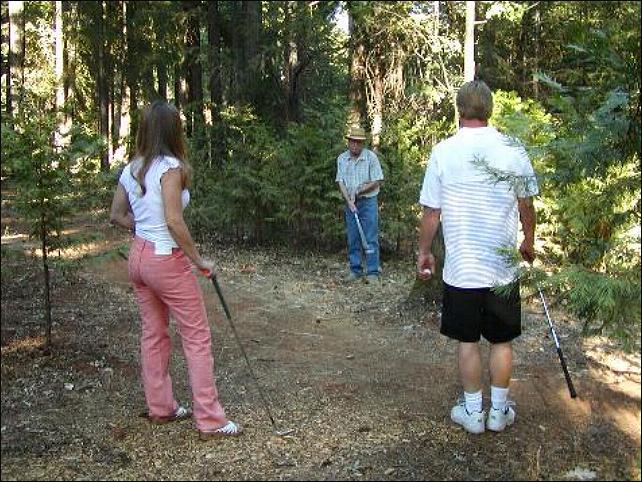 One can get into the darndest places...tangled up in vines and limbs, rocks...whatever. At one point I gave a mighty swing and almost got a hole in one, except that it was the wrong hole. A couple of times I blasted lots of dirt but managed to get the ball to hit the intended tree.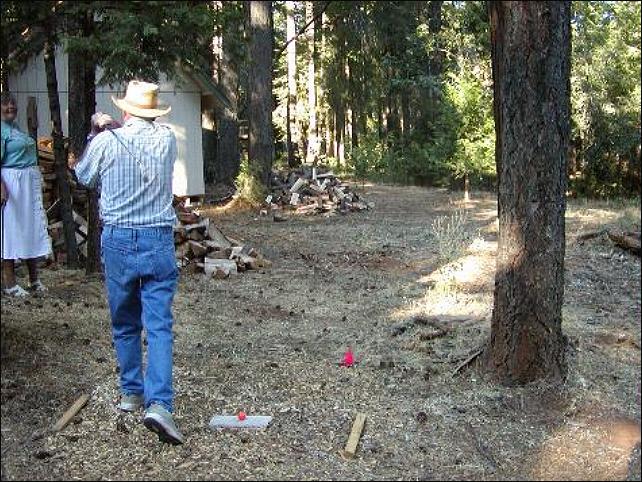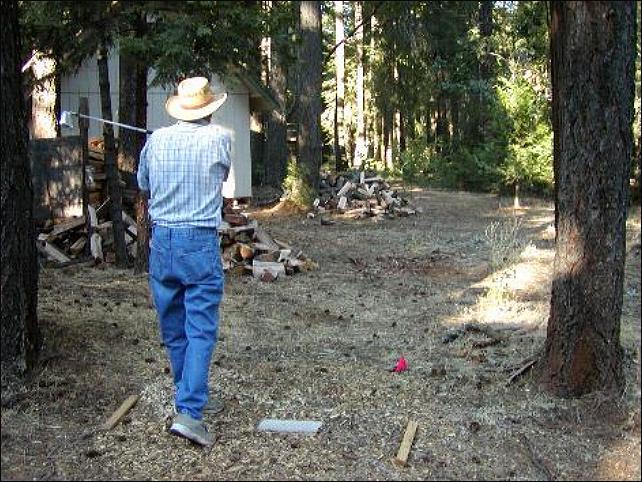 Here's the second hole over and beyond the wood pile. Oops! the ball went into the pile. See that little block of wood with carpet on it? Thats the tee. I did something that was quite remarkable. It left some mouths gaping (including my own). When I teed off, I hit the carpet...sending it sailing about ten feet away, but the ball was still on the carpetless tee board where I'd placed it. After that the rest of the players were a little more respectful. Neil and I got a couple of golf balls for getting the highest score...a hard earned 37. Hahaha! Our golfer challengers got 35. The lowest score was 24. I have to admit it was fun! After the game it was almost time for dinner. Grandson Bradley (below) is telling about the whopping 42 pound salmon he caught at Klamath, Oregon a few days ago.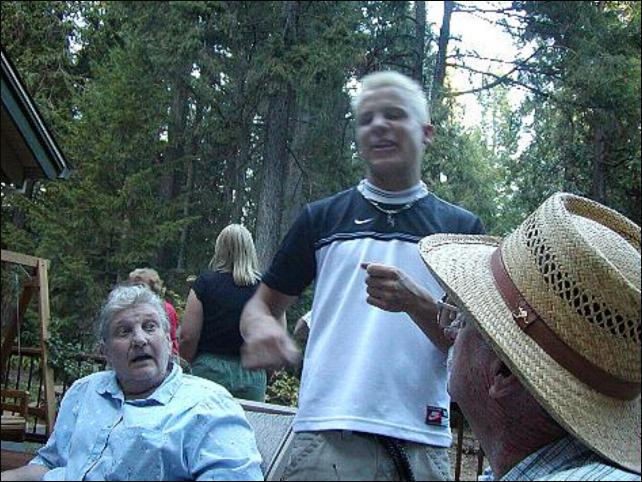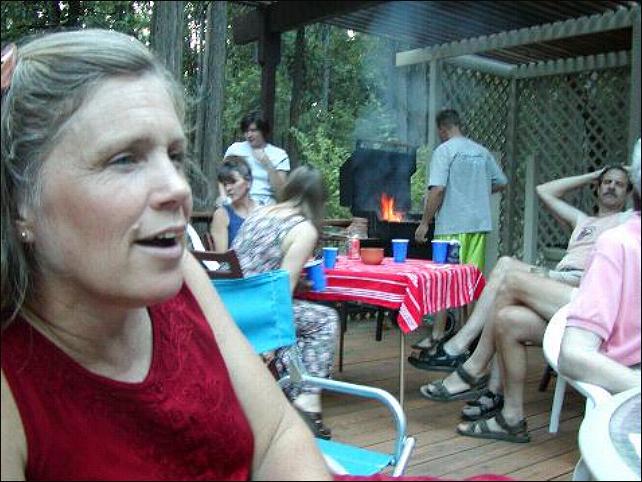 ...and mom Cheryl agrees with me that it's a real fishy story. Ahem, I mean that he didn't have to tell everything.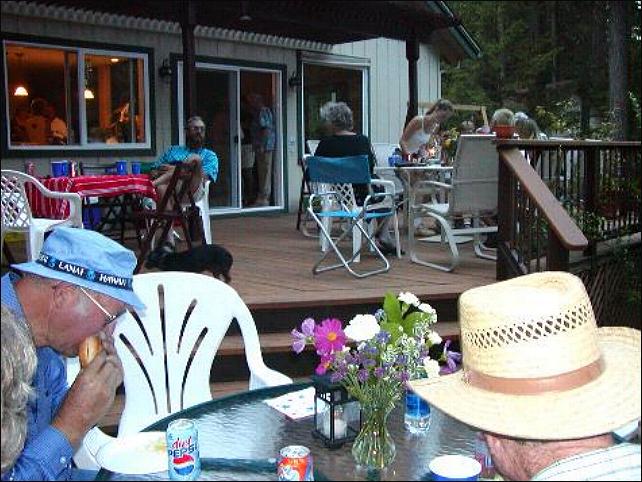 We enjoyed lotsa good food and comaraderie with our neighbors.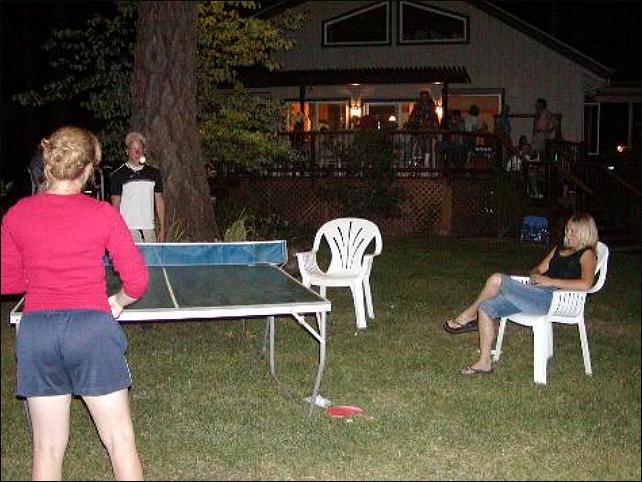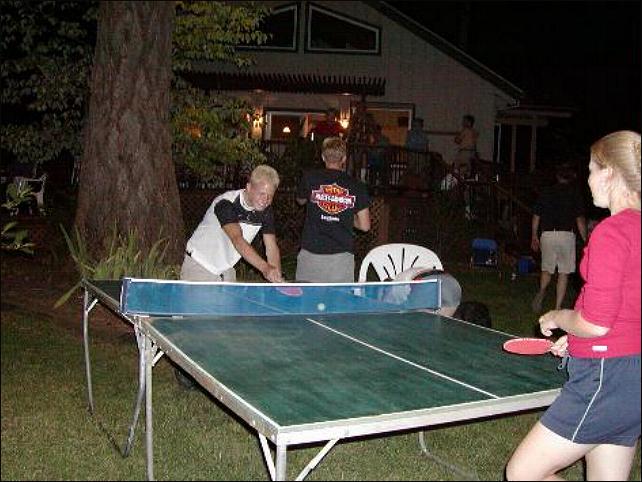 The kids played a little table tennis, and all too soon...it was time to go home. 'twas a wonderful way to spend the evening.