Dinosaur National Monument
...And Beyond.
One cannot drive across the great western basin without being aware of strange formations of rocks and mountains that underwent tremendous physical changes over millions of years. Approaching the border between Colorado and Utah, a road sign directs our attention to Dinosaur National Monument where we get a better view of earth's past.

Green River flowing through Whirl Pool Canyon Dinosaur National Monument.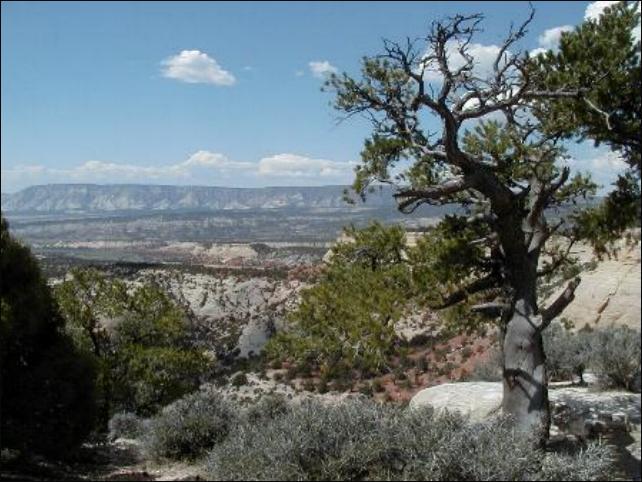 Dinosaur's climate is semiarid with temperatures averaging between 0 (F) to 30 (F) in January and 50 (F) to 100 (F) in July. Elevations within the park vary between 4500 and 9000 feet. Winter snow makes roads at higher elevations impassable while only light to moderate snow is found at lower elevations. Summer thunderstorms often cause heavy downpours and localized flooding, but may fail to dampen parched soils less than a mile away.

Within the Dinosaur Quarry Visitor Center is a rock wall containing 1500 fossil bones, a paleontology laboratory, exhibits, and a bookstore.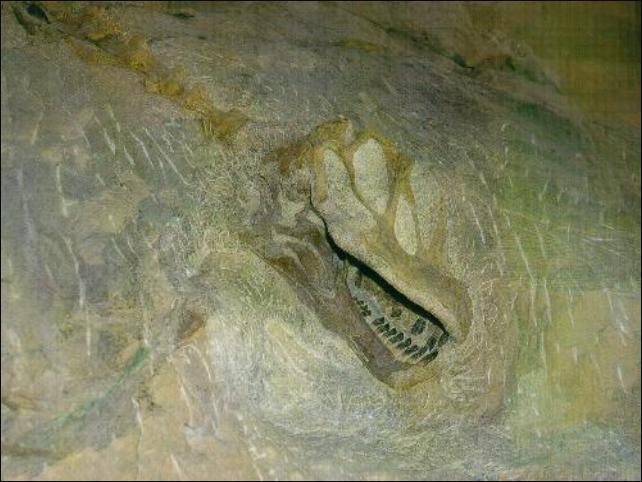 ...and this is what we saw at the dinosaur monument diggings.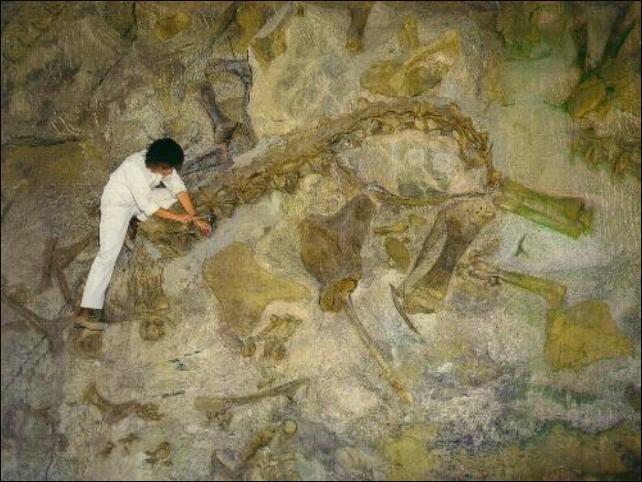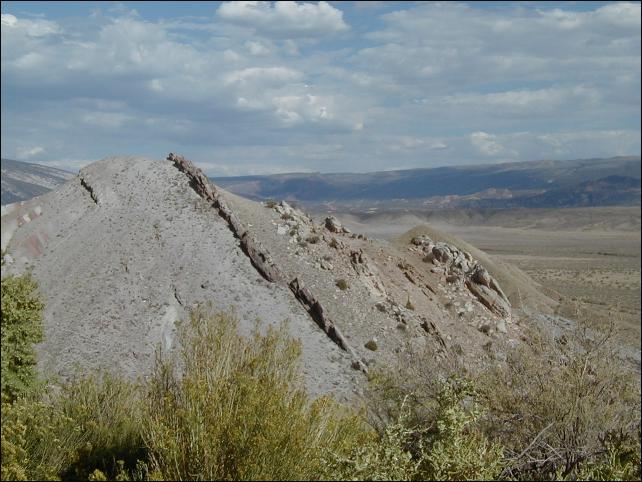 Nearby earth upheaval from the past.
The Quarry Visitor Center has experienced continuing problems with foundation movement since its construction on expansive soils in 1957. The building was closed in July 2006 due to the serious life and safety hazards caused by this movement. The National Park Service (NPS) is working to re-open the famous cliff face of dinosaur bones.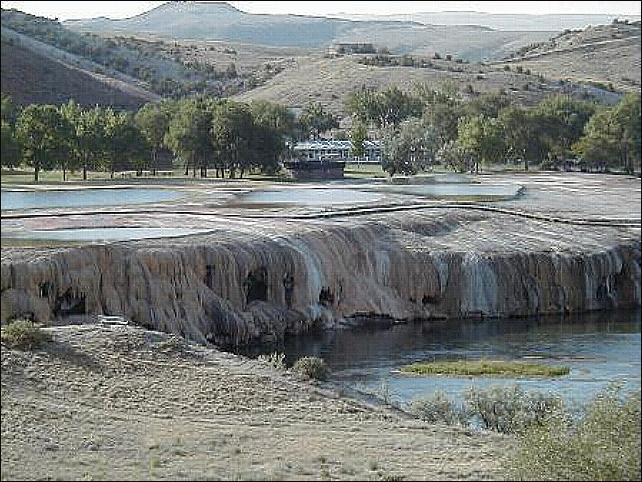 At Thermopolis, Wyoming we viewed the mineral hot springs. In 1896 a treaty was signed with the Shoshone and Arapaho, which gave the public use of one of the largest mineral hot springs in the world. The hot springs was known as having "healing water". There is no fee for using the State Bath House. Long time deposits from the mineral-laden water have created a rainbow underfoot. The paved walkways along the riverfront take you over centuries of sediment, splendidly brushed by algae, plankton, and mineral deposits.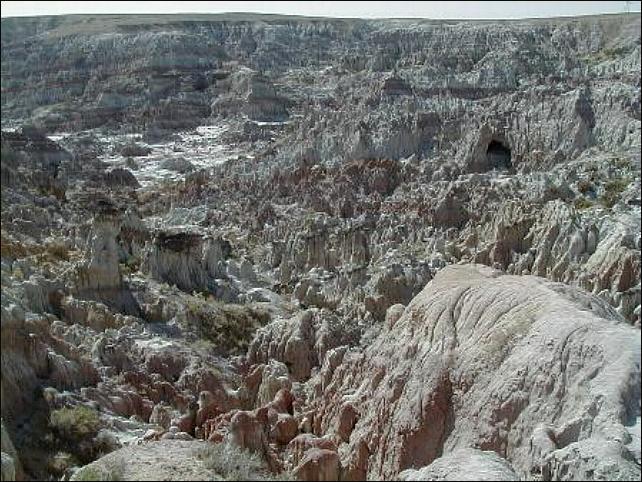 ....And Wyoming's awesome Hell's Half Acre a spectacular example of wind and water erosion. Hell's Half Acre is a geologic oddity – a craggy horseshoe-shaped gorge that drops away from an otherwise flat plain where Highway 20 runs east. The 150+ ft. deep gorge -- actually 320-acres total as it spreads south -- is filled in one section with jagged rock spires, naturally sculpted into nightmarish chaos by an ancient offshoot of the Powder River. If you drive hundreds of miles in any direction you won't find anything like it. Alien bug planet scenes for the movie Starship Troopers (1997) were filmed here. The crew spent weeks one summer hauling props down into the hole and shooting among the gnarled rock protrusions. If you go down into the canyon you can still find spent blank shells from the production, along with the occasional bone where buffalo ran off the cliffs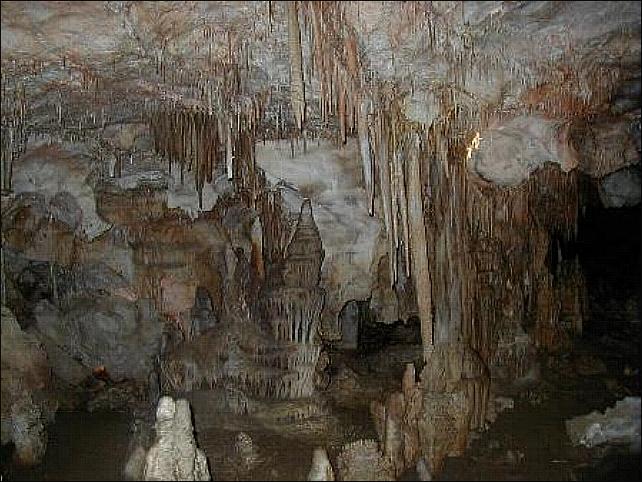 Near Baker, Nevada we entered the dark, sometimes narrow Lehman Caves with intricate pillars and designs formed by slowly dripping mineral charged waters. Beautiful limestone with intriguing, unusual formations. Lehman Caves is one of the best places to see rare shield formations. Over 300 shields are known in Lehman Caves, more than any other cave. All of the cave is profusely decorated; stalactites, stalagmites, helictites, flowstone, popcorn, and other formations cover almost every surface of the cave. The hardest thing to do in these places is to take pictures with a digital camera.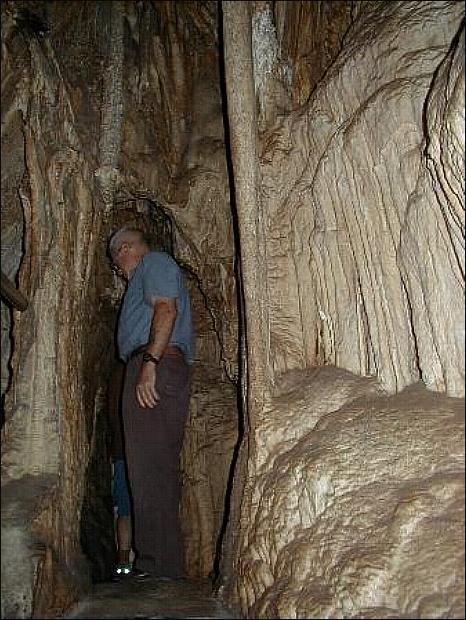 Hope you enjoyed our little journey into earth's mysterious, violent past and ever changing beautiful landscape.