Bon Voyage 2003
Part I
Wednesday, July 16 begins with the unnerving sound of the alarm clock. Especially at 3 a.m. in the morning, but we're going to have to get with it if we want to make connections on time. This is the first day of our big adventure that almost didn't happen.

For our 50th Wedding Anniversary last October 5, our children gave us a boat cruise up the Inside Passage to Alaska. All were invited to join us, but as is always the case, some couldn't. The arrangements were made well in advance, but as July 16 departure time drew near, it looked like the guests of honor wouldn't be able to go.

On June 20, Mel underwent five way bypass surgery. At first the doctor's were skeptical about the recovery time, but a week before we were scheduled to leave, the doctor said, "Why not? You can rest on the ship as

well as at home. Don't lift over ten pounds and stay away from too much rich food at the buffets...If your plane crashes it won't matter. Have a great time." (I must explain that he'd just returned from Europe, where his plane had to make an emergency landing.)
I glanced at the clock and thought I'd call daughter Sue to make sure she was getting ready. Our luggage was already loaded in one vehicle, and the plan was that we meet at daughter Cheryl's from which we'd all ride to the Sacramento Airport in their large Suburban. When we reached their house at departure time, they were still sleeping. A sleep-walker had turned off the alarm clock and went back to sleep. They moved fast. We managed to make our connections at the airport, and enjoy a snack before we boarded the plane.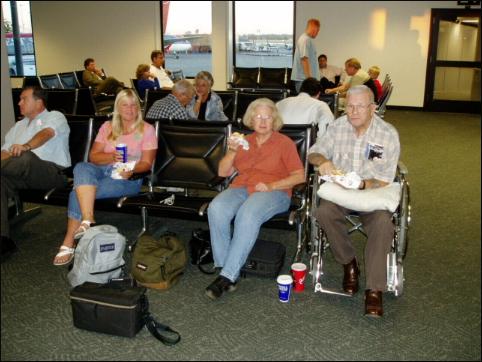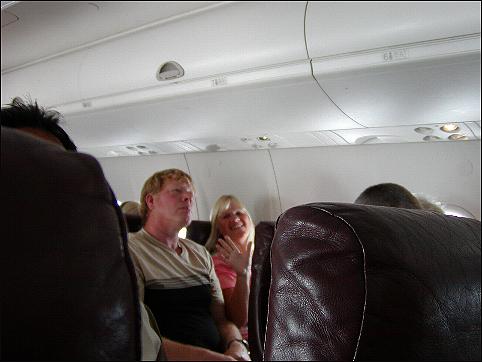 Finally, we're on our way.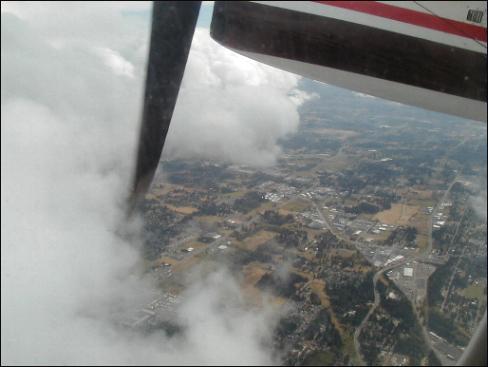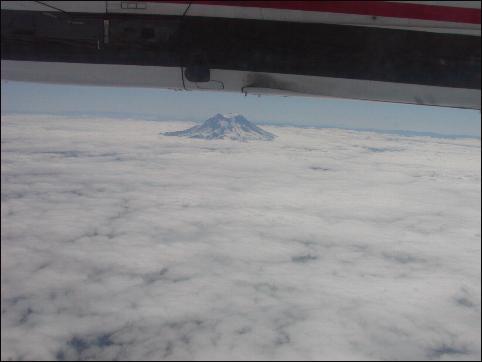 A mountain peeks through the clouds below.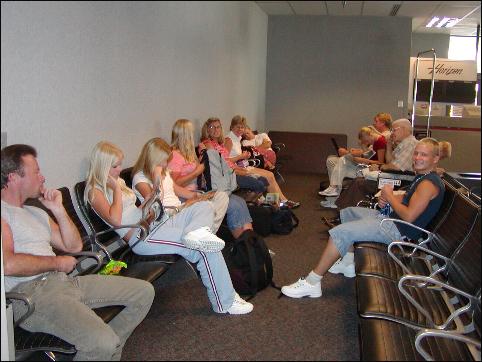 In Portland we'll transfer to the plane that will take us to Vancouver, Canada where we'll board our ship Carnival Spirit. We noticed a lot of security and processing at the airports. Mel's being in a wheelchair helped us move through quickly. They're very considerate towards disabled people.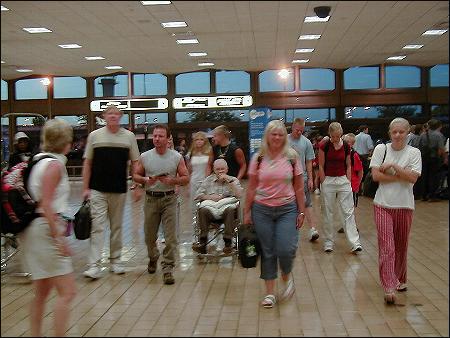 At Vancouver's airport we're hurrying to get our ride to the ship in a couple of limos Tim flagged down.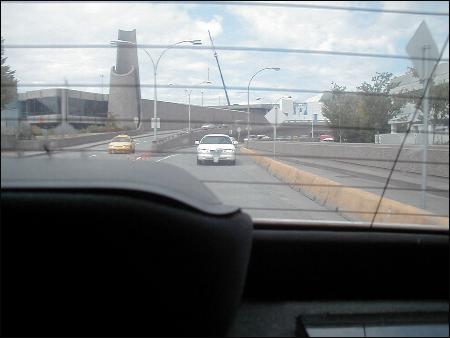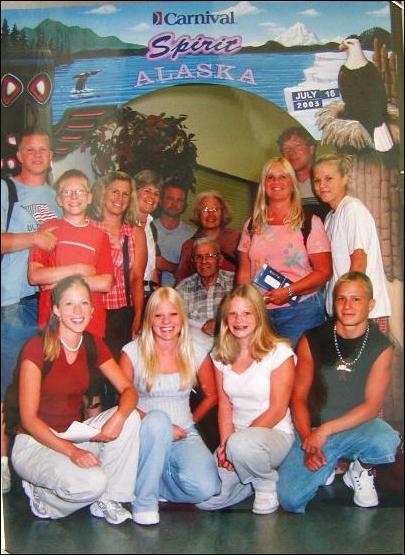 As we're about to board ship photographers took our picture. It's the only one we managed to get all fourteen together.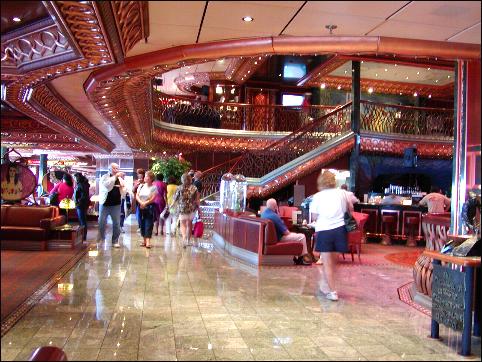 On board we're awed by the beautiful lobby of the Carnival Spirit.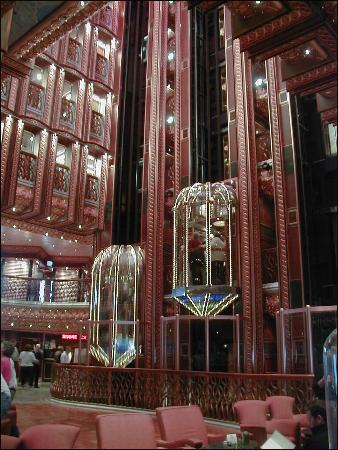 ...And its elevator's serving ten decks.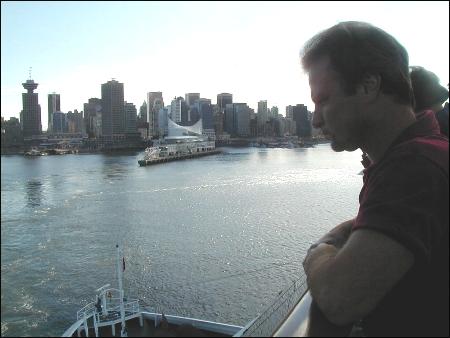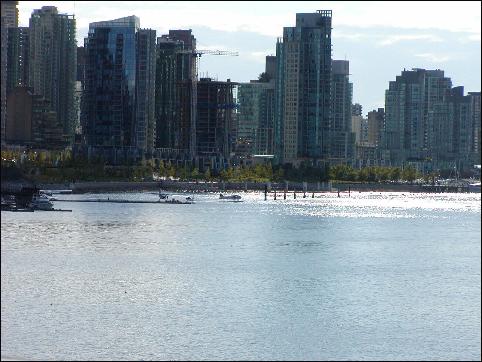 At 5:30 PM the ship pulls anchor and we're underway. Isn't
this an impressive view of Vancouver's waterfront?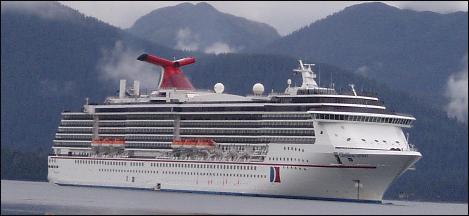 Here's our ship's map showing it's ocean-view and balconied staterooms, numerous indoor and outdoor vantage points for optimum viewing scenery, and an enclosable pool, the Carnival Spirit's design makes it perfect for deployment in Alaska. It's the 15th ship in the "Fun Ship" fleet that were slated to sail Alaskan waters in 2001. The first in a new class of 86,000-ton ships, the 2,124-passenger Carnival Spirit is 960 feet long, among the longest vessels in cruising. It's 105-foot beam, it is narrow enough to transit the Panama Canal. The ship's long, sleek hull design creates extensive interior public space while allowing 80 percent of the ship's 1,062 staterooms to offer an ocean view. Eighty percent of outside accommodations feature private verandahs, providing an intimate experience for enjoying Alaska's stunning scenery. The ship's uppermost exterior levels, Sky Deck 12 and Sports Deck 11, provide observation areas for those seeking the ship's highest vantage points. An exterior promenade on Atlantic Deck 3 provides an opportunity to circumnavigate the entire ship on one deck and sight-see from a wide array of exterior vantage points closer to the water. The forward end of the promenade is enclosed by the Jungle Room, a winter garden area, accessible through automatic doors, which offers protection from the elements in a comfortable, atmospheric room featuring seating and large picture windows. Another observation point can be found on the Lido Deck. Here, you can relax at a cozy table, sipping hot chocolate and watching the shoreline slip by through deck-high picture windows. And if the weather turns bad, the retractable Sky Dome can be extended to cover the main pool area so you can swim in the heated pool or use the whirlpools. The Spirit is the first ship in Carnival's fleet equipped with Wartsila's revolutionary "enviro-engine," an innovative system that closely monitors fuel delivery to the engine's cylinders, dramatically reducing smoke emissions. It also has a $2 million state-of-the-art wastewater treatment system, the first of its kind in the Carnival fleet.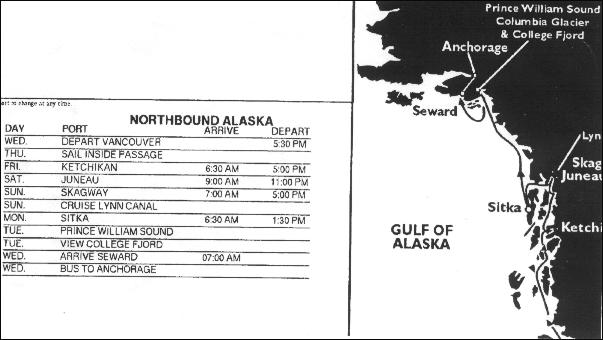 Our itinery includes Ketchikan, Juneau, Skagway, Lynn Canal, Sitka, Prince William Sound, College Fjord and Seward, where our voyage ends.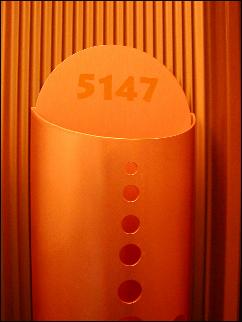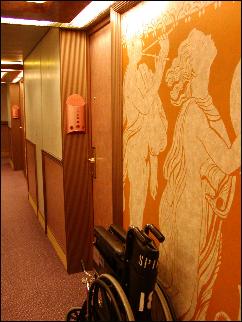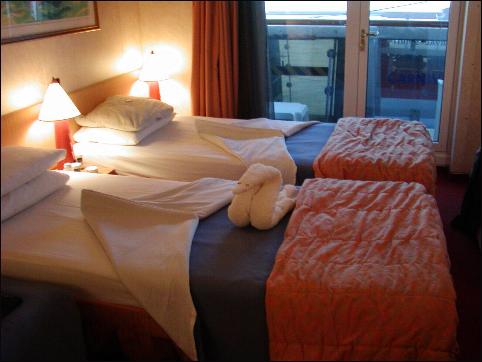 We located our rooms. Mel's wheelchair, by our door made it easy for him to get around. Our room had a small starboard deck that enabled me to take this photo of the cloud formations.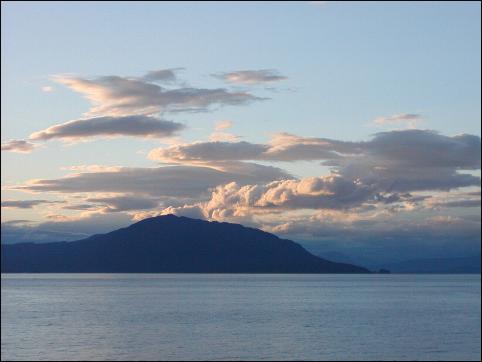 The intercom informed us to grab our life-jackets and go to the main deck where we were instructed about what to do in case of a fire, and the need to use life boats in a real emergency.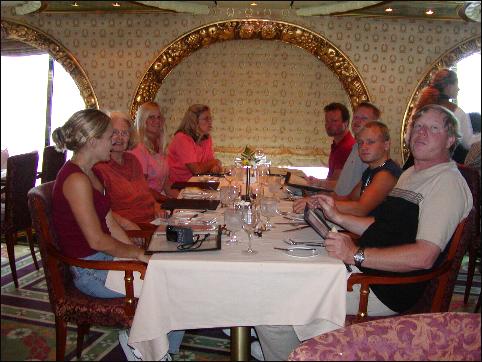 Our centered Stern dining room tables for the voyage had large
windows over-looking the ocean.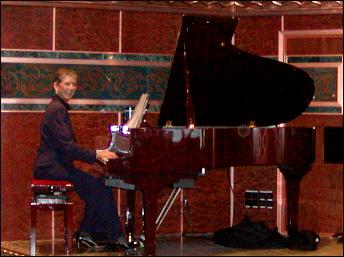 Her beautiful music entertained those in the lobby
near the dining room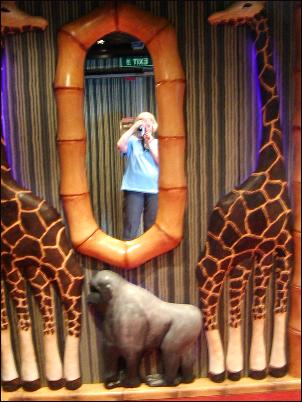 At the opposite end of the ship I decided to explore the Jungle room corridor and stopped to take a picture of this monkey...It's wearing the blue tee shirt!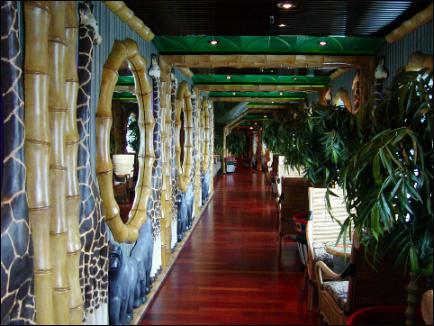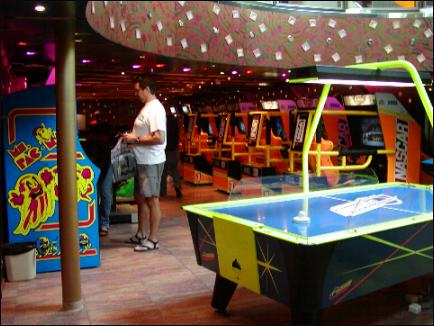 The Jungle trail leads to the youth game room.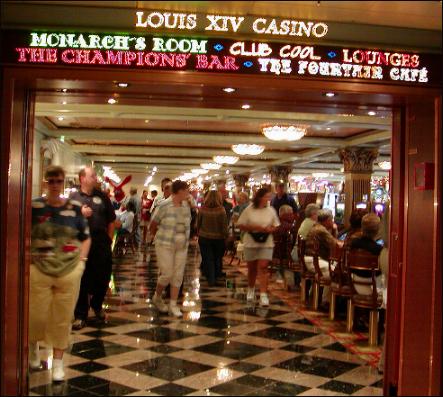 ...While the adult game room is here.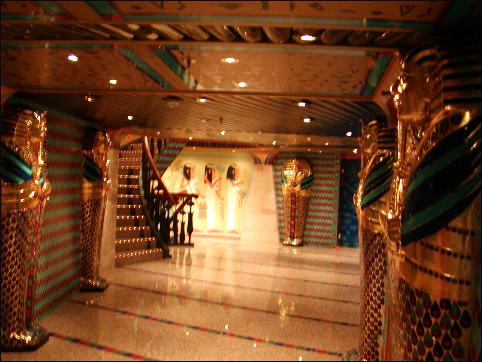 The entrance to Pharaoh's Tomb Theater,
where we enjoyed a variety of musicals.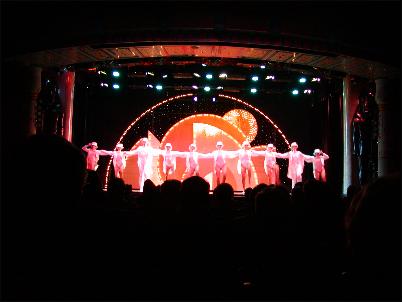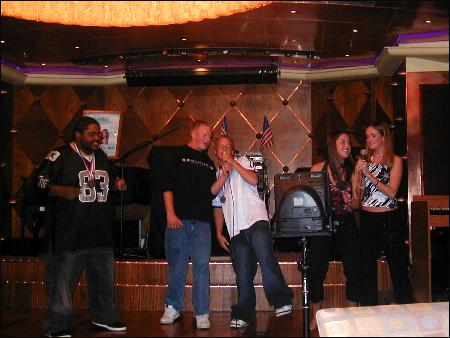 Timmy and Bradley sing Karaoke.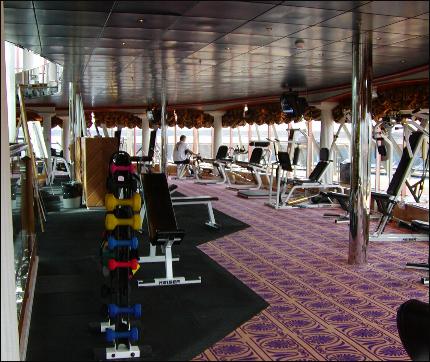 Those who feel they need more exercise after eating
too much can work out in this well equipped gym.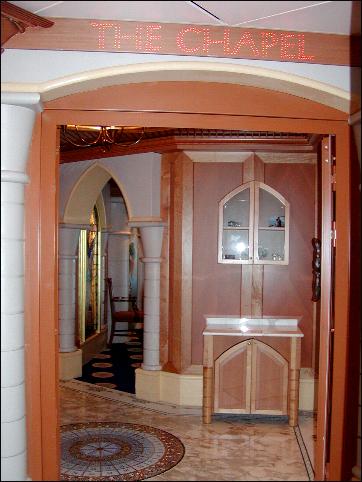 The ship's Chapel.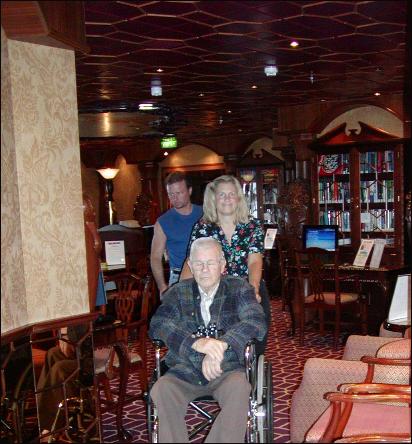 Brad, Cheryl and Mel explore the library where
computer users can go online.

Whoa! Mel forgot to set his brake and if the gate hadn't been closed he would have gone for a swim. Swimming is only allowed in the pool.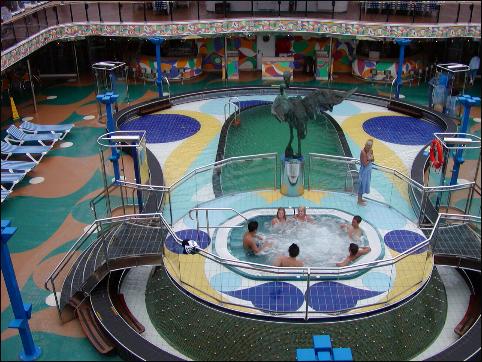 How about soaking in the whirlpool or hot tub?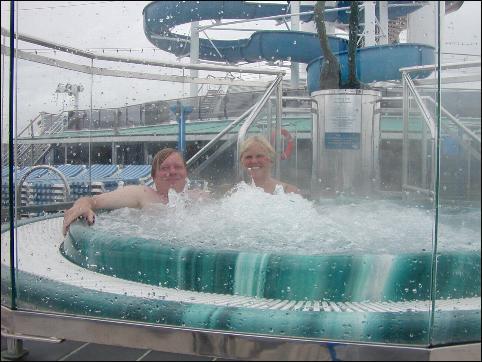 Hiya Tim and Margie!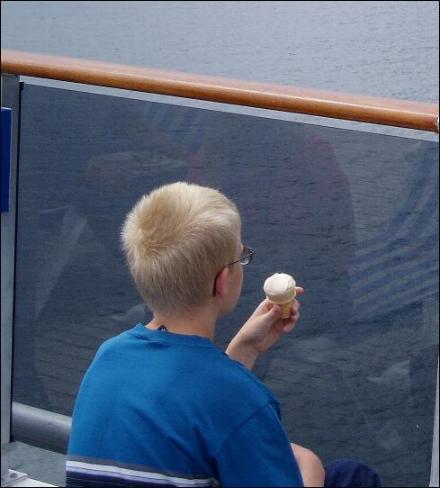 There's plenty of ice cream for Brent's favorite past time. The first day of our cruise was exciting, but none the less by the end of it most of us were pretty tired...so some of us decided to call it a night.